Printable recipe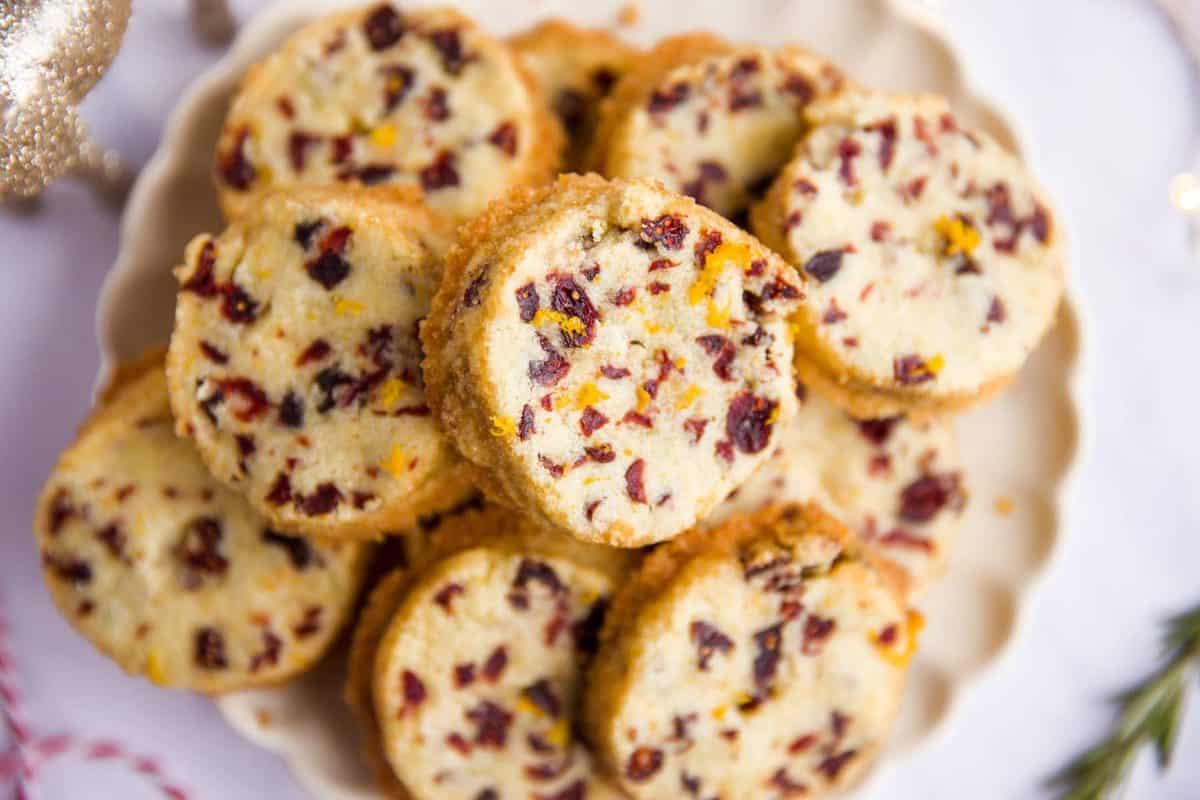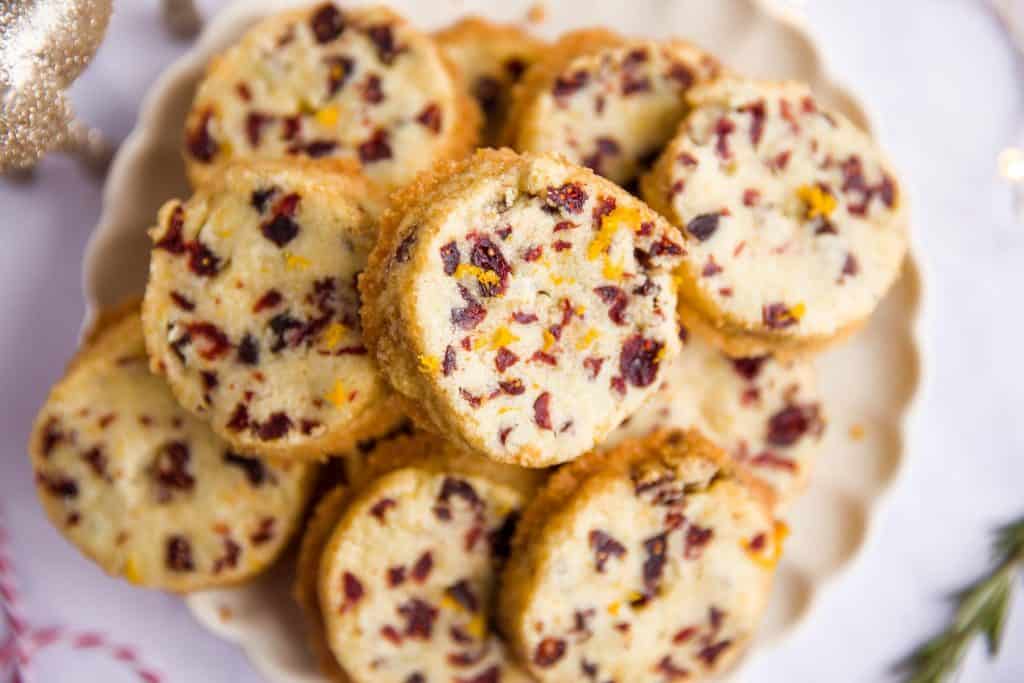 made it? tap the stars to add your rating!
I love nothing more than a good shortbread cookie. And they are even better when they're studded with cranberries and flavored with grated orange zest, if you ask me!
This cookie recipe is incredibly easy to make. I use my food processor to make the dough, then all that's left to do is rolling it into a log, chilling, slicing and baking. For especially beautiful edges, I roll the log of cookie dough in light brown sugar before slicing it into cookies.
Ingredients
1

cup

unsalted butter

(cold from the fridge, roughly cubed)

3

cups

flour

¾

cup

granulated sugar

1

tablespoon

orange zest

(finely grated; not packed)

¼

teaspoon

salt

2

cups

dried cranberries

(chopped)

light brown sugar

(for rolling)
Instructions
Make cookie dough: Place butter, flour, sugar, orange zest and salt in the bowl of your food processor fitted with the blade attachment. Process in bursts until crumbly. Tip out on a clean work surface. Add the cranberries and lightly knead a few times JUST until the cranberries are incorporated and the dough forms a ball – do not overwork or you'll get tough shortbread.

Shape dough: Divide the dough in two and shape each half into a log of about 2 ½ inches diameter. Wrap in plastic wrap and chill in the fridge for at least 30 minutes, and up to overnight.

Bake: When ready to bake, preheat the oven to 350°F and line a few baking sheets. Unwrap the logs of cookie dough and roll in light brown sugar. Slice into ½ inch thick slices and place 2 inches apart on the lined baking sheets. Bake in batches for 10-12 minutes, or until lightly browned and crisp around the edges (cookie will still feel soft).

Cool: Cool on the baking sheet for 5 minutes, then remove to a cooling rack and cool completely. Store in an airtight container on the counter for up to a week.
Add Your Review
Nora's Tips
Step by Step Photos and Baking Tips:
The mix from the food processor will be very crumbly, that's perfect. Please do not attempt to add more butter before you knead it.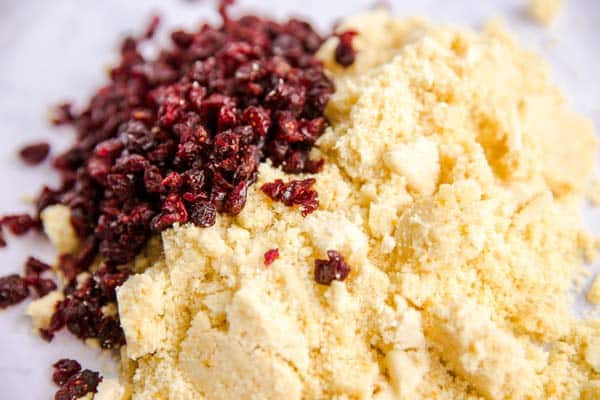 Tips for shaping the logs:
sprinkle your hands with water if the dough feels too sticky
make the logs slightly shorter and thicker so they don't end up too thin after rolling them in sugar
to tightly wrap, place each log on a piece of plastic wrap a few inches longer than the log. Roll up tightly, then push the ends together to make sure the log is compact. Twist the ends of the plastic wrap to secure.
If you want to keep them perfectly round, turn them every 10 minutes while they're chilling.
If you want, you can egg wash the logs of cookie dough before rolling them in sugar. I usually don't bother, ahem, but that way the sugar sticks a little better and they turn out absolutely perfect.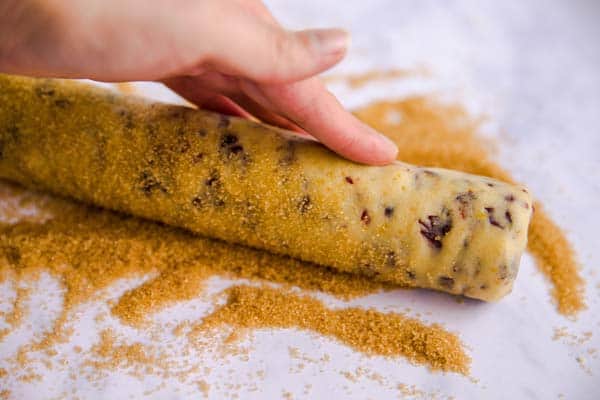 Make sure to slice the cookies no thinner than ½ inch (the thinner they are, the more likely they are to spread – which means the cookies will be thin and crispy vs thicker and crumbly).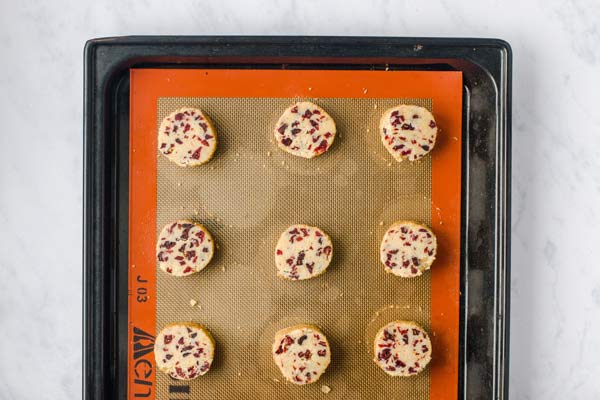 Ingredient Notes:
Butter: Please only use real butter for these, and not margarine or buttery spread. The way these behave in baking is very different from butter, and the cookies wouldn't turned out so well.
Sugar: If you prefer a more caramelized taste, you can use ½ cup white sugar and ¼ cup brown sugar instead of all white.
Cranberries: I use sweetened dried cranberries here, because they are very tart when unsweetened. If you prefer a less sweet cookie, feel free to use unsweetened.
Orange zest: If you want to go lighter on the orange zest, reduce the amount to 1-2 teaspoons.
More flavor: If you want to add more depth of flavor, I have made these with ¼ teaspoon ground cardamom and ¼ teaspoon dried rosemary added (add to the food processor), and it was so delicious!
Freezer Instructions:
To freeze the raw cookie dough: You can freeze the cookie dough logs for up to 3 months.
Wrap well in the plastic wrap, then place in freezer bags and label with the name and use-by date before freezing.
Let the logs thaw in the fridge for an hour or two before rolling them in sugar, slicing and baking.
More recipe information
Join my Newsletter to Get Recipes in Your Inbox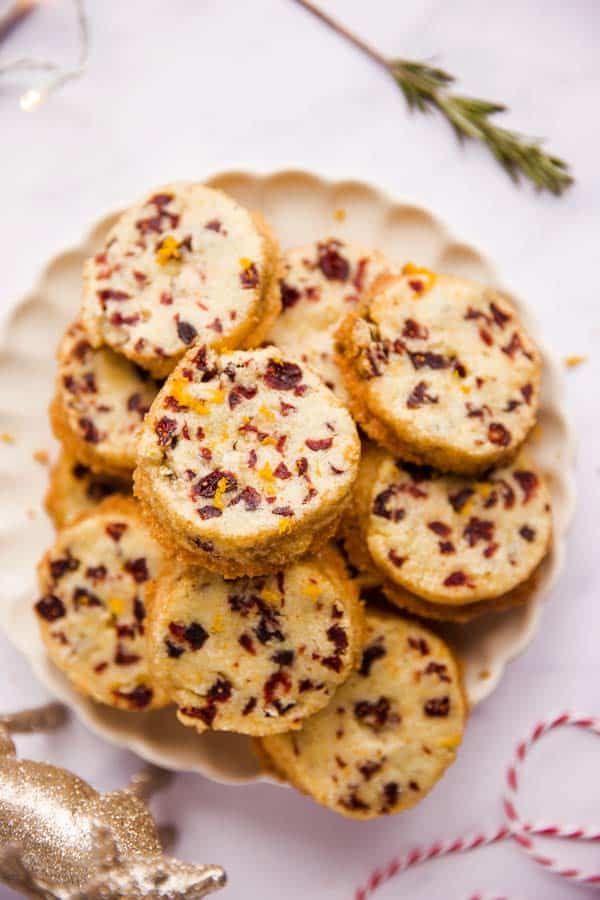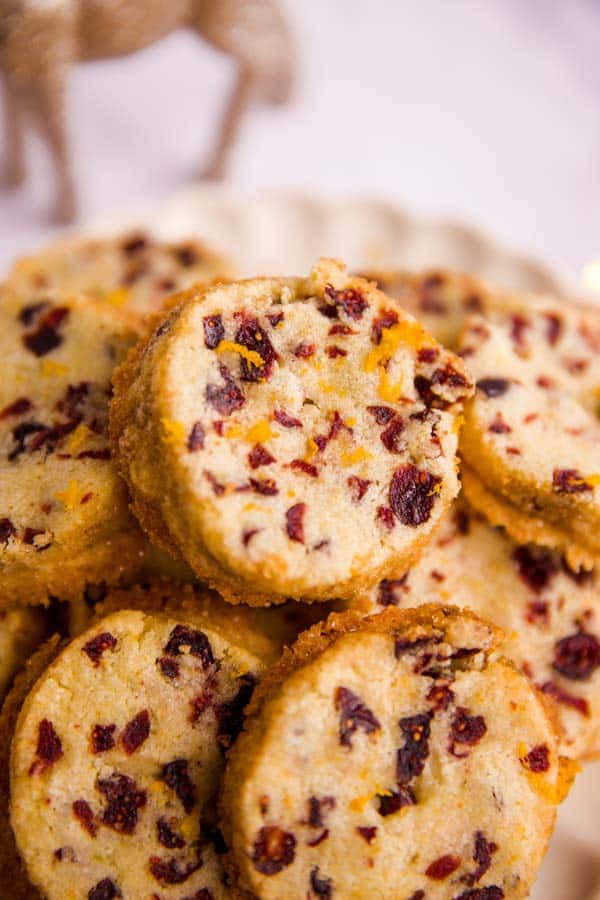 Try these cookie recipes next:
Or browse all of my cookie recipes!