A decadent and creamy homemade hot chocolate made with real chocolate, spices and milk. It's easy, quick and absolutely delicious – it really is the best! Scroll down for video instructions.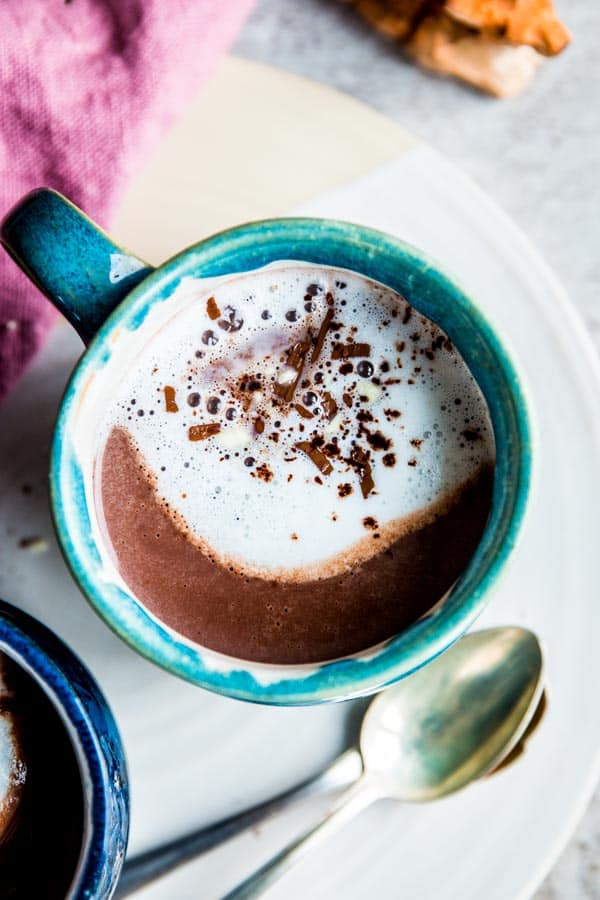 Who doesn't love hot chocolate, right?
I already have a dairy free version AND a gingerbread version here on the blog.
But what I really wanted to do was to share a recipe made with actual chocolate – the ultimate Queen Bee of the hot chocolatey beverage world.
My kids love anything with chocolate (they're mine, after all), but the three year old has some issues with certain words. So we're not ever allowed to ask if she wants a hot chocolate, we have to inquire about warm chocolate.
Life with kids, sigh.
Drinking warm hot chocolates is probably one of her new favourite winter activities. I mean, apart from making snow angels, looking at the sparkly tree and taking away her sister's advent calendar stuffers. This kid melts my heart and drives me crazy all at the same time.
She's lucky she's so cute, and that she gets all starry eyed about mom's hot chocolate.
My recipe makes a rich and creamy cup of Christmas cheer, one which nobody can resist.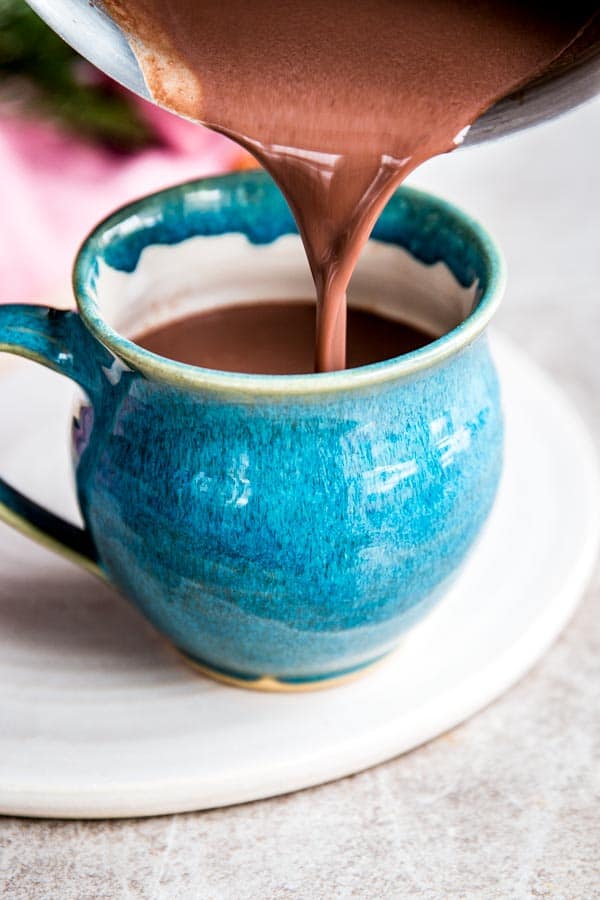 Here are my tips for the ultimate homemade hot chocolate:
Use a chocolate you like the taste of – this is the primary flavour maker, and if you're going to drink a mug of steamy hot chocolate, you might as well make it a decadent one.
Use whole milk. No, seriously, please do. Low fat or fat free milk is forever banished at our house. We actually get our milk fresh from the farmer down the road and it is the best thing ever. Fat is not the enemy ♡
Adjust the spices to your liking – I love cardamom and cinnamon in there, but you can leave them out or sub in some vanilla if that sounds better to you.
Don't boil the actual chocolate, just let it melt in the hot milk. Otherwise it might turn into a scraggly mess instead of a creamy Christmas potion.
Now you might wonder… Where are the marshmallows and cream, lady?
OK, marshmallows are actually my biggest guilty pleasure and when they're toasted and roasted over the fire, I simply cannot resist. But I don't put them on my hot chocolate because I find it makes them taste weird.
And I don't like whipped cream too much, so I keep my hot choclate toppings simple. Feel free to pile anything you like on top, though!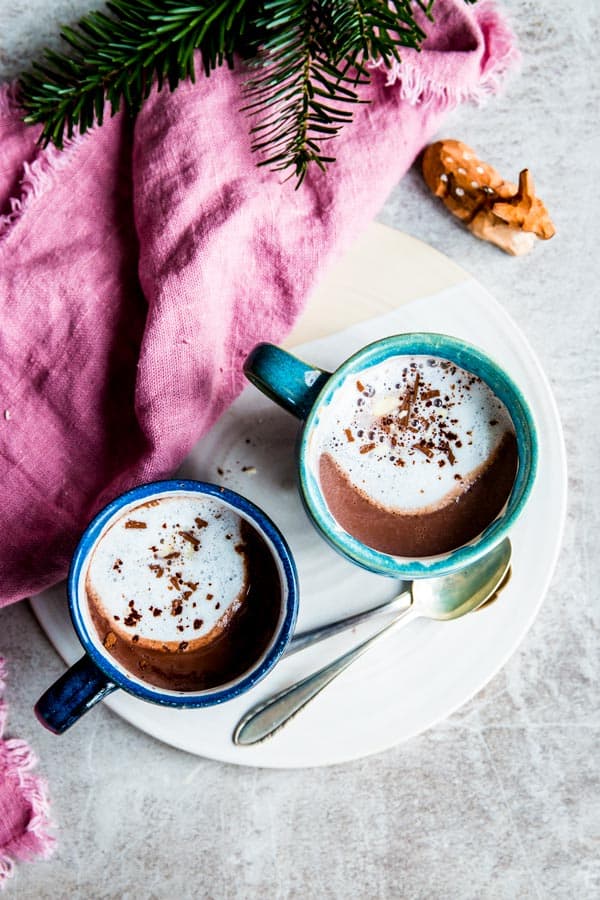 Watch the video instructions:
Here's the printable homemade hot chocolate recipe:
Printable recipe
Printable Recipe Card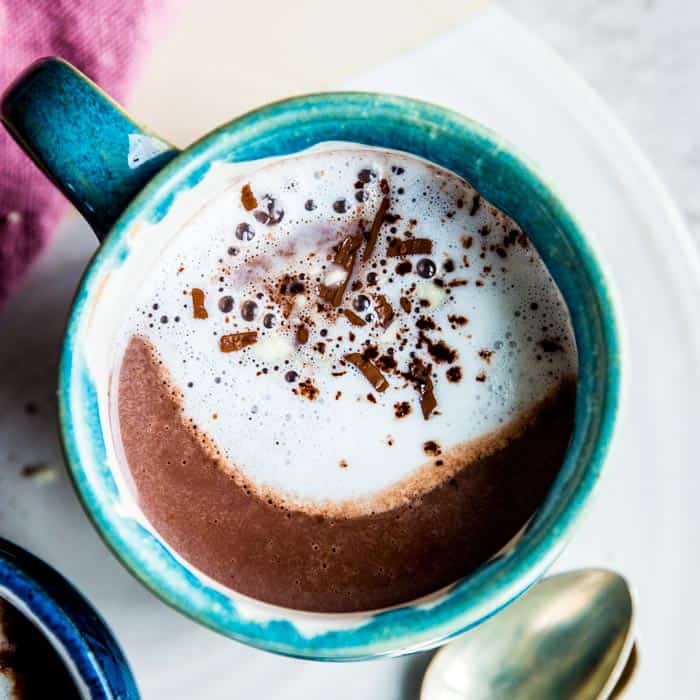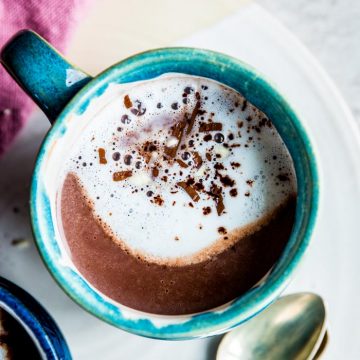 Homemade Hot Chocolate
Homemade hot chocolate is a delicious and decadent drink for the holiday season. Make it for Christmas morning brunch!
made it? tap the stars to add your rating!
Ingredients
2

cups

milk

1

tablespoon

fine caster sugar

1

teaspoon

vanilla extract

¼

teaspoon

ground cinnamon

⅛

teaspoon

ground cardamom

optional

2

tablespoons

unsweetened cacao powder

2

teaspoons

cornstarch

2

ounces

dark chocolate

roughly chopped

1

ounces

milk or white chocolate

roughly chopped

2

tablespoons

cream

optional

Your favourite toppings: Chocolate shavings

whipped cream, marshmallows…
Instructions
Warm the milk: Mix the milk, sugar, vanilla extract and spices in a medium saucepan. Gently warm over medium heat until steaming and hot all the way through.

Thicken the liquid: Add the cacao powder and cornstarch to a small bowl and add a splash of cold milk. Mix very well, then pour into the saucepan and simmer, whisking well, for 3-4 minutes or until thickened.

Melt in the chocolate: Take the pan off the heat and add the chocolate and cream. Let it melt, stir until well combined and serve hot with your favourite toppings.
Want to save this recipe?
Create an account for free to start your personal recipe box. Save any recipe by tapping the heart in the bottom right corner.
Join Now
Nutrition is an estimate.
More recipe information