Fluffy Buttermilk Waffles are the perfect addition to your weekend breakfast routine! They are made with just a few simple ingredients and turn into golden-crispy perfection. Try them with fresh berries and maple syrup – they are the best!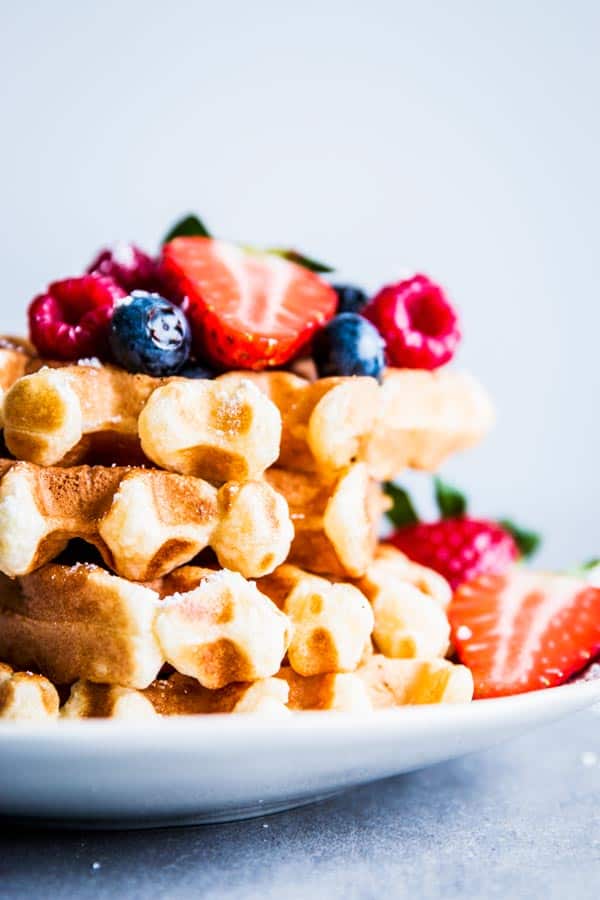 Waffles and me have a love-love relationship. There's just something about them that I can't resist (looking at you, pumpkin waffles!).
Maybe it's how they're all soft and fluffy on the inside, but crispy and daring on the outside.
Maybe it's the fact that I think baking something in a waffle iron is a million times less stressful than flipping pancakes.
Maybe it's just the fact that my kids start running in crazy excited circles when I pull out my waffle iron 😉 though my pre-schooler does always ask if I'm going to add bananas to the batter… She's not a fan of my all-time favorite Healthy Chocolate Chip Banana Waffles, sigh.
I've been looking for the perfect basic buttermilk waffle recipe for a long time now, but I think I finally found it:
Not too much oil, because hey – nobody needs an entire cup of oil in their waffles.
Not too sweet, so your toppings can go either way. Also, who needs sugar in waffles if there's maple syrup to be poured on top?
NOT dense at all – I can't stand recipes that promise me big, fluffy waffles but then give me dense, small, sadness inducing ones. This is one of the good recipes, I promise ❤
Now I know you and me, we're all about the easy recipes. So whipping the egg whites may sound like an intimidating thing to do just for waffles. But hear me out!
There's just no denying it. Whipping your egg whites just yields fluffier, lighter waffles.
I know, I know. It's an extra bowl to clean. But it's worth it if you're going for that gold star!
I promise the rest of this recipe is so simple and easy, you can basically make these in your sleep (which is what I usually do at 6.30 am on Saturday, haha!) – kick your butt into gear and promise me you'll whip the egg whites.
No excuses 😉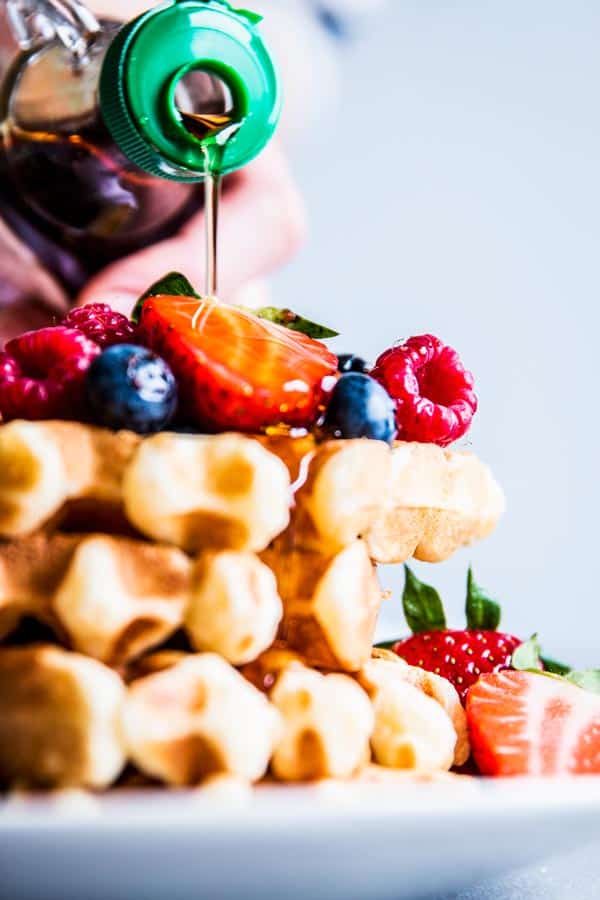 And just to prove how easy these are:
How To Make Buttermilk Waffles:
The shortcut version of this waffle recipe:
Mix the dry ingredients very well in a large bowl.
Whisk together the wet ingredients very well in measuring jug .
In a third bowl, whip the egg whites to stiff peaks.
Stir the wet into the dry ingredients – don't overmix! Stir just until about combined, you'll stir more once you add the egg whites.
Gently fold the egg whites into the batter without stirring too much, making sure you don't have any large flecks of egg left floating around. But the batter will be lumpy and that's fine!!
Heat your waffle iron and grease. Bake waffles.
Indulge in crispy-fluffy perfection.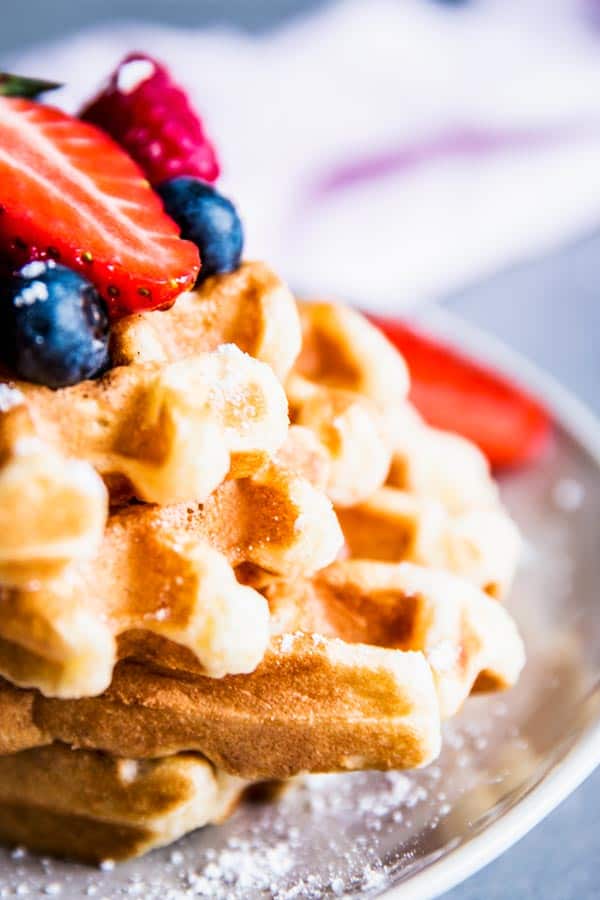 For a few more tips, read the long-cut waffle recipe explanations:
Mix the dry ingredients:
I always mix the dry ingredients first, because they're fine standing out at room temperature the longest. Just make sure the baking powder is evenly distributed, otherwise you won't get a nice rise.
Mix the wet ingredients:
I mix the wet ingredients second. First, you'll want to separate the eggs and place the egg whites in a clean bowl. Set them aside for whipping in a minute.
I like mixing the wet ingredients in a measuring jug, because it makes it less messy to pour them into the bowl with the dry ingredients. You'll want to whisk these together very well, until smooth and even in color.
Beat the egg whites:
Last but not least, I whip the egg whites to stiff peaks. I do this last because I don't like letting whipped egg whites stand at room temperature. They start getting runny again and don't keep their fluff.
Mix the batter:
When all three parts of the recipe are prepped, you'll want to very carefully stir the wet ingredients into the dry. I try not to stir more than 10-15 times here, because remember: You also need to fold the egg whites into the batter! So a very lumpy batter here is fine, just mix until you don't have any overly large patches of dry flour left.
Finally, fold the beaten egg whites into the batter. You'll want to do this very carefully, so you don't know all the air out of the egg whites. But careful doesn't mean without determination, so don't be afraid to incorporate the egg whites. You'll want to take care there's no large clouds of unmixed egg whites left, otherwise you'll have flecks of scrambled egg white in your waffles.
Bake the waffles:
I never start preheating my waffle iron until the batter is done. Otherwise it stresses me out if I'm not ready yet. Do I have issues, you're asking? ha!
I bake these on a medium-high setting and I lightly grease the waffle iron with a touch of oil before starting.
I use about 1/4 cup of waffle batter per waffle, and I scoop the batter with a large cookie scoop. LIFE CHANGING! No more huge batter messes! FYI, I make a commission for purchases made through this link.
How long to bake waffles for:
When baking waffles in a waffle iron, it can be hard to judge when your waffles are done. It also tends to get hotter the longer it's on for, which means it's hard to even time.
One little trick I use is this: I wait until there's no more wafts of steam coming out of the waffle iron. There will still be a little bit of steam, but you'll notice the first couple of minutes, there's a lot more steam! Wait for that to diminish before checking on your waffles.
My theory behind this is that the wet ingredients in the batter create steam as they cook, so once that settles down the waffle should have firmed up enough to make it safe to check without destroying them.
Go on, you can call me a genius now 😉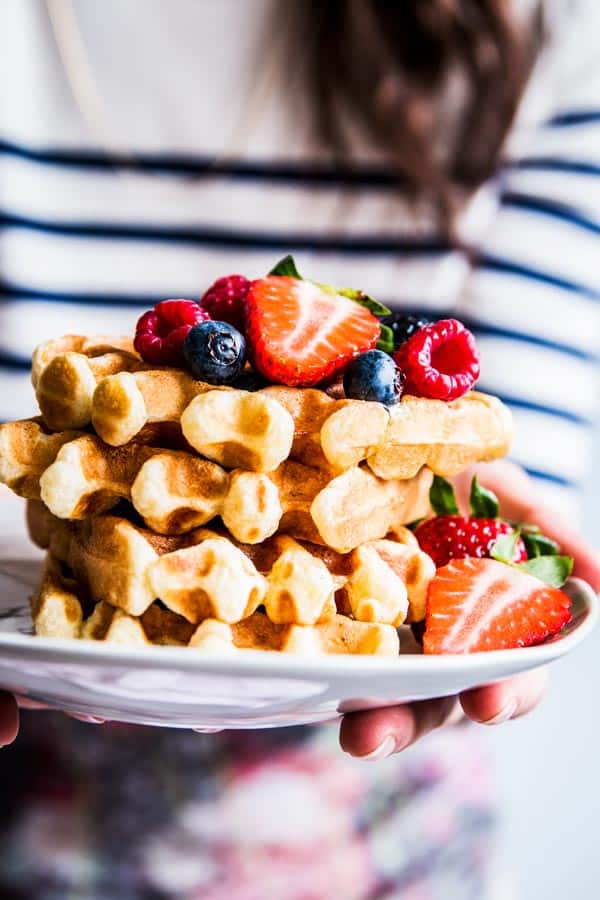 How to serve your fluffy buttermilk waffles:
You can top these with anything you like! We always love fresh fruit and maple syrup, but shhhh, a little chocolate sauce never hurt anyone.
My kids generally love them cut into waffle sticks. I give them each a small bowl of Greek yogurt mixed with some male syrup for dipping – they're all about the dipping!
For a special treat, I love making my Berry Cheesecake Fruit Salad with these.
So you can see, there's absolutely no need to buy bottles of waffle mix or even frozen toaster waffles. You can make a large batch of these and easily freeze them for up to three months.
How to freeze waffles:
To freeze, simply allow to cool to room temperature.
I like freezing them in a single layer on a lined baking sheet for about an hour first.
Then I pop them into freezer bags and label with the name and date.
That way I can pull out just as many as I need. I don't defrost waffles but pop them in the toaster straight out of the freezer.
If you don't have a toaster, you can bake the frozen waffles at 350F for 5-10 minutes, or until hot and crispy.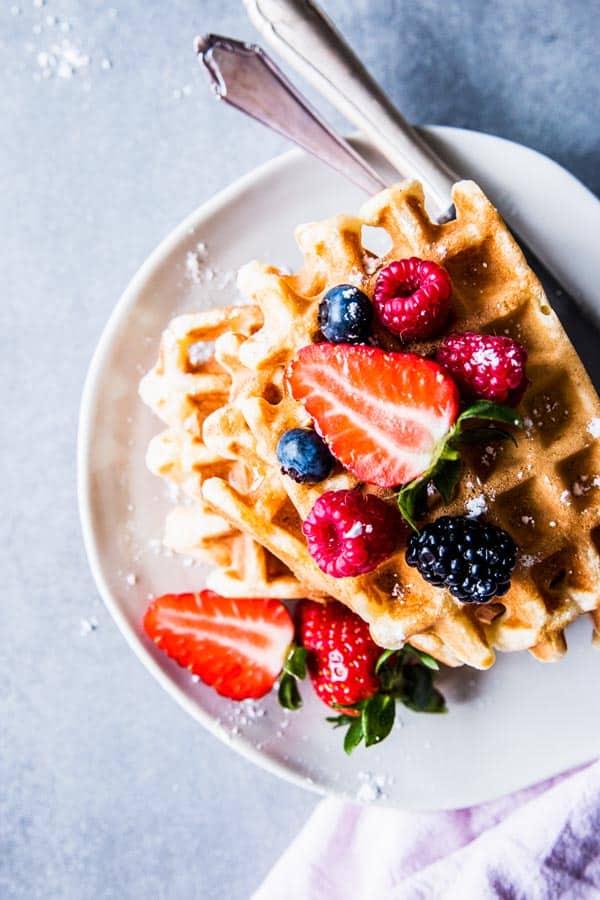 I can't see why anyone would not have a love-love relationship with these. And I hope your kids will start jumping for joy as well when they see you getting the waffle iron out of the cupboard 😉
Get the printable recipe for our favorite buttermilk waffles: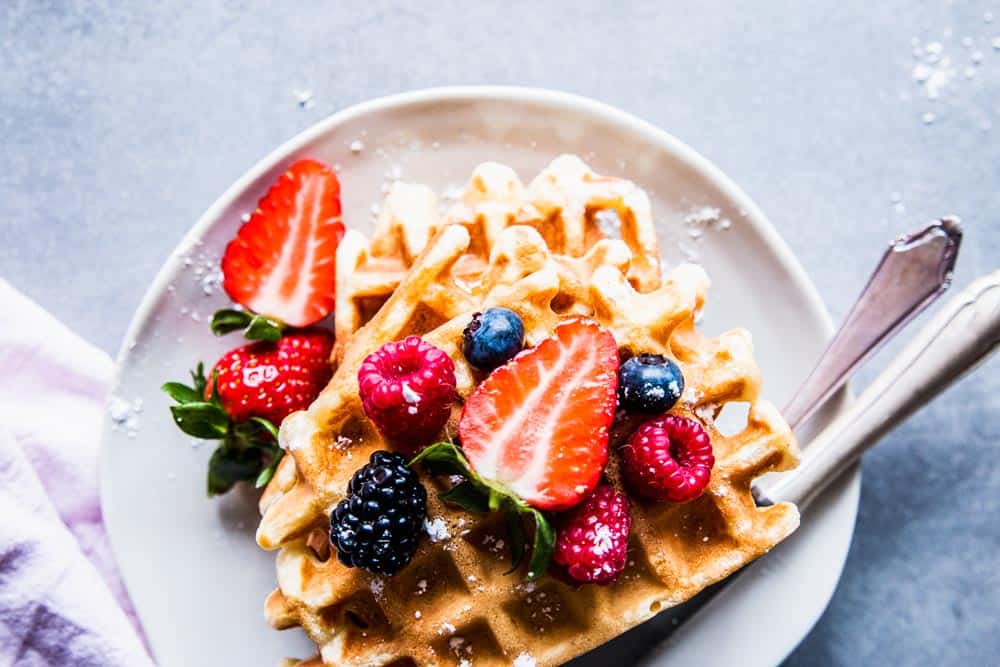 Ingredients
2

cups

all purpose flour

2

tablespoons

white sugar

2

teaspoons

baking powder

1/2

teaspoon

salt

2

large eggs

,

separated

1 1/2

cups

low fat buttermilk

3

tablespoons

oil

1

teaspoon

vanilla extract

berries, syrup or any toppings you love!
Instructions
Mix the dry ingredients: Add the flour, sugar, baking powder and salt to a bowl. Stir very well until evenly mixed.

Mix the wet ingredients: MAKE SURE YOU SEPARATE THE EGGS! In a large measuring jug, whisk together the egg YOLKS, buttermilk, oil and vanilla extract until smooth.

Beat the egg whites: Beat the egg WHITES in a clean bowl with electric beaters until still peaks form. You'll know they're ready when you can slowly invert the bowl without the egg whites falling out.

Make the batter: Pour the wet ingredients into the bowl with the dry ingredients and stir a few times just to combine. Add the beaten egg whites and carefully fold in just until incorporated. Do NOT overmix, or the waffles will be dense.

Bake waffles: Preheat your waffle iron on medium-high. Lightly grease and bake waffles according to your manufacturer's instructions. I use about 1/4 cup of batter per waffle, and I scoop it with a cookie scoop to make less of a mess.

Serve the waffles hot right out of the waffle iron - that's when they're the crispiest!
Notes
To freeze: Place the waffles in a single layer on a lined baking sheet. Freeze fro about an hour or until firm. Pack into freezer bags and label with the name and the date.   To reheat: Pull out as many waffles as you need and reheat them in bursts in your toaster right out of the freezer. To reheat in the oven, bake the waffles on a rack for about 5-10 minutes at 360°F, or until hot and crispy.
Nutrition (this is an estimate)
Nutrition Facts
Fluffy Buttermilk Waffles
Amount Per Serving
Calories 118
Calories from Fat 36
% Daily Value*
Total Fat 4g 6%
Cholesterol 24mg 8%
Sodium 119mg 5%
Potassium 124mg 4%
Total Carbohydrates 16g 5%
Protein 3g 6%
* Percent Daily Values are based on a 2000 calorie diet.