What to serve with waffles for breakfast: Are you looking for the best toppings and side dishes to serve with waffles for breakfast? Waffles are so versatile and can be served in lots of different ways. There are many options for toppings you can serve with this all-American classic. Just pick and choose what your family loves from this list!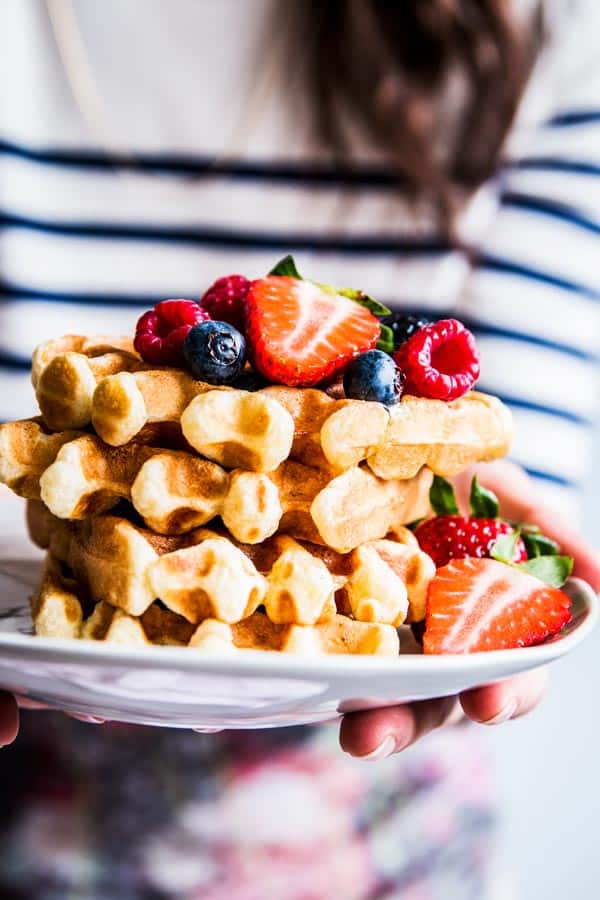 Waffles are one of our all-time favorite things to make for a lazy weekend breakfast. My kids love them and so do my husband and I – and for some reason I find baking waffles in a waffle iron way less stressful than flipping pancakes on a griddle.
One of our problems used to be that we would eat just the waffles – and then end up feeling hungry again shortly after. Not good!
I just didn't know what to make alongside the waffles. Or let me rephrase that: I didn't know and also didn't have the headspace to figure it out. I mean, apart from the Nutella I desperately threw on the table.
But then I figured I'd have to if we wanted to keep eating waffles, because it's really not fun having to feed your kids on an hourly basis. So I started writing down side dish ideas… And it was life changing! There's just something about having a written list that makes it SO much easier for me to whip up something else alongside the waffles. If I don't have anything written down? I just… Won't.
Strange, I know.
But if you're nodding in agreement now because you have the exact same problem… It's OK. I wrote it all down FOR you – and I can guarantee it will help you out so much!
For example, my pumpkin waffles are one of the most popular recipes here on Savory Nothings. And I know why – they're so delicious! But they're even better to me now because I know what to make with them to turn them into a balanced meal. Which also means I can serve them as breakfast-for-dinner without feeling guilty one little bit.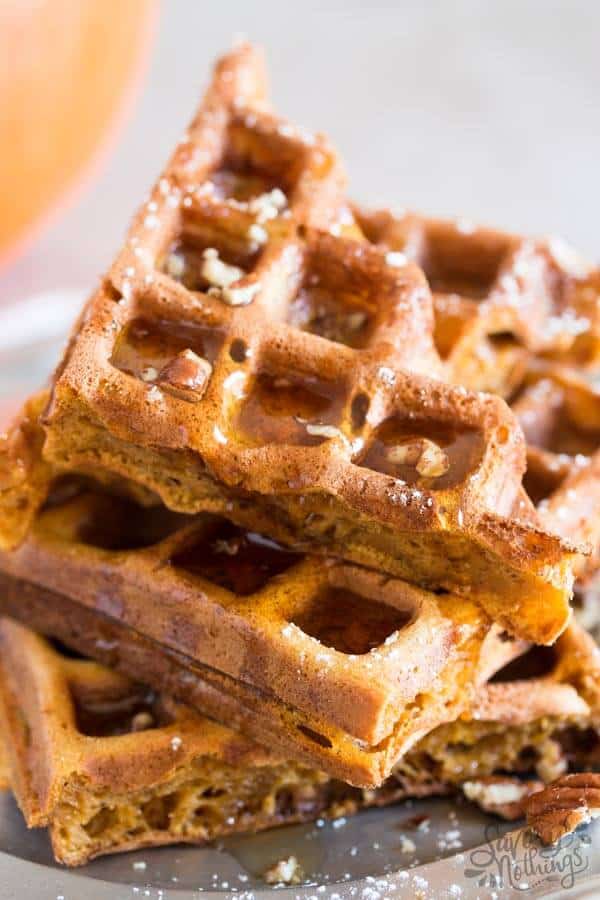 All you have to do is bookmark this page and come back to it whenever you're making waffles – all the side dish ideas are neatly laid out for you.
The Best Ideas for What To Serve with Waffles for Breakfast:
There's a few ways you can serve up your waffles for breakfast. I already talked about some of my favorites in my post about Buttermilk Waffles, but now I want to go more in-depth to show you just how versatile waffles can be!
So here's how we're going to do this: I'm going to write down a list of both sweet and savory side dish and topping ideas for waffles. Then I'm going to make a few suggestions for full meals.
Sounds good? Sounds good. Let's hop to it.
What are the Best Waffle Toppings and Sides for Breakfast?
Sweet Ideas
Yogurt
Sautéed apples
Fruit compote
Syrup or honey
Fresh fruit
Chopped nuts
Applesauce
Nut butter
Savory Ideas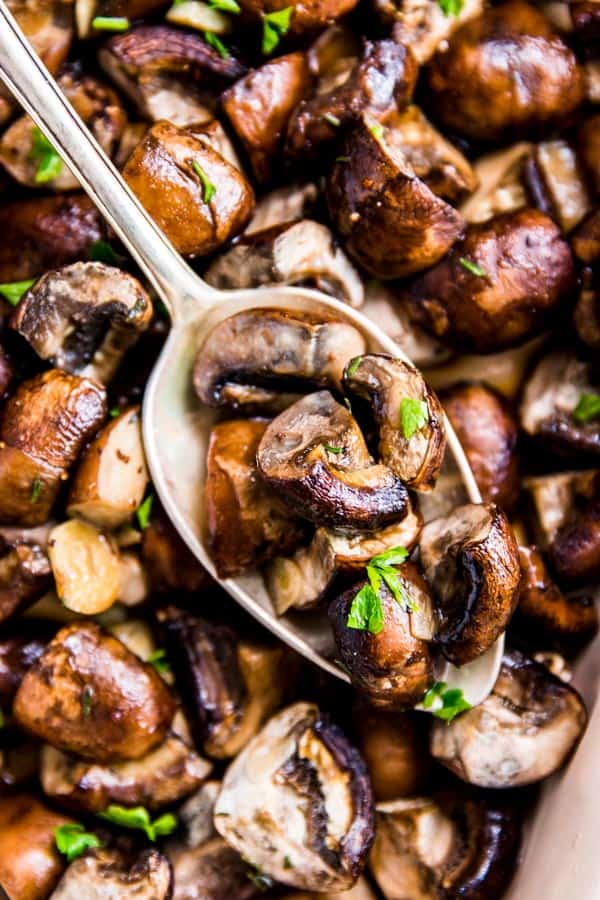 bacon
fried or boiled eggs
grilled tomatoes
citrus salad
salsa
avocado
lox
Meal ideas with waffles for breakfast: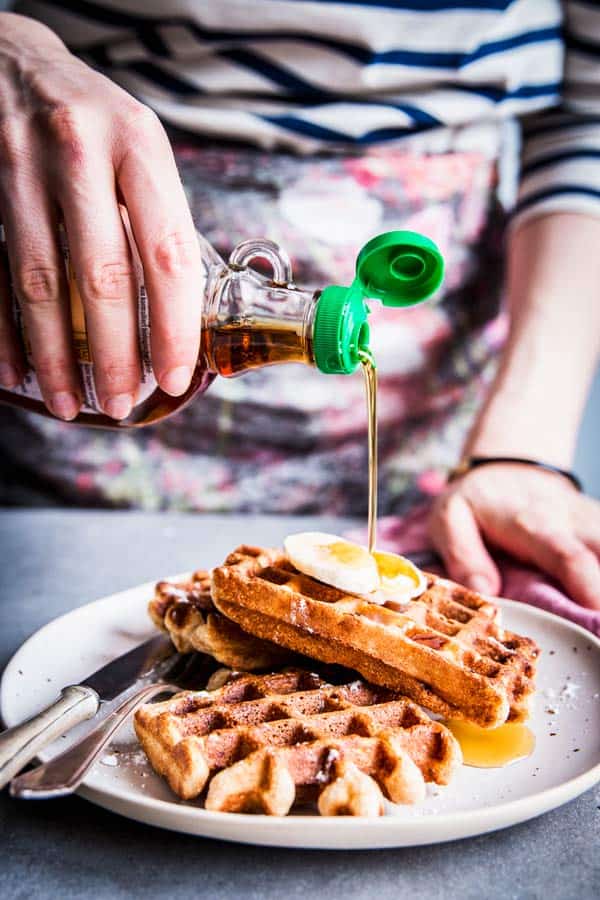 Meal 1: The Hippie
The crunchy flower power waffle. Serve your waffle with Greek yogurt, sprinkled with granola and a generous helping of fresh berries or Summer Fruit Salad on the side. My banana nut waffles or my Healthy Chocolate Chip Banana Waffles are perfect for this!
Meal 2: The Elvis
OK, this is decadent… But serving your waffle topped with peanut butter, sliced bananas and crispy bacon? A dream. Banana flavored waffles make this one perfect. Healthy Banana Waffles or Banana Oatmeal Waffles are some great options. I also like to add a large bowl of my strawberry fruit salad for extra vitamins.
Meal 3: The Lady who Brunches
Add lox, capers and whipped cream cheese to your waffle. Serve with the pretty avocado and citrus salad from this post. Hashtag classy.
Meal 4: The Classic English
Top your waffles with fried eggs and bacon, serve grilled tomatoes and baked mushrooms or sautéed green beans on the side. If you want to go over the top, make some homemade baked beans along the side. Our favorite waffles to make with this are my Fluffy Whole Wheat Waffles.
Meal 5: The Tex Mex
Make your waffles with scrambled eggs, sliced avocado and a lot of fresh salsa. We love this mango avocado salsa as the perfect side!
Meal 6: The Paradise
Make some Berry Cheesecake Fruit Salad or Creamy Fruit Salad and I promise, that's all you're going to need on top of some blueberry waffles. Pure bliss.
Meal 7: The Falling into Autumn
Full on fall flavors here! Serve Pumpkin Waffles topped with honey butter and chopped pecans and a large helping of sautéed cinnamon apples on the side. So good on a crisp morning!
Meal 8: The Everything Waffle
For those of you who can't ever make up their minds ? Top some Chocolate Chip Waffles with Greek yogurt, granola, sliced bananas, strawberries, chopped nuts and syrup. Or skip the individual toppings and just make some Greek Yogurt Fruit Salad!
Meal 9: The Basic
Blueberry Waffles, Greek yogurt, honey and fresh blueberries. That's it, and it's perfect.
Meal 10: The Avocado Toast Waffle
Mash avocado with some lime juice, salt and pepper. Spread on the waffles and top with hard boiled egg slices. Serve with fresh or grilled tomatoes on the side.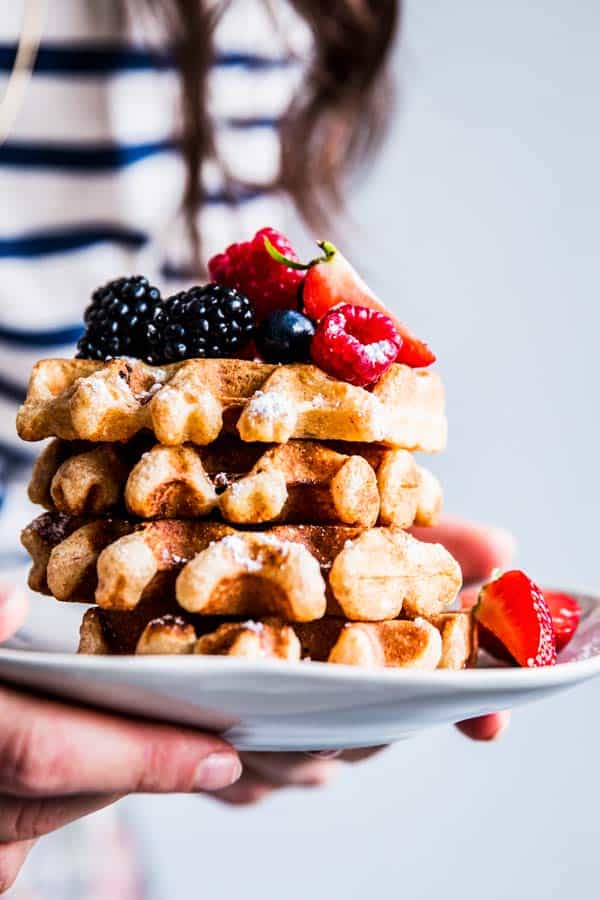 What are you going to serve with your waffles for breakfast this morning?
Which one was your favorite combo? Any other suggestions? Let me know in the comments below!