Introducing your new favourite way to make mushrooms – buttery, garlicky Garlic Butter Baked Mushrooms! I swear, these are impossible not to eat right out of the baking dish… They are an easy appetiser or side dish you can throw together in minutes. The sauce is delicious to be mopped up with crusty bread!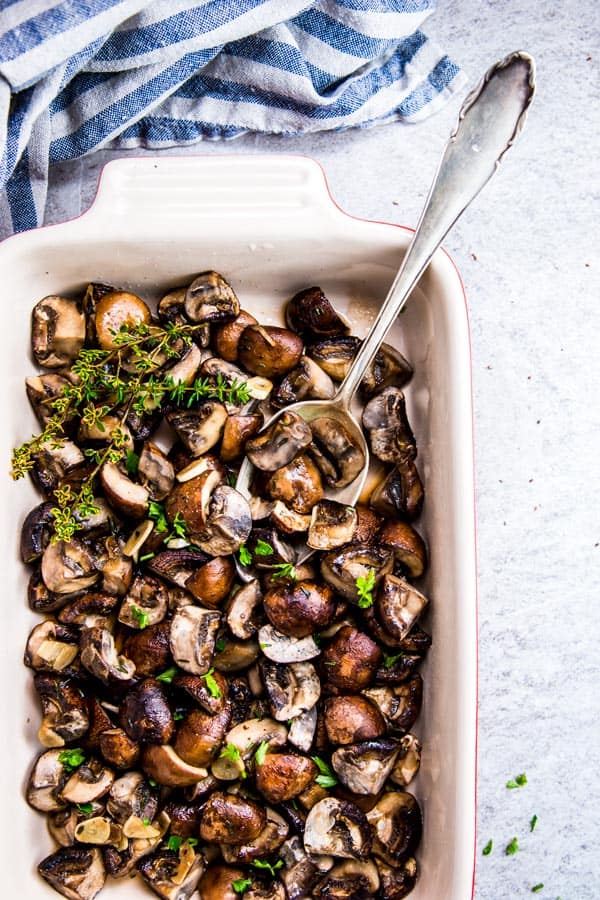 This recipe has been waiting to be shared for a year and a half now, patiently in the back of my mind. It is the story of my mini human #2.
See, mini human #1 was born by c-section. She was a breech baby and I was not going to deliver a giant head backwards.
At 38+1 weeks, she decided it was go time and we got to meet her almost a week before the scheduled surgery.
"I just deliver my babies early." I said when I was pregnant with mini human #2. "We must be very evolved. They just ripen faster." I may have smugly remarked at one point or the other.
But week 38 came… And went. As did week 39. And 40. By then, I was starting to get worried I wouldn't be allowed to have a natural birth any longer.
Finally, one morning at 4am, I felt contractions coming. Hm, that must be it. We shipped off the big sister to her grandparents and waited… And waited… And waited.
No more regular contractions. So we went to the hospital, where they sent us back home with the words "drink some wine and eat some garlic".
"WHAT?!", I wanted to scream. Just get that thing out of me.
But alas… They refused. So we walked home from the hospital.
It took an hour of huffing and puffing, but we picked up toast, mushrooms, garlic and a bottle of wine on the way.
We made garlic butter baked mushrooms and toast. THESE simple garlic butter baked mushrooms.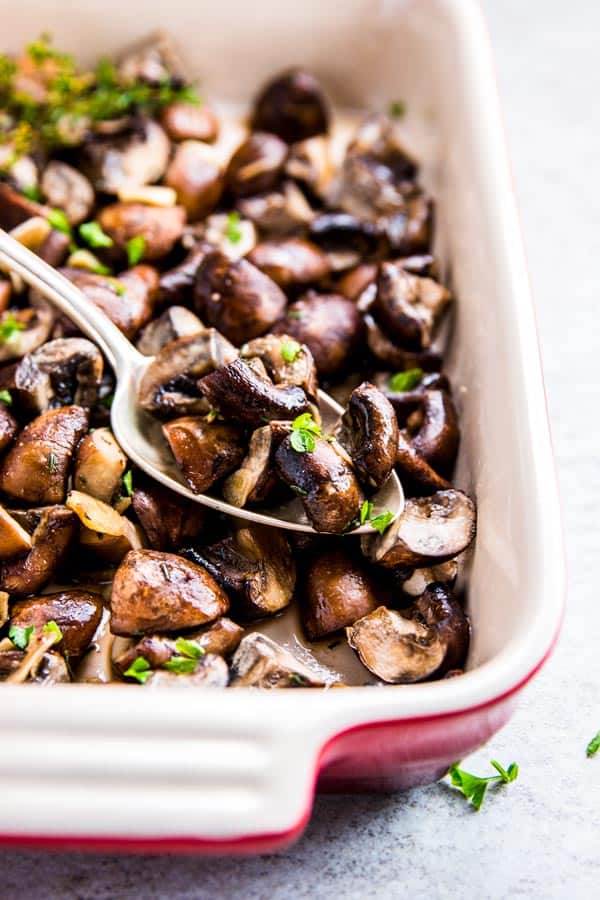 I had some wine. And apparently it worked its magic, because just after midnight I woke up, water broken, AND IN THE WORSTTTTTT PAIN.
How do people claim birth is not painful, idk. But 7 hours and an epidural later, I held a perfect being in my arms.
Life is just beautifully raw. And isn't birth the perfect example? Where pain and happiness sit so closely together.
If you are yet to experience the brutality beauty of birth, rest assured: It's worth it in the end. Also, it's fine to eat these garlic butter mushrooms no matter what life stage you're in, promise.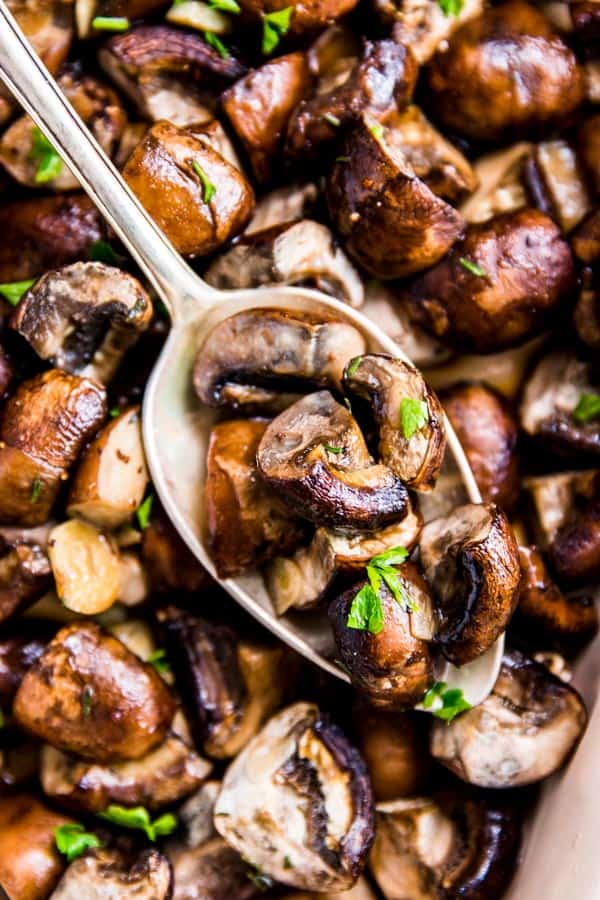 No need to wait for excruciating pain hovering over your head.
They taste… Just wonderful. Deeply garlicky and so buttery.
And the lemon juice and fresh parsley give them a really nice zing. No need to be finicky with the slicing, mincing and cutting – they're as rustic as they come.
These Garlic Butter Baked Mushrooms are incredibly simple to make (for when you don't feel like stuffing mushrooms with goat cheese or the heaven that is garlic and parmesan stuffed mushrooms) – slice, toss, bake, zing 'er up.
But I still have some very important tips for you to make these Garlic Butter Baked Mushrooms:
Don't slack on the two differently prepped garlics. Minced garlic = distributed flavour, sliced garlic = pockets of garlicky hits.
Using both oil and butter is essential to make sure you get the best flavour, but without burning the fat.
Be sure to add the lemon juice only after baking – it yields the freshest taste and you don't risk burning the juice, which would result in a bitter dish.
There are a lot of things that taste really good added to these mushrooms: Capers, anchovies, olives, oregano, salted caramel…
Well, maybe not that last one. But all the others are perfect companions and you can mix and match however you like.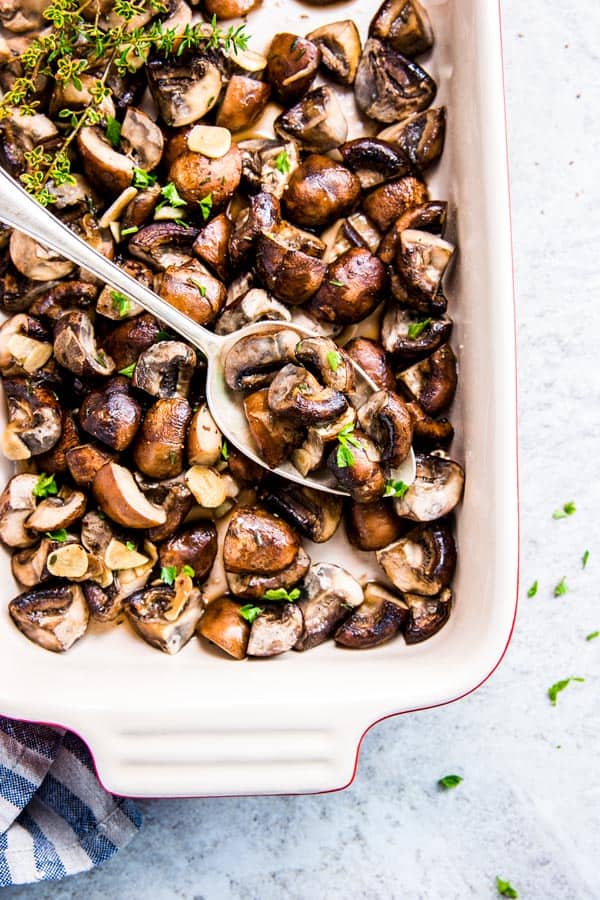 What is not optional, though, is whipping up a batch of No Knead French Bread to mop up all the delicious buttery juices from the mushrooms.
I know you'll love this, 41 weeks pregnant with your own mini human or not. Do it, make it, cook it ASAP!!
Get the recipe for these Garlic Butter Baked Mushrooms:
I first shared this recipe on Food Fanatic as Garlic Butter Baked Mushrooms.