This Honey Mustard Salad Dressing is SO creamy, you won't believe it's actually made with healthy ingredients! This is the best homemade salad dressing when you need some comfort food. Prep a large batch and keep in the fridge so you can easily dress your salads all week long!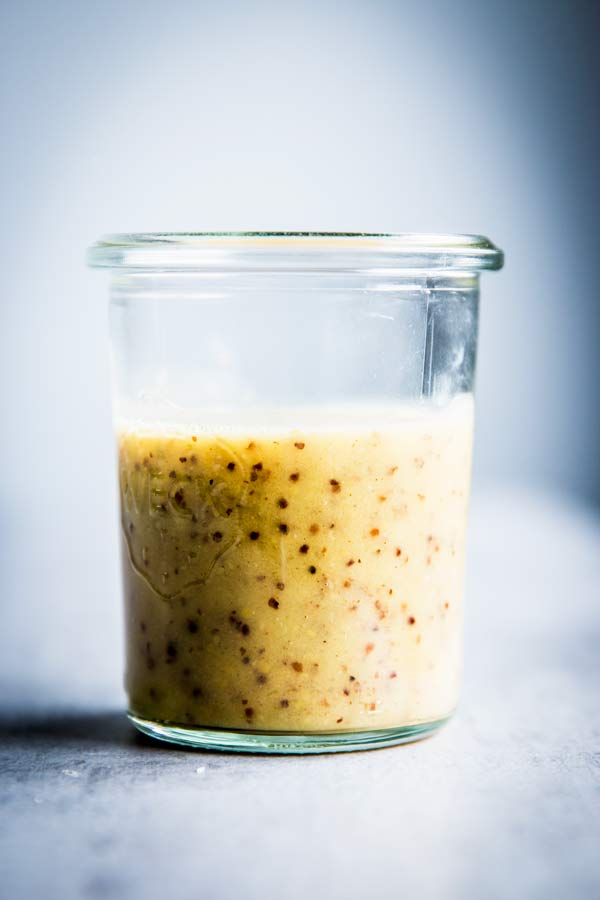 Honey Mustard anything has always been a favorite of mine. So much so that I once bought a bottle of fancy honey mustard dressing for about 10$. What insane pricing! But my inner shopping queen had to have it.
Also, the ingredients were literally two different mustards I had at home anyways, plus honey. Wise, wise spending… So I decided to start making my own more often.
My Honey Mustard Chicken with Bacon is a very popular recipe here on Savory Nothings, I thought you'd probably like the salad dressing version, too!
We always have a jar of homemade salad dressing in the fridge, and this is one of the most versatile, year-round appropriate dressings I make.
It's perfect over a simple spinach salad with fresh berries (like my lemon poppy seed salad dressing is, too!), just as much as over a winter greens salad with apples and pecans. It's truly magical, I think ❤
What I love most about this Honey Mustard Salad Dressing:
It's SO easy to make! Seriously. If you've been buying honey mustard dressing, just stop. This will take you 3 minutes, literally. 13 if you have to do it with a toddler glued to your hip. I may have timed myself in that exact scenario-
It's make ahead friendly. You can whip up a large batch and store it in the fridge for about 5 days. Great for easy meal prep!
It's healthy. It's super creamy and tastes rich and delicious, but there's zero mayo in it. I know a lot of recipes have mayo, but I eat mayo about once a year, so… No mayo in my salad dressings.
Now you might be wondering… No mayo, seriously Nora? Will this even taste good??
And you can rest assured, it tastes phenomenal. It won't turn your healthy salads into a fat-festival, either. I mean, I'm not against fat and sugar in any ways when it comes to special occasions, but I like my everyday food to be as healthy as I can make it without sacrificing on flavor.
So, tl;dr: It's delicious.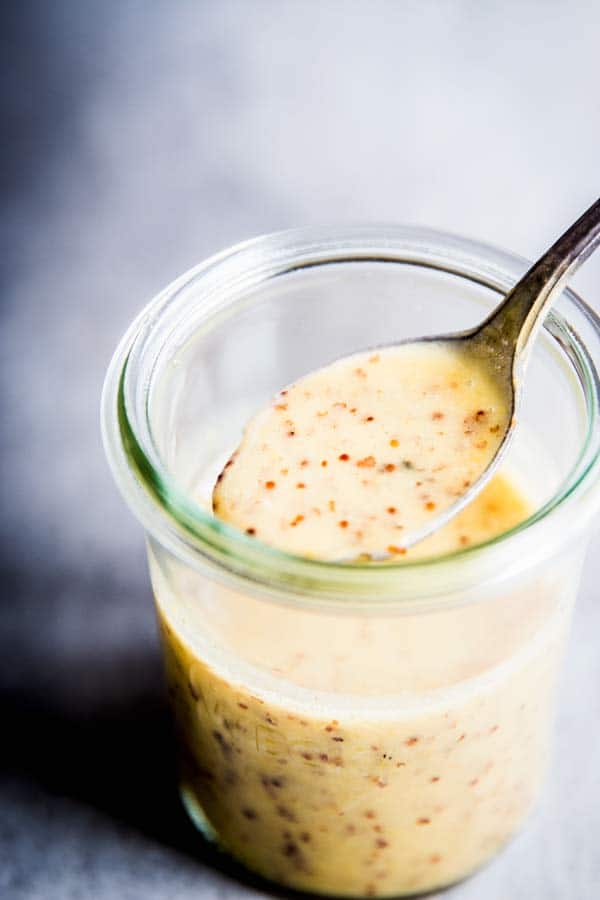 As an aside, I love using small Weck jars to store my salad dressings. Their lids are not THE most convenient ones to open and close again, but I do prefer them over the metal lids Ball jars come with, because those lids get rusty very quickly and need to be exchanged often. The Weck jars have glass lids (I don't put a rubber seal when I just keep salad dressing in the fridge!) that can be washed indefinitely – or at least until your preschooler wants to help and throws your entire box on the floor. Sigh.
You can find the small Weck jars from the photo above here on Amazon, but there's also large ones available if you want to store a larger amount of dressing. FYI, I make a small commission for purchases made through that link.
So, jar talk aside (jar talk is a thing, right?), here's how to make this dressing. It will take you one step.
No, really.
How to make Honey Mustard Salad Dressing:
Whisk all ingredients together.
And that, my friend, is it. There's really zero excuses to buy bottled salad dressings where you can't pronounce half of the ingredients. Also, they use so many emulsifiers and thickeners in their dressings to cut down on production costs… No way, Jose.
Make your own. Live in bliss.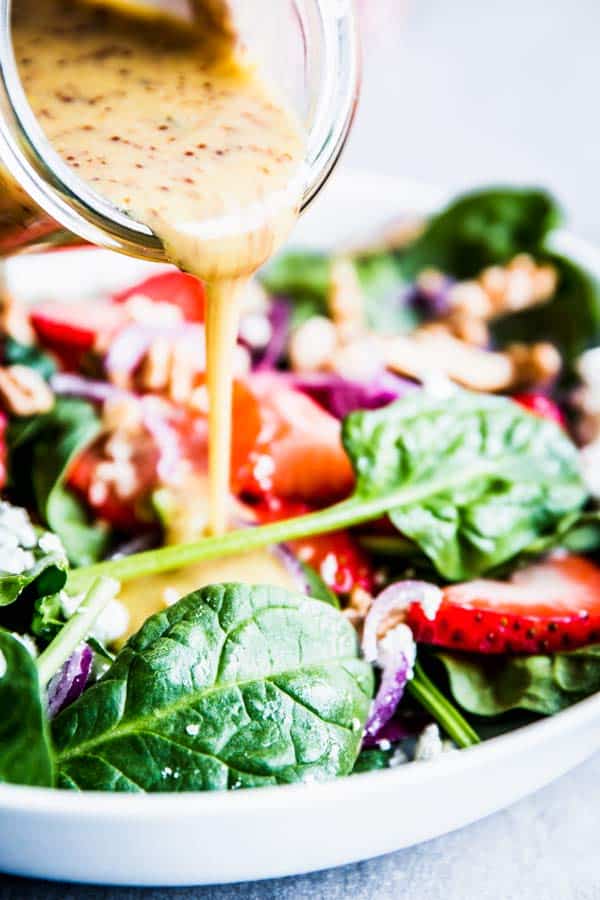 Now if I'm only making one batch, I'll whisk it up straight in the salad bowl (no need to dirty another dish!). But if I want a large batch for storage I just add all ingredients to a Weck jar, close the lid, shake and place in the fridge.
You can label with the date if you're organized like that. I'm usually… Not.
I hope you love Honey Mustard just as much as I do. I mean, we're Internet friends, right?
See, I knew it was true e-friendship ❤
Get the Honey Mustard Salad Dressing recipe here:
Printable recipe
Printable Recipe Card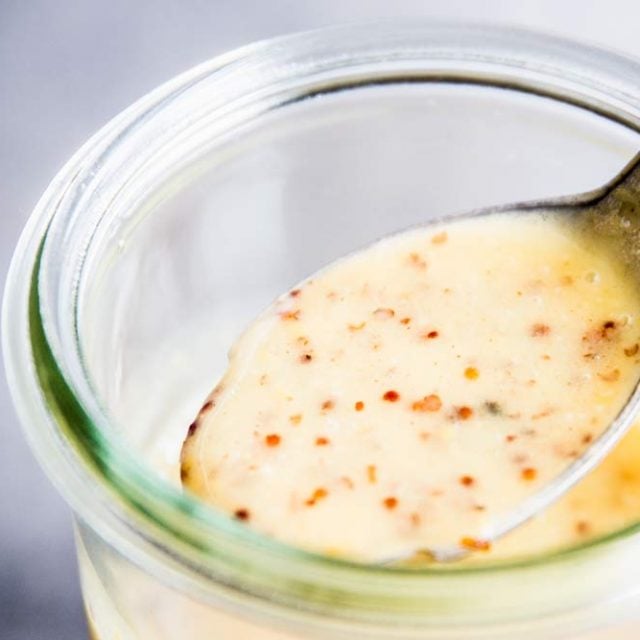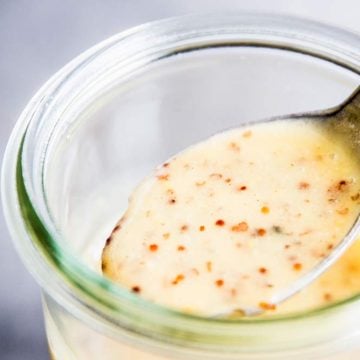 Honey Mustard Salad Dressing
This Honey Mustard Salad Dressing is SO creamy, you won't believe it's actually made with healthy ingredients!

made it? tap the stars to add your rating!
Ingredients
⅓

cup

olive oil

3

tablespoons

white wine vinegar

Juice of 1 lemon

3

tablespoons

honey

3

tablespoons

Dijon mustard

I used half smooth and half whole grain Dijon mustard

¼

teaspoon

dried garlic powder

½

teaspoon

fine sea salt

freshly ground black pepper

to taste
Instructions
Whisk all ingredients together until smooth. Store in the fridge in a tightly sealed jar for up to 5 days.
Want to save this recipe?
Create an account for free to start your personal recipe box. Save any recipe by tapping the heart in the bottom right corner.
Join Now
Nutrition
Calories:
54
kcal
Carbohydrates:
3
g
Fat:
4
g
Sodium:
105
mg
Potassium:
3
mg
Sugar:
3
g
Vitamin C:
0.3
mg
Calcium:
2
mg
Iron:
0.1
mg
Nutrition is an estimate.
More recipe information