Creamy Fruit Salad is going to be your new best friend this summer! Loaded with berries, fresh fruit and the creamiest homemade HEALTHY custard dressing. You would never know this is good for you – it tastes SO amazing!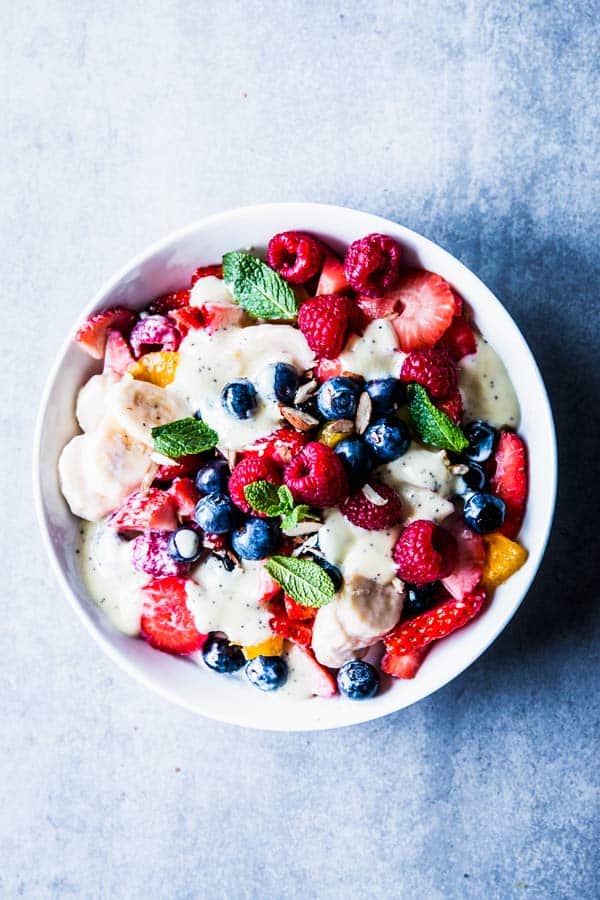 Fore the longest time I was very much against creamy fruit salads. I mean, I can get a bit opinionated about things, occasionally, ahem, always?
So yeah. I flipped the bird at creamy fruit salads and considered myself a better person because I made a delicious citrusy poppy seed fruit salad dressing to go over creations like a fresh winter fruit salad, a lush summer fruit salad and an incredibly pretty strawberry fruit salad. But GO FIGURE.
This sweet Berry Cheesecake Fruit Salad came along and suddenly, I could hear colors. Well, I don't know about that one for sure. But I certainly opened up to the idea of other creamy fruit salads (looking at you, Greek Yogurt Fruit Salad).
So I experimented with different fruit for my creamy poppy seed fruit salad dressing, and THIS is what won: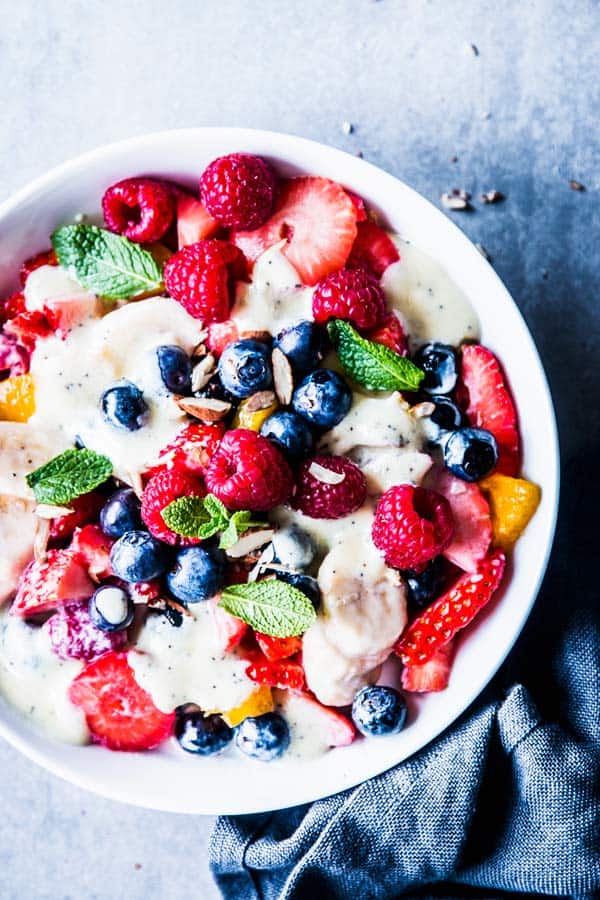 So lush and delicious and yes yes yes. Sorry, getting a little overexcited, as I do.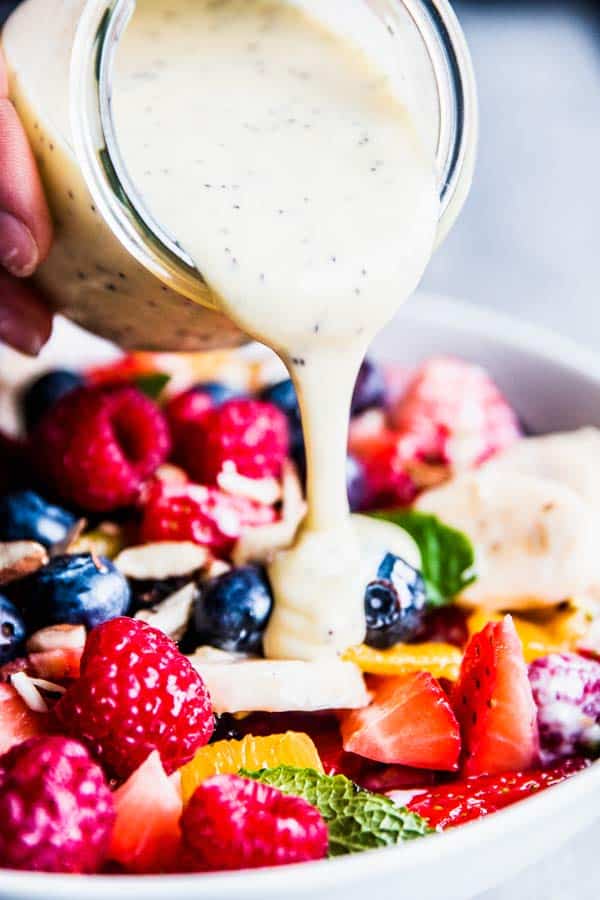 What I love about my creamy fruit salad:
It's secretly healthy! Yes, really. The homemade custardy dressing is sweetened with orange juice and honey. No heaps of sugar on this fruit salad!
Easy to make. This is really a foolproof recipe, if you follow the few tips I'm going to outline just below. But seriously. So easy. Your kids can definitely help with this one!
So decadent. I mean, as far as fruit salads go… But not heavy-decadent. Light and airy and springy decadent. Just what your swimsuit asked for 😉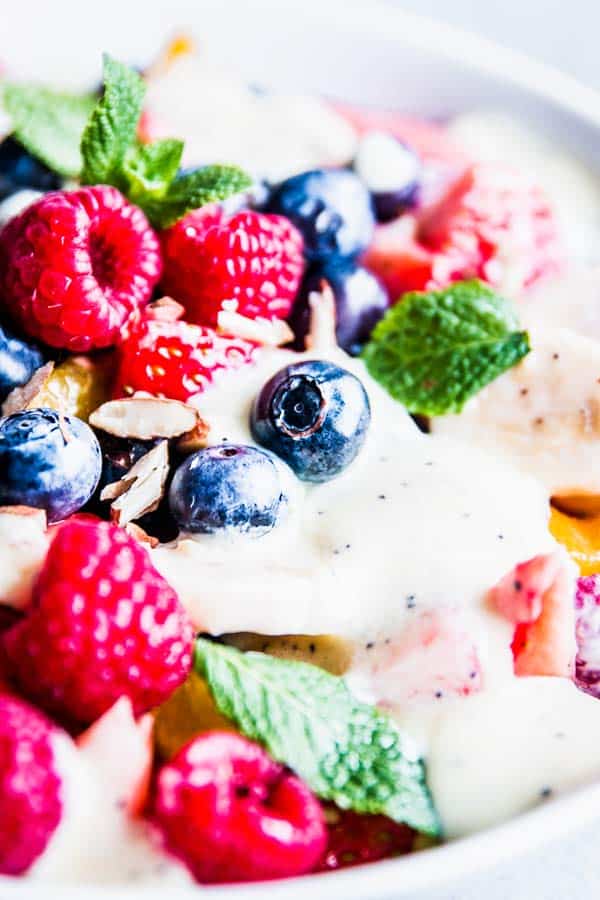 So, how about those tips now, lady?? Yes, yes. Let's get to that.
So one thing is, you cannot mix this salad ahead of time. You can make the dressing and cut the fruit and store them separately in the fridge (make sure to toss the fruit with lemon juice, and I generally like to add the banana freshly cut just before serving!). Then mix just before serving. Otherwise this salad can get soupy quite quickly.
And secondly, no fresh pineapple, kiwi or papaya can go into this salad. Canned is fine! But these fresh types of fruit have enzymes that break up the Greek yogurt in the dressing, and you could end up with a metallic and bitter tasting fruit salad. Boo 🙁
How to make a creamy fruit salad:
Start by cooking the super easy syrup for the dressing, so it has time to chill.
Prep the fruit: Carefully wash all berries. Pat the strawbs dry. Set the raspberries and blueberries aside on paper towels to dry. Wash the orange and banana.
Cut up the fruit: Hull and slice the strawberries. I like to slice them in a few different ways (rounds, half moons, slices) to make the salad more interesting! Peel and slice the banana. Remove the orange peel and cut the orange into filet segments, then into chunks.
Carefully add all fruit to a large bowl.
Finish the dressing by whisking in Greek yogurt and poppy seeds, then pour over the salad just before serving.
Garnish with mint leaves and sliced almonds, if you like. (You like, right??)
---
If you want to know more details about making the best ever fruit salads, read more in my Ultimate Guide to Making the Best Fruit Salad!
---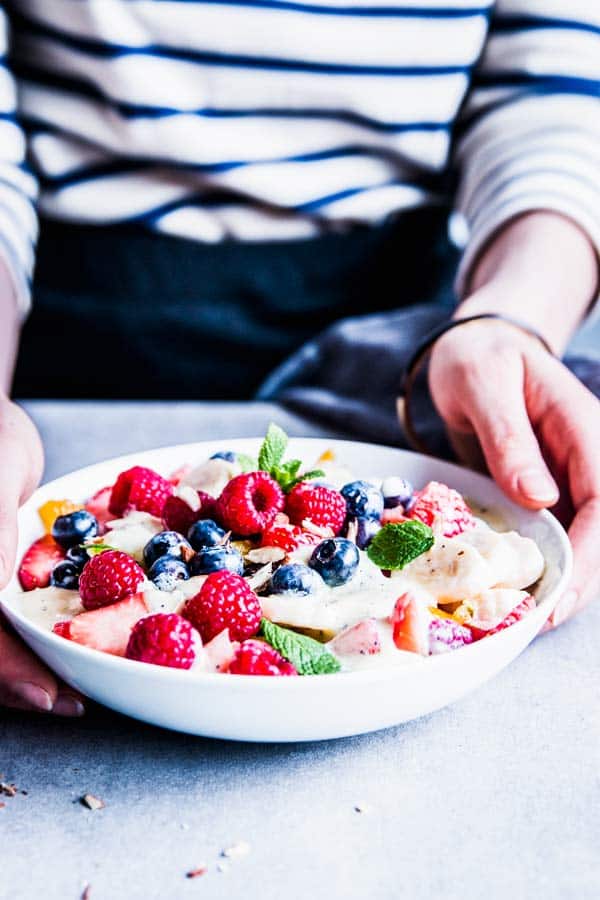 Then go ahead and eat half of it before giving the rest to the hungry lot inhabiting your house. No, really. Otherwise you'll be left with nothing.
Whenever I make this, a) my husband eats half of the dressing before it ever gets a chance to hit any fruit and b) my kids gobble up whatever amount of salad is put in front of them in mere minutes. F A C T.
If you've made this and maybe want to switch it up a bit, you can also leave out the poppy seeds in the dressing for a plain creamy fruit salad dressing. Or for a more tangy and refreshing taste, try my Greek Yogurt Fruit Salad Dressing!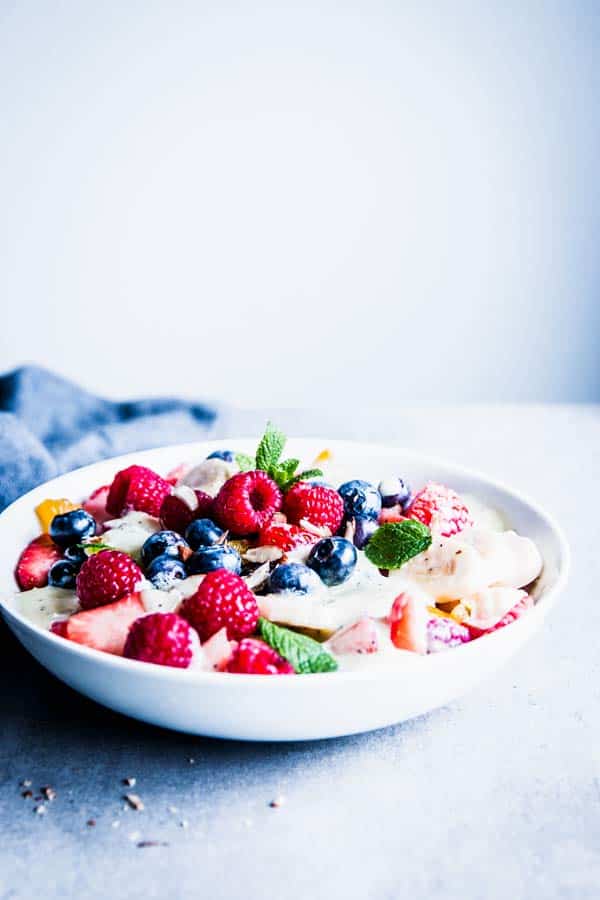 Ah, creamy fruit salad. It's so good to hear colors sing.
Get the printable recipe for my creamy fruit salad:
Printable recipe
Printable Recipe Card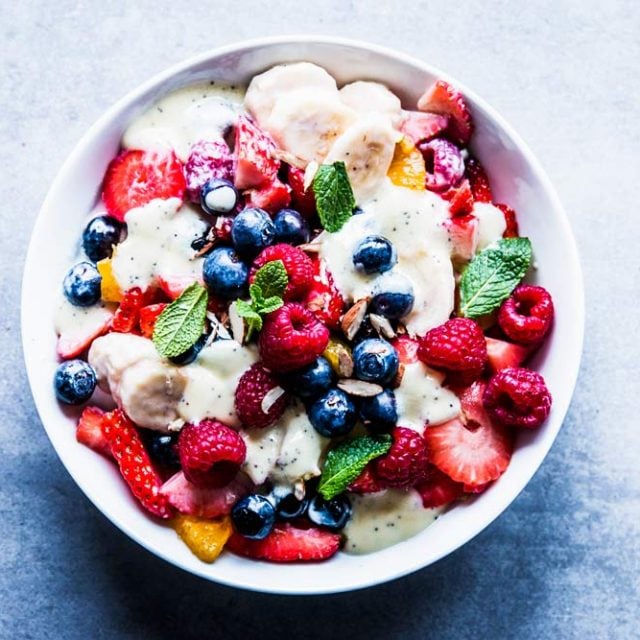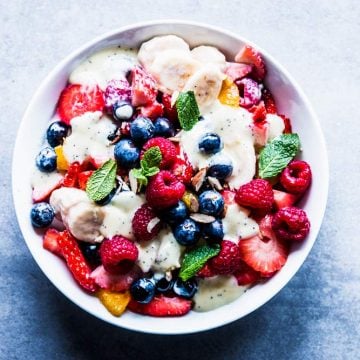 Creamy Fruit Salad
Creamy Fruit Salad is going to be your new best friend this summer! Loaded with berries, fresh fruit and the creamiest homemade HEALTHY custard dressing.
made it? tap the stars to add your rating!
Ingredients
For the dressing:
1

cup

orange juice

1

tablespoon

vanilla extract

¼

cup

honey or maple syrup

1

tablespoon

cornstarch

½

cup

plain Greek yogurt

1-2

teaspoons

poppy seeds
For the salad:
5

cups

fresh strawberries hulled and sliced

2

large oranges cut into filets or segments

then diced

1

cup

blueberries washed and patted dry

1

cup

raspberries washed and patted dry

2

large bananas peeled and sliced

Mint leaves and sliced almonds for garnish

optional
Instructions
Make the dressing:
Mix the syrup: Whisk together the orange juice, vanilla extract, honey and cornstarch in a small saucepan until smooth and there are no more dry patches of cornstarch.

Cook the syrup: Keep whisking and bring to a boil. Simmer for 1-2 minutes or until thickened to a medium syrup consistency, whisking constantly to avoid any lumps.

Cool the syrup: Take the syrup off the heat. For a shorter cooling time, pour it into a bowl. Cool to room temperature, whisk every so often to avoid a skin from forming.

Finish the dressing: Whisk the Greek yogurt and poppy seeds into the cooled syrup. Chill in the fridge until ready to use.
Make the salad:
Combine the dressing with all salad ingredients in a bowl and serve immediately.
Want to save this recipe?
Create an account for free to start your personal recipe box. Save any recipe by tapping the heart in the bottom right corner.
Join Now
Notes
Nutrition is an estimate, using 1 teaspoon of poppy seeds and without mint or almonds, as these will be optional.
Nutrition
Calories:
156
kcal
Carbohydrates:
35
g
Protein:
3
g
Fat:
1
g
Sodium:
8
mg
Potassium:
406
mg
Fiber:
4
g
Sugar:
25
g
Vitamin A:
185
IU
Vitamin C:
94.1
mg
Calcium:
58
mg
Iron:
0.8
mg
Nutrition is an estimate.
More recipe information