Spinach Strawberry Walnut Salad is a simple dish you can put together in 15 minutes or less. Serve it as a side with dinner or as a light lunch – it's always a big hit!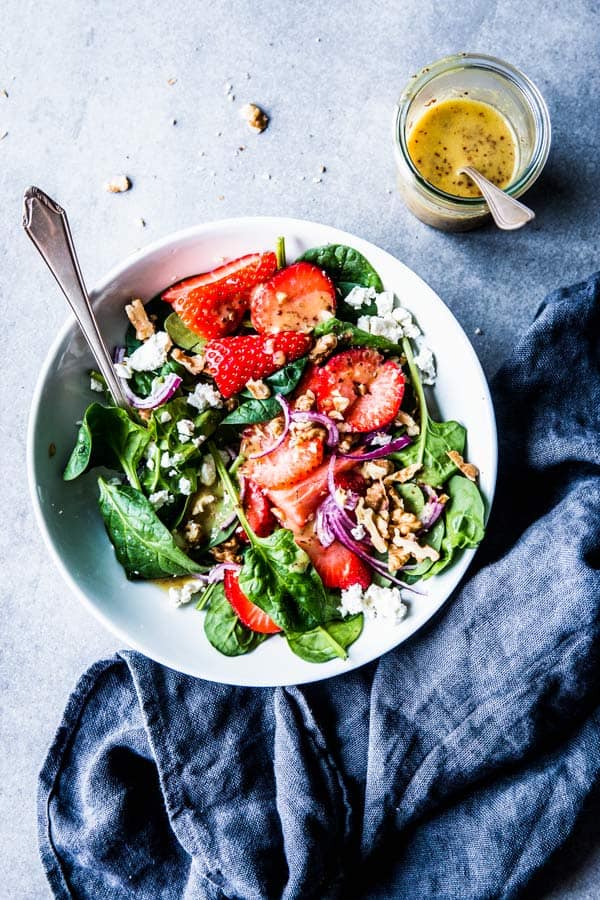 Do you know what's the worst time during the year?
The stretch between Valentine's Day and Easter. It's usually chilly and grey where we live, and it's pretty much snowing or raining every single day.
I hate it.
Just to be even more cheerful, here's what I hate even more during that time: The lack of any kind of fresh fruit. And no, frozen is not the same. Also no, I can't eat bananas, apples and pears to infinity and beyond. Though I will admit my Winter Fruit Salad is quite delicious…
But still, making a point here.
I generally try to buy in season, as local as I can, organic if possible. But this year I made a pact with myself:
I am allowed to buy out-of-season fruit during that dark and dreary stretch of endless grey days.
Things like strawberries from the far away lands where the sun is always shining.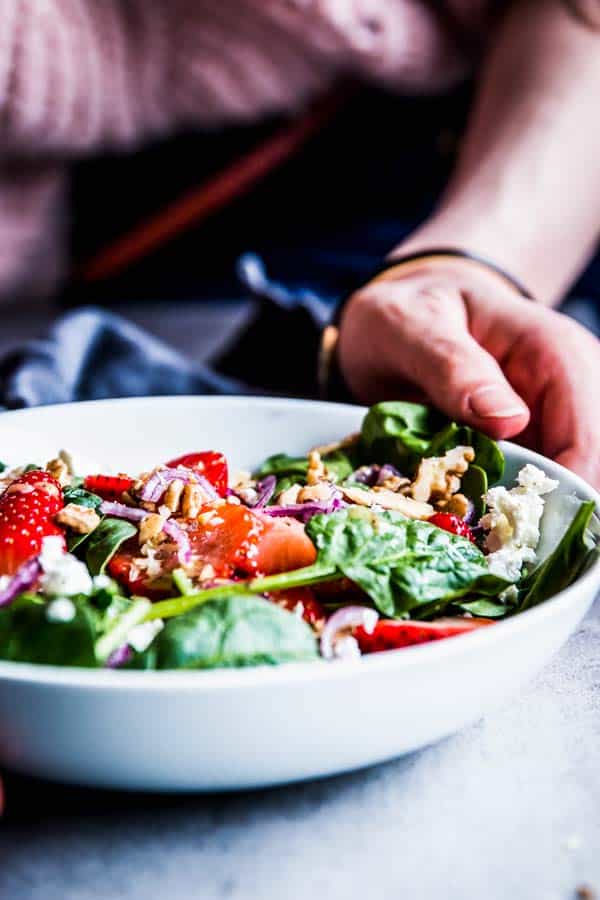 So I can make fresh and cheerful recipes like this Spinach Strawberry Walnut Salad.
full of fresh strawberries and healthy baby spinach
with sprinklings of chopped walnuts, feta cheese and red onions
all doused in a delicious homemade honey mustard salad dressing
Yes, yes, yes.
This is the stuff that's keeping me going until we get to a point in this season where the weather stops being so hateful all the time. And it's not just me.
It's like this new rule has made this part of the year a lot brighter and happier for our entire family.
My husband is less grumpy because he doesn't have to eat a shaved fennel and apple salad for the umpteenth time (even though it's delicious!).
My kids fight less because maybe they can feel that the weather is soon going to be good enough for them to spend all day in the backyard? At least they're fighting less and have big smiles on their faces whenever they see me pulling berries out of the fridge.
This is not my ideal situation but I decided my mental health was going to be important to me this winter, and since it's usually 8 weeks, tops, I'm going to be OK with this pact of mine.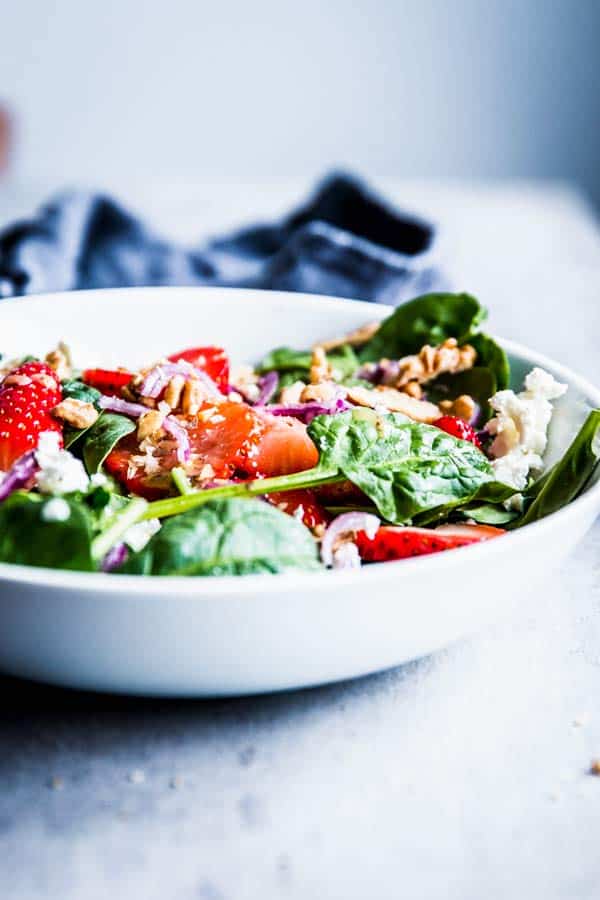 How I make my Spinach Strawberry Walnut Salad:
Tl;dr:
Make the dressing
Chop the walnuts
Slice the strawberries and red onion
Crumble the feta
Toss everything carefully in a large bowl
Devour immediately
Spinach Strawberry Walnut Salad, extended version:
I first learned about how delicious spinach and strawberries were together from my husband. It's SO good, this is one of my favorite ways to make a salad. I can't believe I'm calling this a recipe though, because it's SO easy!
First you need to whip up a homemade honey mustard salad dressing. It takes about 3 minutes and is SO much better than the bottled stuff! Don't fool yourself into buying it because it's convention. You'll be sorry because homemade tastes so much better.
If you want to switch things up, this salad is also amazing with my lemon poppy seed dressing. Or my white balsamic vinaigrette. Or my regular balsamic vinaigrette dressing, for that matter.
If I have to make a new batch, I usually I whisk the dressing right in the salad bowl, but then I wouldn't get a pretty photo of me pouring the dressing all over the salad ?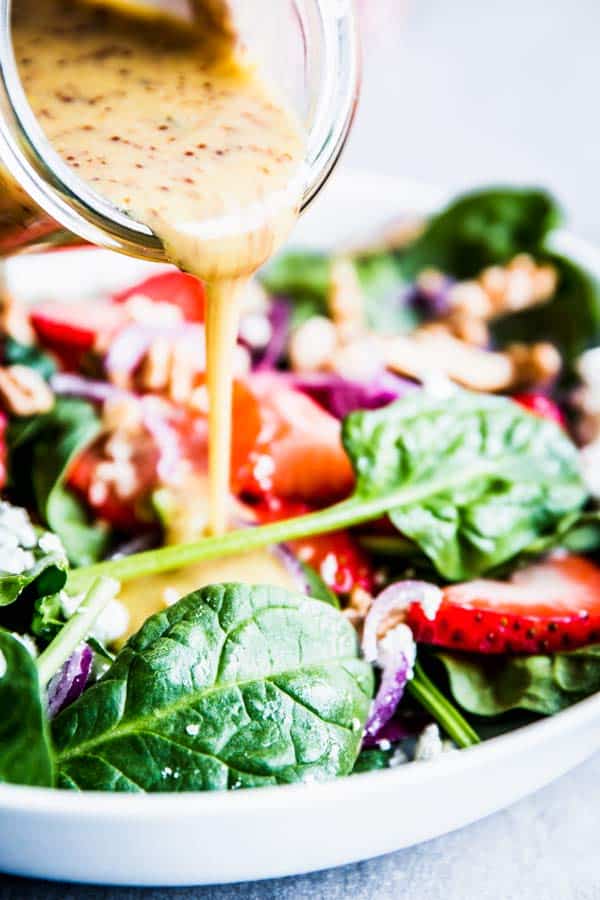 But more often than not I actually have a few jars of dressing stored in my fridge for easy meal prep.
I chop the walnuts quite roughly because we like it that way. Sometimes I don't even chop the halves but just lovely break them up by hand – shhhh, our little secret.
You'll want to find really good strawberries for this salad. But if you're playing early bird like me, you'll probably notice they're not quite as sweet as the ripe, in-season ones. The good news are that the vinegar in the dressing helps bring out their sweetness, so as long as you have some that have a nice taste, it's OK if they're not at their sweetest yet.
I usually slice the strawberries willy-nilly when I make this salad. Some into wedges, some into rounds, some into half moons. Makes it more interesting to eat!
The red onion I just slice into thin strips. Make sure you don't slice it too thick, it's good in smaller doses, but a big fat wedge… Not so much.
I know there's pre-crumbled feta to buy, but I usually buy a block and crumble it myself as needed. I find it keeps longer in a block? Idk, that's just my experience.
Finally, all that's left is very gently tossing the salad ingredients in the bowl with the dressing. Don't be too hard on this salad, else the spinach will go mushy and you'll smash the strawberries.
Be sure to only mix the salad with the dressing right before serving, otherwise the spinach wilts and the strawberries get soggy. Not so fun to eat.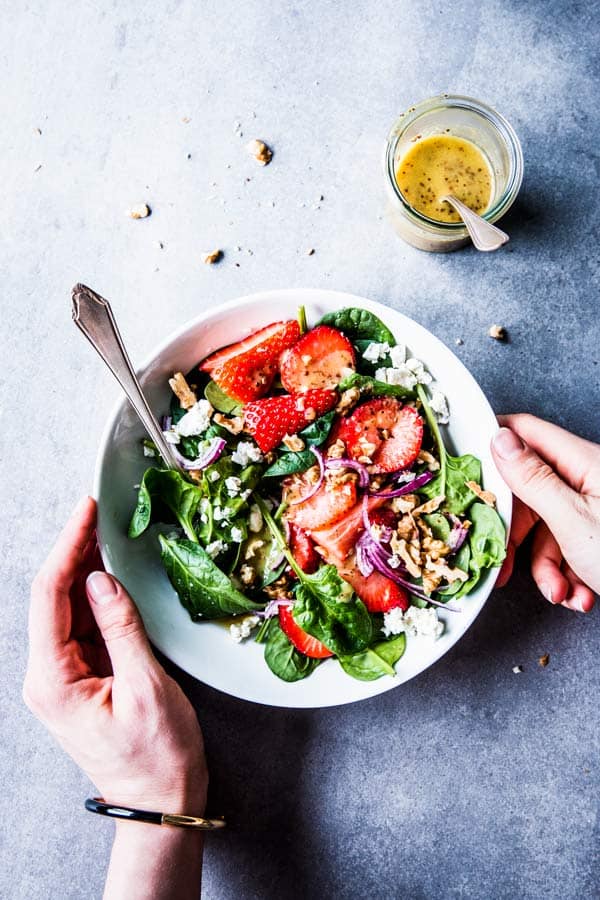 What I love most about this Spinach Strawberry Walnut Salad:
The joy it brings us!
And not just during this yearly stretch of general ugh-ness. Once spring finally rolls around for real, we obviously keep making this until the last batch of strawberries is harvested in September.
I just love seeing everyone's eyes light up around the dinner table when I put a bowl of this down. Better than sticking to a self-imposed, rigid rule that drives me crazy ❤
Get the Spinach Strawberry Walnut Salad recipe here:
Printable recipe
Printable Recipe Card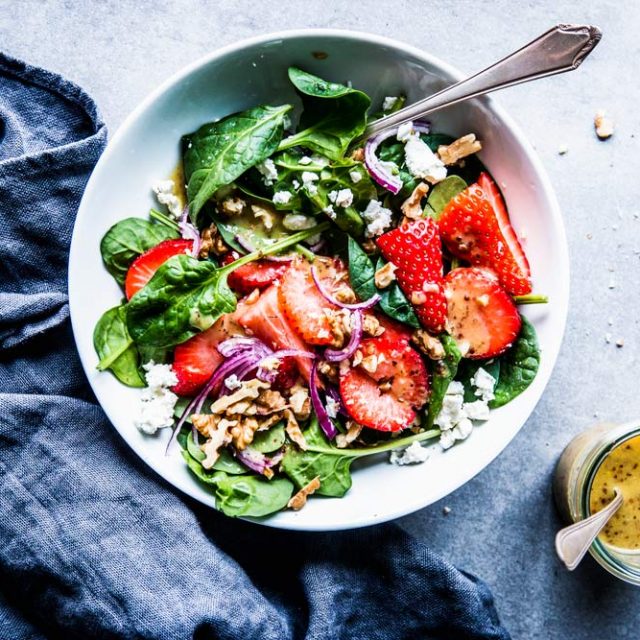 Spinach Strawberry Walnut Salad
Spinach Strawberry Walnut Salad is a simple dish you can put together in 15 minutes or less. Serve it as a side with dinner or as a light lunch - it's always a big hit!
made it? tap the stars to add your rating!
Ingredients
For the dressing:
3

tablespoons

olive oil

1 ½

tablespoons

white wine vinegar

Juice of ½ lemon

1 ½

tablespoons

honey

1 ½

tablespoons

Dijon mustard I used half smooth and half whole grain Dijon mustard

⅛

teaspoon

dried garlic powder

¼

teaspoon

fine sea salt

use less if using table salt!

freshly ground black pepper to taste
For the salad:
¼

cup

chopped walnuts

10

oz

bag baby spinach

1

pound

strawberries

hulled and sliced

1

red onion

sliced

⅓

cup

crumbled feta cheese
Instructions
To make the dressing, whisk all ingredients together and set aside.

To make the salad, gently toss all salad ingredients in a large bowl with the prepared dressing. Serve immediately.
Want to save this recipe?
Create an account for free to start your personal recipe box. Save any recipe by tapping the heart in the bottom right corner.
Join Now
Notes
Serves 4 as a side or 2 as a meal.
Nutrition
Calories:
266
kcal
Carbohydrates:
22
g
Protein:
6
g
Fat:
18
g
Saturated Fat:
3
g
Cholesterol:
11
mg
Sodium:
408
mg
Potassium:
641
mg
Fiber:
4
g
Sugar:
14
g
Vitamin A:
6710
IU
Vitamin C:
88.6
mg
Calcium:
167
mg
Iron:
2.9
mg
Nutrition is an estimate.
More recipe information