Blueberry Waffles are the perfect addition to your spring and summer brunches! Fluffy on the inside, crispy on the outside and filled with fresh bursts of blueberry – everyone loves these!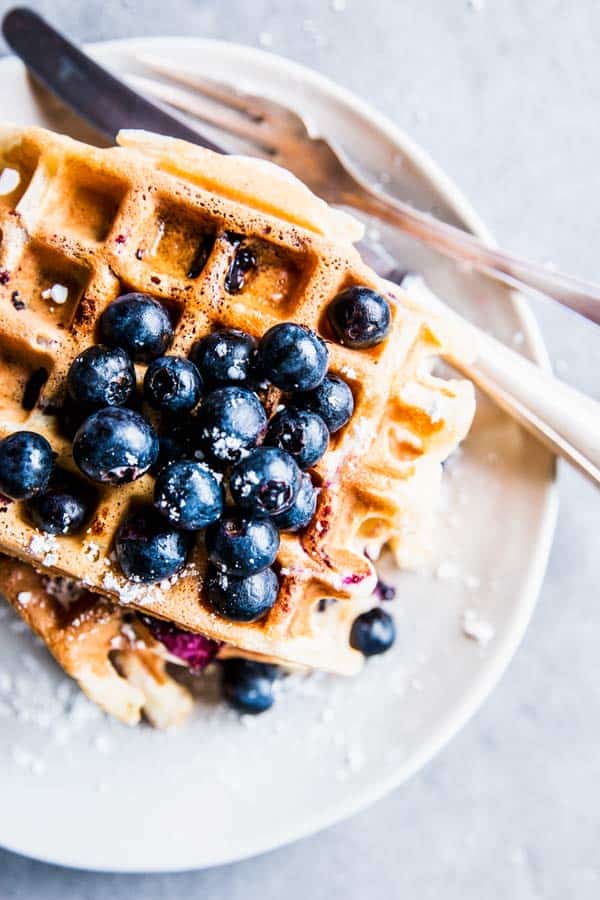 I have a few very dramatic stories to tell about me and blueberry waffles / blueberry pancakes.
They are hard on me. I don't know why, but for some reason I kept failing at making blueberry waffles and pancakes that a) actually hold together, b) taste nice and c) don't stick to the waffle maker or griddle.
I know, some hard life I'm living…
My kids love all things berry, so I kept promising them to make blueberry waffles. But batch after batch… Failed. But then I hit gold when I figured out my favorite buttermilk waffle recipe. I knew I'd eventually have to hire the bullet and try adding blueberries… It worked like a charm.
Jump to:
This is now my go-to recipe when I want to make blueberry waffles, and it never disappoints!
My buttermilk waffles make the perfect base – crispy on the outside and fluffy on the inside
They don't stick to the waffle iron!
They hold together perfectly
I love adding a little cinnamon to the batter because I think it goes really well with the blueberries. It's also delicious with a tablespoon of lemon juice and some finely grated lemon peel – even better for spring!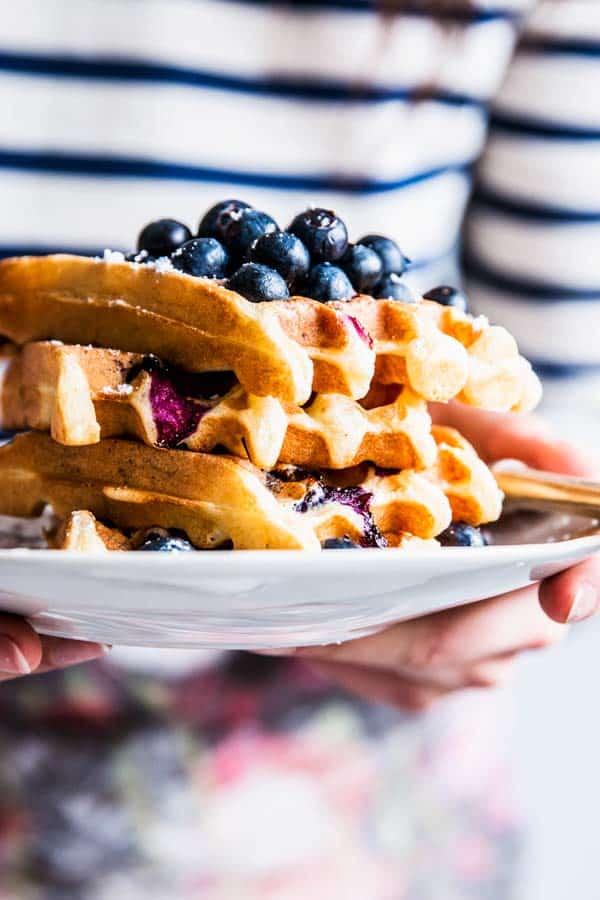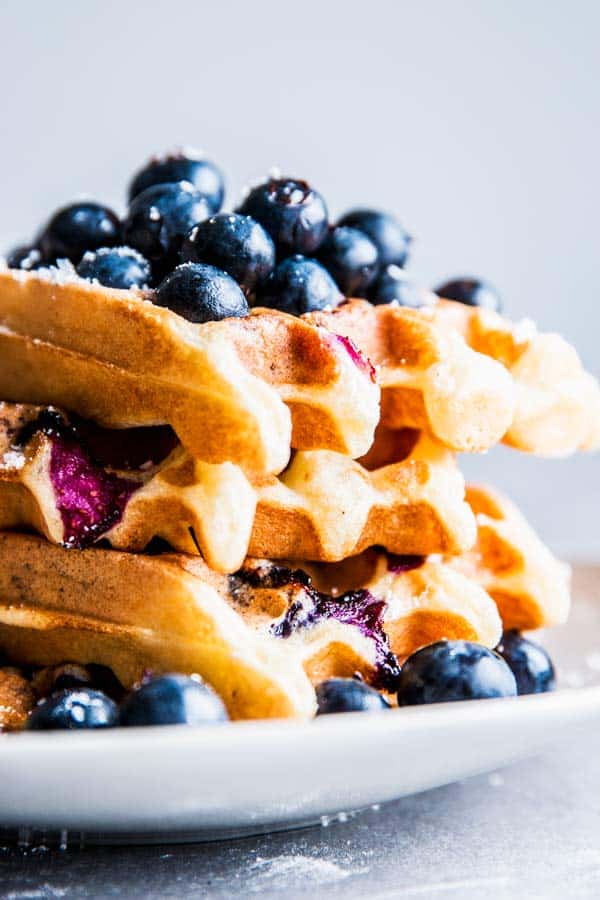 ? A few waffle-making tips
Mixing the dry ingredients
This one is easy, you just want to make sure you're stirring well enough to evenly distribute the baking powder.
I like using a large mixing bowl because it makes it easier to fold everything together later!
Mixing the wet ingredients
The most important step to remember here is to separate the eggs! Speaking of experience over here…
The egg yolks you'll whisk with the rest of the wet ingredients until smooth. I prefer doing this in a measuring jug for mess-free adding to the bowl with the dry ingredients later.
Beating the egg whites
I do this last, because I find the egg whites tend to get runny again after standing for too long.
I prefer using a smaller mixing bowl and a handheld mixer, the eggs whip up faster that way.
You'll know they're at stiff peaks if you can slowly invert the bowl without them falling out – just don't do it over your head like my mom used to do with me when I was little ?
Mixing the batter
First, you'll want to mix the wet with the dry ingredients. Just a few stirs to start incorporating the two. Don't forget, you'll mix some more when you're folding in the egg whites and the blueberries!
Next, add the beaten egg whites. Carefully fold them into the batter. You don't want to knock out too much air, but you also want to make sure there's no more large clouds of egg white left floating around. Otherwise it will turn into patches of scrambled egg white in your waffles.
Finally, fold in the blueberries with a few quick stirs.
Fresh or frozen berries?
Both fresh and frozen blueberries are fine. I actually prefer fresh because they don't discolor the batter as much, but frozen works, too. Don't defrost the berries if you're using frozen and mix just two or three times to avoid getting grey waffles.
Baking the waffles
I generally don't start preheating my waffle maker until the batter is done. It happened more than once that I got interrupted mid-waffle-batter-making and the iron just got too hot.
I use about ¼ cup of batter per waffle and scoop it with a 3 tablespoon cookie scoop like this one – GAME CHANGER! Makes it so easy and mess-free. FYI, I make a commission for purchases made through this link.
Then I cook the blueberry waffles until no more huge wafts of steam escape form the waffle iron. This is usually the signal that it's safe to open the waffle iron.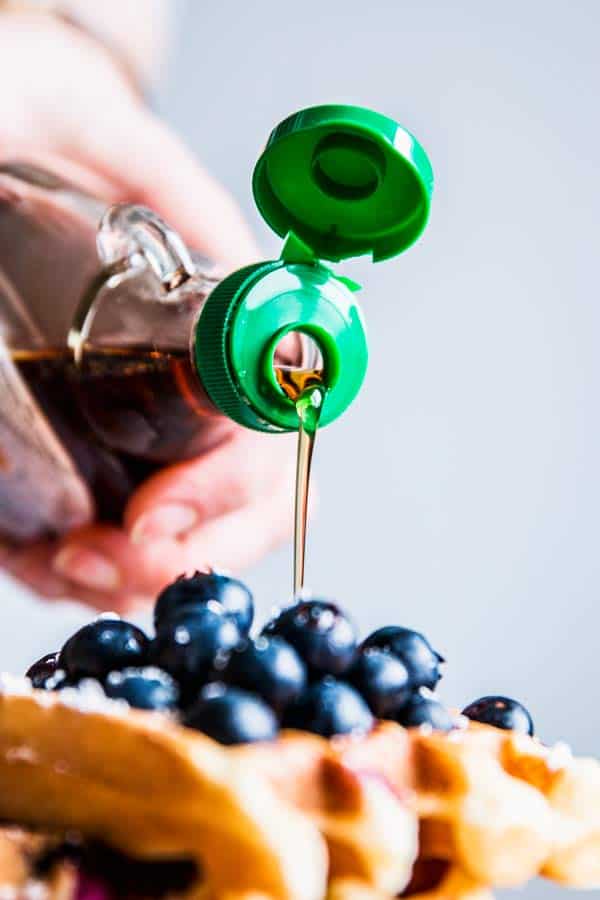 ❄️ Freezer instructions
I love stocking my freezer with waffles and pancakes! Makes special weekend bunches effortless.
Just freeze on a lined baking sheet in a single layer until firm. Then bag up into freezer bags. To defrost, either heat in a toaster or at 360F in the oven for 5-10 minutes.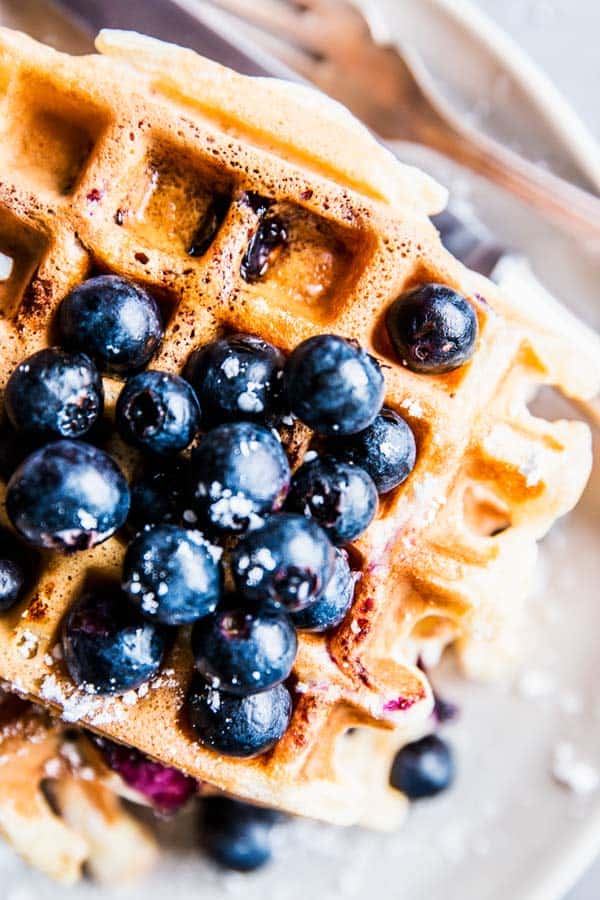 I'm so glad I finally mastered blueberry waffles. It's definitely one of my most requested breakfast recipes once fresh berries start hitting the supermarket – almost more even than my chocolate chip waffles! Almost.
And I can see why – they're pretty delicious. Yes I know I'm biased, but just see for yourself ?
Printable recipe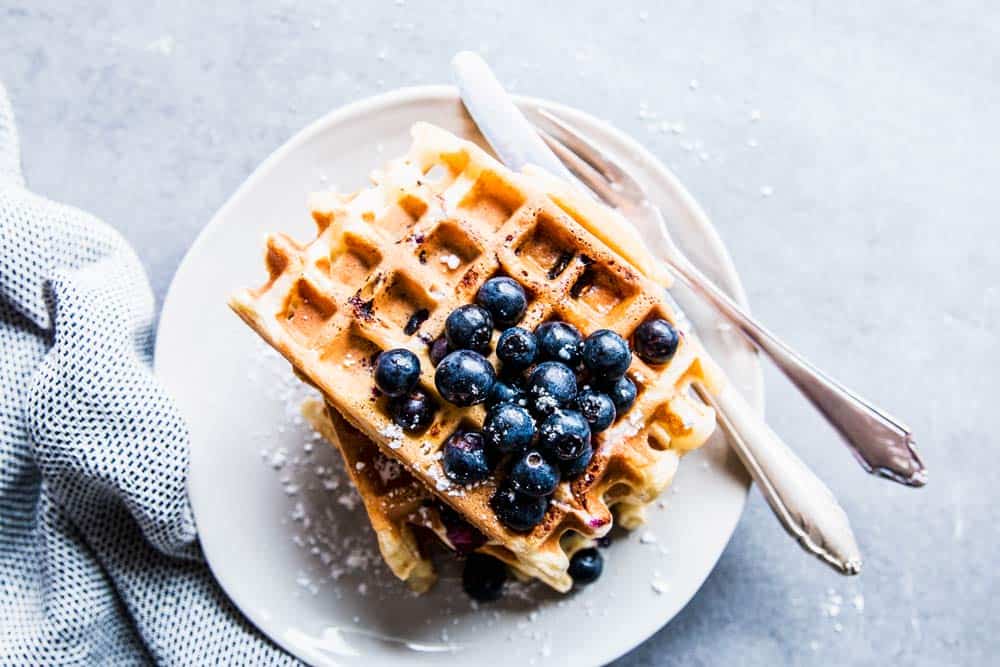 made it? tap the stars to add your rating!
Blueberry Waffles are the perfect addition to your spring and summer brunches! Fluffy on the inside, crispy on the outside and filled with fresh bursts of blueberry – everyone loves these!
Ingredients
2

cups

all purpose flour

2

tablespoons

white sugar

2

teaspoons

baking powder

½

teaspoon

ground cinnamon

½

teaspoon

salt

2

large eggs separated

1 ½

cups

low fat buttermilk

3

tablespoons

oil

1

teaspoon

vanilla extract

1

cup

blueberries

(I used fresh but frozen works, too (just don't defrost them!))

extra blueberries and maple syrup

(to serve (or your favorite toppings!))
Instructions
Mix the dry ingredients: Add the flour, sugar, baking powder, cinnamon and salt to a bowl. Stir very well until mixed.

Mix the wet ingredients: In a large measuring jug, whisk together the egg YOLKS, buttermilk, oil and vanilla extract until smooth.

Beat the gg whites: Beat the egg WHITES in a clean bowl with electric beaters until stiff peaks form.

Make the batter: Pour the wet ingredients into the bowl with the dry ingredients and stir just to combine. Add the beaten egg whites and carefully fold in just until incorporated. Fold in the blueberries with just a couple of light stirs. Do NOT overmix, or the waffles will be dense.

Bake waffles: Preheat your waffle iron on medium-high. Lightly grease and bake waffles according to your manufacturer's instructions. I use about ¼ cup of batter per waffle, and I scoop it with a cookie scoop to make less of a mess.

Serve the waffles hot right out of the waffle iron – that's when they're the crispiest!
Add Your Review
Nora's Tips
For lemon blueberry waffles, add 1 tablespoon of lemon juice and 1-2 teaspoons of finely grated lemon peel to the wet ingredients.
To freeze: Place the waffles in a single layer on a lined baking sheet. Freeze for about an hour or until firm. Pack into freezer bags and label with the name and the date.
Nutrition
Calories:
291
kcal
|
Carbohydrates:
43
g
|
Protein:
8
g
|
Fat:
9
g
|
Saturated Fat:
1
g
|
Cholesterol:
56
mg
|
Sodium:
279
mg
|
Potassium:
309
mg
|
Fiber:
1
g
|
Sugar:
9
g
|
Vitamin A:
120
IU
|
Vitamin C:
3
mg
|
Calcium:
142
mg
|
Iron:
2.4
mg
More recipe information
Join my Newsletter to Get Recipes in Your Inbox