Chocolate Chip Waffles are the special breakfast treat you've been looking for! Baked to crispy perfection and all fluffy inside, these waffles are studded with deliciously sweet chocolate chips. Make them for your next special weekend brunch – these are always a hit!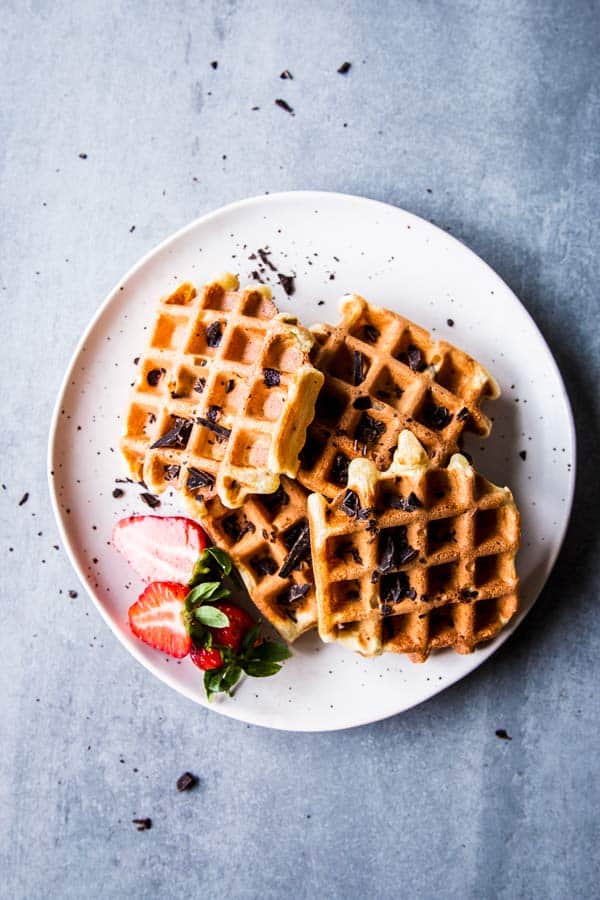 Did you know a little chocolate for breakfast is always OK? You didn't?? Well, I'm about to change that for you.
We have a sprinkling of chocolate chips with so many things: Oatmeal. Banana Pancakes. Raspberry Chocolate Chip French Toast (this one is so good I could cry!) – even overnight oats sometimes!
My kids are far more likely to eat enough of their healthy breakfast to keep them full all morning if there's a little incentive.
Some days a drizzle of maple syrup is enough, other times they get treated to a spoonful of mini chocolate chips – especially on the weekend.
My chocolate chip waffles are one of their all-time favorite breakfast treats.
The perfect crispy and fluffy waffle base
Lots of gooey-melted chocolate puddles throughout the waffle
Topped with strawberries or raspberries is a winning combination!
These chocolate chip waffles are actually just a small variation of my fluffy buttermilk waffles. And yes, the variation is adding the chocolate chips, ha! But my kids love them so much, I thought they'd deserve their own post.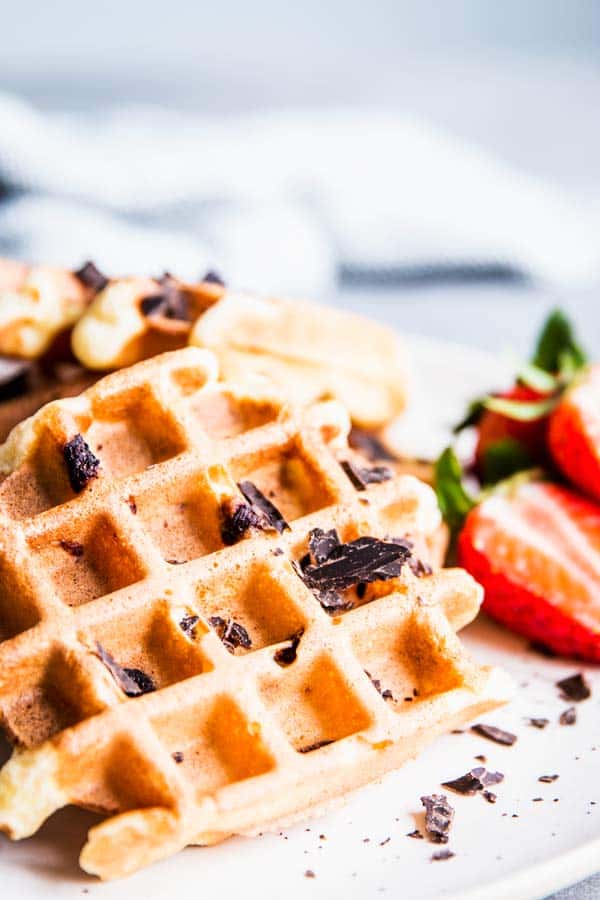 How to make chocolate chip waffles:
The short version:
Mix the dry ingredients and the wet ingredients in separate bowls
Beat the egg whites to stiff peaks
Fold everything together to make a batter
Fold in chocolate chips
Bake waffles
Easy peasy, right?? There's really not many things you can do wrong, apart from not separating the eggs and over-mixing the batter.
Otherwise? So simple, with just a handful of ingredients you can find at any store.
If you want a few more tips, read on:
Mixing the dry ingredients
There's really not much sorcery behind this. Just make sure you're using a large bowl (so it's easier to fold everything together later) and stir the dry ingredients enough to evenly distribute the baking powder.
Mixing the wet ingredients
First and foremost, make sure you separate your eggs!
The egg yolks get whisked in a separate measuring jug with all the remaining wet ingredients. Make sure to whisk well until smooth.
I like using a measuring jug because it makes it easier to combine with the dry ingredients later.
Beating the egg whites
Make sure to use a clean bowl for this, otherwise they won't whip up as beautifully.
I like using a smaller mixing bowl when whipping egg whites, because then they form stiff peaks a lot faster.
Mixing the batter
There's just one rule when it comes to making waffle batter: Don't overmix it!
First, add the wet ingredients to the bowl with the dry. Stir around 10 times, just until the wet and dry ingredients are loosely combined.
Then, carefully fold in the beaten egg whites, making sure you incorporate them well enough to not have any large clouds of egg white floating in the batter. Otherwise you'll have scrambled egg whites in your waffles.
Finally, fold in the chocolate chips with a few quick and easy stirs.
Baking the waffles
Isn't it weird how making waffles in a waffle iron is called baking? Oh well. I generally don't start heating mine until the batter is done. Otherwise I'll get stressed by the smoking waffle iron.
Yeah, I know…
I use about ¼ cup of batter per waffle, and I scoop it with a 3 tablespoon cookie scoop like this one on Amazon. This is a game changer, my friend! No more messy batter everywhere, and the fingers stay clean, too. FYI, I make a commission for purchases made through this link.
I bake the waffles until there's no more huge wafts of steam escaping from the waffle iron. To me, that means the liquid ingredients have cooked and it's safe to open the waffle maker without ripping apart the waffle.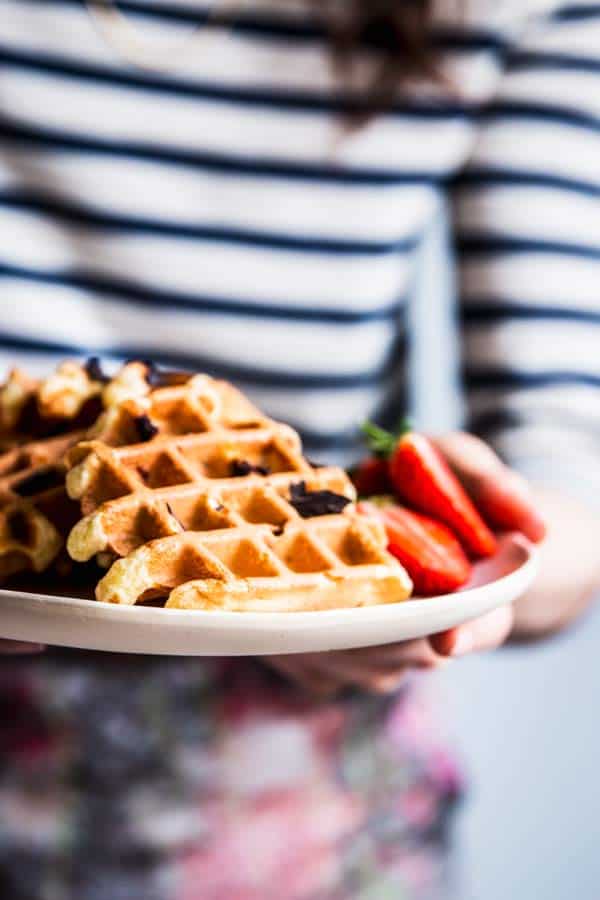 What to serve with chocolate chip waffles?
Well… The obvious answer would be more chocolate chips.
We love sliced strawberries or bananas (or both) with these. A little chocolate sauce and some raspberry chocolate chip ice cream would taste amazing too, if you ask me 😉
How to freeze waffles:
Freezing waffles is super convenient because then you'll always have some on hand.
Just freeze them on a baking sheet until firm, then pop them into freezer bags. To reheat, take out however many you need and heat in the toaster until crispy. No need to defrost first!
I hope you'll agree with me now – chocolate for breakfast is pretty amazing! Obviously not every day… But some chocolate chip waffles make for a nice surprise on the weekend.
Get the chocolate chip waffle recipe here:
Printable Recipe Card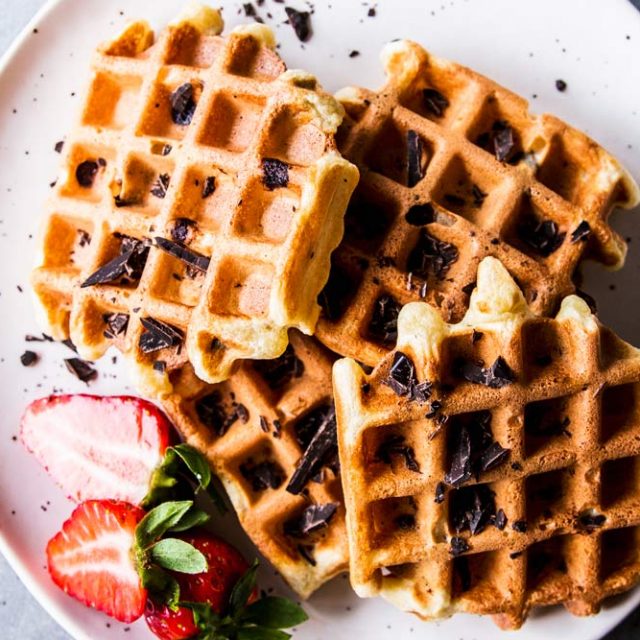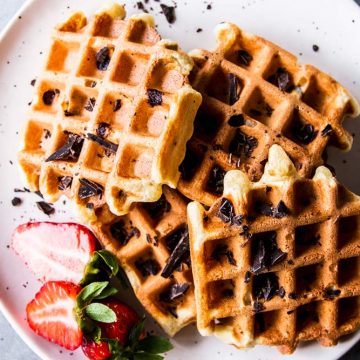 Chocolate Chip Waffles
Chocolate Chip Waffles are the special breakfast treat you've been looking for! Baked to crispy perfection and all fluffy inside, these waffles are studded with deliciously sweet chocolate chips.
made it? tap the stars to add your rating!
Ingredients
2

cups

all purpose flour

2

tablespoons

white sugar

2

teaspoons

baking powder

½

teaspoon

salt

2

large eggs separated

1 ½

cups

low fat buttermilk

3

tablespoons

oil

1

teaspoon

vanilla extract

¾

cup

chocolate chips

I used mini

raspberries, strawberries, sliced banana, syrup, chocolate chips, ice cream...

any toppings you love!
Instructions
Mix the dry ingredients: Add the flour, sugar, baking powder and salt to a bowl. Stir very well until mixed.

Mix the wet ingredients: In a large measuring jug, whisk together the egg YOLKS, buttermilk, oil and vanilla extract until smooth.

Beat the gg whites: Beat the egg WHITES in a clean bowl with electric beaters until stiff peaks form.

Make the batter: Pour the wet ingredients into the bowl with the dry ingredients and stir just to combine. Add the beaten egg whites and carefully fold in just until incorporated. Fold in the chocolate chips with just a couple of light stirs. Do NOT overmix, or the waffles will be dense.

Bake waffles: Preheat your waffle iron on medium-high. Lightly grease and bake waffles according to your manufacturer's instructions. I use about ¼ cup of batter per waffle, and I scoop it with a cookie scoop to make less of a mess.

Serve the waffles hot right out of the waffle iron - that's when they're the crispiest!
Want to save this recipe?
Create an account for free to start your personal recipe box. Save any recipe by tapping the heart in the bottom right corner.
Join Now
Notes
To freeze: Place the waffles in a single layer on a lined baking sheet. Freeze for about an hour or until firm. Pack into freezer bags and label with the name and the date.
Nutrition
Calories:
390
kcal
Carbohydrates:
54
g
Protein:
9
g
Fat:
14
g
Saturated Fat:
4
g
Cholesterol:
60
mg
Sodium:
295
mg
Potassium:
290
mg
Fiber:
1
g
Sugar:
21
g
Vitamin A:
160
IU
Vitamin C:
0.6
mg
Calcium:
168
mg
Iron:
2.6
mg
Nutrition is an estimate.
More recipe information