Quinoa Spinach Salad with Asparagus is a delicious and healthy salad that's perfect for an easy lunch! Add it to your meal prep list next week – you'll love this one!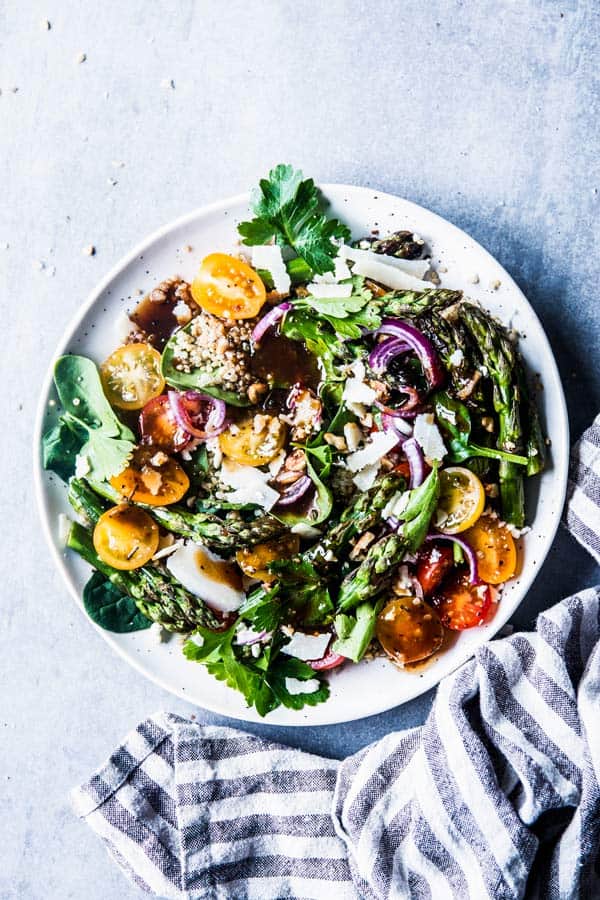 There is one food my husband hates and I love.
It's quinoa.
Poor little quinoa. I appreciate the slight nuttiness, the tiny bite and I eat it for breakfast, lunch or dinner. My husband? Thinks it's the most boring thing to eat, ever.
I know.
It's been a long mission of mine to find ways to sneak it into his diet. With avocado and tomato? "Too much quinoa", apparently.
In a crockpot soup? Hm.
But then I remembered he ate a Mason Jar Greek Quinoa Salad without complaining when I made it for lunch for him. And when I recently made a huge spinach strawberry walnut salad, I thought… Why not add quinoa to spinach salad, too?
And so… I made a quinoa spinach salad.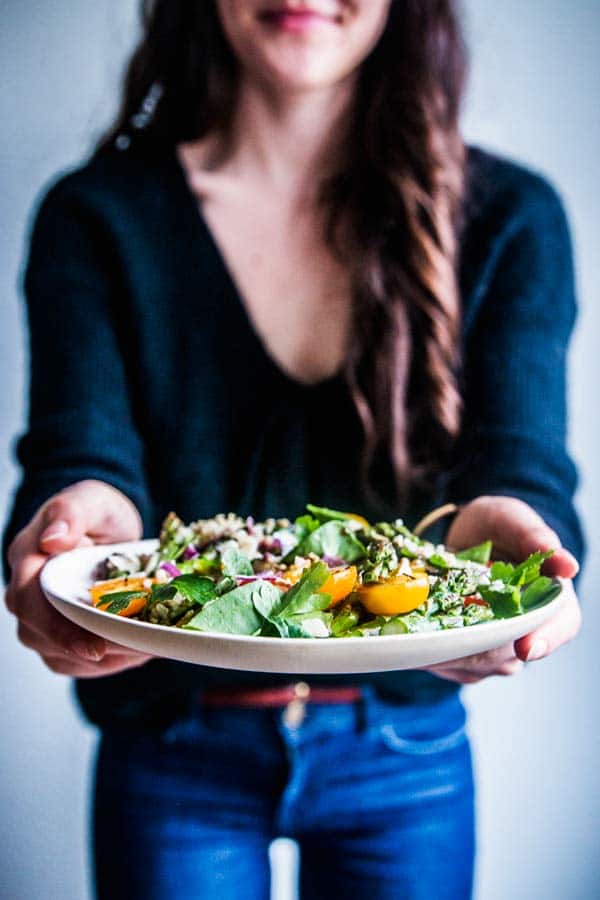 I added quinoa
and sliced tomatoes plus red onion
and roasted asparagus
and lots of my husband's favorite salad dressing – balsamic vinaigrette
then I topped it off with parmesan, because cheese makes everything better.
What can I say? He ate it. All of it. Even the quinoa part.
Yes, I convinced my husband to eat quinoa by adding it to a spinach salad.
I know how strange this sounds.
But that's what happened and I'm glad it did, because now I can finally buy quinoa again without hiding it. "It's for THE salad", problem solved.
Not only that, my kids are also pretty wild about this combination. They mostly eat the tomatoes, the asparagus and the parmesan with quinoa drenched in dressing.
Now, how often does that happen? I can make ONE lunch and everybody will eat it.
Best of all, I can make ONE lunch ahead of time!
This is perfect for easy meal prep when we have super busy days. I just prep all ingredients and the dressing in advance.
Then I keep the dressing, the quinoa, the spinach and the remaining ingredients separately in the fridge.
As soon as lunch time rolls around, we pull everything out and everybody gets their share. Lunch: done!
How I make this easy peasy Spinach Quinoa Salas with Asparagus: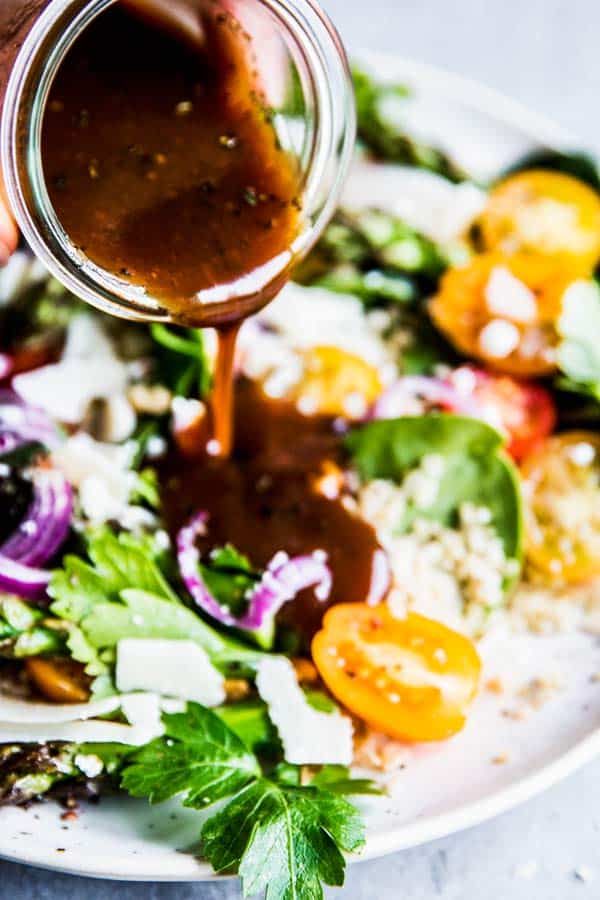 Tl;dr:
Cook the quinoa
Roast the asparagus
Whip up the dressing in the meantime
Prep all remaining ingredients
Either store for up to two days or serve right away
It's really that easy! But let me get into a little more detail in case you need it.
Quinoa Spinach Salad, the deets:
You'll start with cooking the quinoa. I know you're supposed to rinse it really well… I just rinse it as much as I have patience for, which usually isn't a lot.
Then follow package directions for cooking. While that is cooking, you'll get the asparagus in the oven.
To roast the asparagus, I just use my basic, super simple roasted asparagus recipe. Either with parmesan, or some balsamic and honey. Both go well with this salad.
It's done in 20 minutes, from start to finish, and 12 minutes are completely hands off.
While the asparagus is in the oven, you'll make my delicious balsamic vinaigrette dressing. 5 minutes to done. If your people are iffy about balsamic vinegar, try my white balsamic vinaigrette.
Then all that's left to do is slicing some cherry tomatoes and red onion and grabbing some parmesan shavings.
By then the quinoa and asparagus will both be done. I never wait for the quinoa to cool, I just give it a quick rinse under cold water, drain and that's that.
The asparagus is wonderful when it's still warm in this salad, but if you're meal prepping ahead don't worry: Cold is delicious, too.
When I'm making this Quinoa Spinach Salad ahead, I'll store the ingredients like this:
I keep the dressing in a Weck jar* in the fridge. Chances are, there's already some in the fridge anyways, along with a jar of Honey Mustard Salad Dressing and a jar of Lemon Poppy Seed Salad Dressing…
My baby spinach comes from a bag and is pre-washed… So that stays in there until we're having the salad.
The cooled quinoa I keep in a glass storage container*, and the asparagus along with all remaining ingredients in a separate one.
Bonus points if it has separate compartments, I just got some containers like these on Amazon* and I'm excited to share some great back to school lunch ideas with you later his year! *FYI, I make a commission for purchases made through these links.
But if I'm going to be perfectly honest… I'm not the biggest fan of meal prep.
Stored chicken gets dry, pre-cooked veggies get so limp and I don't know… Leftovers on purpose??
I'm trying to feel better about it though because it makes my busy life way easier.
So far salads seem to be the best way to get into it for me, because there's not a lot of cooked veggies to get mushy and usually I make them with vegetarian protein, so no dry chicken either.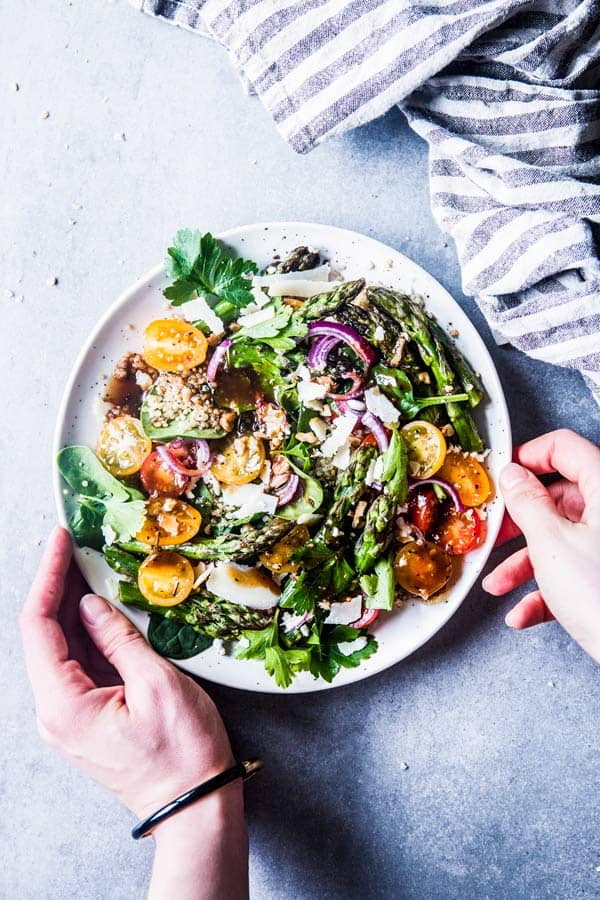 Bear with me as a figure out how to make all our lives in the kitchen easier while still eating delicious food!
And try this quinoa spinach salad on a quinoa hater some time soon… They might be as surprised as my husband at how delicious it actually is 😉 I think I'm going to try my Spinach Avocado Salad with Berries with quinoa next – should be delicious!
Get the recipe for this Quinoa Spinach Salad with Asparagus:
Printable Recipe Card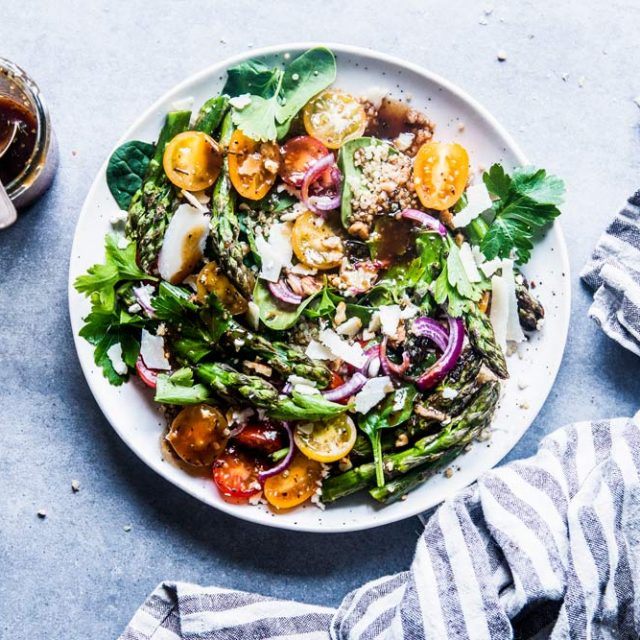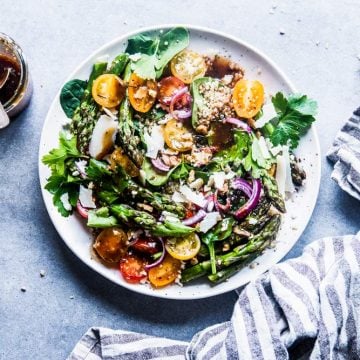 Quinoa Spinach Salad with Asparagus
Quinoa Spinach Salad with Asparagus is a delicious and healthy salad that's perfect for an easy lunch! Add it to your meal prep list next week - you'll love this one!
made it? tap the stars to add your rating!
Ingredients
To Cook:
¼

cup

dry quinoa

rinsed

1

pound

asparagus

washed and trimmed

1

tablespoon

olive oil

½

teaspoon

dried garlic powder

Sea salt and cracked black pepper

Grated parmesan or balsamic vinegar

optional
For the dressing:
3

tablespoons

balsamic vinegar

¼

cup

extra virgin olive oil

1

tablespoon

honey

½

teaspoon

dijon mustard

¼

teaspoon

Italian seasoning

⅛

teaspoon

dried garlic powder

Salt and pepper
For the salad:
10

ounce

bag baby spinach

½

pound

cherry tomatoes

halved

1

red onion

thinly sliced

1

ounce

parmesan shavings
Instructions
Start with the cooked ingredients:
Cook the quinoa: Place the rinsed quinoa in a saucepan, add water and cook according to package directions. Once done, take off the heat, drain, and carefully rinse under cold water to chill. Drain well.

Roast the asparagus: Preheat the oven to 410°F (210°C). Place the asparagus on a sheet pan in a single layer. Toss with the olive oil, garlic powder, salt and black pepper. Roast in the preheated oven for about 12 minutes, or until done. Sprinkle with parmesan or drizzle with balsamic vinegar if you like.
Make the dressing:
To make the dressing, whisk together all dressing ingredients and set aside until ready rot use.
Make the salad:
To eat right away: Gently toss all prepped ingredients with the dressing and serve immediately.

To store: Keep prepped ingredients in separate containers as directed in the post and store in the fridge for up to two days.
Want to save this recipe?
Create an account for free to start your personal recipe box. Save any recipe by tapping the heart in the bottom right corner.
Join Now
Nutrition
Calories:
306
kcal
Carbohydrates:
25
g
Protein:
9
g
Fat:
20
g
Saturated Fat:
3
g
Cholesterol:
4
mg
Sodium:
190
mg
Potassium:
861
mg
Fiber:
5
g
Sugar:
11
g
Vitamin A:
7835
IU
Vitamin C:
41.3
mg
Calcium:
202
mg
Iron:
5.5
mg
Nutrition is an estimate.
More recipe information