Spinach Avocado Salad with Berries is a simple but stunning salad you can whip up in no time! Have it as a side or as a healthy meal, either way it's one you'll come back to again and again.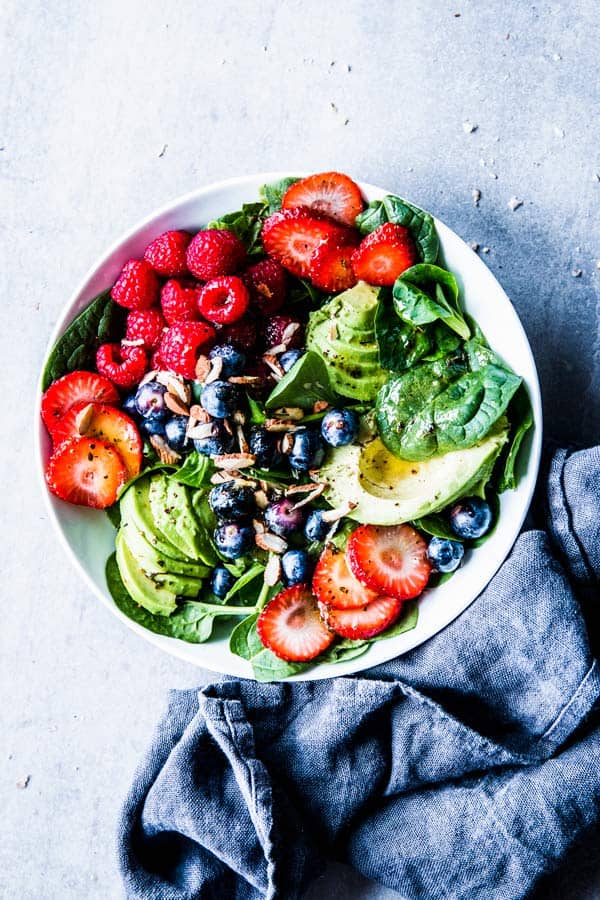 I guess I'm obsessed with something.
Finding the perfect avocado. One that's not a disappointing, mushy brown disaster when you slice it open.
It's hard.
What's even worse, avocados are very expensive around here. So getting a bad one is not just bad because you were looking forward to the buttery goodness, but it's also both food and money wasted. I firmly believe there should be a bad avocado refund policy stores have to adhere to.
At least my compost bin gets fed ??‍♀️
I have figured out a few tricks for how to choose the perfect avocado though:
I gently push the avocado in the palm of one hand, and if it feels soft but not mushy, it scores one point.
Next I look at the little round bit where the avocado was attached to the tree. If it's nicely bright and green underneath that small nubbly bit, that's a second point.
And finally, I started taking note of each store's avocado performance.
Judging by the store has probably been most helpful. One grocery store I go to almost always has bad avocados. In one, the organic ones are always perfect, but the conventional ones are very often terrible. And I 100% stopped buying avocados on sale, because I have not ever had a single good one from a sale.
So bottom line, pay attention to the avocado quality in the stores you visit on a regular basis.
And when you've mastered the perfect avocado pick up, you'll come back and make this spinach avocado salad ?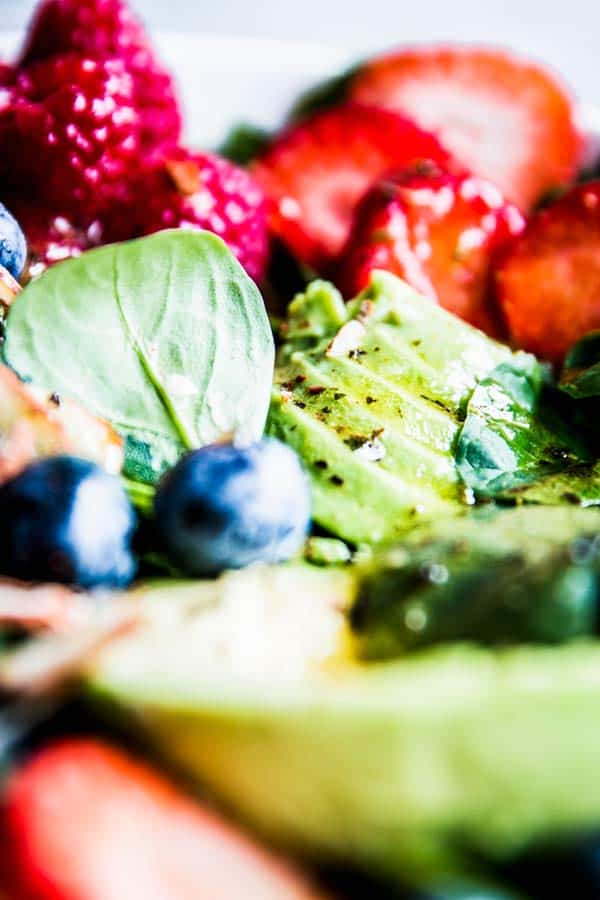 with plenty of leafy baby spinach
piles and piles of gorgeous fresh summer berries
and an amazing (but super easy!) white balsamic vinaigrette
This is the stuff dreams are made of.
As I already told you in my post about Spinach Strawberry Walnut Salad, I 100% cheat with the fresh summer berries between Valentine's Day and Easter, and buy berries even if they're not technically in season yet.
But salads like these are what keep our entire family going through the last grey stretches of winter. And then all through spring and summer, too, because it tastes incredible.
How I make my Spinach Avocado Salad:
Tl;dr:
Make the dressing
Wash and dry the berries.
Chop the almonds.
Slice the strawberries and avocado.
Toss everything carefully in a large bowl.
Eat and sing the praises for this salad.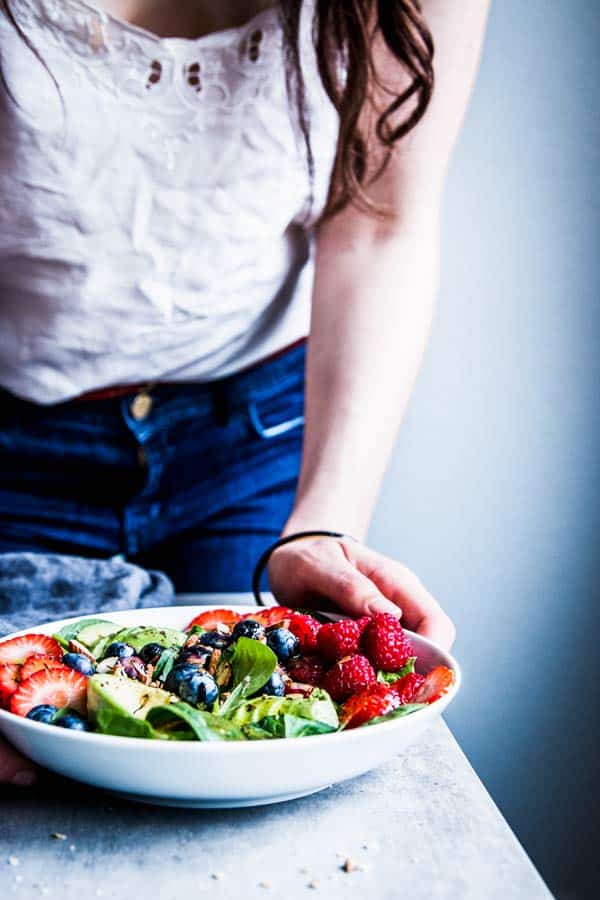 More in-depth step-by-step instructions:
I have my husband to thank for introducing me to strawberry spinach avocado salads. I added the raspberries and blueberries all by myself, though ? All kidding aside, I've been making this salad for the last 5 years now, and I promise it's SUPER easy!
First, you're going to whip up a quick white balsamic vinaigrette. It's super simple and done in less than 5 minutes.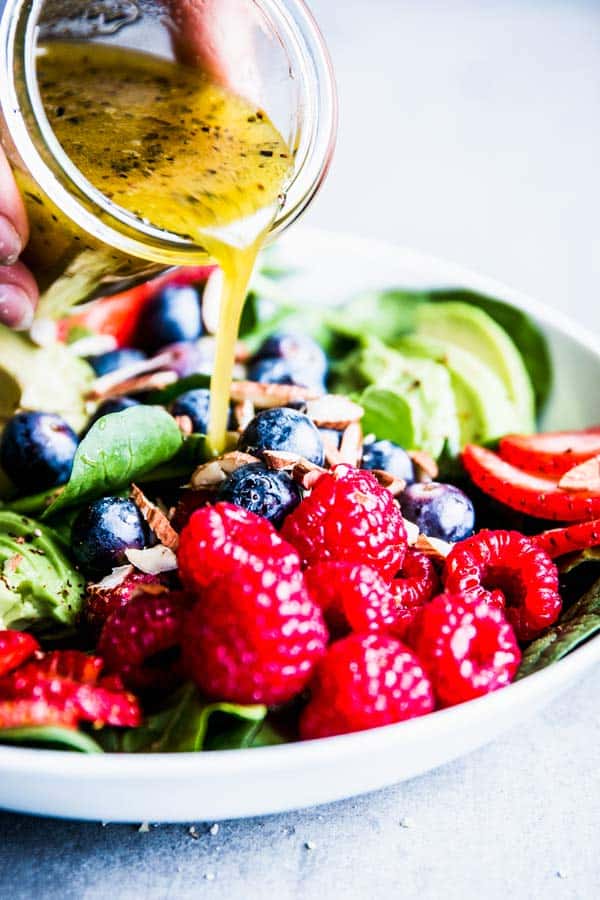 If you want to switch things up, this salad is also delicious with a regular balsamic vinaigrette dressing. Or a homemade honey mustard dressing. Oh, or the evergreen popular lemon poppy seed salad dressing!
I usually keep a few jars of homemade salad dressings in the fridge for easy meal prep. That way I always have some on hand for a quick salad fix.
Next up you'll wash the berries and gently pat them dry with paper towels.
While they're drying off completely, chop a handful of almonds.
Then get on with hulling and slicing the strawberries. I slice the strawberries in a few different ways (slicing into rounds, half moons or wedges) to make the salad more interesting!
The avocado I slice in half, pit and then slice right in the skin. Then just carefully scoop it out with a large spoon – done.
Finally, all that's left is carefully tossing all salad ingredients in a large bowl with the dressing. You can also make pretty arrangements in individual plates, but if we're going to have an honesty moment here, I only do that for pretty photos and special dinners – like Easter!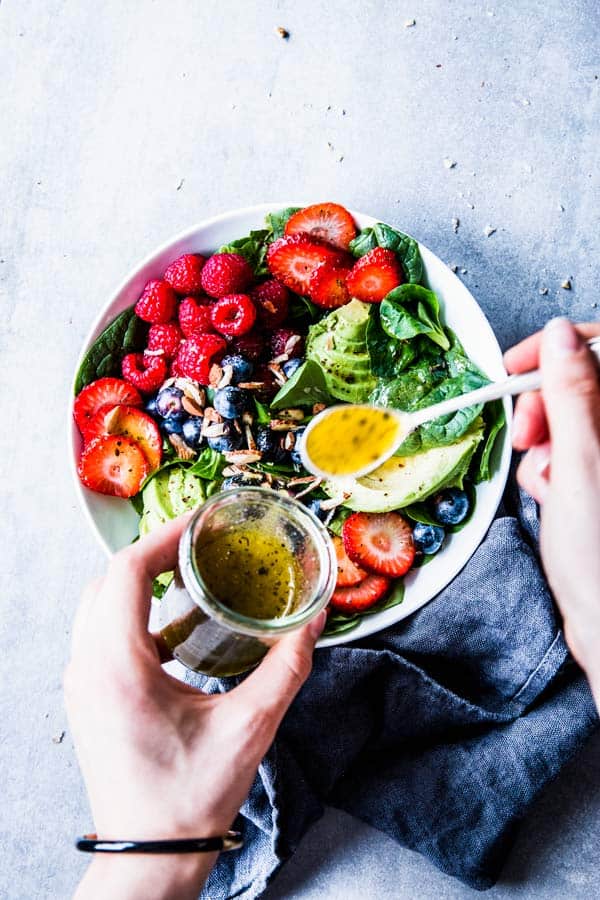 It's important to mix the salad and the dressing just before serving – otherwise the spinach will wilt and the strawberries and avocado will get mushy. And you're definitely going for fresh and springy here!
My favorite thing about this Spinach Avocado Salad with Berries:
No matter how you're serving this, with all the fresh berries, the creamy avocado and the crisp spinach, this is just always a beautiful dish to eat.
Bonus points: My kids both love this salad. The little one will pretty much eat everyone's share of avocado and strawberries and my eldest will even eat baby spinach if it's coated in this dressing and comes with a side of colorful berries.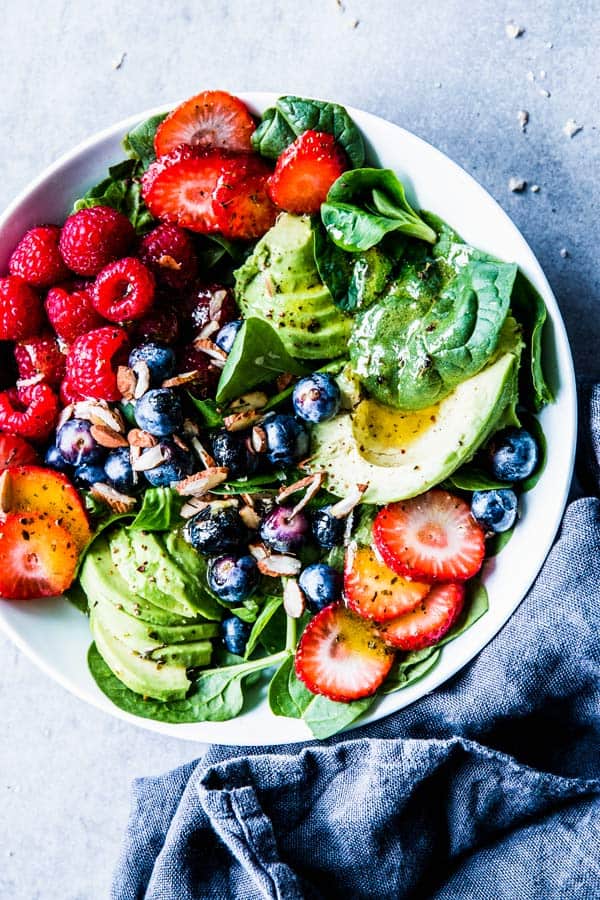 I love that I can make something this simple everyone around the dinner table will enjoy. It makes my life easier, ends the dinnertime fights and helps me feel like I'm being a great mom who has it together enough to serve vegetables with very meal.
Also, if your avocado ventures turned out to be unsuccessful? Simply sub in some feta cheese. Just as delicious.
Get the recipe for this Spinach Avocado Salad:
Printable recipe
Printable Recipe Card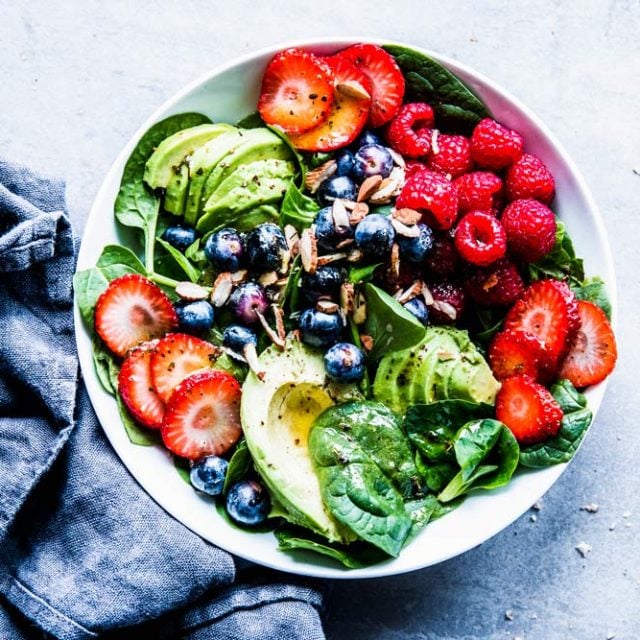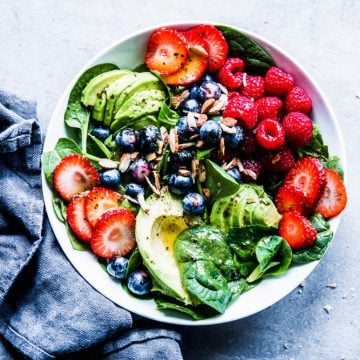 Spinach Avocado Salad with Berries
Spinach Avocado Salad with Berries is a simple but stunning salad you can whip up in no time! Have it as a side or as a healthy meal, either way it's one you'll come back to again and again.
made it? tap the stars to add your rating!
Ingredients
For the dressing:
3

tablespoons

white balsamic vinegar

¼

cup

extra virgin olive oil

1

tablespoons

honey

½

teaspoon

dijon mustard

¼

teaspoon

Italian seasoning

⅛

teaspoon

dried garlic powder

Salt and pepper
For the salad:
2

tablespoons

almonds

chopped

10

oz

bag baby spinach

½

pound

strawberries

washed, hulled and sliced

1

cup

raspberries

washed and gently dried

1

cup

blueberries

washed and gently dried

1

large avocado

sliced
Instructions
To make the dressing, whisk all ingredients together and set aside.

To make the salad, gently toss all salad ingredients in a large bowl with the prepared dressing. Serve immediately.
Want to save this recipe?
Create an account for free to start your personal recipe box. Save any recipe by tapping the heart in the bottom right corner.
Join Now
Notes
Serves 4 as a side or 2 as a meal.
Nutrition
Calories:
246
kcal
Carbohydrates:
23
g
Protein:
4
g
Fat:
16
g
Saturated Fat:
2
g
Sodium:
67
mg
Potassium:
604
mg
Fiber:
6
g
Sugar:
14
g
Vitamin A:
6665
IU
Vitamin C:
64.7
mg
Calcium:
103
mg
Iron:
2.9
mg
Nutrition is an estimate.
More recipe information