Healthy Banana Waffles are a fluffy on the inside, crispy on the outside breakfast treat. Made healthy with maple syrup and whole wheat flour, you'll feel great about serving these any time of the day!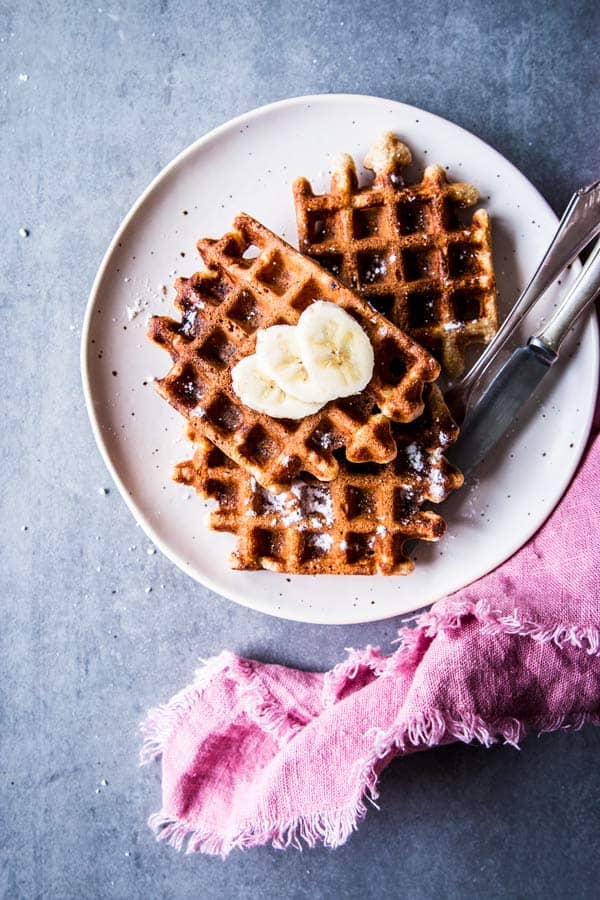 Ever since I shared my Banana Oatmeal Waffles here on the blog (one of the first ever recipes here on Savory Nothings!), I've been in love with mashed bananas in waffles.
Then I made Healthy Chocolate Chip Banana Waffles and wow, SO good.
I've been working on the perfect basic healthy banana waffle recipe for a while, and it's finally here!
Fluffy, crispy, all the things a waffle has to be!
Naturally sweet from some maple syrup and the mashed banana.
The banana flavor is not overly strong, but it makes the waffles nicely sweet and caramelized, with a hint of banana bread flavors.
We often have waffles for dinner, with some Greek yogurt for dipping and a huge bowl of fresh fruit. I love my Strawberry Fruit Salad with these!
Before you ask, no, you can't skip beating the egg whites separately. I mean, of course you can. But between the mashed banana and the whole wheat flour in this waffle batter, you really do need the extra lift from the beaten egg whites. So – just do it 😊
How to make healthy banana waffles:
The short version:
Mix the dry ingredients
Mash the bananas and mix them well with the remaining wet ingredients
Beat the egg whites to stiff peaks
Stir the wet and dry ingredients together just until combined
Fold in the egg whites just until combined
Bake the waffles in your waffle iron and dig in!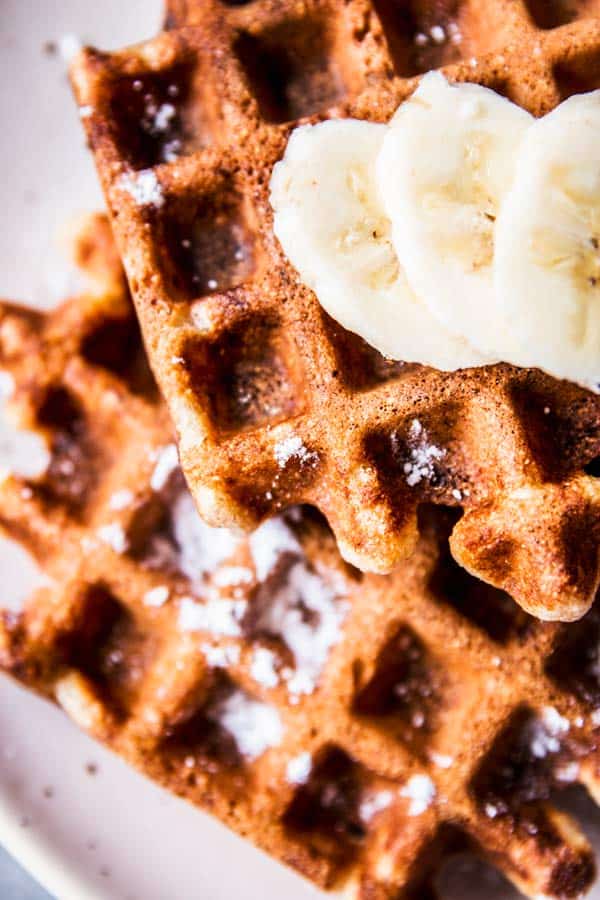 Some extra tips for your banana waffle ventures:
Mixing the dry ingredients
Make sure you're using a large bowl for this, so you won't make a mess when stirring the waffle batter later.
Try not to skip the cornstarch, it helps yield a lighter waffle. And make sure to mix the dry ingredients well enough to evenly distribute the baking powder!
Mixing the wet ingredients
I like to mash the banana first in the measuring cup I'll use to whisk the wet ingredients. One less dish to wash!
Then just add the remaining wet ingredients and whisk until smooth.
Beating the egg whites
I do this step AFTER the wet ingredients and dry ingredients are ready. I find that beaten egg whites tend to get runny when standing for a while.
Use a clean bowl for this for best results. I like using a smaller mixing bowl and a handheld mixer, that way this step takes less than a minute!
Mixing the batter
Stir the wet into the dry ingredients just until combined. Then fold in the egg whites as carefully as you can, so you don't knock out to much air.
You still want to make sure you're folding in the egg whites enough so you don't end up with large bits of egg white floating in the batter – they'll turn into scrambled egg whites in the cooked waffles!
Baking the waffles
A while ago, I figured out I could scoop waffle batter with a large cookie scoop like this one – LIFE CHANGING! It's mess-free and easy, total waffle win. FYI, I make a commission for purchases made through that link.
Then I bake the waffles in my preheated waffle maker until no more large wafts of steam come out. That's when the wet ingredients should be cooked and it's safe to take a peek to see how much longer your waffle is going to need.
What to serve with your healthy banana waffles
As I already said, I love fruit and Greek yogurt with these.
Maybe Greek Yogurt Fruit Salad? 😉 My Berry Cheesecake Fruit Salad is pretty amazing with waffles, too!
But, secret, sometimes I just slather these in Nutella and call it a day. Shhhh, our secret!
How to freeze your waffles
I love freezing waffles – such a simple way to always have breakfast/snacks/lunch/dinner on hand. These are so versatile!
Just freeze them on a lined baking sheet in a single layer until firm, then pop them into freezer bags.
Reheat them from frozen in the toaster, or for 5-10 minutes at 360F on a rack in the oven.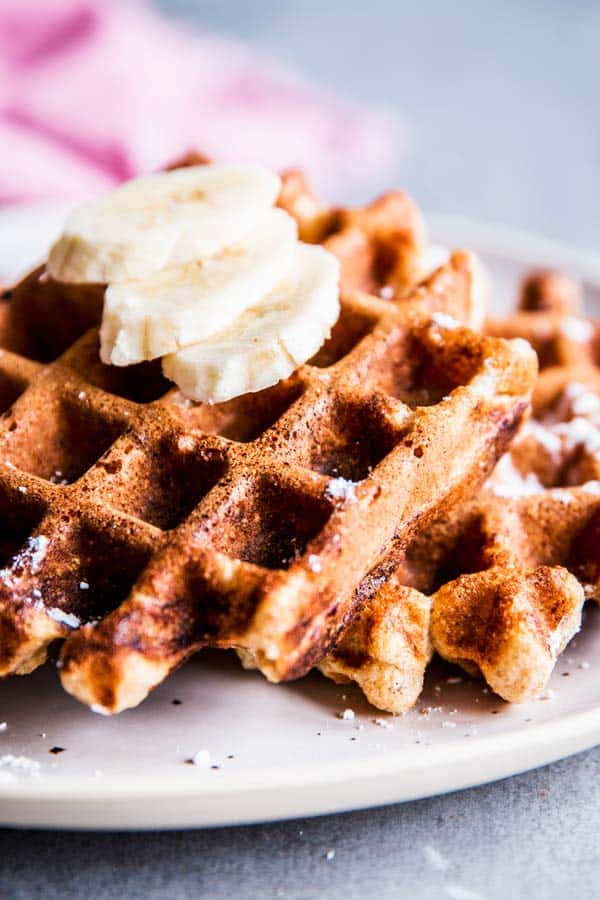 I didn't think waffles could get any better. I mean I'm obsessed – pumpkin waffles, blueberry waffles, buttermilk waffles, chocolate chip waffles… I'll take any of them as a treat! But healthy banana waffles? My faves for a healthy meal!
P.S: Got someone around the table who's not a fan of bananas? My pre-schooler isn't… So I make sure to always have a batch of plain Whole Wheat Waffles on hand for her, too!
Get the printable recipe for these Healthy Banana Waffles here:
Printable Recipe Card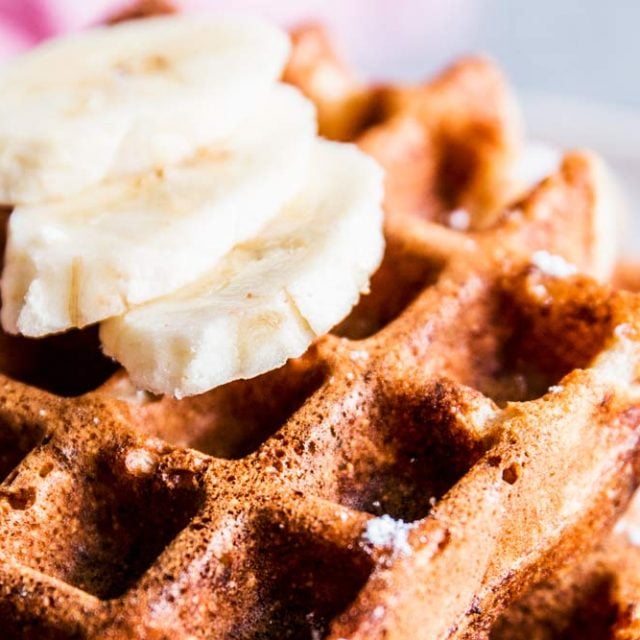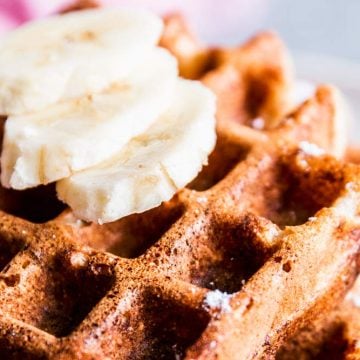 Healthy Banana Waffles
Healthy Banana Waffles are a fluffy on the inside, crispy on the outside breakfast treat. Made healthy with maple syrup and whole wheat flour, you'll feel great about serving these any time of the day!
made it? tap the stars to add your rating!
Ingredients
1 ¾

cups

whole wheat flour

¼

cup

cornstarch

2

teaspoons

baking powder

½

teaspoon

ground cinnamon

½

teaspoon

salt

2

large eggs

separated

1 ⅓

cup

low fat buttermilk

1

large banana

mashed

3

tablespoons

oil

2

tablespoons

maple syrup

1

teaspoon

vanilla extract
Instructions
Mix the dry ingredients: Add the flour, cornstarch, baking powder, cinnamon and salt to a bowl. Stir very well until mixed.

Mix the wet ingredients: In a large measuring jug, whisk together the egg YOLKS, buttermilk, mashed banana, oil, maple syrup and vanilla extract until smooth.

Beat the egg whites: Beat the egg WHITES in a clean bowl with electric beaters until stiff peaks form.

Make the batter: Pour the wet ingredients into the bowl with the dry ingredients and stir just to combine. Add the beaten egg whites and carefully fold in just until incorporated. Do NOT overmix, or the waffles will be dense.

Bake waffles: Preheat your waffle iron on medium-high. Lightly grease and bake waffles according to your manufacturer's instructions. I use about ¼ cup of batter per waffle, and I scoop it with a cookie scoop to make less of a mess.

Serve the waffles hot right out of the waffle iron - that's when they're the crispiest!
Want to save this recipe?
Create an account for free to start your personal recipe box. Save any recipe by tapping the heart in the bottom right corner.
Join Now
Notes
To freeze: Place the waffles in a single layer on a lined baking sheet. Freeze for about an hour or until firm. Pack into freezer bags and label with the name and the date.
Nutrition
Calories:
282
kcal
Carbohydrates:
42
g
Protein:
8
g
Fat:
9
g
Saturated Fat:
1
g
Cholesterol:
56
mg
Sodium:
273
mg
Potassium:
447
mg
Fiber:
4
g
Sugar:
9
g
Vitamin A:
115
IU
Vitamin C:
2.2
mg
Calcium:
147
mg
Iron:
1.7
mg
Nutrition is an estimate.
More recipe information