Banana Nut Waffles are a healthy treat for breakfast or brunch. Naturally sweetened and made with whole wheat flour, these are easy to make with just a few simple ingredients. Serve them with maple syrup for breakfast this week – everybody always loves these!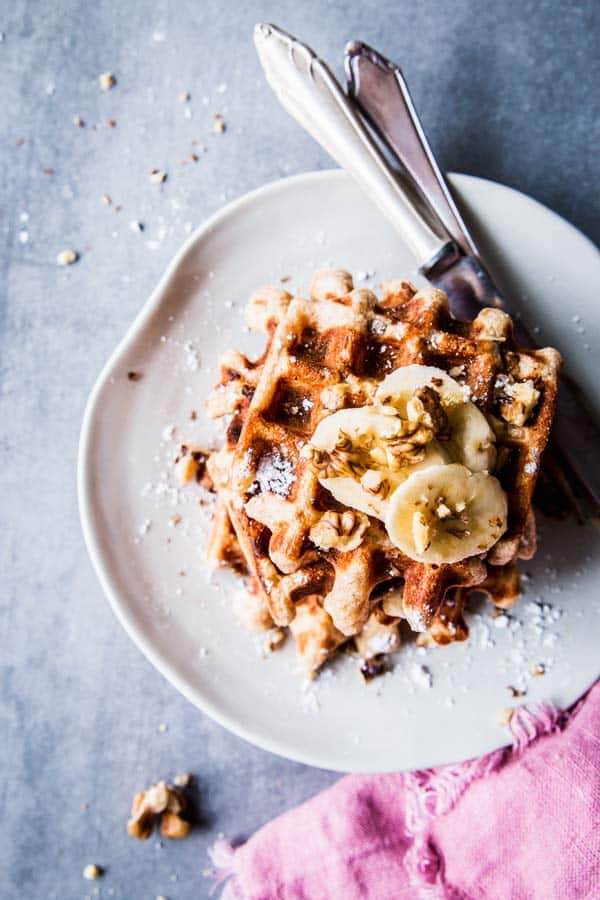 I always have a bunch of people telling me how amazing my pumpkin waffles are with chopped nuts added.
I figured I'm going to try that come fall. But what about my nutty waffle fix now?
So, I tried adding chopped walnuts to my favorite healthy banana waffles – and yep, winner.
These healthy Banana Nut Waffles are one of our new favorite breakfast recipes!
They're made healthy with whole wheat flour, maple syrup and low fat buttermilk
The mashed banana adds a nice touch of caramelization and the chopped nuts taste deliciously roasted
The waffles are super fluffy on the inside and crispy on the outside – despite being made from all healthy ingredients!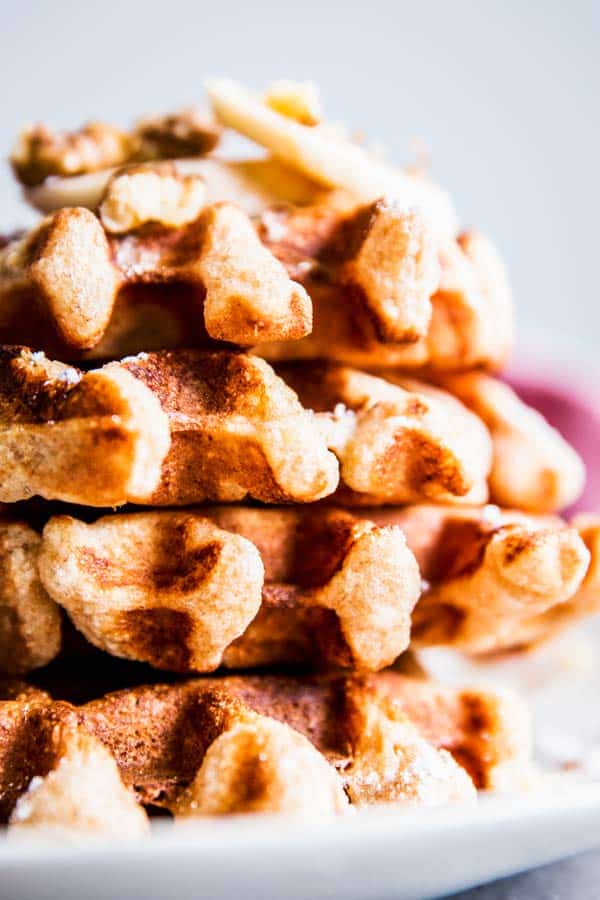 In full disclosure? My preschooler isn't the biggest fan of bananas, so I always make a batch of plain whole wheat waffles as well if we're having banana waffles. But even she loves these with the nuts added – I guess the extra crunch makes them more fun to eat!
Now before you click away because I'm about to tell you to separately whip the egg whites for these waffles? Hear me out.
It really does make a difference, especially in a waffle recipe using whole wheat flour and mashed bananas.
You might still get a delicious buttermilk waffle if you decide to not beat the egg whites before folding them into the batter, but with this healthy recipe you'll definitely need the extra lift and fluffiness the egg whites bring to the table.
How to make my banana nut waffles: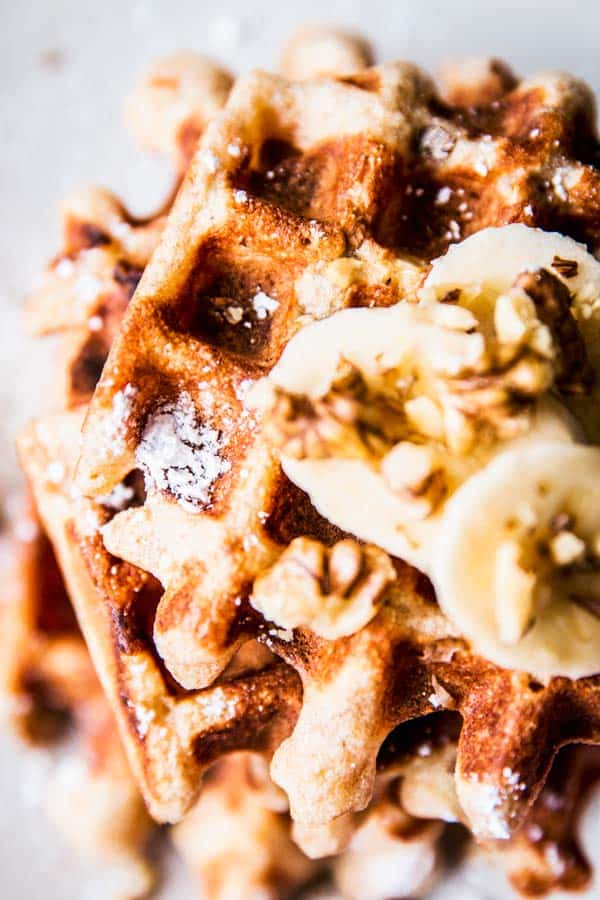 The short and sweet version:
Mix the dry ingredients in a large bowl
Mash the banana in a measuring jug, then whisk in the remaining wet ingredients until smooth
Beat the egg whites to stiff peaks in a clean bowl
Mix the wet and dry ingredients just until combined. Fold in the egg whites and the chopped nuts.
Bake the waffles in your preheated waffle iron.
More tips for a foolproof banana nut waffle experience:
Mixing the dry ingredients
Make sure you're using a bowl large enough to comfortably fold the wet and dry ingredients later. Otherwise it'll get messy – ask me how I know…
And stir the dry ingredients well enough to evenly incorporate the baking powder, otherwise the waffles might not rise properly.
Mixing the wet ingredients
In an effort to have less dishes to wash, I mash the banana right in the measuring jug I'm using to mix the wet ingredients. The reason I'm using a measuring jug is because it makes it easier to pour the wet ingredients into the dry.
Make sure you're whisking the wet ingredients until smooth and evenly combined, otherwise you'll end up with bits of cooked egg yolk in your waffles.
Beating the egg whites
I like doing this in a smaller mixing bowl with a handheld mixer. Like this you'll get to stiff peaks in less than a minute.
I whip up the egg whites once the wet and the dry ingredients are ready, because I find beaten egg whites start to get runny again after a while. That way they don't stand around for too long before getting folded into the waffle batter.
Mixing the batter
The most important part of any waffle recipe?
Don't overmix the batter!
Stir the wet into the dry ingredients just until combined. Then carefully fold in the egg whites, taking care you're not knocking out too much air while still evenly incorporating them into the batter.
Finally, fold in the nuts with two or three stirs. Remember: Don't overmix!
Baking the waffles
Did you know you can use a cookie scoop like this one to scoop waffle batter on your waffle iron practically mess-free? I know, it blew my mind, too! But it's the best discovery, ever. So hassle-free! FYI, I make a commission for purchases made through that link.
I bake the waffles in my waffle maker until they stop releasing tons of steam – that's when I take a peek to see how much longer they need to really crisp up.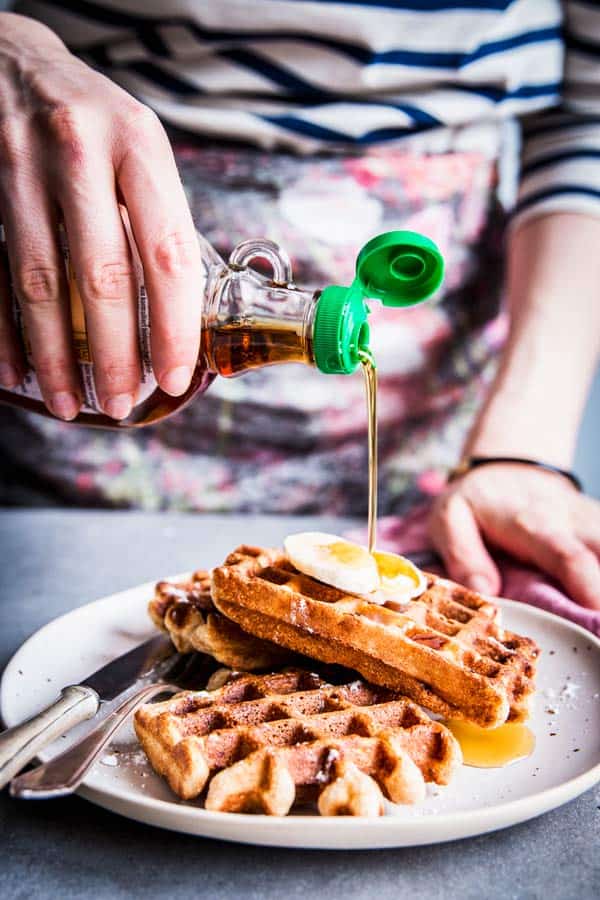 What can you serve with these banana nut waffles?
There are so many ways we enjoy these waffles. Sliced banana and chopped nuts with some maple syrup is a pretty obvious toping for these.
Buuuut… Chocolate chips or nutella are quite delicious, too 😅
I like serving fruit with waffles, something like my Strawberry Fruit Salad with Mint and Pistachios or my Greek Yogurt Fruit Salad are some sides we enjoy.
My kids also love just dipping these in Greek yogurt.
No matter how you decide to serve these, I'm sure they'll tide you over until October, when it's seasonally appropriate to make nutty pumpkin waffles again.
I mean, unless you don't care and make pumpkin waffles in July without even batting an eyelash. Not that I'd ever do such a thing 😉
Get the printable recipe for these Banana Nut Waffles here:
Printable Recipe Card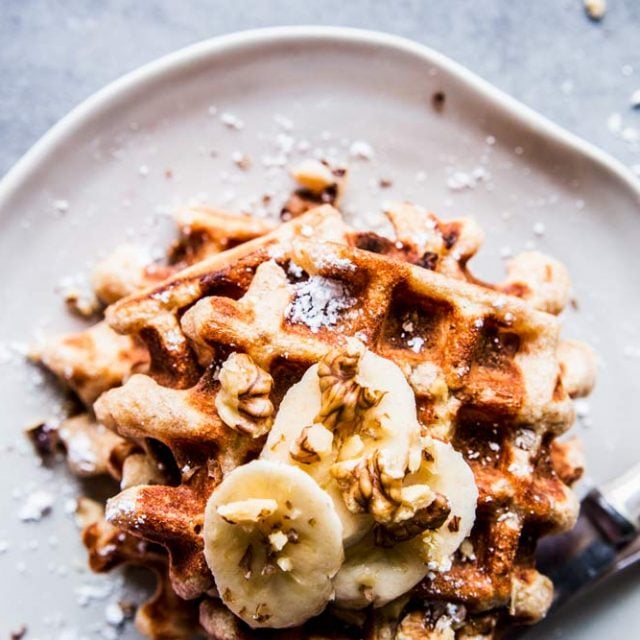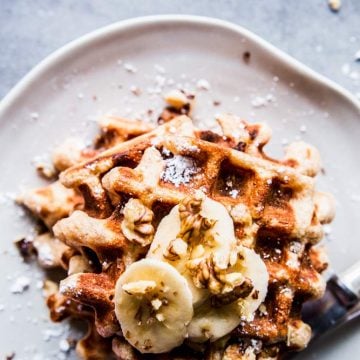 Banana Nut Waffles
Banana Nut Waffles are a healthy treat for breakfast or brunch. Naturally sweetened and made with whole wheat flour, these are easy to make with just a few simple ingredients.
made it? tap the stars to add your rating!
Ingredients
1 ¾

cups

whole wheat flour

¼

cup

cornstarch

2

teaspoons

baking powder

½

teaspoon

ground cinnamon

½

teaspoon

salt

2

large eggs separated

1 ⅓

cup

low fat buttermilk

1

large banana mashed

3

tablespoons

oil

2

tablespoons

maple syrup

1

teaspoon

vanilla extract

¾

cup

roughly chopped walnuts
Instructions
Mix the dry ingredients: Add the flour, cornstarch, baking powder, cinnamon and salt to a bowl. Stir very well until mixed.

Mix the wet ingredients: In a large measuring jug, whisk together the egg YOLKS, buttermilk, mashed banana, oil, maple syrup and vanilla extract until smooth.

Beat the egg whites: Beat the egg WHITES in a clean bowl with electric beaters until stiff peaks form.

Make the batter: Pour the wet ingredients into the bowl with the dry ingredients and stir just to combine. Add the beaten egg whites and carefully fold in just until incorporated. Fold in the chopped nuts. Do NOT overmix, or the waffles will be dense.

Bake waffles: Preheat your waffle iron on medium-high. Lightly grease and bake waffles according to your manufacturer's instructions. I use about ¼ cup of batter per waffle, and I scoop it with a cookie scoop to make less of a mess.

Serve the waffles hot right out of the waffle iron - that's when they're the crispiest!
Want to save this recipe?
Create an account for free to start your personal recipe box. Save any recipe by tapping the heart in the bottom right corner.
Join Now
Notes
To freeze: Place the waffles in a single layer on a lined baking sheet. Freeze for about an hour or until firm. Pack into freezer bags and label with the name and the date. Freeze for up to three months.
To reheat: No need to defrost! Heat in a toaster straight from the freezer in bursts until hot and crispy. To reheat in the oven, place the waffles on a rack and bake at 360°F for 5-10 minutes, or until hot and crispy.
Nutrition
Calories:
378
kcal
Carbohydrates:
44
g
Protein:
10
g
Fat:
19
g
Saturated Fat:
2
g
Cholesterol:
56
mg
Sodium:
274
mg
Potassium:
512
mg
Fiber:
5
g
Sugar:
9
g
Vitamin A:
115
IU
Vitamin C:
2.4
mg
Calcium:
161
mg
Iron:
2.1
mg
Nutrition is an estimate.
More recipe information