These Cinnamon Sugar French Toast Waffles are the perfect easy recipe for a special breakfast: Slices of bread are dipped into an egg custard, then cooked in your waffle iron. Dip them in cinnamon sugar while they're hot for the ultimate treat!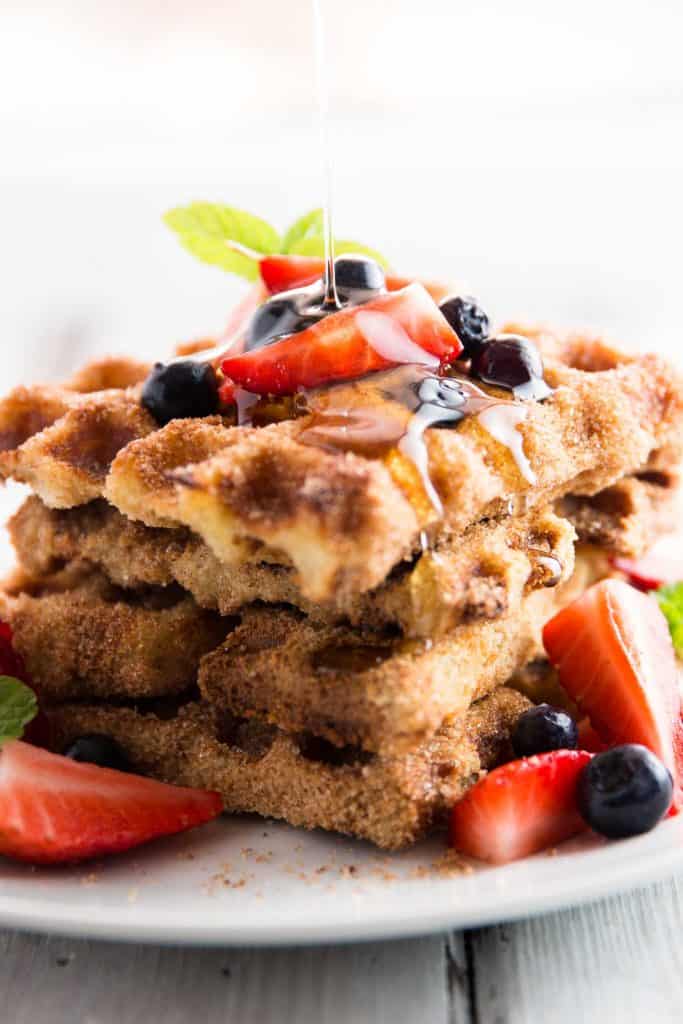 This post contains affiliate links and we earn a commission for purchases made after clicking through.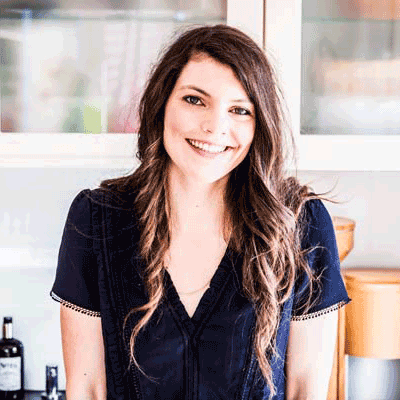 I love french toast, and I love waffles. As evidenced by the large collection of both French Toast recipes and Waffle recipes on this blog!
These French Toast Waffles are a combination of those two loves: French toast that's cooked in a waffle iron – so easy, so quick, and absolutely delicious. For an extra-special brunch, I dip them into cinnamon sugar right as they come out of the waffle iron – absolute bliss!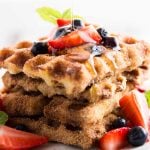 How to Make French Toast Waffles:
Read on for the detailed step-by-step ingredients and instructions, or scroll down for tips and the printable recipe card.
Ingredients for French Toast Waffles:
You only need a few staple ingredients to make one of the best weekend or holiday breakfast recipes, ever.
For the cinnamon sugar, you need:
(duh)
For the french toast waffles, you need:
bread
eggs
milk
breadcrumbs
oil
For the maple frosting dip, you need:
cream cheese OR greek yogurt
maple syrup
Feel free to use a soft whole wheat bread for this recipe if you prefer.
As with all french toast recipes, stale bread works best here. If you don't have any day-old bread, you can bake the slices at 300°F for 10 minutes, then cool them before making the french toast. It's not necessary to bother with this though, fresh bread is just a little more delicate to handle.
Allergy-friendly: It's fine to use your favorite plant-based beverage to make these dairy-free, I cannot recommend any substitutes for the eggs though. They work fine with gluten free bread and breadcrumbs. Make sure to check all your ingredients if allergies are present.
The dip is entirely optional. But it's also not, because it's absolutely delicious. It's also fine to skip the cinnamon sugar coating to make these more weekday friendly.
The Key Steps to French Toast Waffles:
The perfect french toast waffles are easy to make, but they require a few steps and a few different shallow dishes:
one dish for the egg custard
one dish for the breadcrumbs
and one dish for the cinnamon sugar
The rest is an absolute breeze!
1 Soaking the bread:
Once you have combined all ingredients for the egg custard, you'll want to soak your bread in it. I recommend cutting your bread into roughly 1 – 1.5 inches wide pieces for easier handling before starting.
Make sure to leave each slice in the custard for a minute (thick, stale bread closer to 2 minutes; thinner fresh bread closer to 30 seconds) – don't just quickly dip them.
Soaking the bread for a little while will give you the fluffiest french toast waffles.
2 Coating with breadcrumbs:
Before you cook the French toast in your waffle maker, you'll dip them in bread crumbs.
This may seem unnecessary and excessive, but trust me when I say it's good to be a maximalist sometimes.
Coating the bread pieces in breadcrumbs does three things:
Creates a golden color: The breadcrumbs make the outside of the French toast beautifully golden for a perfectly appealing look.
Makes the French toast waffles a little sturdier: The added sturdiness helps so the waffles don't fall apart, don't stick to the waffle iron – and to make them perfectly suited to use as finger food, to be dipped into frosting.
3 Cooking the waffles:
Once you're ready to waffle, make sure to grease your waffle iron well.
French toast waffles can be a little harder to gauge when they're done. But as a general rule of thumb, wait until there's no more crazy steam escaping from the waffle iron before opening to check – that way you can avoid ripping the french toast waffles apart when they're not done yet.
The waffles should be crispy and golden in color when they're done.
A Belgian waffle iron works best for these! You can make them in a regular one, too, but a Belgian one makes the most delicious French toast waffles. The hinge on my iron recently broke, and I've been eyeing this pretty iron:
4 Dipping in cinnamon sugar:
Once the waffled french toast is done, dip it into the cinnamon sugar straight away. The sugar sticks best when the waffles are hot!
These definitely taste best eaten straight away. But if you need to store them for a few minutes until you're done making a few batches, place them on a wire rack so they don't get soggy.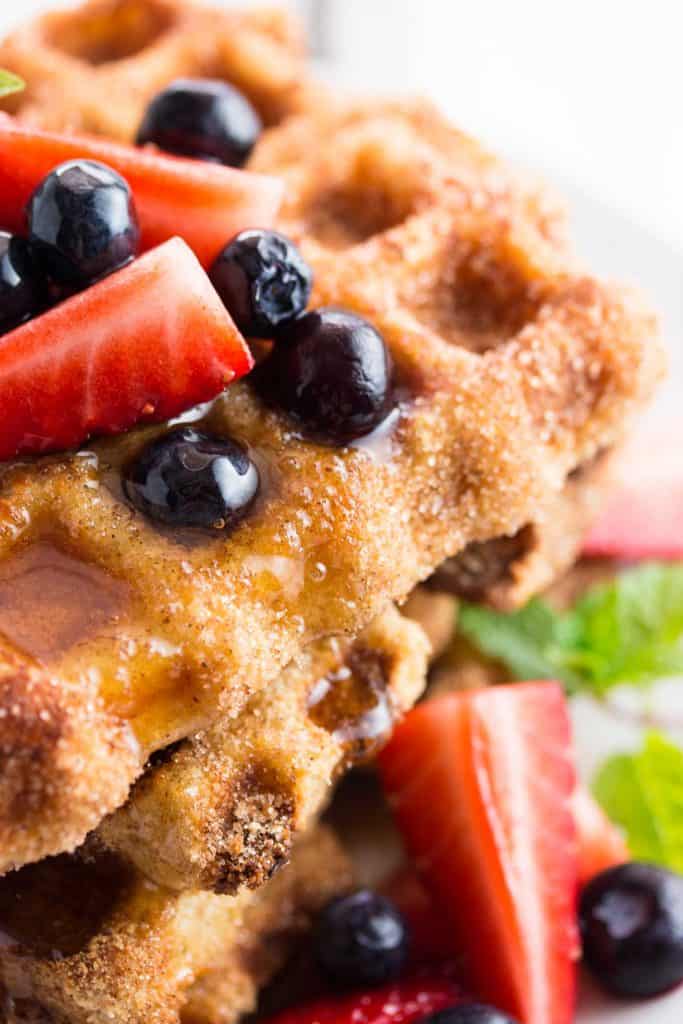 What to serve with French Toast Waffles:
These are a treat for breakfast all by themselves! I like serving them with fresh berries (and that delicious maple frosting dip).
But if you're looking for a more filling side, try one of these recipes: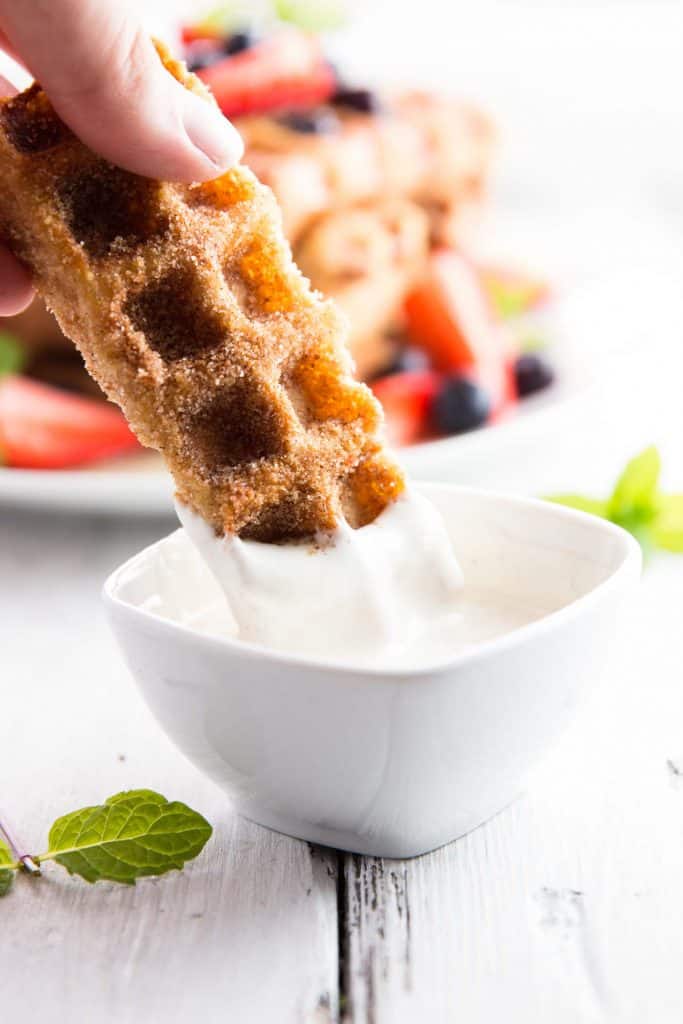 Print the French Toast Waffle recipe here:
Printable recipe
Printable Recipe Card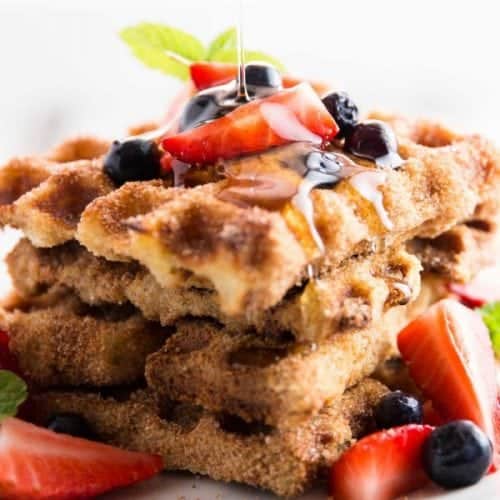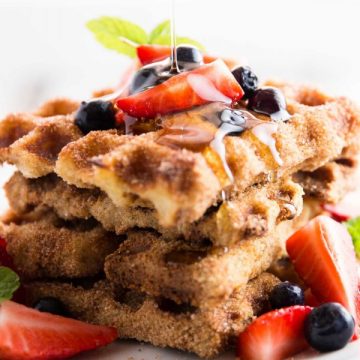 Cinnamon Sugar French Toast Waffles
These Cinnamon Sugar French Toast Waffles are an easy breakfast and brunch recipe: Dip slices of bread into custard, then cook them in your waffle iron!
made it? tap the stars to add your rating!
Equipment
3 Shallow Dishes

waffle iron
Ingredients
For the cinnamon sugar:
½

tablespoon

cinnamon

⅓

cup

granulated sugar
For the French toast:
½

cup

milk

2

large eggs

¾

cup

breadcrumbs

8

thick slices

bread

day-old preferred

Oil for the waffle iron
For the dip:
½

cup

Greek Yogurt

OR Cream Cheese

2

tablespoons

maple syrup
Instructions
Prep: Preheat your waffle iron on a medium-high setting. Mix the cinnamon and sugar in the first shallow dish. In a second shallow dish, whisk together the eggs and milk. To a third shallow dish, add the breadcrumbs.

Assemble French Toast: Cut the bread into even sticks (this makes waffling easier), about 1 – 1.5 inches wide. Soak two bread pieces (or as many as will fit into your waffle maker at once) in the egg mixture, then coat in breadcrumbs. Grease both sides of the hot waffle iron and add the French toast pieces, careful to avoid them touching each other. Cook until browned and crispy but not dried out, approximately 3-4 minutes.

Finish: When the pieces are done, immediately dredge them through the cinnamon and sugar mixture and sprinkle it all over the waffle indents as well. Proceed with the remaining bread pieces the same way. Serve immediately or set aside on a cooling rack for a few minutes.

To make the dip: Mix the yogurt or cream cheese with the maple syrup. Add a little milk if needed to give it a creamy but not liquid consistency. Serve with the French Toast Waffles.
Want to save this recipe?
Create an account for free to start your personal recipe box. Save any recipe by tapping the heart in the bottom right corner.
Join Now
Notes
The amount of breadcrumbs really depends on how thick of a layer they form on your toast sticks, so you may need a bit more or even a bit less than the recipe specifies. Adjust accordingly as you go.
Nutrition
Serving:
1
serving
Calories:
390
kcal
Carbohydrates:
69
g
Protein:
15
g
Fat:
6
g
Saturated Fat:
2
g
Cholesterol:
85
mg
Sodium:
496
mg
Potassium:
239
mg
Fiber:
4
g
Sugar:
30
g
Vitamin A:
193
IU
Calcium:
218
mg
Iron:
3
mg
Nutrition is an estimate.
More recipe information
Try These Cinnamon Sugar Recipes Next:
More Waffle Recipes:
More French Toast Recipes: