This Berry French Toast Bake is SO easy to make for breakfast or brunch. You can leave it in the fridge overnight and then bake it in the morning for easy meal prep. It looks so delicious with the creamy filling and topped with fresh berries. Nobody will believe this comfort food breakfast is healthy!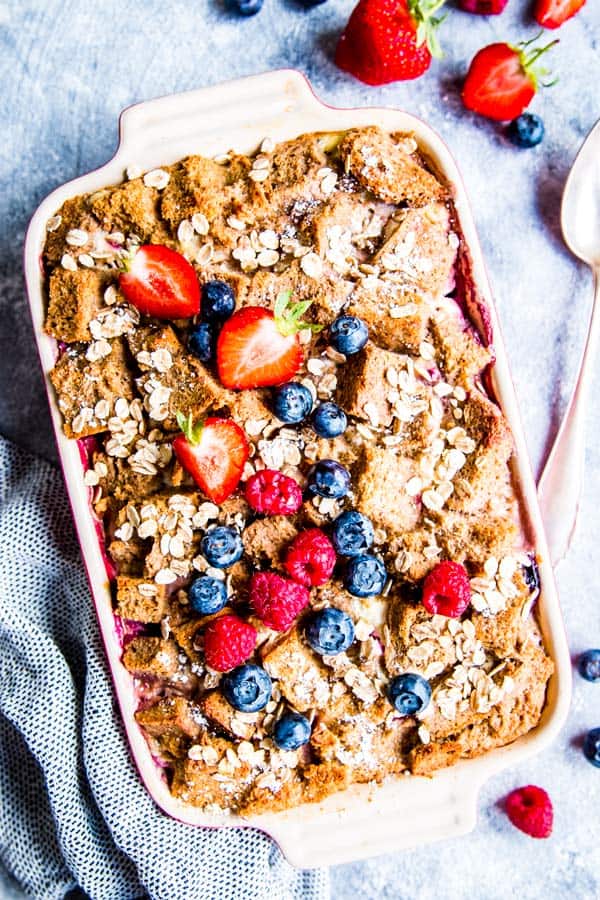 Berry French Toast Bake: low fat, whole grain, no sugar added
Happy Friday, friend! And happy long Memorial Day Weekend, too.
I have gotten into this super bad habit of blogging at night, so I'm sitting here on the couch doing my blogging while the kids are already asleep. I swear, I try to get up before the kids do in the morning… But I'm fighting these super low iron levels (helloooo long term nursing) and I couldn't get an appointment before June, so I'm left with eating lots of iron-rich foods and taking this herbal iron supplement every day.
I do think it's helping a little, but until I get my energy back… I'm probably going to be this very tired vampire blogger. Seriously though. If you've ever had low iron levels, you'll know how it feels. Pretty awful.
But this easy French Toast Casserole has been helping me out!
I don't really have any strength to make big dinners (and don't even get me started on cleaning up the sand from the sand pit all over the living room rug…), so a couple of days ago I realized I had some dry bread left.
I decided to just throw in the towel and assemble a French toast casserole in the morning.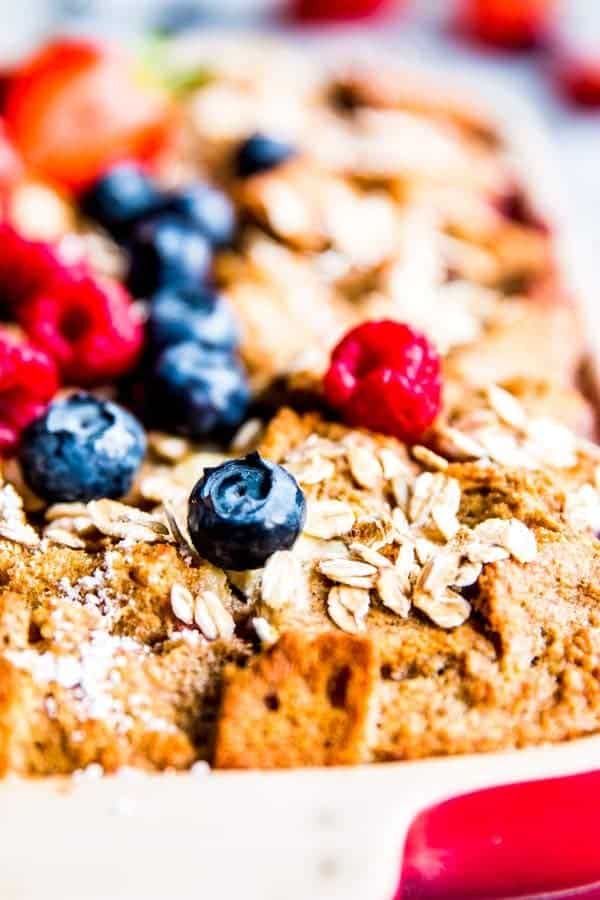 That way dinner was basically ready already, and I didn't have to spend time in the kitchen when I could barely make it up the stairs anymore.
This is the healthy kind of French toast casserole!
Since this was going to be dinner, I wanted to make it as healthy as I possibly could (like my blueberry baked oatmeal – which we've had for dinner before, too!)
You can make it low in fat (if you choose to make it that way – you can also make it as full fat as you possibly can ?), whole grain (if you're using whole grain bread), naturally sweet (you can make it sugar free if you like) and I'd guess pretty Weight Watchers friendly, if you're into counting these weird points ?
But what I'm loving most about it right now is how easy it is to make. Throw together easy. No hassle easy. Even my brother could make it easy.
No, really!
How to make a delicious and healthy Berries and Cream French Toast Casserole: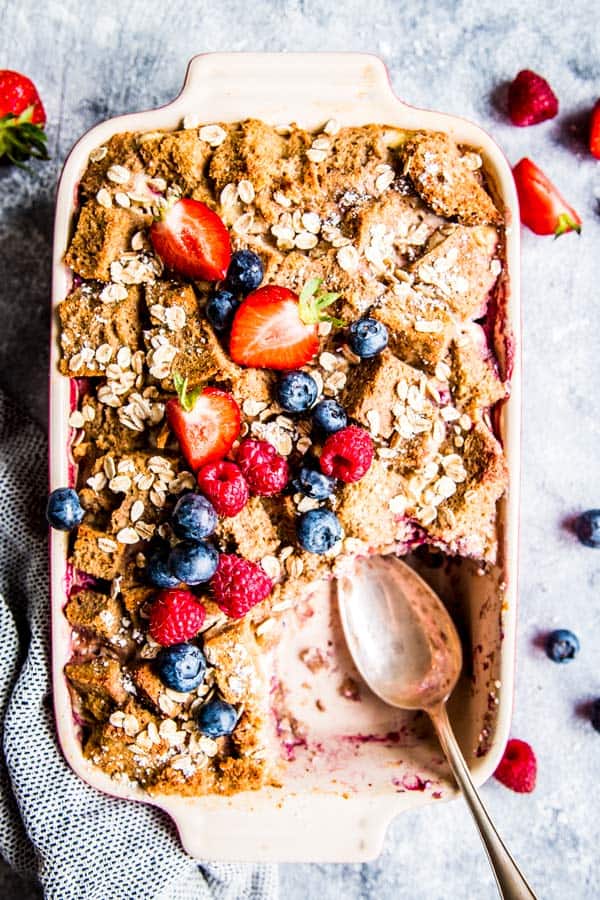 So, the gist of this recipe is this:
Whisk together your favorite milk, egg, sweetener, cinnamon and vanilla
Layer cubed bread, berries and a secret creamy ingredients in a casserole dish
Pour milk mixture over it
Refrigerate
Bake
Relish
About that secret ingredient…
So… My secret creamy ingredient? It's not cream cheese. It's better.
It's blended COTTAGE CHEESE! Seriously. I've you have never blended cottage cheese before, it turns into this magical thick and creamy… Something.
It's so good, I could eat it with a spoon. And it's perfect to add as the creamy, cheese-cakey filling in a French toast bake to add more protein and less fat than cream cheese would. Score!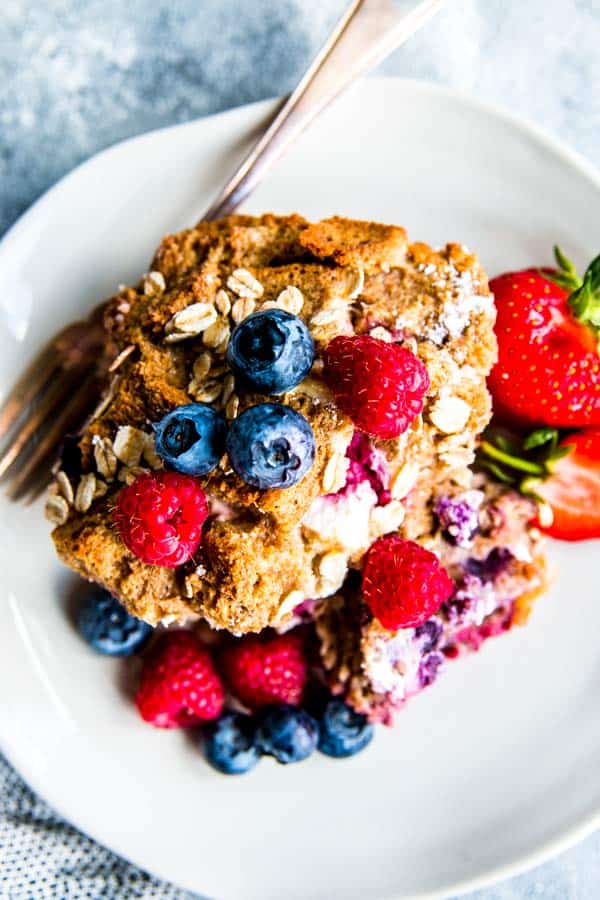 It is so, so simple to make. Here a few tips to make it absolutely foolproof:
When whisking the eggs into the milk, make sure you're whisking well. Otherwise you could end up with bits of scrambled egg in your casserole.
Day-old bread is best. If you only have fresh, your casserole will be a little more moist. If you're feeling ambitious, you can bake the cubed fresh bread on a cookie sheet at 350°F for 5-10 minutes to dry it out.
Make sure you're using a roomy 7×11 casserole dish, otherwise you'll have spillages all over the place. The dish I used for the photos was definitely too small, but it looked so pretty… I paid for it tenfold in cleaning work.
You can use any berries you have on hand. I prefer frozen because they're usually cheaper than fresh. It's also delicious with just a single kind of berries – we especially love it with raspberries.
Make sure all the bread cubes are soaking in the milk mixture before you refrigerate the bake, otherwise you'll have some dry spots.
You can get away with a 30 minute soak if you're in a hurry. But the bake is definitely puffier and more decadent if you prepare it a good 6-8 hours in advance.
Leftovers reheat well and taste almost better than right after baking ?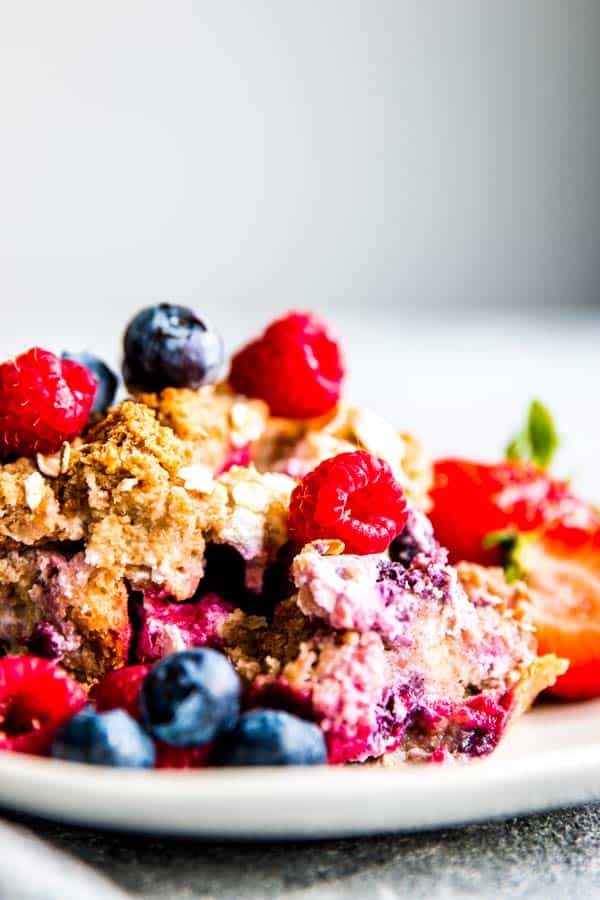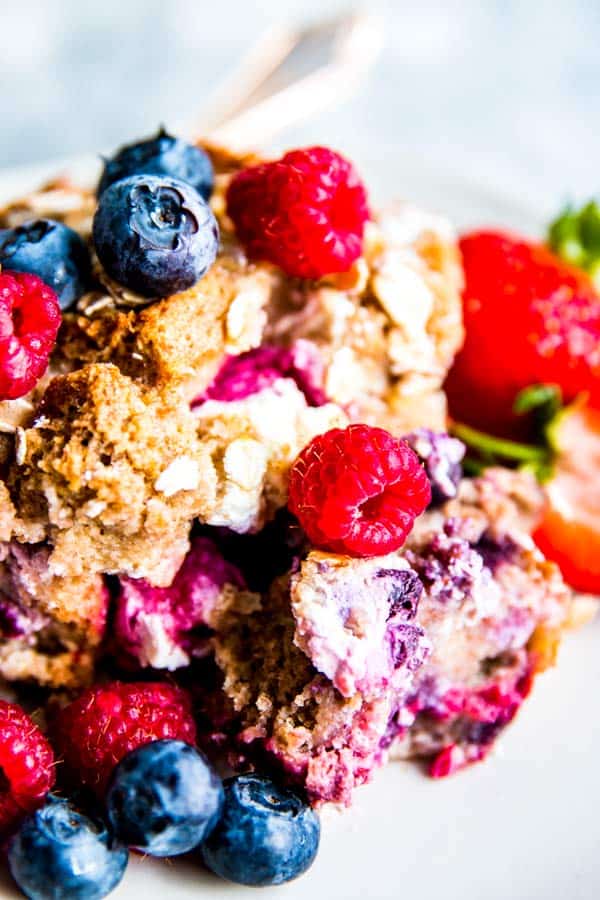 So far, nobody here has complained about getting things like a Berry French Toast Bake for dinner. You don't need low iron levels to do that though, promise ?
Print the recipe for keeps:
Printable recipe
Printable Recipe Card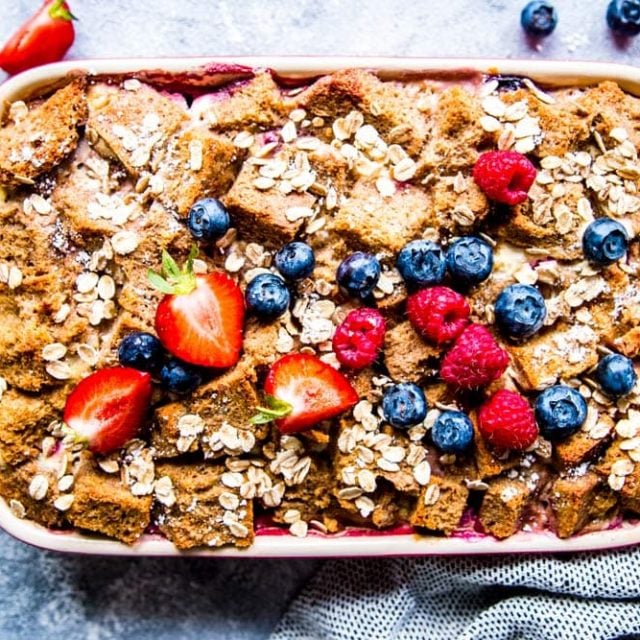 Berry French Toast Bake
This Berry French Toast Bake is SO easy to make for breakfast or brunch. You can leave it in the fridge overnight and then bake it in the morning for easy meal prep. It looks so delicious with the creamy filling and topped with fresh berries. Nobody will believe this comfort food breakfast is healthy!
made it? tap the stars to add your rating!
Ingredients
3

large eggs

you can also use 4 large egg whites

2

cups

milk of choice

½

teaspoon

ground cinnamon

¼

cup

honey or maple syrup

make it sugar free with your favorite sweetener, I just don't like using them

2

teaspoons

vanilla extract

Pinch

of salt

1

pound

cubed wholemeal bread

preferably a day old (I used homemade spelt sourdough)

2

cups

mixed berries

I used frozen

8

ounces

low fat cottage cheese

blended until smooth (can also use full fat, but I've never even seen that at my store?)

1

small handful

rolled oats

optional

Fresh berries

to serve
Instructions
Make the milk mix: Place the eggs, milk, cinnamon, sweetener, vanilla and salt in a large measuring jug and whisk until smooth.

Layer the casserole: To a lightly greased 7x11 baking dish (9x13 would work, too, it's just a little flatter), add half of the cubed bread. Pour over ⅓ of the milk mixture. Top with the 2 cups mixed berries and then dot with the blended cottage cheese. Add the remaining bread and pour over the remaining milk mixture, making sure all the bread pieces are soaked.

Chill the casserole: Cover the casserole dish and chill the casserole in the fridge for at least 30 minutes, preferably overnight.

Bake the casserole: Once you're ready to bake, preheat the oven to 350°F. Remove the bake from the fridge and uncover. Sprinkle with oats, if you like. Bake for 30-40 minutes, until the top is golden and the bake has set.

Serve: allow to rest for 5 minutes before dishing out portions. Serve with fresh berries.
Want to save this recipe?
Create an account for free to start your personal recipe box. Save any recipe by tapping the heart in the bottom right corner.
Join Now
Notes
Although savorynothings.com tries to provide you with accurate nutritional information, these numbers are only estimates. Depending on the exact products used and varying other factors, the effective nutritional content of a dish can change in any recipe. Under no circumstances will savorynothings.com be responsible for any loss or damage resulting for your reliance on nutritional information found on this site.
Nutrition Facts
Berry French Toast Bake
Amount Per Serving
Calories 340
Calories from Fat 54
% Daily Value*
Fat 6g9%
Cholesterol 83mg28%
Sodium 750mg33%
Potassium 223mg6%
Carbohydrates 56g19%
Protein 14g28%
Vitamin A 160IU3%
Vitamin C 1.6mg2%
Calcium 195mg20%
Iron 2.7mg15%
* Percent Daily Values are based on a 2000 calorie diet.
I kindly ask that you share this recipe via the share buttons and not via screenshots.
If you use or re-create my recipes and share them on your own blog or on social media, I kindly ask you to add a link back to this original post. Thank you for being a virtual friend!
Nutrition
Calories:
340
kcal
Carbohydrates:
56
g
Protein:
14
g
Fat:
6
g
Saturated Fat:
1
g
Cholesterol:
83
mg
Sodium:
750
mg
Potassium:
223
mg
Fiber:
6
g
Sugar:
20
g
Vitamin A:
160
IU
Vitamin C:
1.6
mg
Calcium:
195
mg
Iron:
2.7
mg
Nutrition is an estimate.
More recipe information