Printable recipe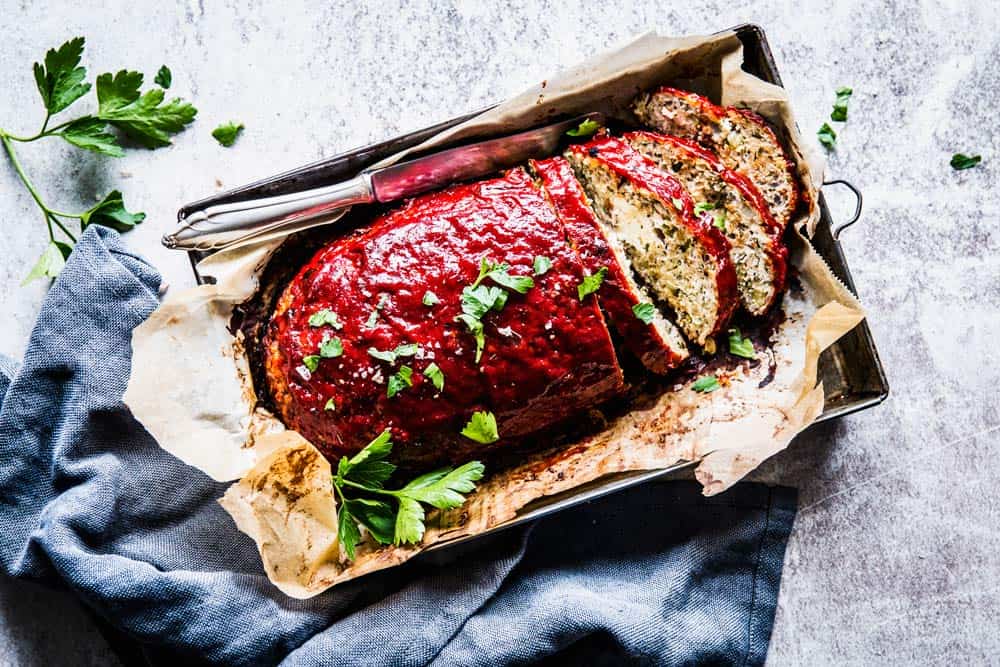 made it? tap the stars to add your rating!
Ready In:
1

hour
40

minutes
This is one of my favorite ways to make a healthy meatloaf: With lean ground turkey, shredded zucchini and plenty of Greek-inspired flavors.
I usually make a few at a time and then freeze them for easy meals on busy days. I included the freezer instructions in the recipe notes below – I hope you'll cherish this one as much as we do!
Ingredients
For the Meatloaf:
1

pound

lean ground turkey

1

large egg

1

zucchini

(finely shredded and extra moisture squeezed)

1

red onion

(finely chopped)

4

sundried tomatoes

(drained and finely chopped )

2

cloves

garlic

(minced)

2

teaspoons

dried oregano

2

tablespoons

chopped parsley

4

tablespoons

quick oats

(soaked in 2 tablespoons milk)

½

teaspoon

salt

black pepper

(to taste)

2

ounces

Feta cheese
For the Sauce:
2

tablespoons

tomato paste

1

tablespoon

hot water

½

tablespoon

Worcestershire Sauce

1 ½

tablespoons

apricot preserves

(OR use more honey)

½

tablespoon

honey

Salt

(to taste)
Instructions
Make the meatloaf mixture: Place all ingredients for the meatloaf EXCEPT for the feta cheese in a large bowl. Mix until very well combined.

Prep: At this point, preheat your oven to 350°F. Line a baking sheet with baking parchment.

Shape the meatloaf: Place ⅔ of the meat mix on the prepared baking sheet and shape into a loaf. Make an indent in the middle and crumble in the feta cheese. Cover with the remaining meat mix. Make sure you push it together into a firm loaf, otherwise it will fall apart.

Brush with sauce: Stir together all ingredients for the sauce. Brush ⅓ of it all over the meatloaf.

Bake the meatloaf: Bake the loaf for 30 minutes. Brush with another ⅓ of the sauce and finish baking for another 20-30 minutes, or until the internal temperature has reached 165°F. Immediately brush with the remaining sauce. Rest for 5-10 minutes before slicing.
Add Your Review
Nora's Tips
Ingredient Notes:
Meatloaf Sauce: I always use my homemade meatloaf sauce here (don't worry, it takes 2 minutes to stir together – shhhh, secret ?). But feel free to use ketchup, BBQ sauce or your favorite sauce instead.
Cooking Tips:
Prepping the vegetables: Make sure to squeeze any extra liquid out of the shredded zucchini, or the meatloaf won't hold together. And make sure to finely chop the remaining vegetables so you don't end up with large chunks of onion in the loaf.
Mixing the meat: Use a hand mixer with the hook attachment to knead the meat with the other ingredients. No messy hands and it is WAY faster!
Baking the meatloaf: I always brush meatloaf three times with sauce. Once before baking, once during baking and once right after. This will keep the top from drying out, which is especially important for turkey meatloaf!
Make ahead: Make a large batch and freeze some meatloaves to bake up later. Way to get ahead with dinner prep!
Cheese stuffing: If you don't want to bother with the feta stuffing, you can just crumble it into the meat mix and it will be just as delicious without the extra step of stuffing!
Resting the meatloaf: I like letting my meatloaf rest for 5-10 minutes before slicing, as I find it tends to hold together a lot better after a little while.
Freezer Instructions:
It's very easy to freeze. Just wrap the unbaked loaves first I clingfilm, then tightly in aluminum foil.
Freeze for up to three months. To defrost, pop it in the fridge overnight. Remove the foil before baking and add another 10-15 minutes baking time of it's not done after the time specified in the recipe.
You can also freeze it baked (and pre-sliced!) if you need to prepare your kitchen for very helpless people. I like to thaw it for a bit and then heat in the oven or microwave until steamy and piping hot all the way through.
Our favorite side dishes:
We like serving this with a fresh, seasonal salad (Strawberry Spinach Salad with Poppy Seed Dressing) or even with a Greek Pasta Salad for a fun summer dinner.
Nutrition
Calories:
175
kcal
|
Carbohydrates:
13
g
|
Protein:
22
g
|
Fat:
5
g
|
Saturated Fat:
2
g
|
Cholesterol:
77
mg
|
Sodium:
412
mg
|
Potassium:
441
mg
|
Fiber:
2
g
|
Sugar:
7
g
|
Vitamin A:
399
IU
|
Vitamin C:
11
mg
|
Calcium:
81
mg
|
Iron:
2
mg
More recipe information
Join my Newsletter to Get Recipes in Your Inbox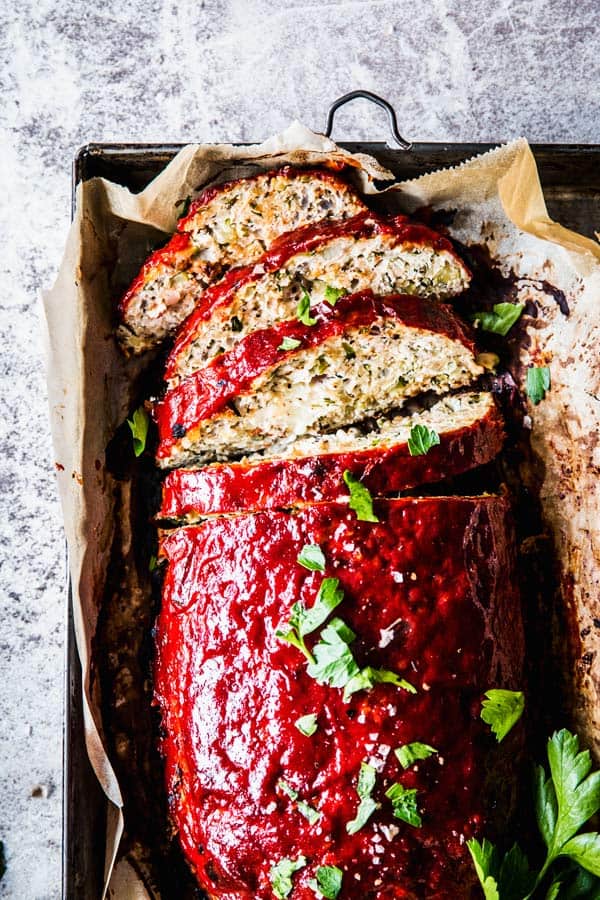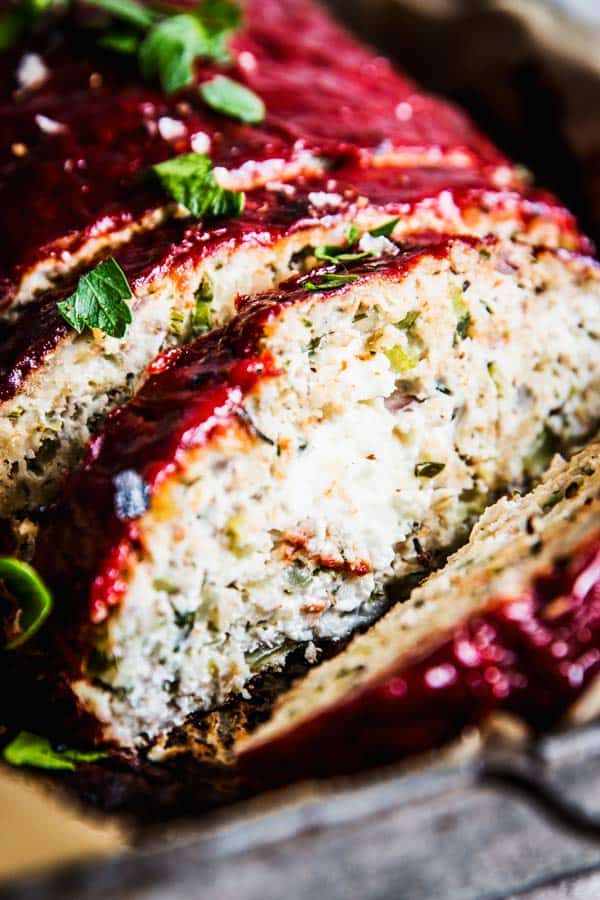 More Recipes You'll Love:
I first published this post as Greek Turkey Zucchini Meatloaf Recipe on Food Fanatic.