Strawberry Peanut Butter Overnight Oats are an easy and delicious make ahead breakfast the whole family will love. Perfect for easy meal prep when you have a busy morning ahead! You can make them in individual jars to take them on the go, or make a large batch in a single bowl if you're feeding a crowd – so easy!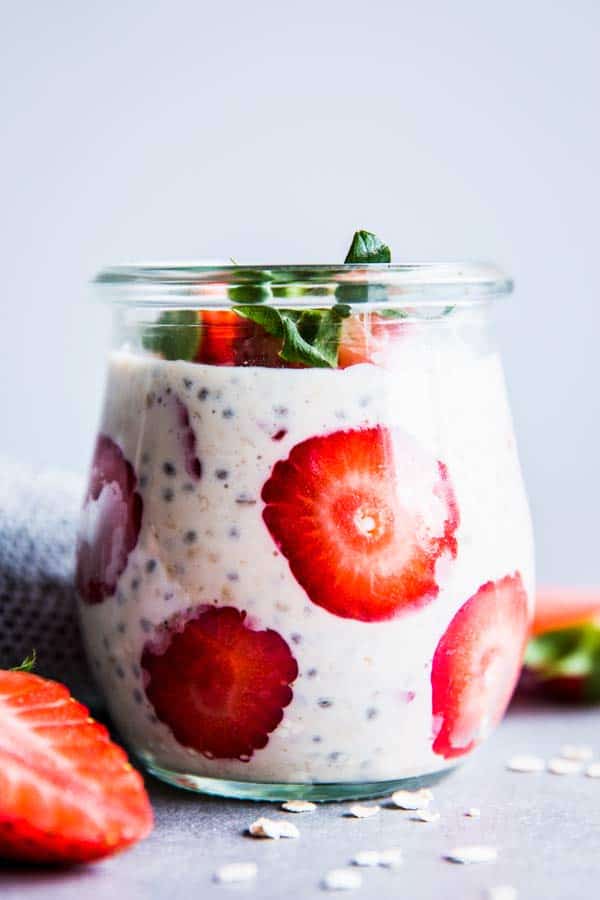 Since you've been loving my Vanilla Strawberry Overnight Oats so much, I thought I'd treat you to another version: Strawberry Peanut Butter! So delicious.
It's my kids' second favorite to the Chocolate Chip Banana ones, which is great because I don't want them to have chocolate chips for breakfast all the time ?
I contemplated calling these Peanut Butter and Jelly Overnight Oats, because well, there's peanut butter and fruit. But I thought that might alert the Internet police and make someone very upset because there's no actual jelly in them…
So Strawberry Peanut Butter it is!
These are just as easy to make as all my other overnight oats, and wow do I have a lot ? Raspberry Coconut Overnight Oats, Almond Blueberry Overnight Oats… Just to name a few.
I even have a handy tutorial on how to make overnight oats, if you're new to them and want some more detailed information!
My Best Tips for Foolproof Strawberry Peanut Butter Overnight Oats: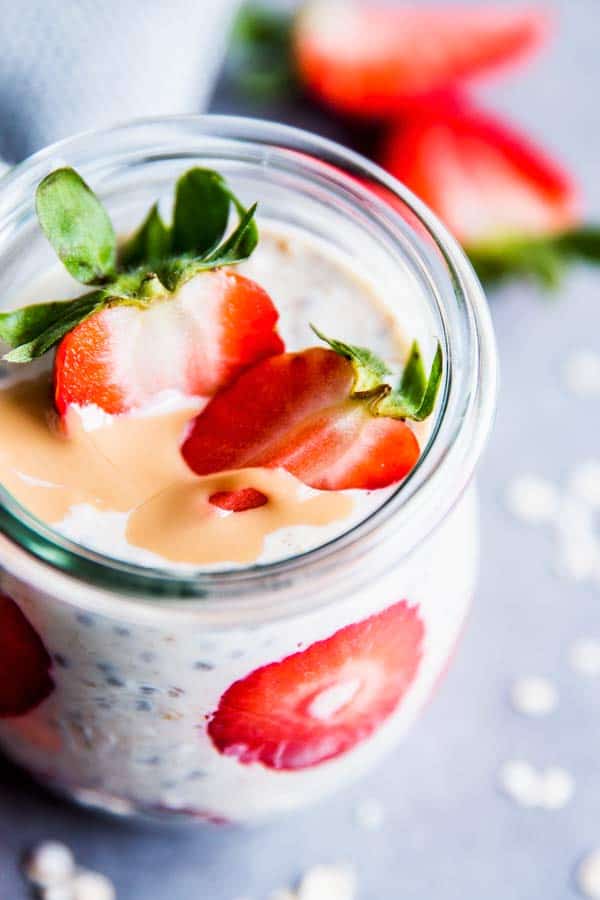 How to make strawberry peanut butter overnight oats cheap:
Buy oats in bulk! I was surprised what a difference this can make. We go through a lot of rolled oats in our home, so it's a very efficient way to save money.
Make this when strawberries are in season. They're usually cheaper starting around end of April-ish, plus there are more sales.
Keep the amount of peanut butter you add in check. Especially if your kids are "helping" you make these ?
How to make strawberry peanut butter overnight oats easy:
Cutting the strawberries: Please don't believe you have to arrange strawberry slices along the jar walls like I did for the photos. That was pure hypocrisy on my part. I would never do that outside a photography setting. I just hull the strawberries, quarter them and then run my knife over them a few times to make an easy job of chopping them.
Mixing the ingredients: If you're making single-serve portions, it's still easier to mix everything in a larger bowl. It's also clever to make a batch that will last for 3 days, even if you're the only one eating them. The jars will easily keep in the fridge for 72 hours, so you'll be making your life a whole lot easier if you have 3 breakfasts already waiting for you in the fridge. If you're feeding a crowd, don't worry about the individual jars. Just chill it in a large, covered bowl and have everybody serve themselves in the morning. So easy!
Chilling: If you're impatient and don't see the "overnight" point in overnight oats, you can get away with a very quick soak (especially if you're not a fan of softer oats). Think 15 minutes.
Serving: Yes, you serve them cold out of the fridge without cooking! Don't worry, commercial oats are usually steamed to keep them from going rancid, so you're most likely not actually eating raw grain.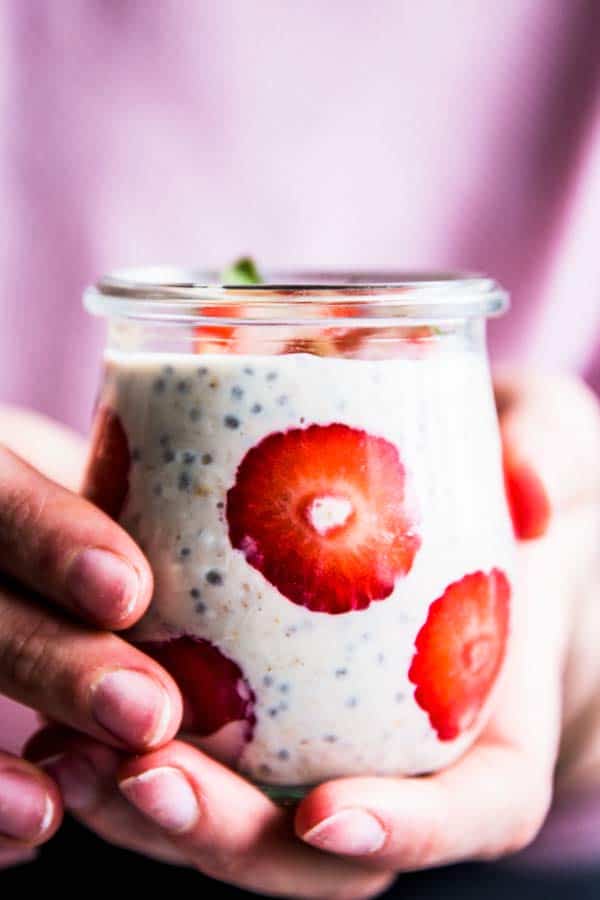 A few more tips for foolproof overnight oats:
You can leave out the chia if it bothers you a lot. Subbing in flax seed is possible, it just has a stronger taste and definitely needs the overnight soak. If you decide to leave it out altogether, it will just be a little less creamy (but I've been making overnight oats without chia for YEARS, so no issues there!).
You can obviously use any nut butter you like – almond is very delicious in this, too.
If you're curious about the jars, I'm using these from Amazon for small portions and these from Amazon for large (adult-sized) portions. FYI, I make a commission for purchases made through these links!
I hope you'll enjoy these not-quite-pb-and-j overnight oats just as much as we do – despite the lack of chocolate chips ?
Get the printable strawberry peanut butter overnight oats recipe for your binder:
Printable recipe
Printable Recipe Card
Ingredients
½

cup

plain Greek yogurt

1

cup

milk of choice

2

tablespoons

natural peanut butter

2

teaspoons

maple syrup or honey

1

cup

rolled oats

1

tablespoon

chia seeds

1

teaspoon

vanilla extract

Pinch

of sea salt

6-8

chopped strawberries plus extra for topping
Instructions
Stir all ingredients together very well.

Divide between jars and cover.

Refrigerate overnight, then serve cold topped with extra fruit.
Want to save this recipe?
Create an account for free to start your personal recipe box. Save any recipe by tapping the heart in the bottom right corner.
Join Now
Notes
Makes 2 larger or 4 smaller servings.
Nutrition
Calories:
404
kcal
Carbohydrates:
52
g
Protein:
20
g
Fat:
12
g
Saturated Fat:
3
g
Cholesterol:
9
mg
Sodium:
176
mg
Potassium:
523
mg
Fiber:
7
g
Sugar:
16
g
Vitamin A:
265
IU
Vitamin C:
21.2
mg
Calcium:
292
mg
Iron:
2.7
mg
Nutrition is an estimate.
More recipe information