Greek Turkey Meatballs are juicy homemade turkey meatballs filled with zucchini, feta cheese, sun-dried tomatoes and lemon. They're delicious as a healthy meal with a salad, or turn them into an easy sandwich lunch by stuffing into pita breads. Put them on your meal plan this week – your family will love you for it!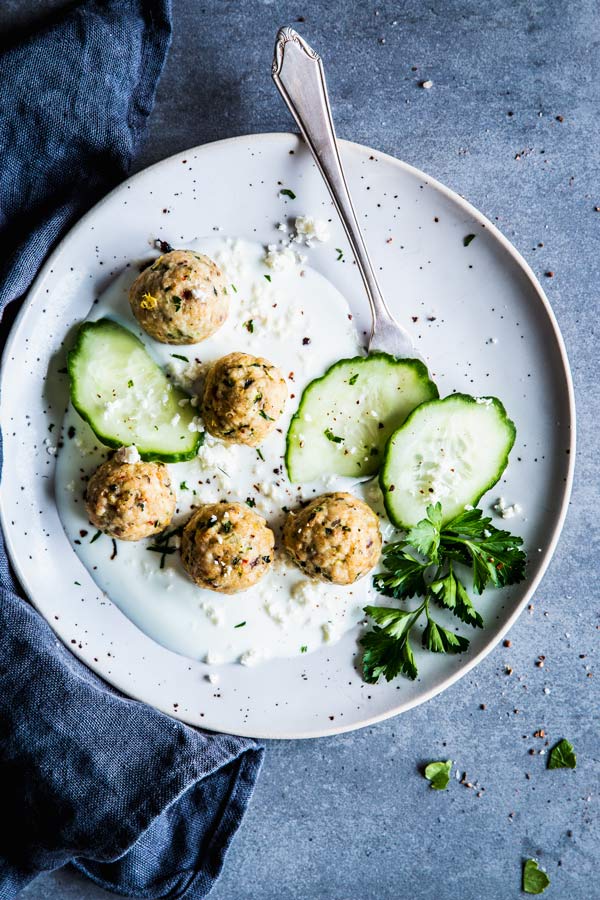 One could say I'm obsessed with Greek food. The feta, the sun-dried tomatoes, the figs, the fresh fish… I love it all.
I've been to Greece on holiday numerous times, and it's an incredibly beautiful country. Actually, my first bestie is half Greek. We grew up door-to-door the first few years of our lives.
Our hobbies included drinking my mom's perfume, hitting each other with wooden animals and begging neighbors for chocolate. Ahh, sweet, innocent childhood.
Her grandma was living with them as well, and I was very scared of her. Granted, I was also very scared of her dad. And her mom. But then again I was scared of anyone who could potentially talk to me, so it's not really saying much.
I always loved eating at her house, because her grandma made the best Greek food you could ever imagine. There was Spanakopita, fried dough balls in a lush honey sauce, delicious breads, cakes… Ah. Food memories are the best kind of memories. And I've been in love with that cuisine ever since.
Unfortunately I've been slacking on sharing Greek-inspired recipes with you, so let's change that, okay? Okay.
I'm not always that big on re-creating authentic food, because while I have no more problems talking to people, I am now scared of the crazy Internet authenticity police crashing down on me. Which may be the reason why I put a disclaimer in my Italian meatballs post…
But I love taking Greek flavors to incorporate them into a new and delicious recipe. Like my Greek Roasted Potatoes and Green Beans or my One Sheet Pan Greek Style Easy Baked Chicken Dinner.
Here I'm adding lots of Mediterranean flavor to turkey meatballs – the best!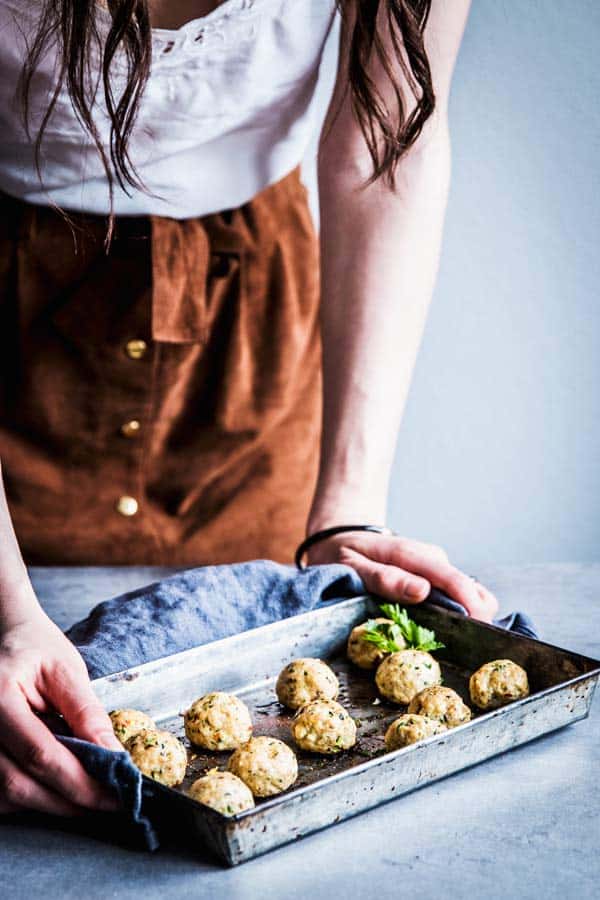 Why I love these Greek Turkey Meatballs:
They're so juicy! If you've ever made turkey meatballs, you'll know there can be issues with dryness. But you'll be packing these with things like shredded zucchini, sun-dried tomatoes and feta cheese. This keeps them nice and juice and absolutely delicious.
They're easy to make. You just throw everything in a bowl, mix, shape meatballs and bake. There's nothing difficult about this recipe, and if you follow my step-by-step guide on how to make meatballs from scratch, they're absolutely foolproof!
You can freeze them. I've frozen many a batch of meatballs, and they're always nice to have on hand for quick lunches and dinner! Shhhh… They can also work as an impromptu party appetizer if you need a change from your regular BBQ Slow Cooker Meatballs and Cranberry Glazed Turkey Meatballs situation!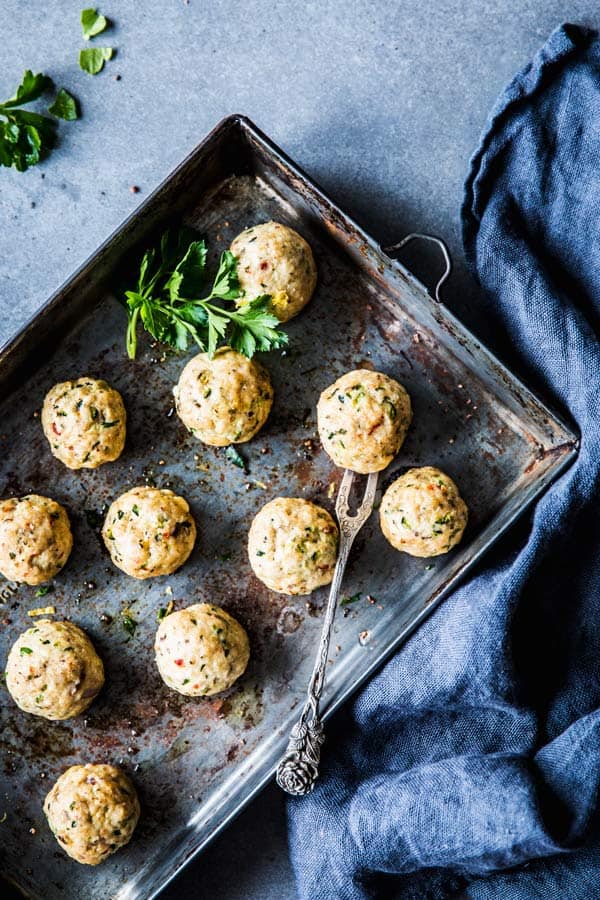 We love serving these with Greek Quinoa Salad or a Greek Chopped Salad and Tzatziki sauce (the recipe is for stuffed avocados, but we just make it without them!).
But they're also brilliant for lunch in pita pockets with sliced cucumbers, tomatoes and red onions. Pack some yogurt sauce and fruit separately and your packed lunch is ready!
If you need more help with side dish ideas, I've got an entire post on sides for meatballs written up here.
Now that we've got your sides covered, lets see how you're going to make your meatballs:
How To make Greek Turkey Meatballs:
Start by prepping the zucchini: Finely shred it, then wrap it into a clean dishtowel and squeeze out as much of the liquid as you can. This is important, otherwise the liquid will come out during cooking and your meatballs will fall apart.
Mix the squeezed zucchini shreds with all other ingredients until you have a relatively even "meat dough". I like doing this with a hand mixer with the dough hook attachment, because I really don't fancy kneading ground meat by hand. It will feel quite wet, but that's normal with ground turkey!
Preheat the oven while shaping your meatballs. I prefer small-ish meatballs with about 1.5 teaspoons of meat per ball. Place the shaped meatballs on a lightly oiled baking sheet. If you want some step-by-step photos for reference, check out my post on how to make homemade meatballs!
At this point you can freeze the meatballs for 5-10 minutes, just to help them firm up and keep their shape better. But this is entirely optional! (You can also freeze them on an oiled baking sheet for about 30 minutes now, then bag them up, label and freeze for up to two months.)
Bake the meatballs in the preheated oven for 12-15 minutes, or until no longer pink in the middle.
And that's it! btw, I prefer oven baked meatballs because it's hands-off and they have a better shape, but you can also make your meatballs on the stove if you like.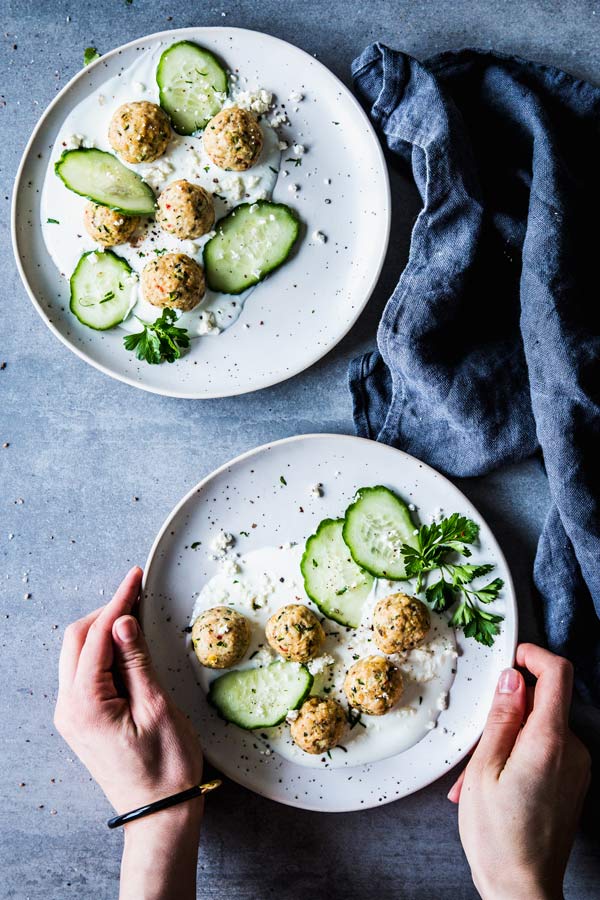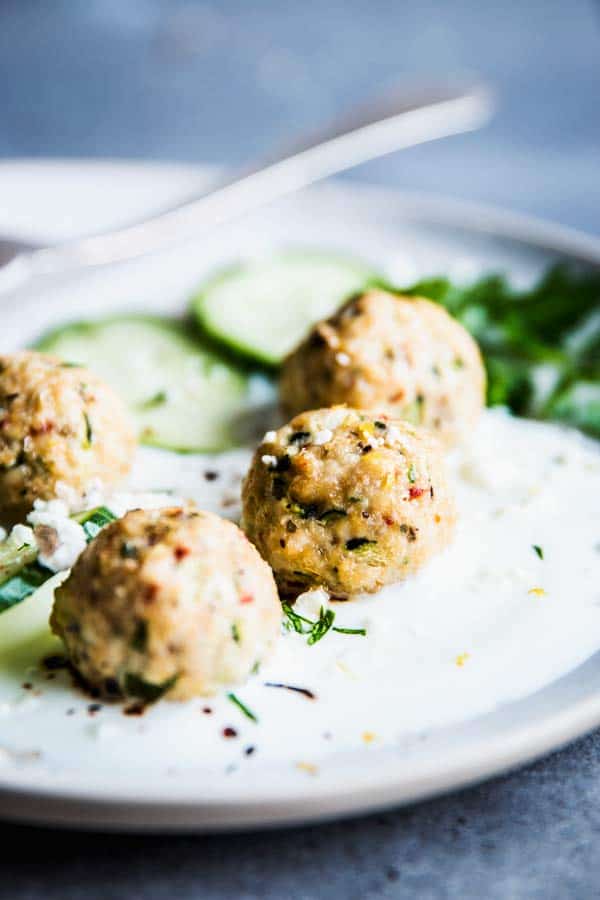 I know meatballs are not always seen as the most healthful part of a meal, but especially if you're making them with ground turkey they can absolutely make for a well-balanced dinner. We have things like Pineapple BBQ Meatballs (also made with ground turkey!) and smokey turkey meatballs for dinner all the time.
But also beef meatballs aren't the worst if you're using lean ground beef – and the kids LOVE them! We have Teriyaki Meatballs or easy Swedish meatballs quite often, so not only are meatballs delicious and can be part of a healthy dinner, they're also super versatile and loved by everyone in our family.
And I'd say eating any kind of meatball for that matter, is a lot tastier than drinking your mom's perfume. Just wish my three year old self would have gotten that memo, too 😉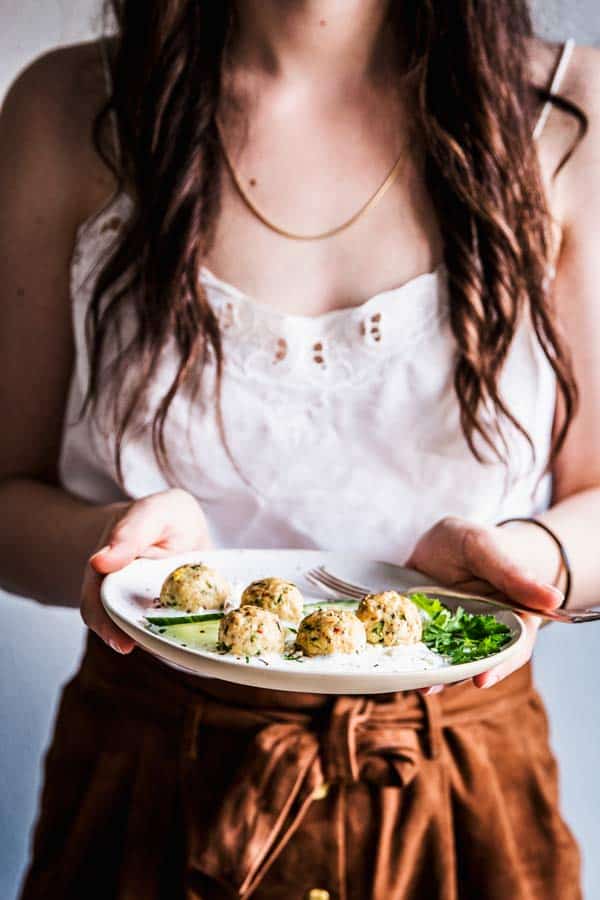 Get the printable recipe for these Greek Turkey Meatballs: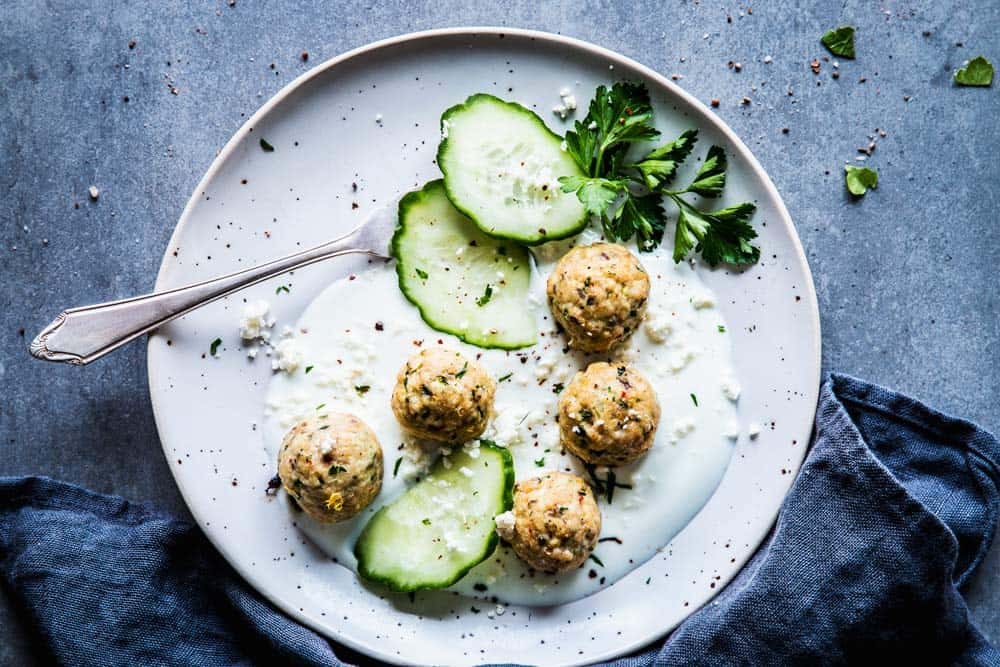 Ingredients
1

small zucchini

,

trimmed and shredded

1

pound

lean ground turkey

4

tablespoons

breadcrumbs

1

large egg

1

red onion

,

finely chopped

2

cloves

garlic

,

finely chopped

3

sun-dried tomatoes

,

drained and finely chopped

2

tablespoons

crumbled feta cheese

,

plus extra for serving

1

handful flat leaf parsley

,

finely chopped

1/2

lemon

,

finely grated zest only

2

teaspoons

dried oregano

,

use Italian spice mix if you don't have oregano

1/2

teaspoon

fine sea salt

Black pepper

,

to taste
Instructions
Drain zucchini: Place the shredded zucchini in a clean dish towel and squeeze out as much liquid as you can.

Mix meatball dough: Place the zucchini in a large bowl together with all other ingredients. Mix well using a handheld mixer with the dough hook attachments, until you have an even "meat dough". It will feel quite wet. (If you don't have a hand mixer, you can knead by hand, it just takes more time).

Shape meatballs: Using about 1.5 teaspoons of meat mix per meatball, shape meatballs and place them on a lightly oiled baking sheet. Freeze for 10 minutes to retain a better shape (this is optional but helpful). In the meantime, preheat the oven to 410°F (210°C).

Bake the meatballs: Bake the meatballs in the preheated oven for 12-15 minutes, or until no longer pink in the middle. No need to flip! If you want the top to be more browned, put the meatballs under the grill for 1-2 minutes.
Nutrition (this is an estimate)
Nutrition Facts
Greek Turkey Meatballs
Amount Per Serving
Calories 233
Calories from Fat 45
% Daily Value*
Total Fat 5g 8%
Cholesterol 110mg 37%
Sodium 542mg 23%
Potassium 612mg 17%
Total Carbohydrates 13g 4%
Protein 32g 64%
* Percent Daily Values are based on a 2000 calorie diet.