Ever wondered how to cook meatballs on a stove? It's way easier than you think and very common for Italian meatball recipes. Here's how you can do it, too!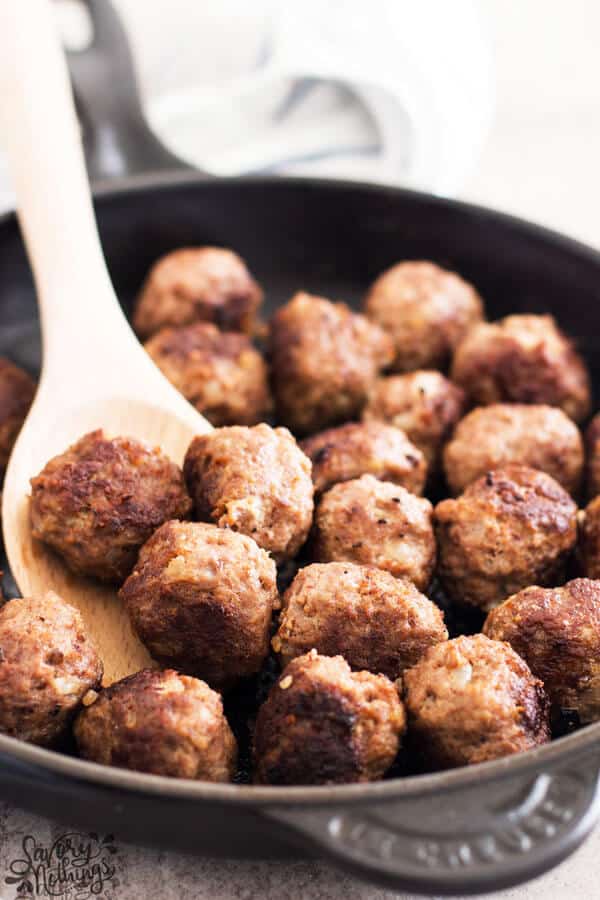 Cooking meatballs on a stove is convenient if you don't have an oven (or don't want to turn it on during hot summer months). It's easy to do if you know a few tricks!
We Love meatballs. Yes, capital L love, that's not a typo. We make them all year long. Swedish meatballs in the winter, Cranberry Turkey meatballs for the holiday season, BBQ Slow Cooker Meatballs during fall and Teriyaki Meatballs, Honey Garlic Crockpot Meatballs and Smokey Turkey Meatballs year round.
I even made a video about How To Make Meatballs from Scratch.
Yep, the meatball love is big around here.
I generally love baking meatballs, but sometimes I either don't have a free oven or just don't want to turn it on. (Looking at you, hot summer days!)
That's when it's really handy to cook them on the stove in a skillet!
Why do I want to cook meatballs on a stove?
There are a few simple reasons you might choose to cook your meatballs on the stove:
You don't have an oven available
You don't want to heat up the house with your oven
You will cook the meatballs in a sauce later and don't want to do extra dishes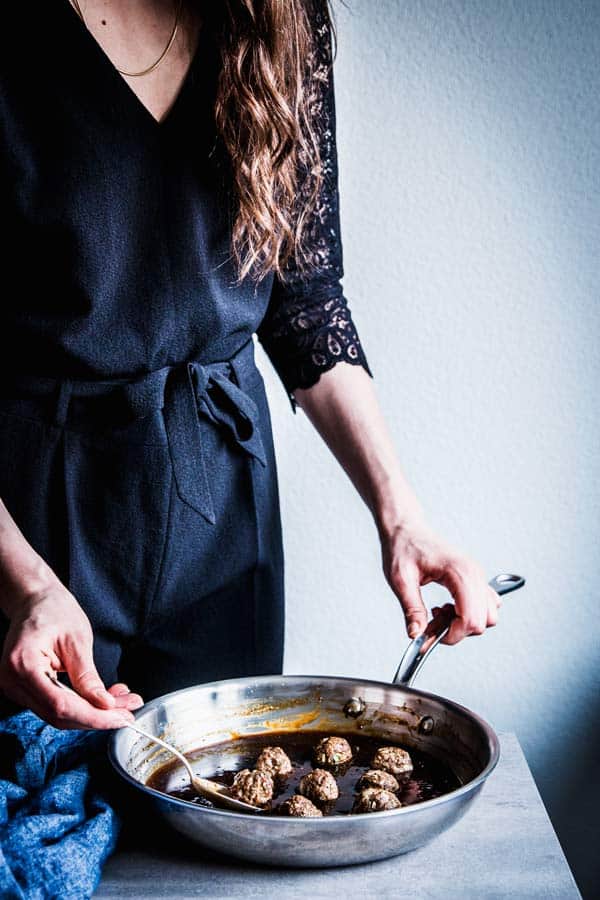 Cons of cooking meatballs in a skillet on the stove:
I will say that there's a few small downsides to cooking meatball on the stove vs baking them. Namely:
It gets a little messier in the kitchen, because they tend to splatter as they cook
They don't have the same beautiful shape as the baked ones
It's more hands-on than baking
If you can live with these negatives, it's really, extremely easy to cook them on the stove.
How to Cook Meatballs on a Stove:
You can see what the meatballs look like in the pan at the end of this video:
Make your favorite meatball recipe (I have a post on how to make homemade meatballs if you need help there!)
Heat a skillet over medium-high heat
Add oil to the skillet and wait a few seconds for it to heat up
Carefully place the meatballs in the hot skillet and sear the bottom, about 2 minutes
Flip and swear the meatballs on the other side for 2 minutes, or until browned
Lower the heat to medium and cook the meatballs, flipping occasionally, until they're done (total cooking time will be between 10-20 minutes, depending on the size of your meatballs)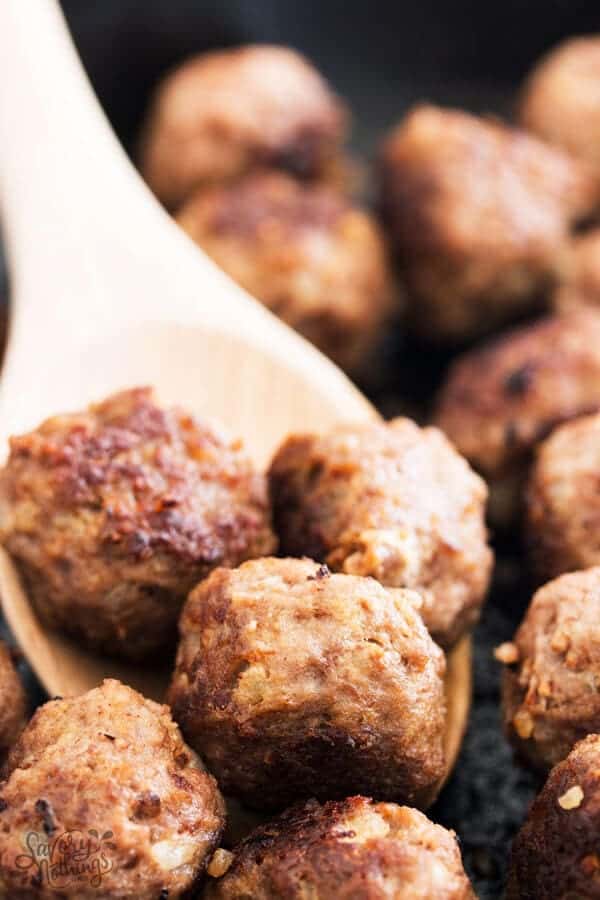 If you want to finish cooking the meatballs in a sauce:
Follow the steps above until your meatballs are seared
Add the seared meatballs to your sauce and gently simmer them until they're no longer pink in the middle (this will take around 10 minutes, again depending on the size of your meatballs)
You can add a lid while simmering the meatballs in the sauce if you don't want your sauce to thicken.
Watch how I make Swedish Meatballs here:
This video shows you how to sear meatballs and finish cooking them in a sauce!
And that, my friend, is pretty much it!
If you're now left with a bunch of stove-cooked meatballs and no side dishes… Fear not! I have a bunch of ideas for you.
For ideas for all kinds of meatballs, check out this post: What Can You Serve With Meatballs?
And if you just made some really juicy BBQ meatballs, you can find all my favorite sides here: What can you Pair with BBQ Meatballs?
Let me know in the comments if you have any other meatball related questions – I've been called the queen of meatballs, so I'm sure I'll have an answer ?❤