Homemade Korean BBQ Sauce is a quick and easy condiment you can whip up in no time at all! This one is secretly refined sugar free and made from 100% natural ingredients to help you stick to your healthy eating goals. Everybody will ask for this recipe – better plan on making a double batch!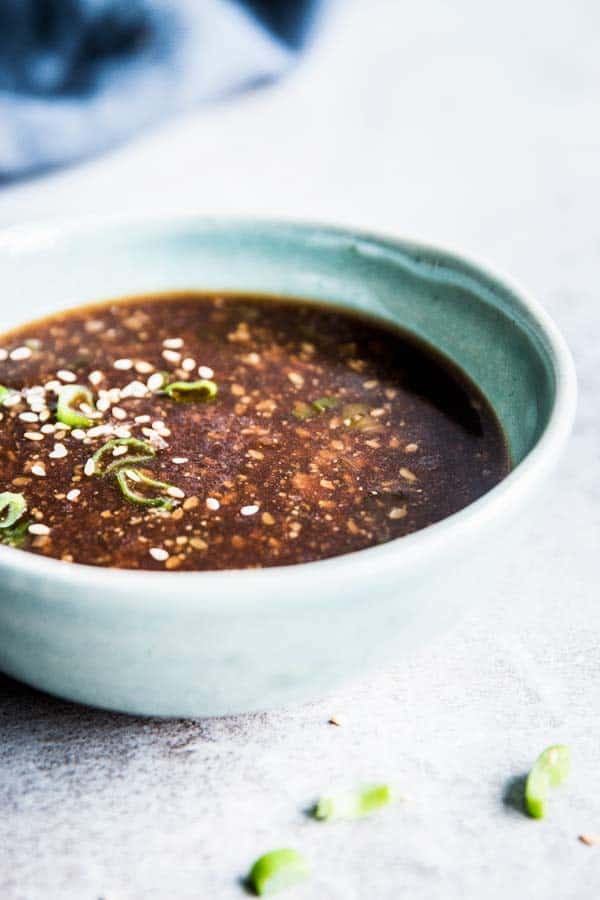 A couple of months ago my grandma in the UK passed away and we spent a week there before her funeral to be with my family.
It was quite an exhausting thing to do with two little kids in tow, and on the way back we were at the airport a million hours early. Then the flight was delayed. ??‍♀️
If you've ever spent 6 hours at an airport with young children, you know what I'm talking about. If you haven't, congratulations. Run and hide, ha!
Because our flight was in the evening, and late, we had to have dinner at the airport. So we went to Wagamama and it made me forget about the entire horrible experience of trying to keep one kid from running away and the other from stealing cheap plastic jewelry from a duty free shop.
I had the steak bulgogi bowl, which was perfectly juicy steak over noodles and veggies, smothered in a load of Korean BBQ sauce. Ah, eternal food bliss.
Back home I decided I couldn't let it go, and since I'm already a pro at making homemade teriyaki sauce AND pineapple BBQ sauce, I started experimenting with making my own and eventually landed on the recipe I'm sharing with you today. Careful though, it is SO good.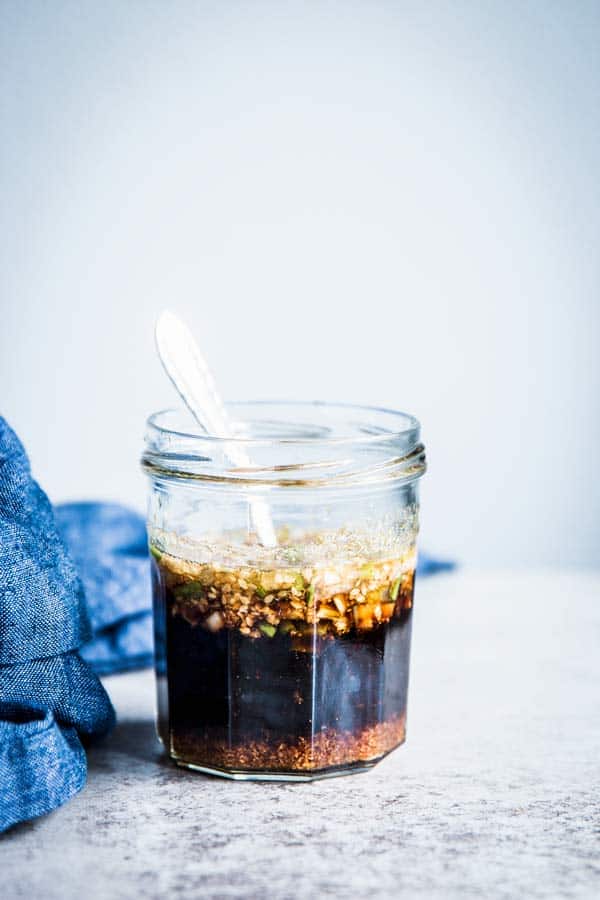 What's amazing about this Homemade Korean BBQ Sauce:
It's way easier than you think right now! It's a bunch of ingredients whisked together, then boiled. WHAT. But yes, that simple.
You know what goes into it! Ever read the label of a bottled sauce at the store? Yeah, I know. It can be SO confusing to know what's OK and what's made with crazy chemicals. If you make your own you don't even have to worry about it – you'll know exactly what's in there.
Refined sugar free! A LOT of sauces you can buy are actually mainly one thing: Sugary and overly sweet. Not this one! It's naturally sweetened with a touch of honey, and you can adjust the sweetness to your own taste.
You can totally customize the texture. Want a thick BBQ sauce for dipping and spreading? Add some extra cornstarch. Want a sauc-y but thick sauce for something like homemade meatballs? Make it as written (no, really, Korean BBQ Meatballs are amazing). Want a marinade for steak? Leave out the cornstarch altogether and marinade the steak in the liquid overnight.
As far as making ahead goes, since there's scallions in the sauce, is doesn't really keep for a very long time in the fridge. I do 3 days, tops (but usually it doesn't even last for that long). If you leave out the scallions, you can keep it for a week.
This is a very straight-forward recipe, and once you've made it you'll ask yourself why you ever bought a bottled BBQ sauce in the first place.
Let me just give you few quick tips on how to make your Korean BBQ Sauce foolproof.
How To Make Korean BBQ Sauce:
Whisk all ingredients together. This is one of the most important steps of this recipes, for a smooth and lump-free sauce you need to completely dissolve the cornstarch at this point.
Place in a medium saucepan and bring to a boil, whisking constantly. It's very important you keep whisking, so you don't end up with a lumpy sauce.
Simmer until the sauce is as thick as you want it to be.
If it is TOO thick, you can always add more broth. If it's too thin, whisk a little cornstarch into cold water, then whisk that into the sauce. NEVER add the dry cornstarch directly into hot liquids.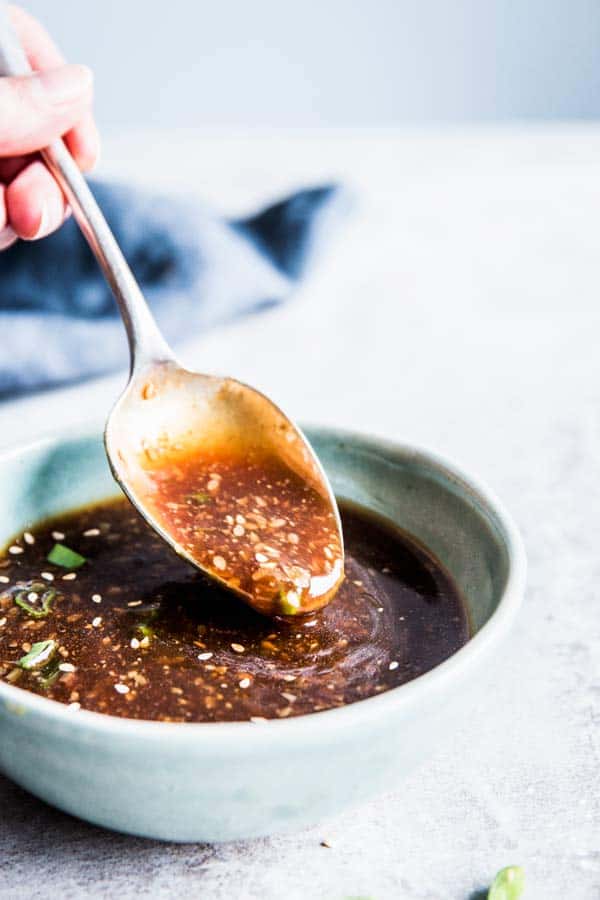 Once it's ready, transfer it to a clean jar while hot. Leave to cool before storing in the fridge. It will keep for about 2 days if you're adding the scallion and a week if you're making it without.
See? This is SO easy to make. A lot easier than trekking to the crowded airport with two babes to have dinner at Wagamama. Probably won't be doing that one again anytime soon… Duh.
Get the Korean BBQ Sauce recipe:
Printable recipe
Printable Recipe Card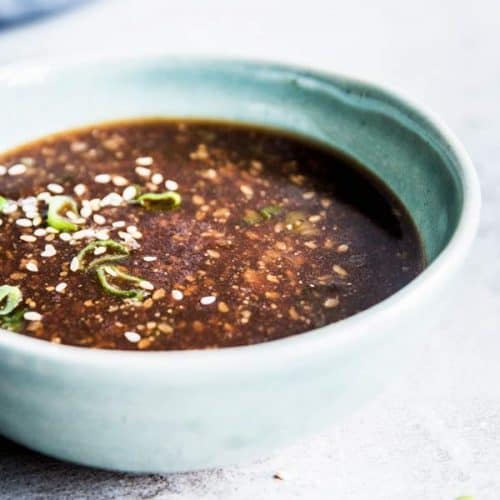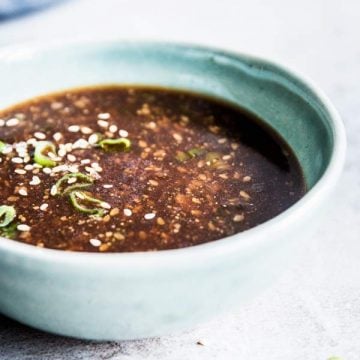 Korean BBQ Sauce
This homemade Korean BBQ Sauce is quick and easy to make and tastes amazing!
made it? tap the stars to add your rating!
Ingredients
1

cup

low sodium chicken or beef stock

4

tablespoons

low sodium soy sauce

2

tablespoons

runny honey

2

tablespoons

cornstarch

1

tablespoon

sesame oil

½

tablespoon

sesame seeds

1

teaspoon

ground ginger

1

teaspoon

dried garlic powder

1-2

scallions

finely chopped
Instructions
Whisk all ingredients together in a small saucepan (off the heat!) until smooth and no more lumps of cornstarch are visible.

Bring to a boil, whisking constantly. Then lower the heat to a simmer and cook, stirring, until the sauce has thickened to your liking.

If the sauce is too thick, add a little more stock. If the sauce is too thin whisk a little cornstarch into cold stock or water, then whisk this into the sauce and simmer until thickened enough. Do NOT add dry cornstarch directly into the hot sauce!

Pour into a clean jar while hot and allow to cool before closing with a tight-fitting lid and storing in the fridge.
Want to save this recipe?
Create an account for free to start your personal recipe box. Save any recipe by tapping the heart in the bottom right corner.
Join Now
Notes
The sauce keeps in the fridge for about 2-3 days with the scallions added, about a week without.
Nutrition
Calories:
17.81
kcal
Carbohydrates:
2.62
g
Protein:
0.41
g
Fat:
0.73
g
Saturated Fat:
0.11
g
Sodium:
92.16
mg
Potassium:
14.75
mg
Fiber:
0.08
g
Sugar:
1.51
g
Vitamin A:
4.99
IU
Vitamin C:
0.09
mg
Calcium:
2.08
mg
Iron:
0.12
mg
Nutrition is an estimate.
More recipe information