What sides go well with spaghetti and meatballs to make a well balanced family meal?
Meatballs are versatile little guys and can make for a perfectly healthy meal. There are many options for sides you can serve with this comfort food classic. Just pick and choose what your family likes from this list of ideas!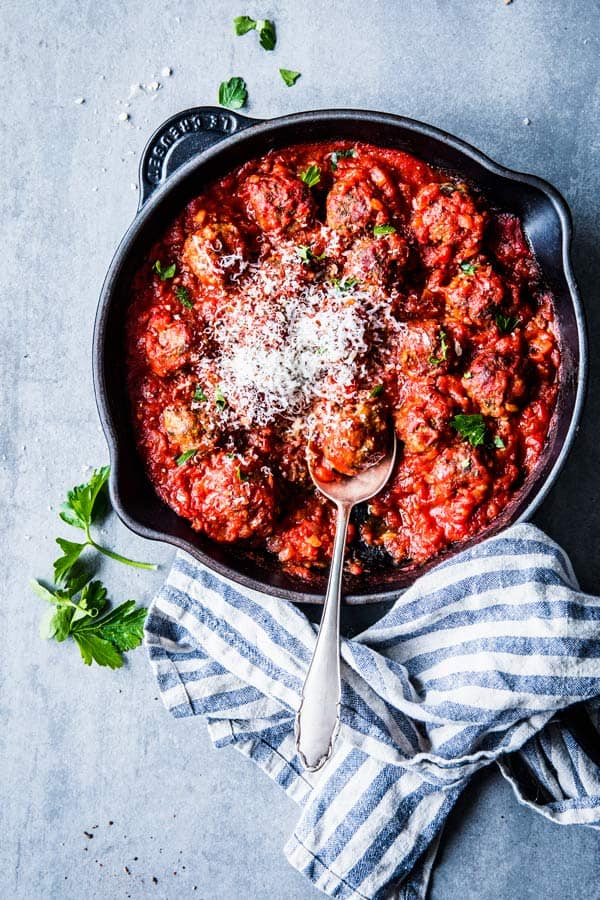 Spaghetti and Meatballs was definitely one of my biggest cravings when I was pregnant with my littlest one. But that was pretty OK with everyone, since we're a household of firmly confirmed meatball lovers.
The only problem was that I was usually too tired/exhausted/sick/pregnant to make a healthy side to go with them.
Or at least that's what I kept telling myself! But then I had that little munchkin baby and yet…
Still just didn't know what would go with my spaghetti and meatballs dinner. I mean, apart from those sad, undressed salad leaves I haphazardly threw on my plate.
Sure, I could have gone looking for side dish ideas… But sometimes I'm just plain too lazy. I think the 4 year sleep deprivation might have something to do with it, too, ahem.
But then I started writing down all these lists of meal ideas for myself, and it was a total game-changer! I guess I just need a black-on-white guide to tell me exactly what I have to do, otherwise I just… Won't.
I thought you might be in that position, too, so I'm going to share my list with you here!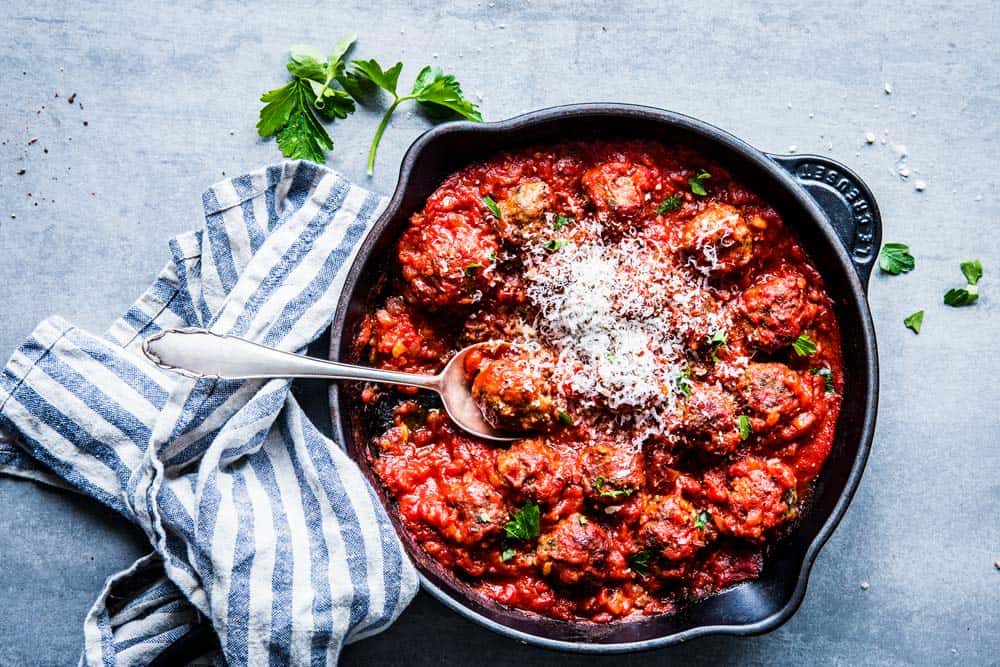 First things first, my favorite meatball recipe to serve with spaghetti are my Easy Italian Meatballs – they're so rich and flavorful!
I know the ingredient list doesn't look that simple, but I promise it's just because there's quite a few herbs, spices and little things going in there to make them amazing. The technique is absolutely foolproof and the result is worth measuring out a few extra ingredients.
By the way, if you need some extra help with making meatballs from scratch, I have some great tutorials:
Here is a guide on how to make homemade meatballs with a video.
And here is a guide on how to make meatballs with some pretty step-by-step photos.
These should turn you into a spaghetti and meatball serving machine in no time. But now let's chat sides!
What Sides Go Well with Spaghetti and Meatballs?
I know it can be a little confusing to create balanced family meals when you're just starting out with, well, feeding a house full of hungry lions.
So, to simplify your life right now, spaghetti and meatballs are quite heavy and filling by themselves, so you're not going to want to bother with a second starchy side dish – at least not if you want to make a healthy dinner.
The pasta will be more than enough to fill you up, all this meal needs are some healthy vegetables to round it out.
One exception: Breads. But you're probably only going to want to do this for a special dinner/dinner party, not for a healthy mid-week kind of meal.
I already have some ideas in a post I wrote about what you can serve with meatballs, but now I want to focus a bit closer on which veggie sides and extras go well with spaghetti and meatballs.
So here's the deal: I'm going to write down a list of things we like to eat with them and then I'm going to write down a few complete meal ideas.
On board with that? Let's do it!
What do you serve with spaghetti and meatballs for dinner?
Vegetable sides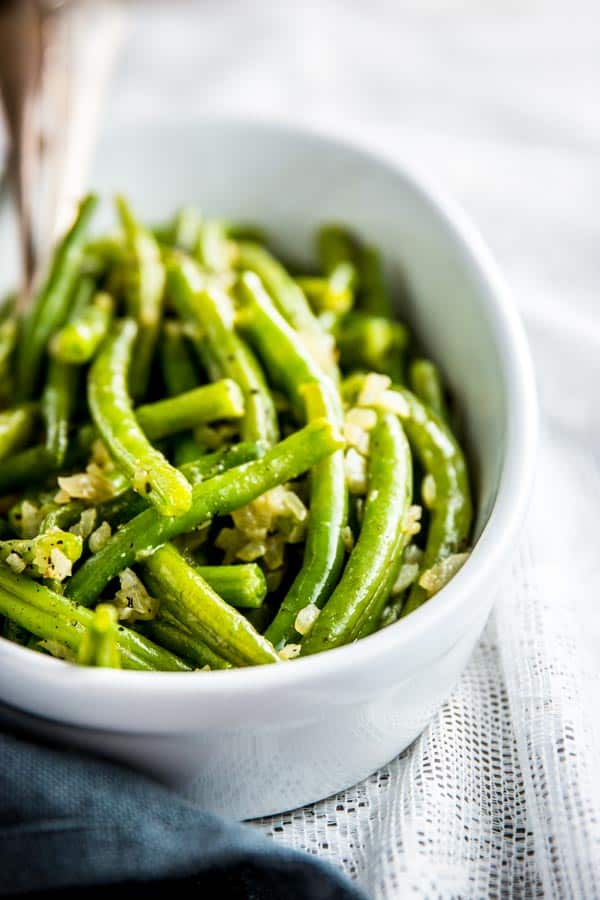 grilled mushrooms, red onions and green bell peppers
a platter of mixed roasted vegetables in the winter
steamed or roasted broccoli or carrots
Salad sides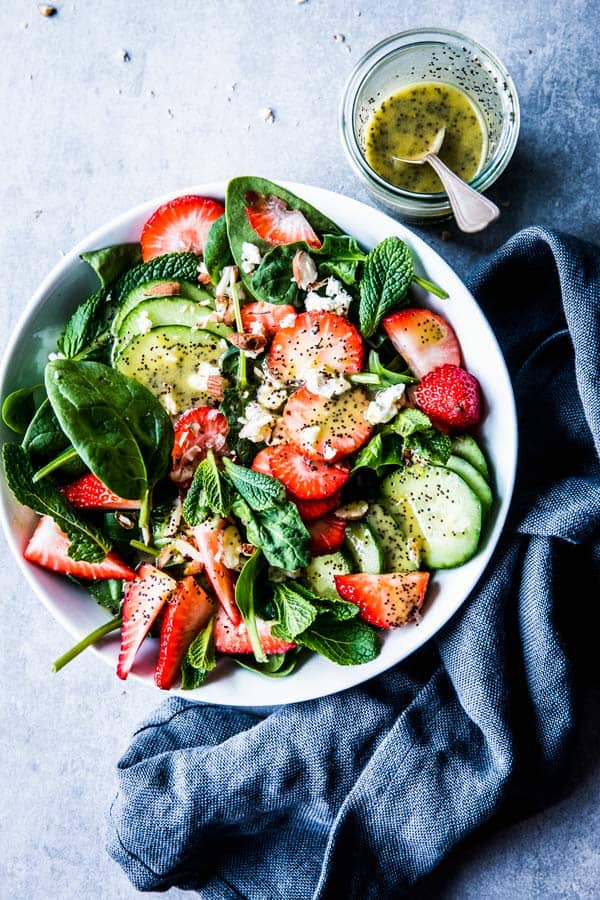 tossed green salad with sliced cucumbers and tomatoes and balsamic vinaigrette
spinach salad with strawberries and a poppy seed dressing
tomato salad with balsamic vinaigrette
cucumber salad with a fresh yogurt dressing
if you like some bite, a peppery arugula salad with parmesan shavings and a white balsamic vinaigrette is out of this world
Starchy sides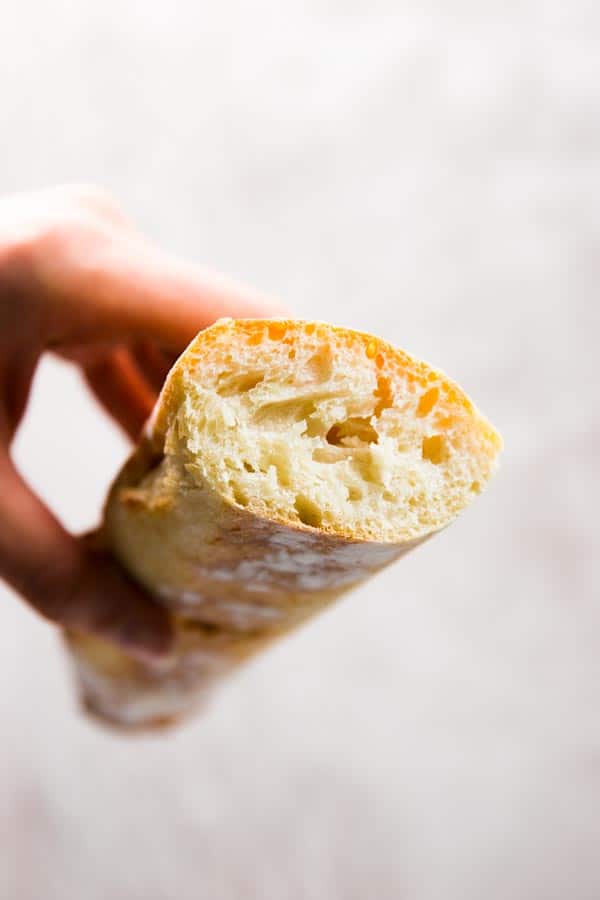 We generally don't have these with a regular weeknight dinner, but they're delicious for a special meal.
a crusty French bread to mop up the sauce (I know, gasp, French and Italian – oh, the blasphemy)
Meal ideas with spaghetti and meatballs for dinner: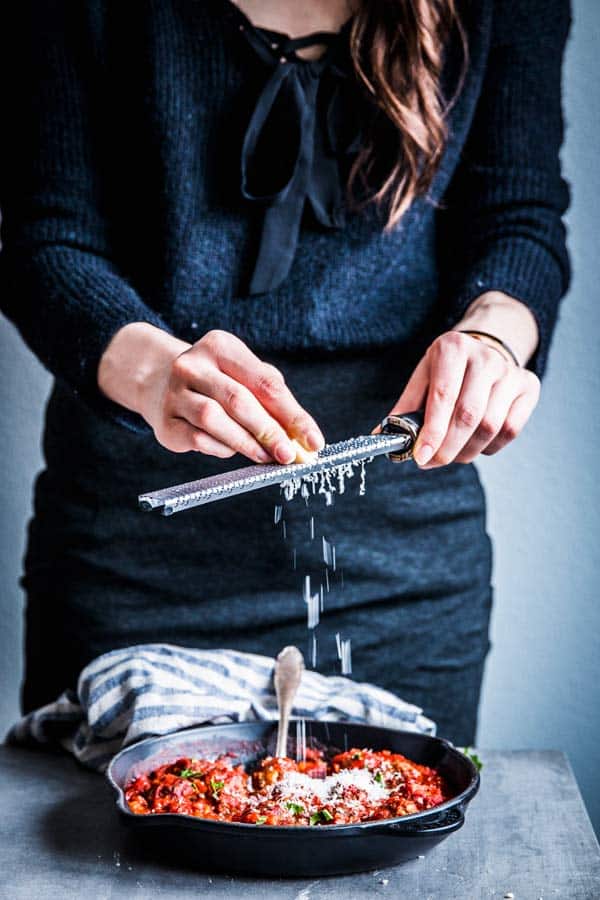 Generally, I pick one vegetable side and one salad side to go with our meal.
That way I can make sure there's something green and healthy everyone around the table will actually eat.
If we're having a dinner party or a special meal, I might add another salad and/or second starchy side (especially if I'm having to stretch the meal – plenty of teenage or almost-teenage boys in our family!).
Here are some more detailed meal ideas:
Meal 1: Warming winter food
When it's cold outside, I like to make a pile of roasted vegetables and a peppery arugula salad to go with spaghetti and meatballs.
As far as roasting vegetables goes, do whatever you like! I often do onions, carrots, fennel and mushrooms.
Meal 2: Summer Dinner
This one is for when it's almost too hot to cook!
Grill up some mushrooms, green bell peppers and red onion slices and serve a large cucumber salad with a fresh Greek yogurt dressing on the side.
Meal 3: Light bite
A meal on the lighter side! Serve veggie sticks with dip as an appetizer and steamed broccoli as a side.
Meal 4: Deli style
For a deli style dinner, serve your spaghetti and meatballs with a large platter of grilled antipasto vegetables and a large tossed salad.
Meal 5: Picky eater friendly
If you're dealing with picky eaters, you might want to try serving parmesan zucchini rounds and corn on the cob with your spaghetti dinner!
If your picky eater likes tomatoes, slicing some cherry tomatoes in half and serving a balsamic vinaigrette for dipping can work wonders, too.
Meal 6: Casual dinner party
If you're having friends over for a casual dinner, serve spaghetti and meatballs with a large sharing platter of grilled veggies.
I like to serve more than two sides if there's a crowd to feed, so make both a tomato salad with balsamic vinaigrette and a spinach and strawberry salad on the side.
Meal 7: Classic comfort food
Sometimes you'll just have to have the classic.
Serve a simple Caesar salad and steamed green beans with the spaghetti and meatballs, pass garlic bread around for mopping up all of that delicious sauce. Yum!
One more thing:
So… What about dessert?? Glad you asked, my friend.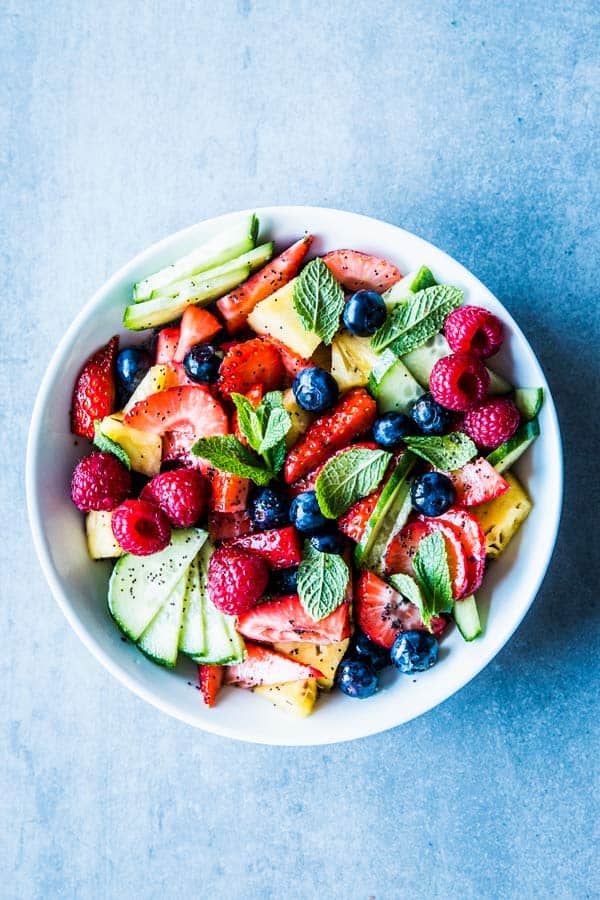 I know it seems obvious to suggest something like Tiramisu for dessert, but that's not what I actually make in real life when we're having spaghetti and meatballs.
Often we won't have a dessert if it's just us eating. If we're making a special meal and want a dessert, we keep it simple – the main course is heavy enough already!
Fruit with a light poppy seed fruit salad dressing is usually my preferred choice. I even have recipes for a summer fruit salad and a winter fruit salad, both would be perfect in their respective season.
If you are still looking for something a touch more decadent, you can try a creamy fruit salad, such as my greek yogurt fruit salad or my berry cheesecake fruit salad.
So tell me… What are you going to serve with your spaghetti and meatballs tonight?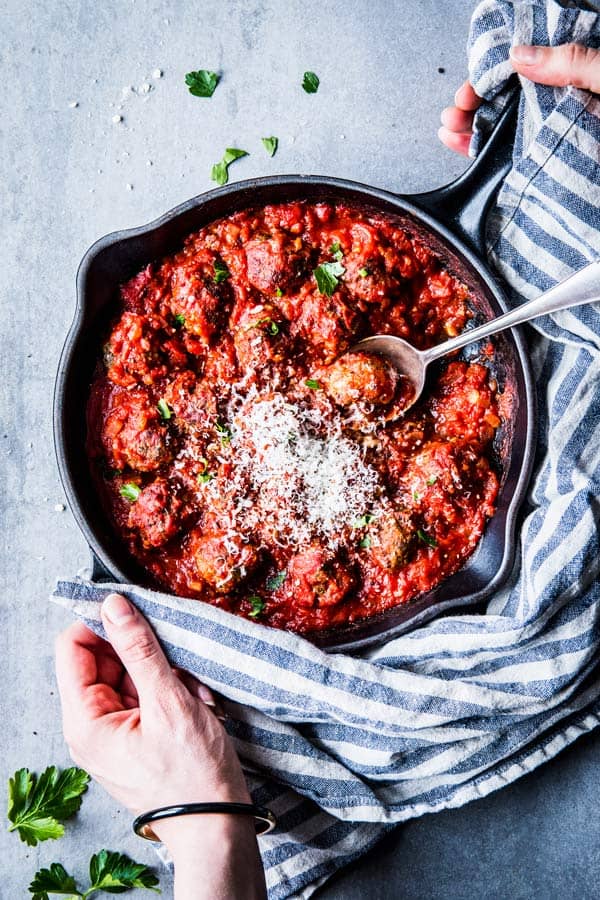 Which meal sounds best to you? Do you have any other ideas? I want to hear your suggestions in the comments!