Not just another vegetable side dish: Crispy Baked Parmesan Zucchini Fries are the best way to make this summer star – serve with ranch or ketchup and it's perfect for those picky little eaters, too!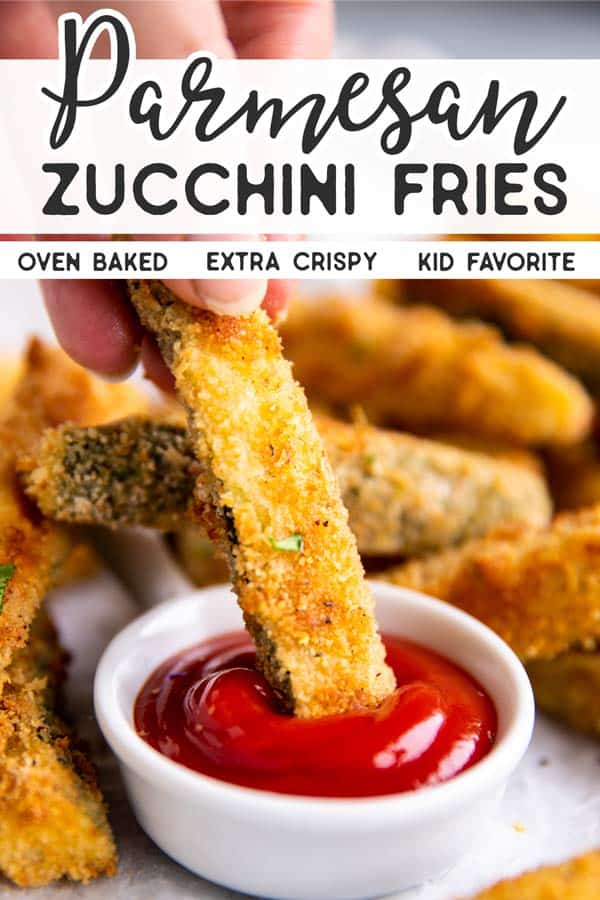 By mid-summer, I usually get sick of zucchini. After a while, it just becomes an endless pile of mushy green side dish.
Or it gets boring to throw it into every spaghetti sauce we make. We definitely push it to the side come August.
But these Zucchini Fries? They are definitely NOT pushed to the side. Golden, cheesy and baked to crispy perfection – I fully confess to sometimes serving these for lunch.
Yes, by themselves. Because they're a) tasty, b) healthy and c) easy to make.
How to Make Baked Parmesan Zucchini Fries:
How do you bread zucchini to make it crispy?
You've probably seen several ways to bread zucchini when searching for a recipe online: Simply throw them into a bag with the breading, dip them in egg wash first, or use a batter that combines everything.
I'm sorry to say that my method is the most complicated – but it's also by far he most rewarding.
If you want truly crispy, coated zucchini fries? Go with this way of breading it, even if it takes an extra 10 minutes:
thinly coat the zucchini with seasoned flour
dip them into egg wash
coat them with a thick layer of seasoned breadcrumbs and grated parmesan
A few tips for breading:
You can absolutely add the flour mix to a large bag and shake all the cut up zucchini in it. You can also stir several at once in the egg wash.
But when it comes to the breadcrumbs – you'll want to do each fry individually. It's best to put the breadcrumb mix in a medium baking dish, it makes it easy to roll the zucchini around in the breadcrumbs.
Oh, and depending on how thickly you're coating the fries, you might need to use a little extra breadcrumbs for the last few fries.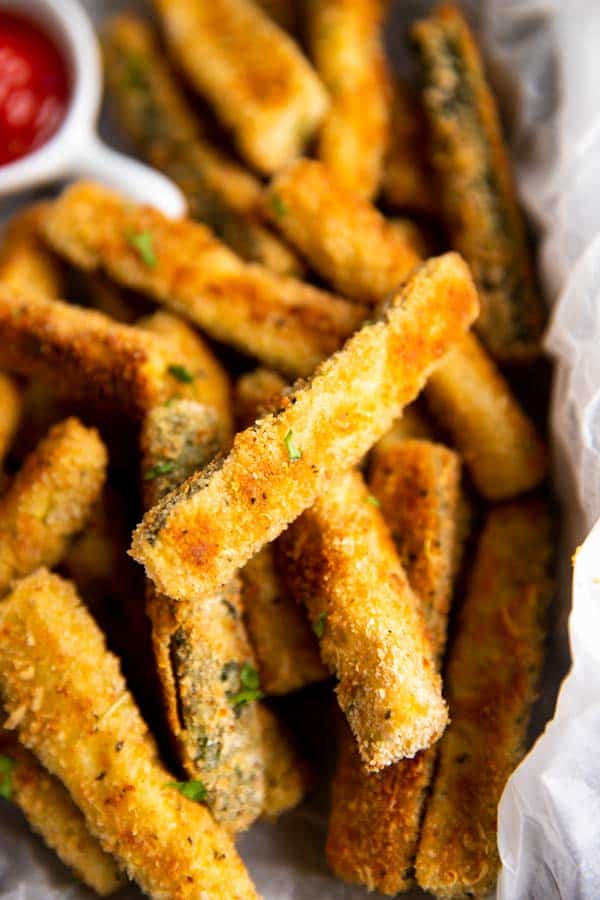 How do you keep zucchini fries from getting soggy?
In this recipe, I bake the zucchini fries instead of deep-frying them.
It makes them a little healthier, and I really don't like to deep fry anything (which is also why I oven fry all my crispy chicken!).
There are two very important steps in getting crunchy vs soggy zucchini fries out of the oven:
preheat the pan! You'll want to use a dark-colored sheet pan (so not a silver or white one, they reflect the heat differently) and heat it in the oven while it preheats. That way the zucchini will already be sizzling once you add them to the pan, and crisp up more.
use enough oil – I can't stress this enough, but oil is what helps the coating crisp up. While these are a healthier version of fries, they still do need enough oil to get that perfect golden crisp.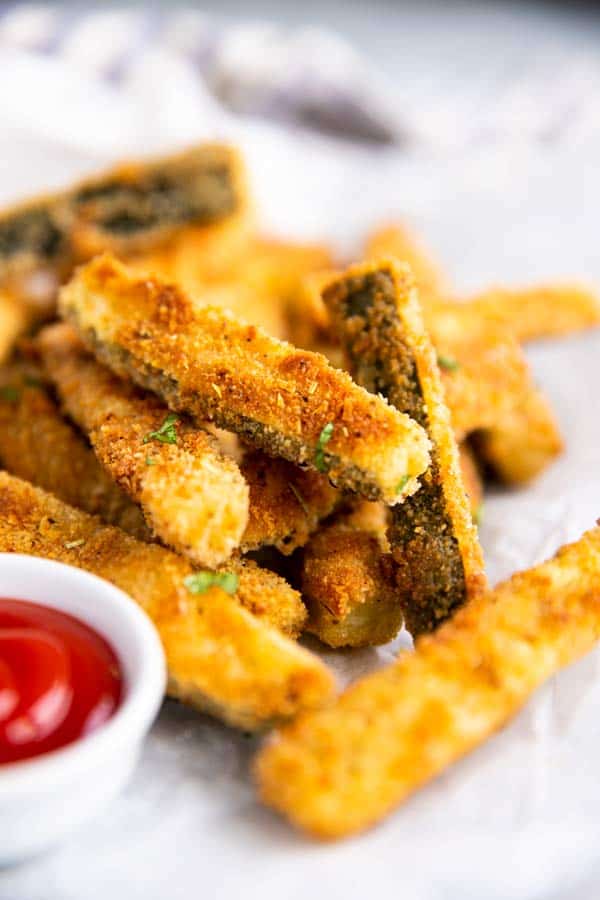 How do you eat zucchini fries?
While the fries bake, you're free to make any sides, toppings or garnishes you enjoy.
I'll be honest, we often have them just with ketchup, homemade ranch dip or BBQ sauce. With a nice fruit salad for dessert? The perfect summer lunch.
But they're also great as a side for a casual sandwich dinner. Whip up a batch of Instant Pot Sloppy Joes and you've got yourself a winner.
You can also try serving them with sunny-side-up eggs. Or with a zesty salsa. Or even with grilled corn on the cob – so many possibilities!
That's really all you need for a light summer meal – seasonal, veggie-packed and absolutely delicious!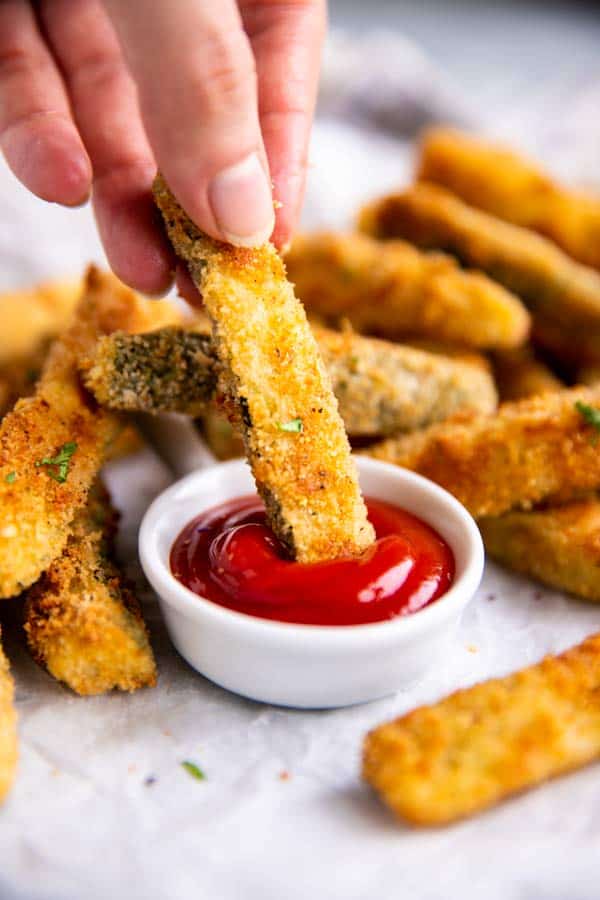 More Ways to Use Up All That Zucchini:
Chocolate Chip Zucchini Muffins
Greek Turkey Zucchini Meatloaf
Pasta with Lemon Ricotta and Zucchini
Get the printable recipe here:
Printable recipe
Printable Recipe Card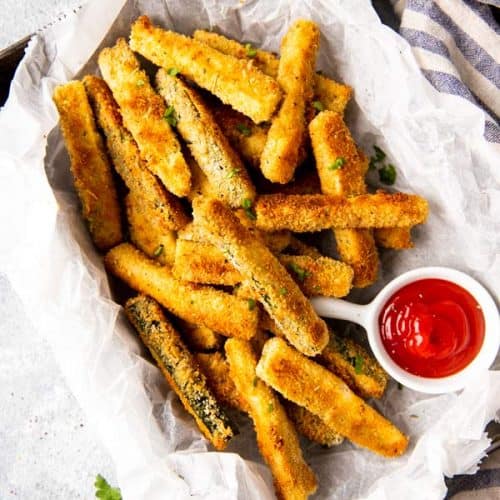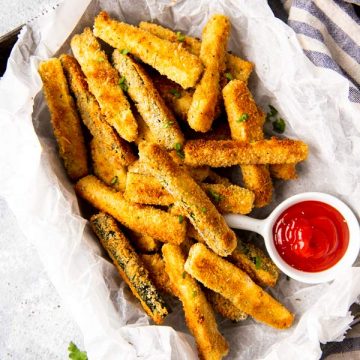 Baked Parmesan Zucchini Fries
Not just another vegetable side dish: Crispy Baked Parmesan Zucchini Fries are the best way to make this summer star!
made it? tap the stars to add your rating!
Ingredients
For the flour mix:
⅓

cup

flour

½

teaspoon

garlic powder

¼

teaspoon

salt
For the parmesan breadcrumbs:
¾

cup

breadcrumbs

⅓

cup

grated Parmesan cheese

1

tablespoon

Italian seasoning

½

teaspoon

garlic powder

¼

teaspoon

salt

ground black pepper

to taste
For the zucchini:
1

pound

zucchini

cut into ½-inch sticks
Instructions
Prep: Preheat the oven to 425°Coat a baking sheet with oil or cooking spray (you can line it with aluminum foil for easier clean up, the fries could turn out a little less crispy though – do NOT use silicone baking mats or parchment, or the fries will be soggy).

Prepare breading: Mix all ingredients for the flour mix in a shallow dish OR in a large zip-loc bag. Place the egg in a separate shallow dish and beat well. Mix all ingredients for the parmesan breadcrumbs in a third shallow dish – I like using a 7×11 baking pan.

Coat zucchini: Thinly coat the zucchini fries first with the flour mix, then coat with beaten egg. Finally, thickly coat with the breadcrumb mix.

Bake: Bake on the prepared baking sheet for 20 minutes, or until crispy, turning once. If the zucchini sticks to the pan, don't just rip it away – use an offset spatula to loosen it (if you use enough oil or cooking spray, it will not stick). Serve immediately with your favorite dips.
Want to save this recipe?
Create an account for free to start your personal recipe box. Save any recipe by tapping the heart in the bottom right corner.
Join Now
Nutrition
Calories:
171
kcal
Carbohydrates:
19
g
Protein:
7
g
Fat:
8
g
Saturated Fat:
2
g
Cholesterol:
32
mg
Sodium:
395
mg
Potassium:
259
mg
Fiber:
2
g
Sugar:
3
g
Vitamin A:
255
IU
Vitamin C:
13.5
mg
Calcium:
116
mg
Iron:
1.7
mg
Nutrition is an estimate.
More recipe information
More Zucchini Recipes: