Printable recipe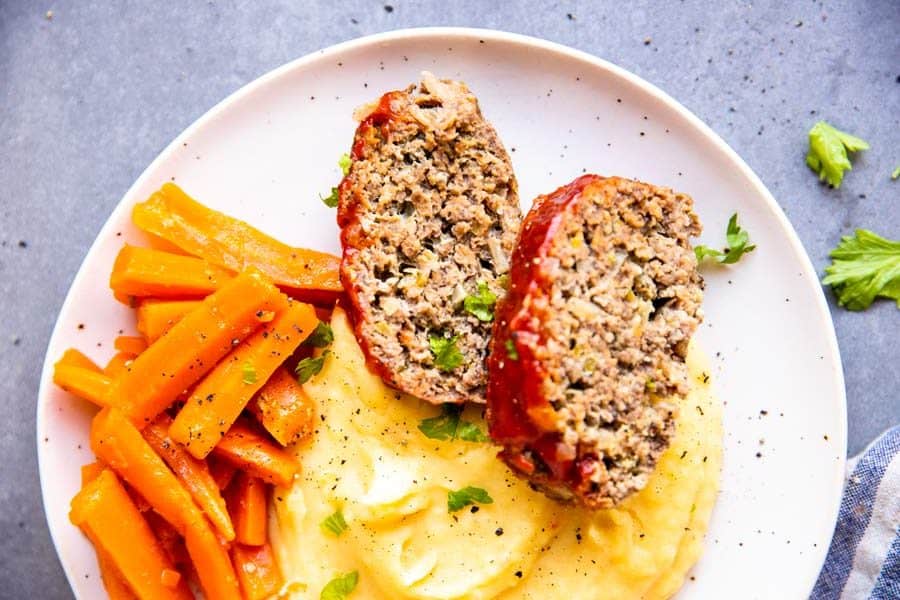 made it? tap the stars to add your rating!
This is one of my favorite instant pot dinners: A full, comforting family meal – all made in one pressure cooker! The meatloaf turns out juicy and tender and goes perfectly with the mashed potatoes and carrots. My kids love it when I make this (and I do, too, because it's SO easy!).
Ingredients
For the Vegetables:
2

pounds

potatoes

(cubed)

1

pound

carrots

(peeled and cut into sticks (OR chunks for slightly firmer carrots))

1

cup

chicken broth

2

cloves

garlic
For the Meatloaf:
1

pound

lean ground beef

1

medium yellow onion

(finely chopped)

2

stalks celery

(finely chopped)

¼

cup

breadcrumbs

1

large gg

½

teaspoon

dried parsley

¼

teaspoon

ground paprika

¼

teaspoon

salt

ground pepper

(to taste)

¼

cup

ketchup

(OR your favorite meatloaf sauce)
For the Mash:
2-4

tablespoons

sour cream

1

tablespoon

butter

Salt

(pepper and ground nutmeg (to taste))
Instructions
Add veggies to instant pot: Place the potatoes and carrots at the bottom of the inner pot of your electric pressure cooker (it's OK if the carrots are a little on top of the potatoes, but make sure the potatoes are not on top of the carrots or they'll squish them). Pour the chicken broth on top and add the 2 cloves garlic.

Make the meatloaf: Place all ingredients for the meatloaf EXCEPT for the ketchup in a medium-large bowl. Mix well (I use a hand mixer with the dough hook attachments) and shape into a firm loaf.

Cook: Place a greased rack over the potatoes and carrots (you can also use foil with a few holes poked in). Set the meatloaf on top and brush with 2 tablespoons ketchup. Close the instant pot, set the pressure valve to "sealing", pick "pressure cook" on high for 20 minutes.

Finish: Once cooking time is up, naturally release pressure for 5 minutes (switch off the instant pot and just leave it alone). Then manually release the remaining pressure. Remove meatloaf and carrots from instant pot, brush meatloaf with the remaining ketchup. Mash the potatoes right in the instant pot with sour cream, butter, salt, pepper and nutmeg (if you like). Serve the sliced meatloaf with the mashed potatoes and carrots.
Add Your Review
Step by Step Recipe Video
Nora's Tips
WHAT TYPE OF GROUND BEEF IS BEST FOR MEATLOAF?
I did some serious testing on this (told you, Meatloaf Queen). And while many will say a fattier ground beef adds more flavor, I have to say I don't like meatloaf that way.
I always use at least 90% lean ground beef for meatloaf, otherwise it will positively swim in grease, and even though the fat drips out the loaf itself is still super greasy and not how I like it at all.
Add to this that the juices and some fat from the meatloaf drip over the potatoes and carrots in this recipe… You'll really want to go for a lean ground beef here.
WHAT IS THE EASIEST WAY TO MIX AND SHAPE MEATLOAF?
This is one of my favorite hacks: Use your hand mixer with the dough hook attachments to mix the meat, egg, breadcrumbs and seasoning in a medium-large bowl!
it's quick
it's easy
no need to knead raw meat with your bare hands
it works like a charm
When it comes to shaping, I usually just gather the mixed meat in the bowl, push it together (gently, firm but not compressed – or you'll get dense and dry meatloaf) and shape it into a firm loaf.
Make sure it's firm enough to hold its shape, but not completely smushed together – that way it won't fall apart, but also won't dry out.
WHAT POTATOES SHOULD I USE?
Definitely use a floury kind that's great for mashing. Otherwise you'll get potato sludge.
Yukon gold would be a great one to pick!
And you can leave the peel on if you prefer! I peeled my potatoes because they were from the farm down the road, super dirty and quite bruised.
A WORD ABOUT THE CARROTS:
I LOVE that I get to cook the dinner veggie right alongside the rest of the meal here.
I'll just say this so you can't blame me for baby-soft carrots: The carrots do get very soft in this recipe.
It's actually great for us, because the 2 year old is going through a phase where she thinks chewing is an absolute waste of time…
If you want carrots that are a little less soft, do not cut them into sticks. Instead, cut them into large chunks and they'll cook a little slower.
CAN I DOUBLE THE RECIPE?
You CAN double the meatloaf (shape it into TWO smaller loaves, NOT one large one, or cooking time will be different!).
But you cannot double the carrots and potatoes – otherwise the instant pot will be too full and won't fit the rack.
DO I REALLY NOT NEED AN ALUMINUM FOIL PAN FOR THE MEATLOAF??
No, you don't.
I prefer keeping my cooking with aluminum foil to the necessary minimum (eg mostly campfire cooking), so I was really curious if this recipe would work without foil.
So I did a test – and it did! Just make sure you grease the rack really well and you'll be all set.
Nutrition
Calories:
449
kcal
|
Carbohydrates:
52
g
|
Protein:
34
g
|
Fat:
11
g
|
Saturated Fat:
5
g
|
Cholesterol:
121
mg
|
Sodium:
784
mg
|
Potassium:
1906
mg
|
Fiber:
9
g
|
Sugar:
10
g
|
Vitamin A:
19355
IU
|
Vitamin C:
40.4
mg
|
Calcium:
161
mg
|
Iron:
11.1
mg
More recipe information
Join my Newsletter to Get Recipes in Your Inbox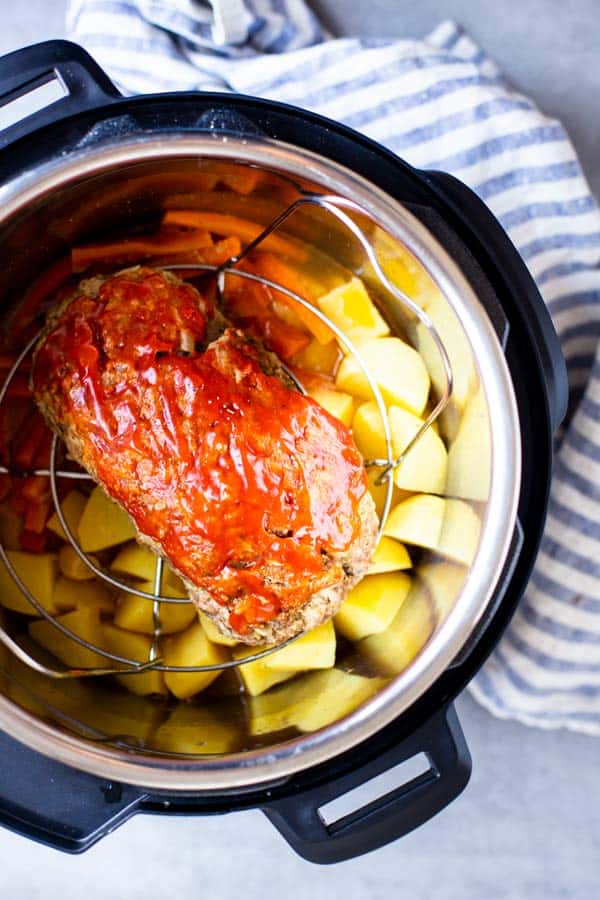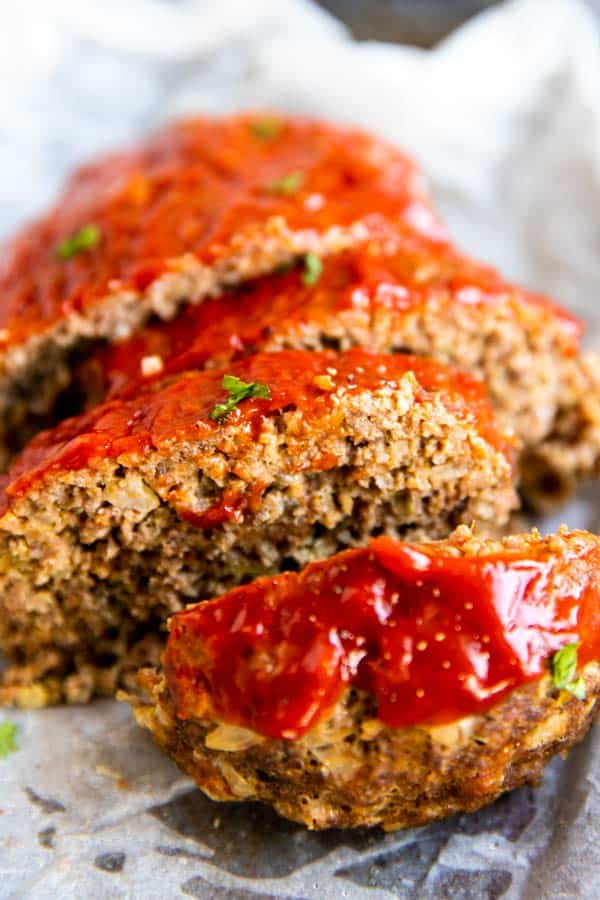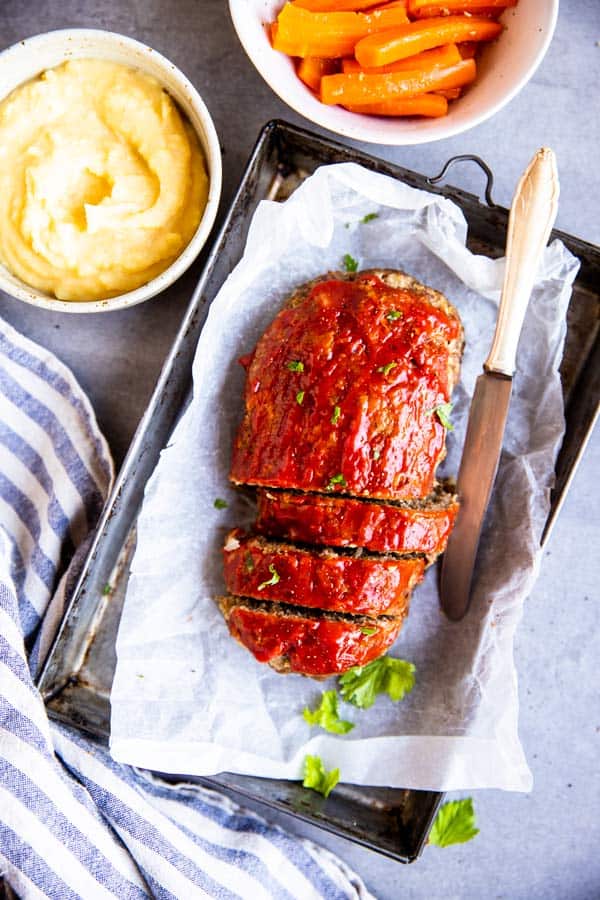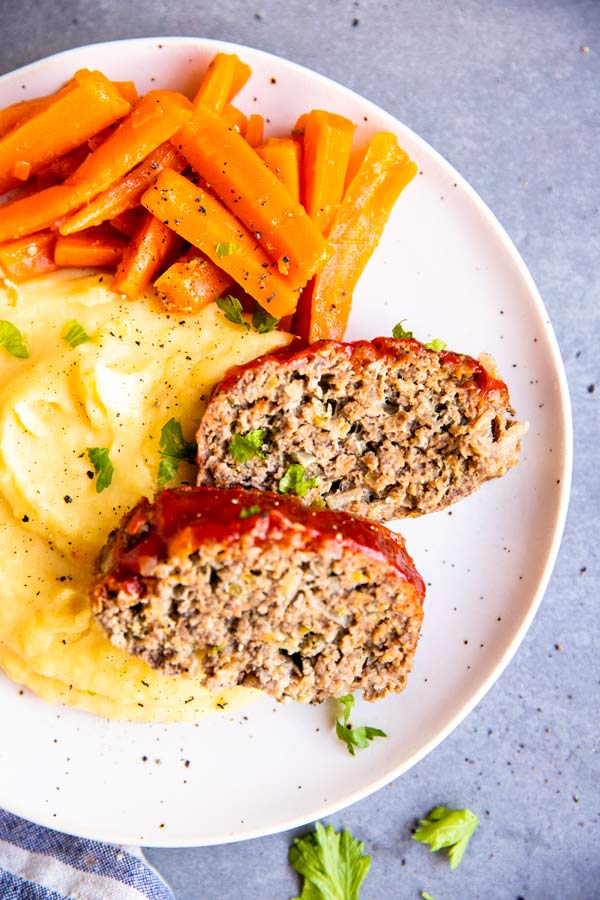 Did you know there's people in my family who call me the Meatloaf Queen?
It's true. And with the wealth of meatloaf recipes on this blog, I think they have a point ?
It all started out with my Mozzarella Stuffed Bacon Wrapped Meatloaf, which is an absolute reader favorite. But there's more:
As you can see, there's no way I could have let this winter pass without adding to the collection, so this is one more to make!
P.S: Check out our collection of easy dinner recipes with ground beef for more ideas!