No Knead Pumpkin Cinnamon Rolls are an easy baking project your weekend needs! These are great for Thanksgiving, Christmas morning or anytime you crave the easiest, softest and all around best ever Pumpkin Cinnamon Rolls during fall!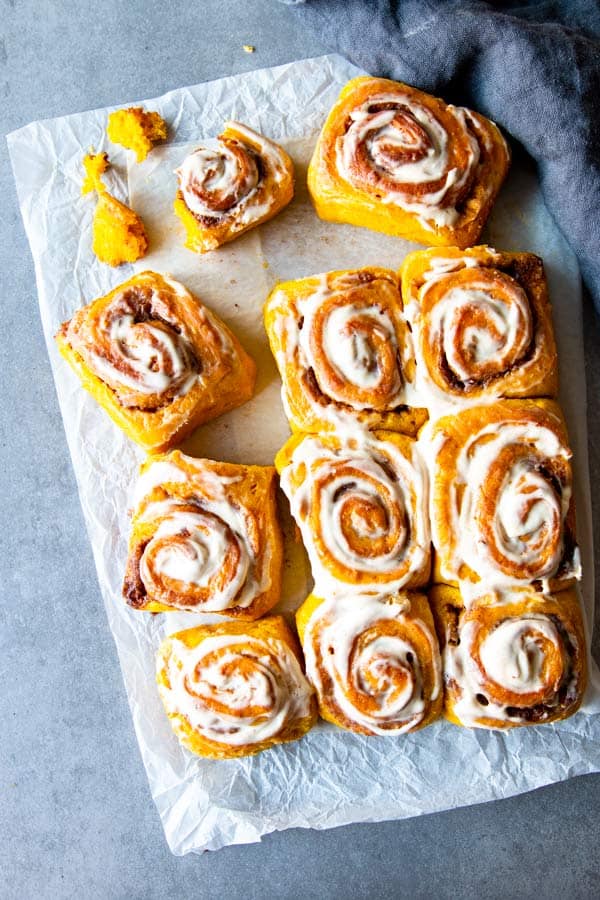 I have to confess, the first time I made these No Knead Pumpkin Cinnamon Rolls we finished off the batch within 10 minutes.
And then I ran to the kitchen to make them again, immediately, ASAP, because I wanted MORE.
Apparently we're all about the pumpkin, because the same happens when I make Pumpkin Waffles. Or Chocolate Chip Pumpkin Cookies. Healthy Pumpkin Muffins. Pumpkin Coffee Cake! Or Pumpkin Pancakes, for that matter.
I made the rolls again a day later, for my 2 year old's early fall birthday party. Hey, it was farm-themed. Pumpkin Cinnamon Rolls seemed appropriate.
And then I decided you needed the recipe, too. So, I made them again (no complaints) to share these with you today.
No Knead Pumpkin Cinnamon Rolls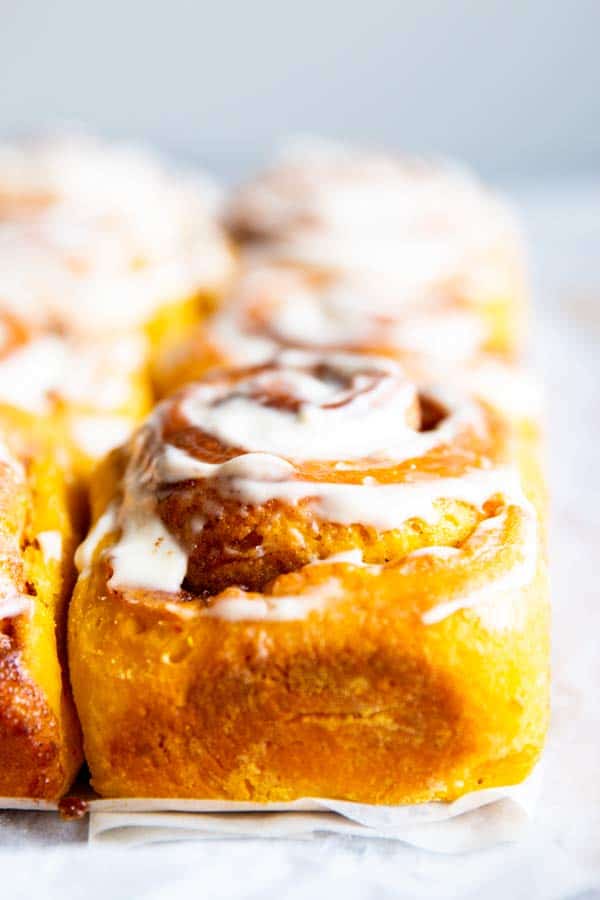 See, my regular Homemade Cinnamon Rolls are already delicious.
But I had some pumpkin hanging out in the fridge, and I also wanted to see if my No Knead Bread (which I transform into both no knead pizza and no knead French bread) works as a sweet dough.
And thus, my no knead pumpkin cinnamon rolls were born.
How to make no knead pumpkin cinnamon rolls:
The recipe is incredibly simple:
First, you stir together a few ingredients until you get a lumpy dough. Then you cover it and let it rest until it's big and puffy.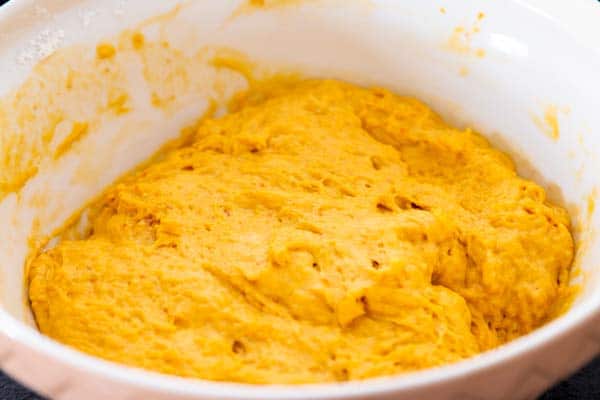 You line a baking sheet, flour it generously and then drop the dough on it. You'll need quite a bit of flour so it's not super sticky, but that's fine. Just press it into a rectangle the size of the baking sheet.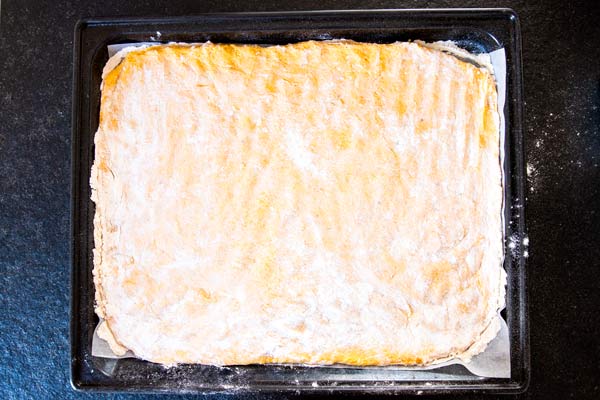 No, you don't even need to wrangle your dough with a rolling pin here. Or find the tape measure at the bottom of your junk drawer with floury hands.
Next, on goes melted butter and a mix of cinnamon, sugar and pumpkin spice.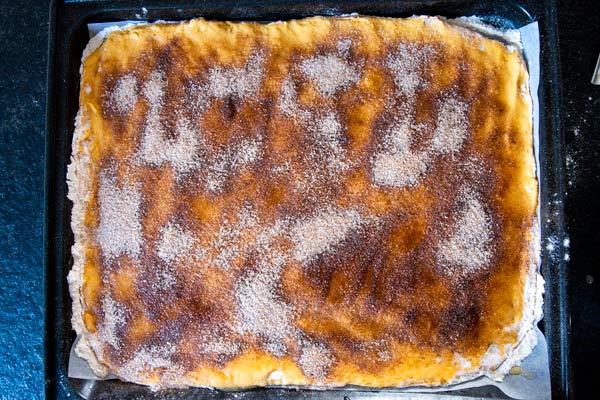 Then roll it up into a tight log – I use the baking parchment for help, like you would a sushi mat:
Then pinch the seam shut, place the log seam-side down and slice. Use a thread or unscented dental floss, like shown here, for clean slices:
You should get 12 rolls from this log – they will be big and fluffy and bakery-style. None of that tiny roll business happening here 😉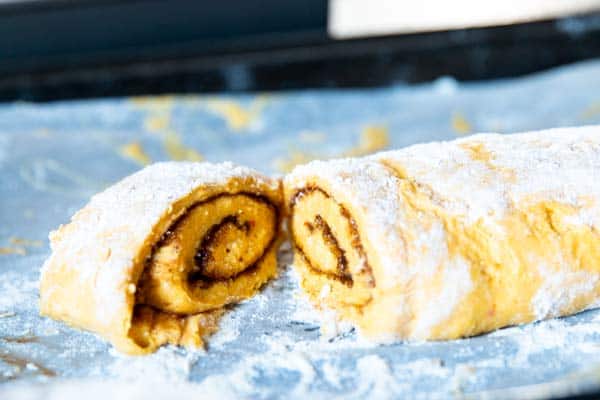 Place them into a baking dish, cover and wait…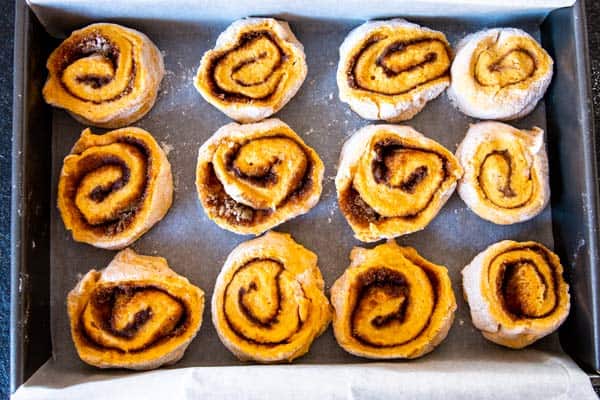 … until they're all big and puffy.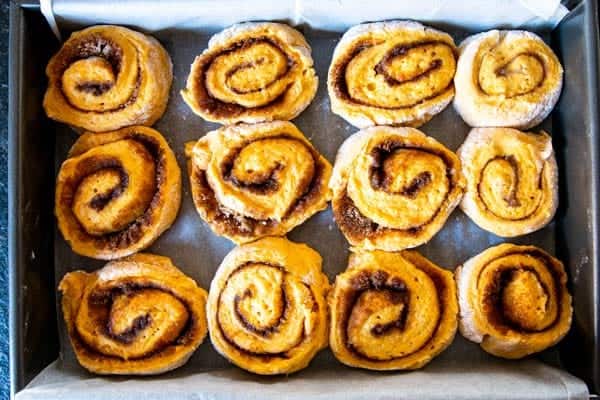 Then all that's left to do is basting with melted butter, baking and frosting.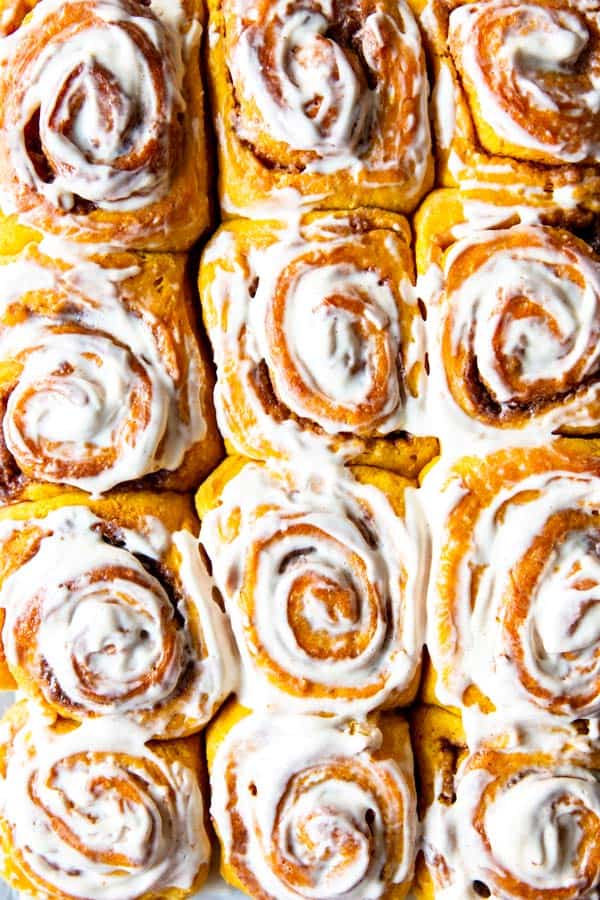 Oh, and devouring straight from the oven, of course.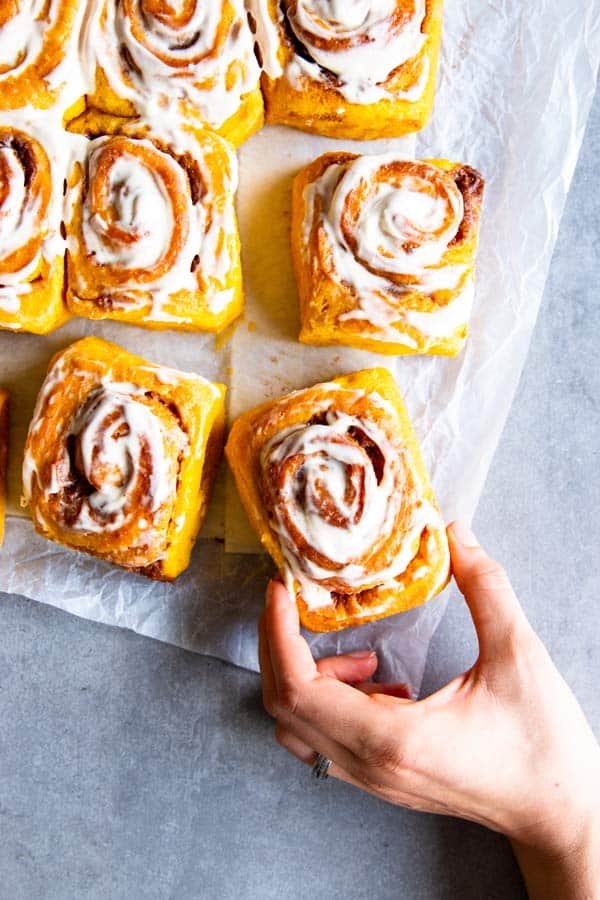 A few tips for the best pumpkin cinnamon rolls:
Some recipes for cinnamon rolls have you believe you need to let them cool for hours before you can bite into them. That is a blatant lie. We eat these 10 minutes after they're out of the oven, latest.
Don't worry if your dough looks all scraggly and messy, it's going to be fine. You really don't have to knead, just stir all the ingredients together with a wooden spoon and call it a day. So easy!
If your dough is awfully sticky, don't feel bad about adding quite a bit of flour so you can press it into a rectangle. But also don't overdo it – dry dough is what makes a dry cinnamon roll. And make sure you brush off any excess flour from the bottom, while rolling it up into a log.
These don't taste in-your-face pumpkin-y. It's more like a hint of fall. If you want, you can add more pumpkin spice to the dough, but be careful so you don't overdo it.
Frost or don't frost – your call. I used to be a frosted cinnamon roll hater until I decided these looked too naked for pictures without the cream cheese slathered on. Kind of a convert now.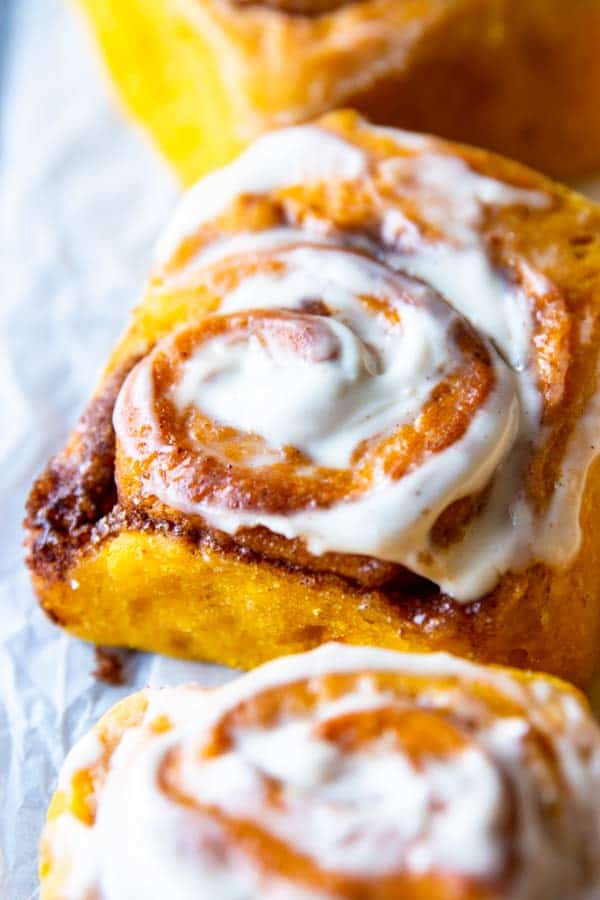 Anyways, do make sure you have enough flour, yeast and pumpkin in the house when you embark on making these.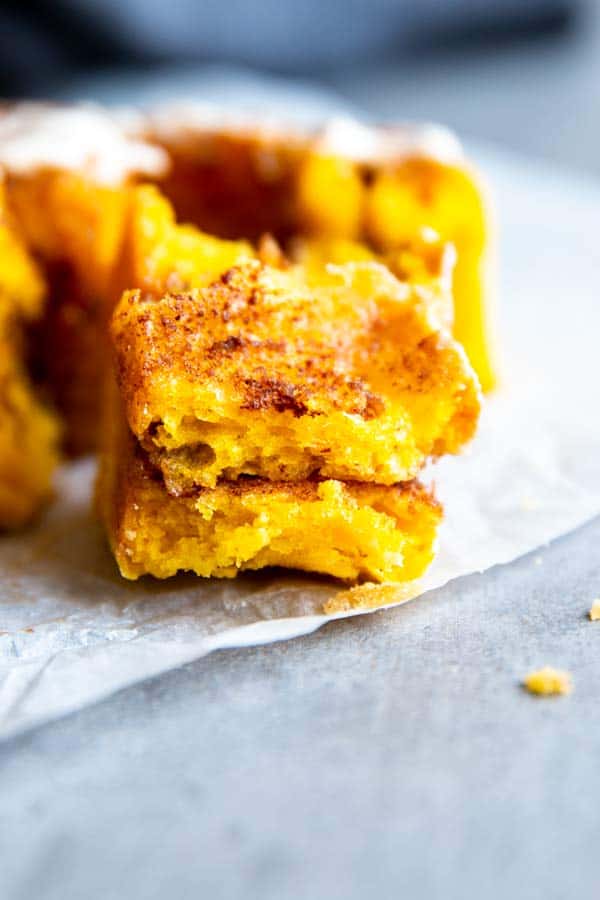 You might just need to make a second batch as soon as the first one comes out of the oven 😉
Get the printable recipe here:
Printable recipe
Printable Recipe Card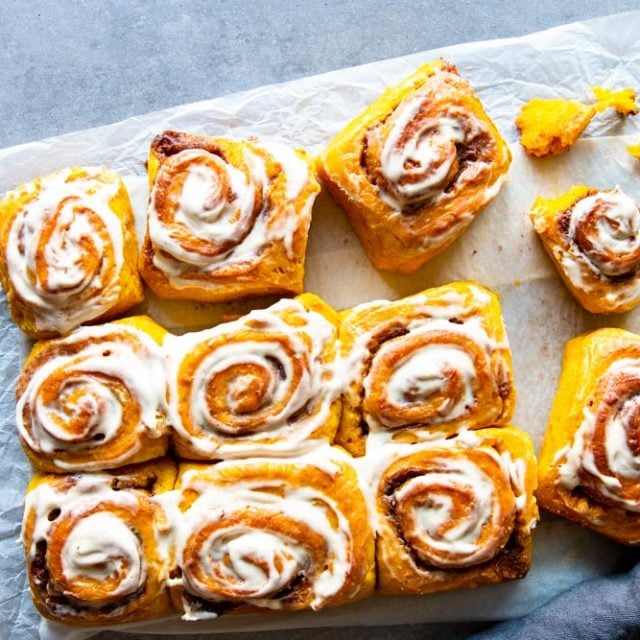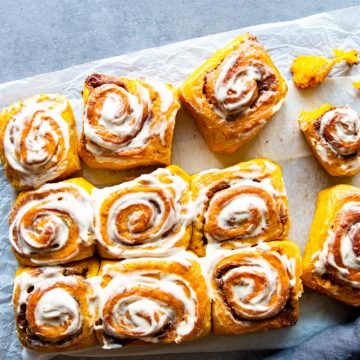 No Knead Pumpkin Cinnamon Rolls
No Knead Pumpkin Cinnamon Rolls are an easy baking project your weekend needs!
made it? tap the stars to add your rating!
Ingredients
For the Dough
4 ¼

cups

all-purpose flour

plus extra for rolling

1

tablespoon

active dried yeast

1

teaspoon

pumpkin spice

½

teaspoon

salt

1 ¼

cups

milk

4

tablespoons

butter

melted and slightly cooled

1

cup

canned pumpkin

⅓

cup

white sugar
For the Filling
6

tablespoons

butter

melted and slightly cooled

¾

cup

sugar

use white, light brown, or a mix of the two

2

teaspoons

ground cinnamon

1

teaspoon

pumpkin spice
To Finish
2

tablespoons

butter

melted and slightly cooled

your favorite cream cheese frosting

optional - I just stirred together 4oz cream cheese, powdered sugar, maple syrup and a splash of milk
Instructions
Make the dough: Combine flour, yeast, pumpkin spice and salt in a large bowl. Whisk milk, melted butter, canned pumpkin and sugar in a large measuring jug until smooth. Pour into the flour mix and stir until you have a scraggly dough. Cover with a clean dish towel and rest at room temperature until puffy and roughly doubled in size (time depends on room temperature and altitude - usually it's around 1-2 hours).

Roll out dough: Once dough is ready, line a baking sheet and sprinkle generously with flour (if you don't use enough flour, the dough will stick to the lined sheet, so do be generous - you may need up to ½ cup). Drop the dough on it and sprinkle the top of the dough with flour, too. Using your fingers, press the dough into a rectangle the size of the baking sheet.

Fill: Carefully spread the 6 tablespoons of melted butter all over the dough. Combine sugar, cinnamon and pumpkin spice in a small bowl and evenly sprinkle over the dough. Roll up tightly from the longer edge, brushing off excess flour from the bottom of the dough as you go. Pinch the seam together, then place the log seam-down in front of you. Slice into 12 rolls and place them in a parchment-lined 9x13 inch baking dish.

Rest and bake: Cover the rolls in the dish with a clean dish towel and rest for around 30 minutes, or until puffy and touching each other. Preheat the oven to 360°F. Brush the rolls with melted butter, then bake for around 20 minutes, or until lightly browned and cooked through.

Cool and frost: Cool the rolls in the pan for 5 minutes, then lift them out with the help of the baking parchment. Place on a cooling rack and frost immediately, if you like.
Want to save this recipe?
Create an account for free to start your personal recipe box. Save any recipe by tapping the heart in the bottom right corner.
Join Now
Nutrition
Calories:
351.71
kcal
Carbohydrates:
55.36
g
Protein:
5.91
g
Fat:
12.16
g
Saturated Fat:
7.47
g
Cholesterol:
31.33
mg
Sodium:
210.14
mg
Potassium:
129.49
mg
Fiber:
2.1
g
Sugar:
20.13
g
Vitamin A:
3575.49
IU
Vitamin C:
0.86
mg
Calcium:
51.09
mg
Iron:
2.43
mg
Nutrition is an estimate.
More recipe information