This simple recipe for Pork Chops with Apples and Onions is a great easy weeknight dinner hat's ready in just 30 minutes. The chops are smothered in the most delicious sauce!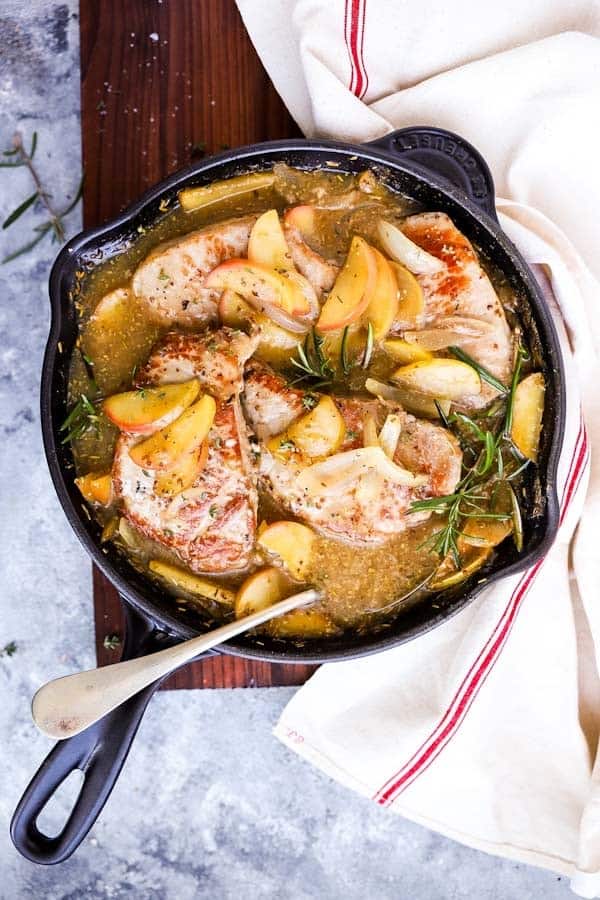 This post contains affiliate links and we earn a commission for purchases made after clicking through.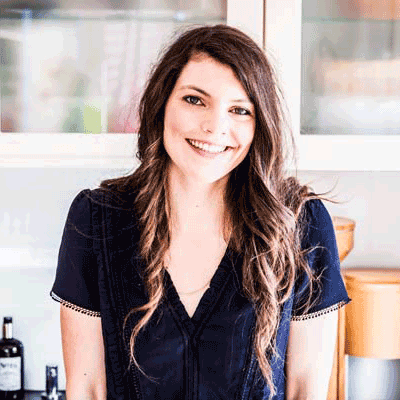 Pork chops are one of my favorite mains to cook for dinner – everybody loves them around here! I'm a huge fan of combining pork with fruit. I first learned how to pair Pineapple and Pork Chops from my husband, and now I make them with all kinds of fruit. One of my favorites for fall are these Apple Pork Chops!
You can use boneless or bone-in chops. I make these with either – and they always come out delicious!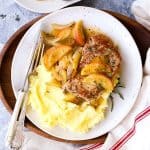 How to Make Pork Chops with Apples and Onions:
Read on for the detailed step-by-step instructions, or scroll down for tips and the printable recipe card.
Watch the Video Tutorial:
Ingredients for these Pork Chops with Apples:
My Apple Pork Chops come together in a single skillet – and you only need a handful of simple ingredients to whip them up.
You need:
pork chops
salt & pepper
oil
onion
apples
dried rosemary and thyme
apple cider vinegar
white wine (not mandatory)
chicken stock
mustard
maple syrup
cornstarch
For the pork chops, you can use any pork chops you like. I've made this recipe with bone-in chops before, and I'm using boneless loin chops now. Bone-in chops potentially need a longer cooking time, so keep that in mind if you decide to use them.
I prefer using apples that keep their shape while cooking. Gala or Braeburn are my favorites.
The white wine is completely optional, and the alcohol should mostly cook off. But it adds a delicious taste. You can just use additional chicken stock in place of the wine if you prefer.
For the mustard, I prefer a whole grain French mustard. In fact, my husband (remember, he's a trained chef and my wing-man in the kitchen) regularly buys the most expensive French mustard known to mankind to me. It's extremely delicious, so I don't complain too much about it.
In case you want to try the mustard, it's this one:
The maple syrup is quite important to add flavor to the sauce, but if it irks you a lot to add sweetness to an otherwise savory dish, feel free to taste the sauce before adding it so you can decide if you want to add it or not.
The Key Steps to Apple Pork Chops:
It's very simple to make pork chops with apples in just a handful of steps:
brown the pork chops
sauté the apples and onion
make the gravy
simmer the chops in the gravy until tender
1 Browning the chops:
Season the pork chops with salt and pepper before browning them to add more flavor to the meat, and to improve the chemical reaction required for the browning.
Brown the chops well to give them a nice and appealing color. Browning them until they are deeply golden brown will also add more flavor to the dish.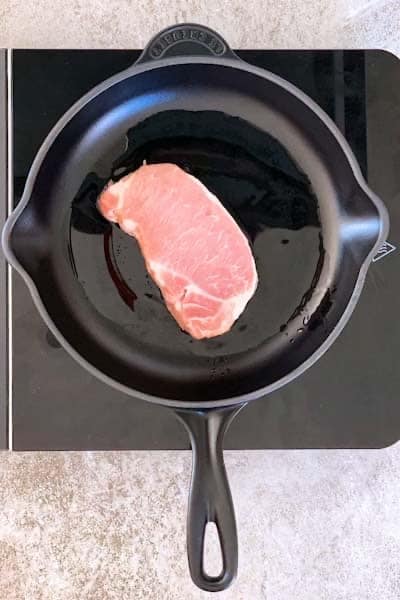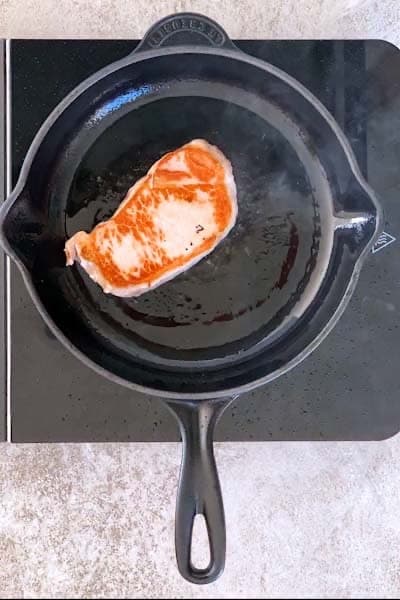 Make sure you're not overcrowding your pan when browning the chops. If they don't have enough space in the skillet, they will cook in their juices vs brown. So add the pork chops to your skillet in batches if necessary.
After browning, you'll want to set the chops aside and tent them with foil so they don't dry out.
2 Sautéeing the apples and onions
Use medium heat to keep the apples from charring, and slowly sauté until the onions are softened and starting to get some color.
Make sure to take your time for this step, because it does three things:
Adds natural sweetness: Sautéing the apples and onions carefully will bring out their natural sweetness, which goes very well with the pork.
Takes away the biting rawness from the onions: Onions only lose their sharp taste when sautéed, not necessarily as you simmer them in the gravy later. I don't know about you, but I prefer my onions slightly caramelized over raw…
Adds a nice color to the dish: The sautéed ingredients make the dish look much more appealing – and as we all know, that can be very important, too!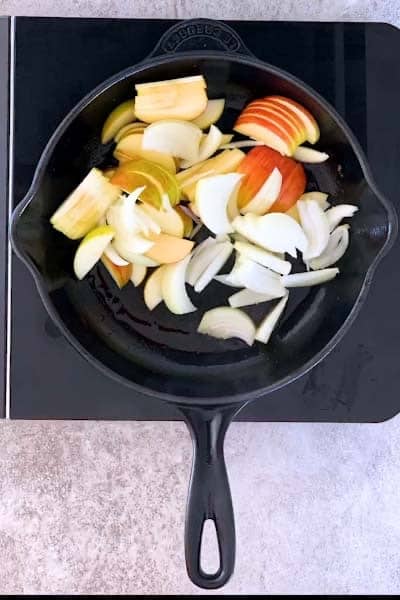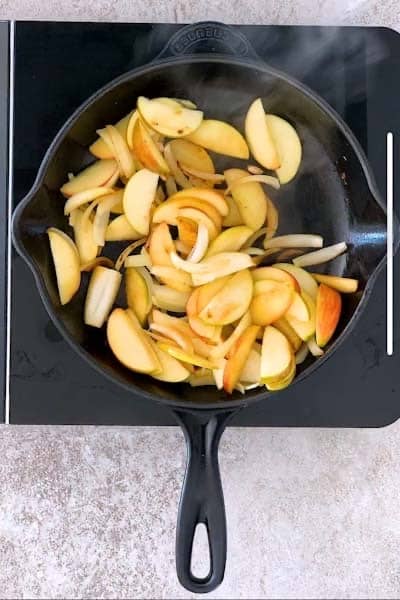 3 Making the gravy:
When making the gravy with white wine, be sure to let it cook down until the pan is almost dry again – you only want the flavor of the wine, not the alcohol.
As the wine cooks down, scrape any browned bits off the bottom of the pan. That's pure flavor right there! Then add the other ingredients.
Right before adding the pork chops in, you'll want to thicken the gravy with a cornstarch slurry if needed. Remember: It will thicken a little more as it simmers with the pork chops, but for the most part, give it your preferred consistency now.
I'm giving you a rough recommendation as to how much cornstarch to use, but if you prefer a thicker gravy do not hesitate to add more cornstarch.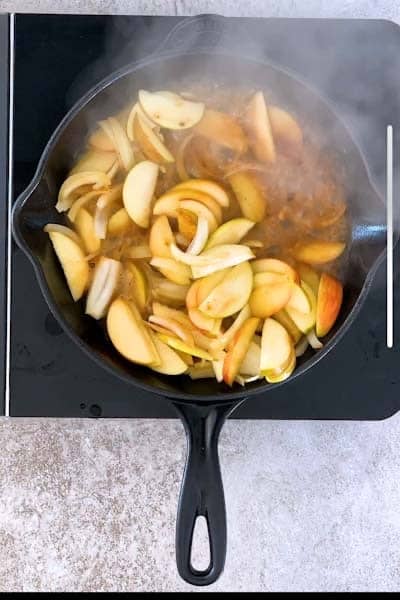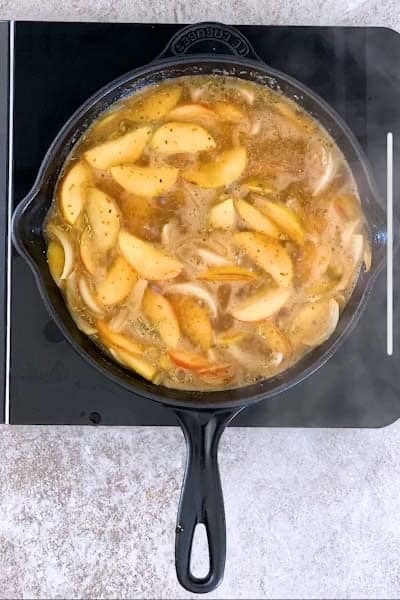 4 Simmering the chops:
The final step in this recipe is to simmer the pork chops in the gravy until they're done.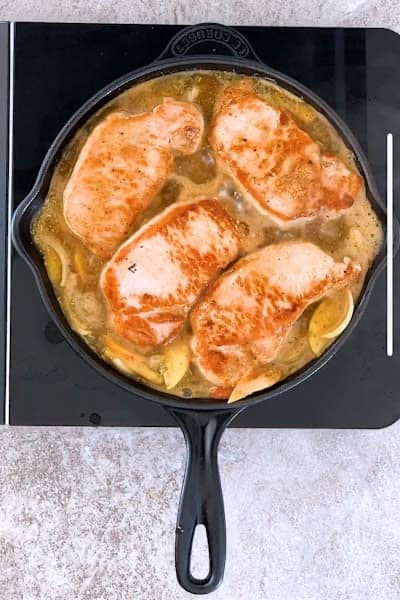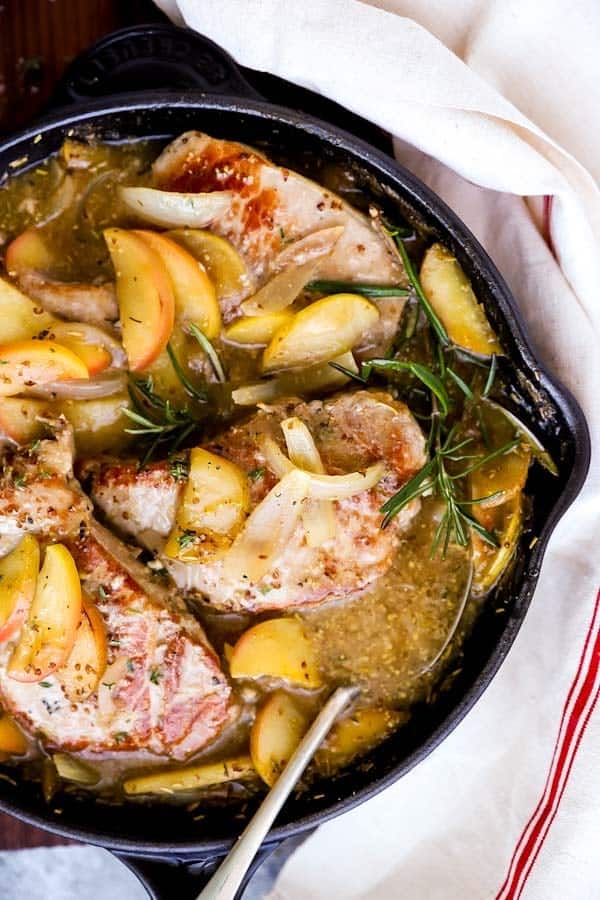 You want the chops to be cooked through to the middle, but make sure you don't overcook them or they'll turn out dry.
The National Pork Board recommends an internal temperature of at least 145°F for food safety. Read more here!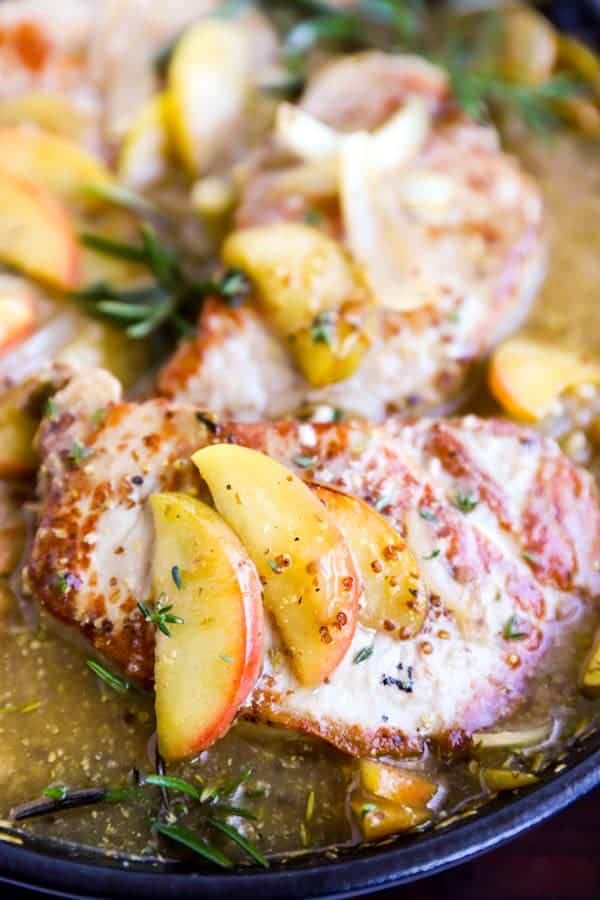 I recommend a kitchen thermometer to make sure you're cooking your pork chops to the right temperature: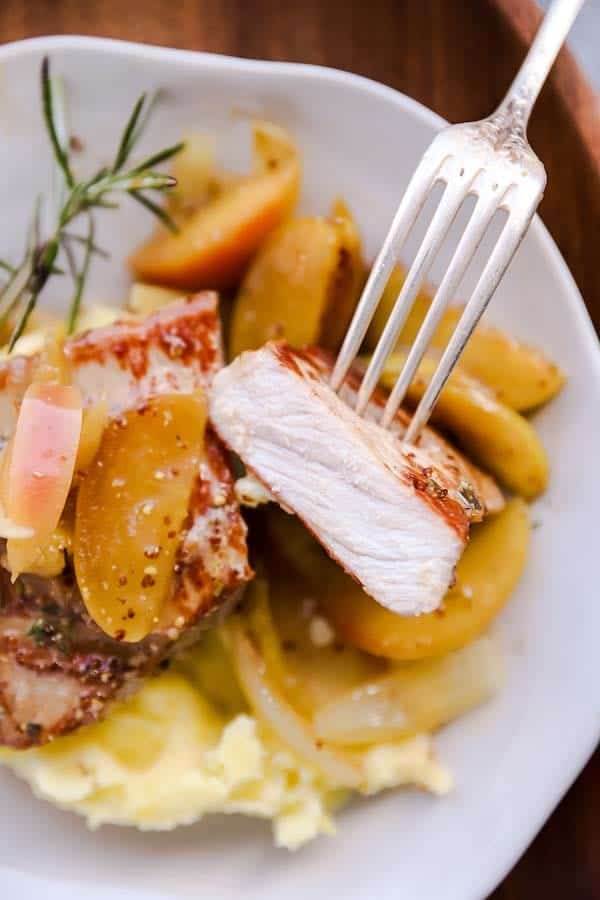 What to serve with these Pork Chops:
You'll definitely want to serve these chops with something to mop up all that delicious gravy with!
Here are some of our favorite side dishes:
Or learn How to Make Mashed Potatoes the regular way, if you don't have a pressure cooker!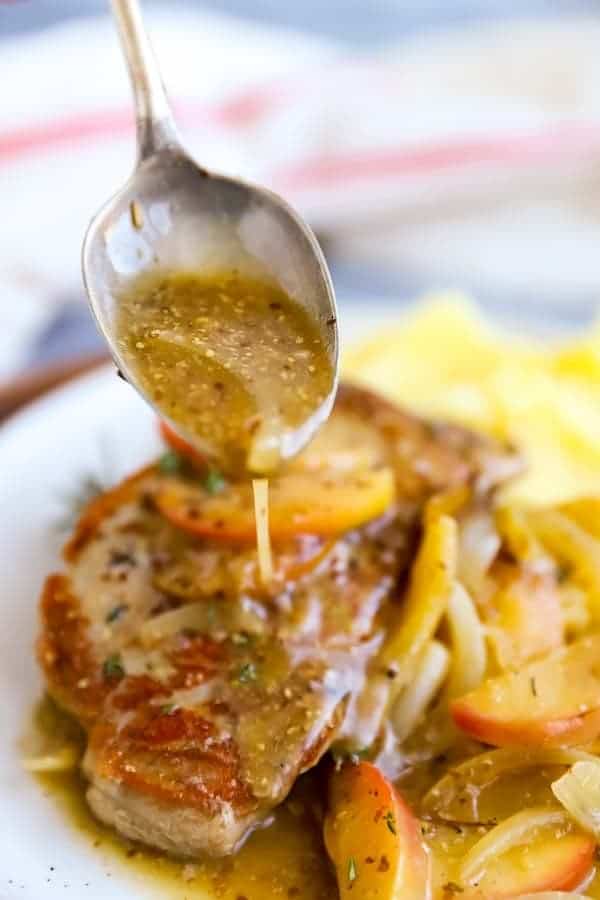 Print the Apple and Onion Pork Chops recipe here:
Printable recipe
Printable Recipe Card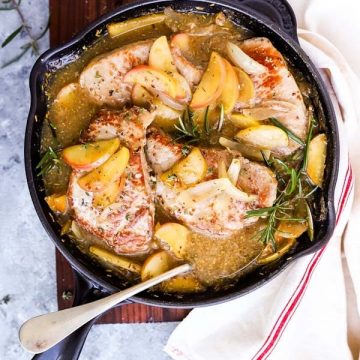 Pork Chops with Apples and Onions
This simple maple apple pork chops skillet is a great weeknight dinner that's ready in just 30 minutes. The chops are smothered in the most delicious sauce!
made it? tap the stars to add your rating!
Equipment
Plate and foil (to rest the chops)

Small bowl to make the cornstarch slurry
Ingredients
4

bone-in pork chops

salt & black pepper

to taste

1

tablespoon

oil

1

medium onion

cut into wedges

2

medium apples

cored and cut into slices

1

teaspoon

dried rosemary

1

teaspoon

dried thyme

¼

cup

white wine

OR more chicken broth

1

cup

chicken broth

½

tablespoon

apple cider vinegar

1

tablespoon

mustard

whole grain preferred

2

tablespoons

maple syrup

or adjust to taste

1

tablespoon

cornstarch (or adjust amount to taste)

mixed with 2-3 tablespoon cold water to make a slurry

1

tablespoon

butter

optional to make the gravy more decadent
Instructions
Brown pork: Season pork with salt and pepper on both sides. Heat oil in a large skillet over medium-high heat. Add chops to the hot pan and cook until browned on either side. Remove chops from the pan and cover them with foil.

Sauté onion and apples: Add onion and apples to hot skillet and sauté over medium heat until softened and starting to brown. Season with dried herbs and salt and pepper. Deglaze pan with wine, scraping any browned bits off the bottom.

Make gravy: Add chicken broth, vinegar, mustard and maple syrup to the pan. Bring to a boil, then stir in cornstarch slurry. Simmer for one minute.


Finish: Add pork chops back to the skillet and finish cooking until pork chops are done and gravy has thickened. If desired, stir butter into gravy before serving.

Want to save this recipe?
Create an account for free to start your personal recipe box. Save any recipe by tapping the heart in the bottom right corner.
Join Now
Nutrition
Calories:
376
kcal
Carbohydrates:
25
g
Protein:
30
g
Fat:
16
g
Saturated Fat:
5
g
Cholesterol:
97
mg
Sodium:
351
mg
Potassium:
717
mg
Fiber:
3
g
Sugar:
17
g
Vitamin A:
137
IU
Vitamin C:
10
mg
Calcium:
40
mg
Iron:
1
mg
Nutrition is an estimate.
More recipe information
Try These Pork Recipes Next:
More Easy Dinner Recipes: