Printable recipe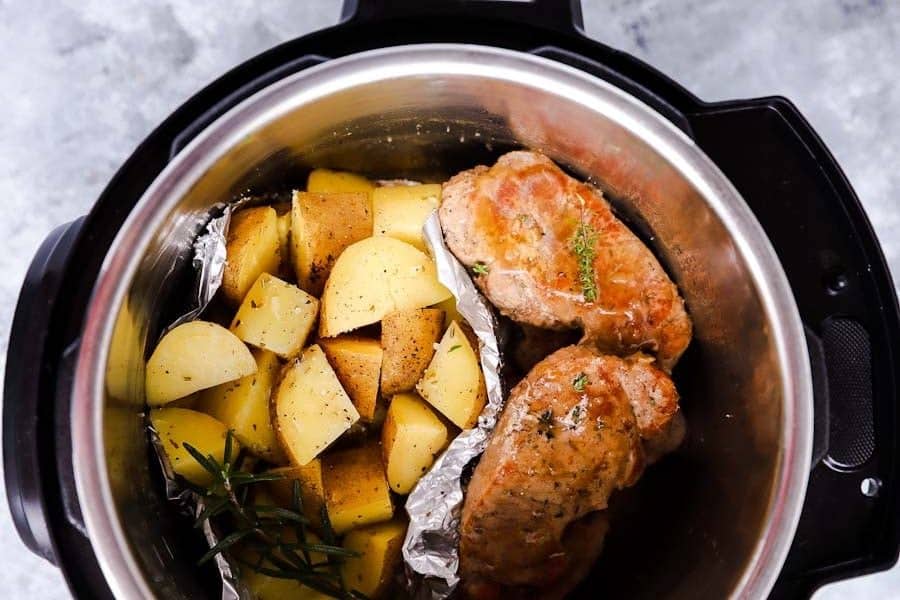 made it? tap the stars to add your rating!
I love using my instant pot for pork chops! Here, they cook together with potatoes and gravy for the perfect easy dinner – complete with juicy pork chops, delicious rosemary potatoes and the most luscious gravy. You could even add carrots or green beans as well, that way your veggie side cooks at the same time, too. My kids eat this right up and always ask for seconds!
The ingredient list may seem long, but it's actually just 10 ingredients plus salt & pepper, you just need a lot of the same ingredients to season the pork and the potatoes.
Ingredients
For the pork chops:
4

thick boneless pork chops

(at LEAST 1 inch, thinner ones turn out bone-dry in the instant pot)

½

teaspoon

garlic powder

½

teaspoon

dried rosemary

(chopped a little if the rosemary is in large needles)

¼

teaspoon

dried thyme

¼

teaspoon

salt

black pepper

(to taste)

1

tablespoon

oil
For the gravy:
1

small onion

(finely diced)

1

cup

chicken broth

1

tablespoon

Worcestershire sauce
For the potatoes:
1

pound

waxy potatoes

(can increase up to 2 pounds if you have big eaters, cut into 1-inch pieces)

½

teaspoon

salt

1

teaspoon

dried rosemary

(chopped)

¼

teaspoon

garlic powder

black pepper

(to taste)

2-3

teaspoons

cornstarch mixed with 3-4 teaspoons cool water to make a slurry
Instructions
Brown the pork chops: Season pork with salt, pepper, garlic, rosemary and thyme. Set instant pot to "sauté" and heat 1 tablespoon oil. Brown chops in 2 batches, remove from the pot and set aside.

Start gravy: Add onion to inner pot and sauté until softened, about 1 minute. Stir in chicken broth and Worcestershire sauce, scraping any browned bits off the bottom of the pot. Switch off instant pot and place meat into the gravy.

Add potatoes: Toss potatoes with salt, rosemary, garlic powder and black pepper. Place a trivet over the pork chops in the instant pot and line it with aluminum foil (shape a small basket). Place the potatoes on the aluminum foil.

Pressure cook: Close the lid and set the valve to "sealing". Set the timer to 3 minutes (PLEASE READ NOTES ON COOKING TIME BELOW IF USING DIFFERENT CUT OF PORK OR THICKER CHOPS!). Once the cooking time is up, do a natural pressure release for 10 minutes (just switch off the IP and leave it alone, DO NOT SKIP OR YOUR POTATOES WILL NOT BE COOKED AND THE MEAT WILL BE TOUGH). Release any remaining pressure manually, then open the lid.

Note: If you notice your potatoes are not done to your liking yet (this CAN happen occasionally due to age of potatoes or exact potato variety), just remove the pork chops, close the instant pot again and pressure cook for another 2-3 minutes on HIGH.

Thicken gravy: Remove potatoes and pork chops from inner pot. Set the instant pot to "sauté" and stir the cornstarch slurry into the gravy. Stir constantly until thickend, about 2 minutes. Serve over meat and potatoes.
Add Your Review
Step by Step Recipe Video
Nora's Tips
Ingredient Swaps
you can use bone-in chops; I cook bone-in LOIN chops for 3 minutes also; but always check the internal temperature of your meat before serving
if you don't have chicken broth, use 1 cup water with a little soy sauce or Worcestershire added
arrowroot starch may be used in place of the cornstarch for a Whole30-friendly meal
Cooking Tips:
If you don't have a trivet for your instant pot, don't worry! You can also just set a basket made out of aluminum foil on top of the pork chops. I just prefer using a trivet to separate the two a little better.
If you want to get a trivet for your electric pressure cooker, you can buy one here:
To make sure the pork actually browns (and doesn't turn soggy), work in 2 batches to brown the chops. Patting the pork dry with paper towels before seasoning helps the meat brown better, too, which makes the whole dish more flavorful.
Follow the cooking time carefully. Pork loin chops are a lean cut of pork that doesn't need a long cooking time. Overcooking pork will make it tough! If you're using a differently cut pork chop than loin chops (eg neck chops), check the cooking time indicated on the packaging. If it's more than 8-9 minutes, you need to increase the pressure cooking time.
Don't skip the natural pressure release. No, not even if your kids are driving you crazy with their "is dinner ready yet?!?!" nagging! The natural pressure release helps to get more tender and juicy chops.
To thicken the gravy: Set the instant pot to sauté and stir in the cornstarch slurry. Simmer, stirring constantly, until the gravy has thickened to your liking (this should only take a couple of minutes, if your gravy doesn't thicken, increase the heat or add a little more cornstarch slurry.
Sorry Not Sorry, but I thought you maybe needed some more florals in your life:
Nutrition
Calories:
337
kcal
|
Carbohydrates:
22
g
|
Protein:
32
g
|
Fat:
13
g
|
Saturated Fat:
4
g
|
Cholesterol:
90
mg
|
Sodium:
779
mg
|
Potassium:
1137
mg
|
Fiber:
2
g
|
Sugar:
3
g
|
Vitamin C:
16
mg
|
Calcium:
35
mg
|
Iron:
2
mg
More recipe information
Join my Newsletter to Get Recipes in Your Inbox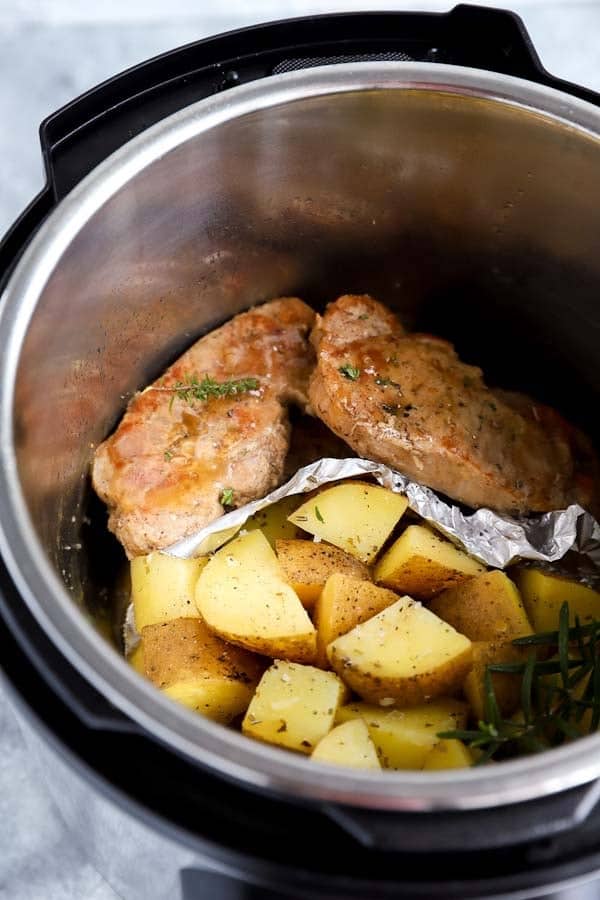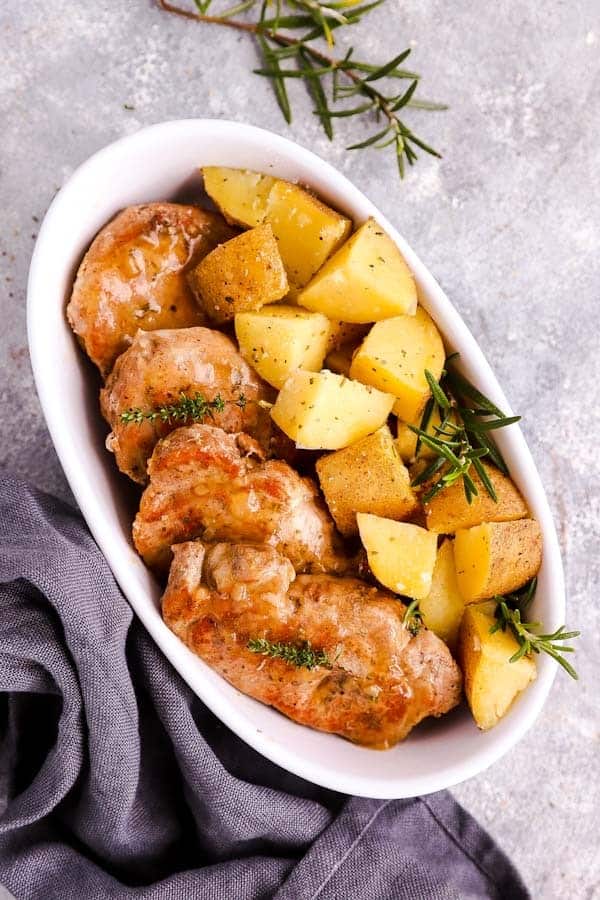 Our favorite recipes to make a meal:
Try these Instant Pot Recipes Next: