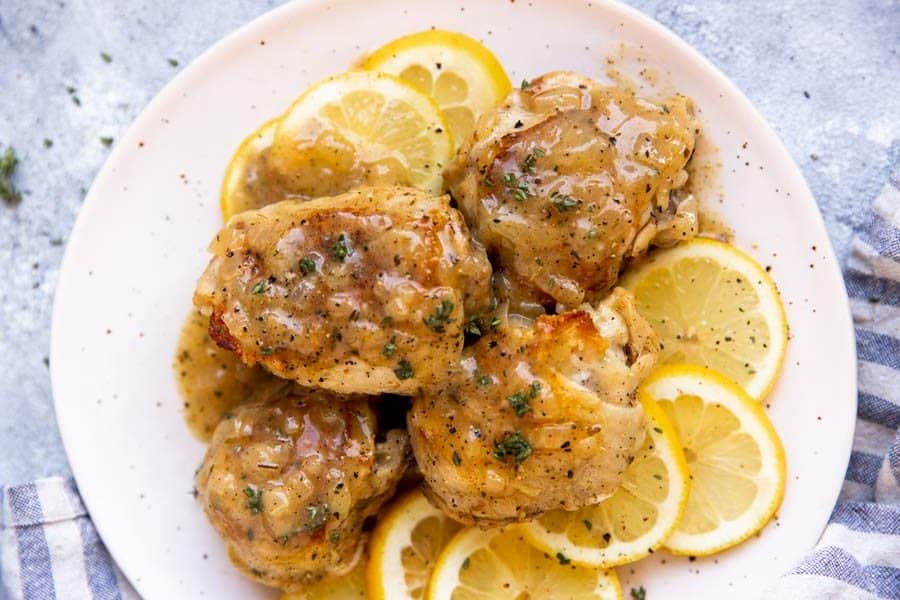 made it? tap the stars to add your rating!
I make this easy chicken recipe whenever I need a quick meal on the table everyone will love. The main reason I enjoy this recipe so much? The chicken can cook from frozen if you forgot to defrost it – something that regularly happens to me, and recipes lkike this one save me on those days.
If you want to cook a side dish right along the chicken, I recommend adding baby potatoes on top. I outline the cooking process in my recipe for Instant Pot Bacon Ranch chicen and Potatoes.
Ingredients
1

tablespoon

oil

1

pound

chicken thighs

(I used bone-in, skin-on)

1

small onion

(chopped)

2

cloves

garlic

(minced)

¾

cup

chicken broth

1

lemon

(juice only)

1

tsp

dried thyme

1

tsp

dried rosemary

salt and black pepper

(to taste)

1

teaspoon

cornstarch mixed with 1 tablespoon cream OR milk OR water

1

tablespoon

butter
Instructions
Brown meat: Set instant pot to sauté. Add oil to pot and add thighs skin-side down. Cook, in batches if needed, until golden and crisp. Flip and cook until browned on the other side. Remove chicken from pot.

Start sauce: Add onion and garlic to pot and cook until starting to soften, about 1 minute. Add chicken broth, lemon juice, herbs and seasoning. Stir, scraping the browned bits off the bottom of the pot.

Pressure cook: Place chicken thighs back in the instant pot. Secure lid and set the pressure valve to "sealing". Choose "pressure cook" (or "manual") and "high" for 12 minutes. Naturally release pressure after cooking time is up (just switch off the instant pot and leave it alone until pressure is gone).

Finish sauce: Carefully remove thighs. Set the Instant Pot to sauté. Pour cornstarch slurry into pot, stir well and simmer until sauce has thickened. Stir in butter until melted and serve sauce over chicken.
Add Your Review
Step by Step Recipe Video
Nora's Tips
Cooking Tips:
Using frozen chicken:
Simply skip browning the chicken and only sauté the onion and garlic, then follow the recipe as written.
Pressure cook for 15 minutes instead of 12. Check the meat for doneness, if it's still raw in the middle close the lid again and cook for another 2-3 minutes.
Doubling the recipe/stacking the chicken:
If you're using defrosted thighs and want to double the recipe, you can stack the chicken thighs.
Double the sauce ingredients too, but the cooking time should stay the same.
Please note: Do not stack the chicken if frozen/make sure the thighs are separated. If that's not possible/they're totally stuck together, your thighs may need longer to cook.
What if my sauce doesn't thicken?
If your sauce doesn't thicken, it either didn't get hot enough for the cornstarch to work, or your chicken released more juices than mine.
Make sure to press "sauté" and wait for it to simmer and bubble. If it still hasn't thickened enough to your liking, add another cornstarch slurry and see if this fixes the issue.
Ingredient Notes:
Chicken: I usually make this with bone-in, skin-on chicken thighs. You can also use boneless, the cooking time is the same. If you prefer chicken breast, you can use that, too. The cooking time changes to 8 minutes for fresh chicken and 12 minutes for frozen chicken breast.
Chicken broth: If you don't have any, you can use water instead. It will still be delicious, but you may need to add more seasoning. Please do not use beef broth, it alters the taste and color too much.
Onion and garlic: If you have picky eaters who will walk away from their uneaten dinner if they find so much as a single piece of onion in it… Ahem, like my 3 year old, feel free to use 1 teaspoon onion powder and ½ teaspoon garlic powder in place of the fresh ingredients.
Dried herbs: Feel free to cut back on the herbs if you want their flavors to be less dominant.
My favorite sides for lemon chicken:
Like I mentioned in the intro, I often cook baby potatoes in the instant pot with the chicken.
If you want to cook rice at the same time, be very cautious – rice cooks very quickly in the instant pot. Pick a variety that's not parboiled and needs at least 30 minutes on the stove, and use the pot-in-pot method. I generally don't do this myself because I can't stand overcooked rice – I just cook it on the stove. But many people have asked me, so this is my recommendation to those set on cooking everything at once 😉
We also love roasted broccoli or sautéed green beans with it for a vegetable side.
Nutrition
Calories:
336
kcal
|
Carbohydrates:
5
g
|
Protein:
19
g
|
Fat:
27
g
|
Saturated Fat:
8
g
|
Cholesterol:
124
mg
|
Sodium:
277
mg
|
Potassium:
308
mg
|
Fiber:
1
g
|
Sugar:
1
g
|
Vitamin A:
230
IU
|
Vitamin C:
8.5
mg
|
Calcium:
29
mg
|
Iron:
1.3
mg
More recipe information
Join my Newsletter to Get Recipes in Your Inbox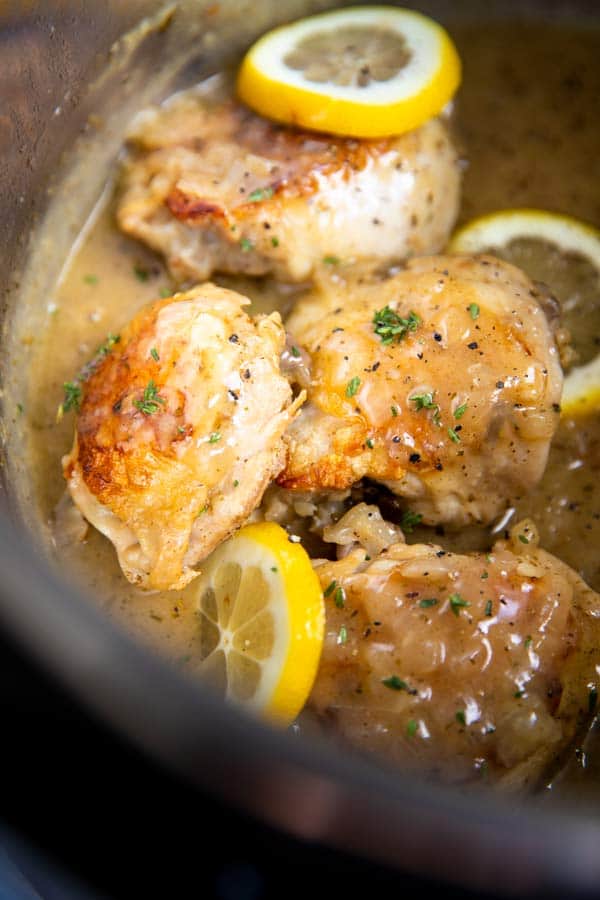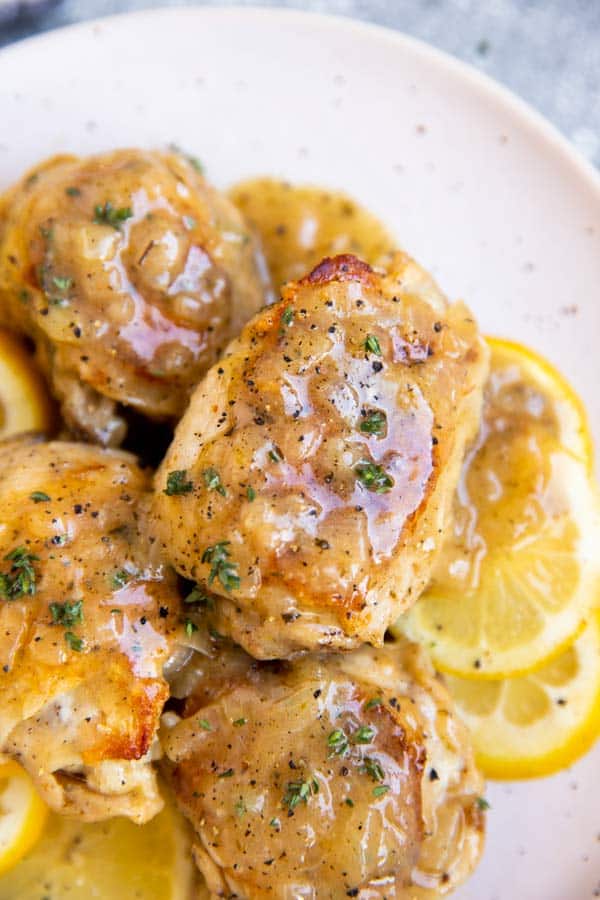 Try these instant pot recipes next:
P.S: For more easy chicken dinners, check out my collection here: Easy Chicken Recipes, or browse all my chicken recipes here.