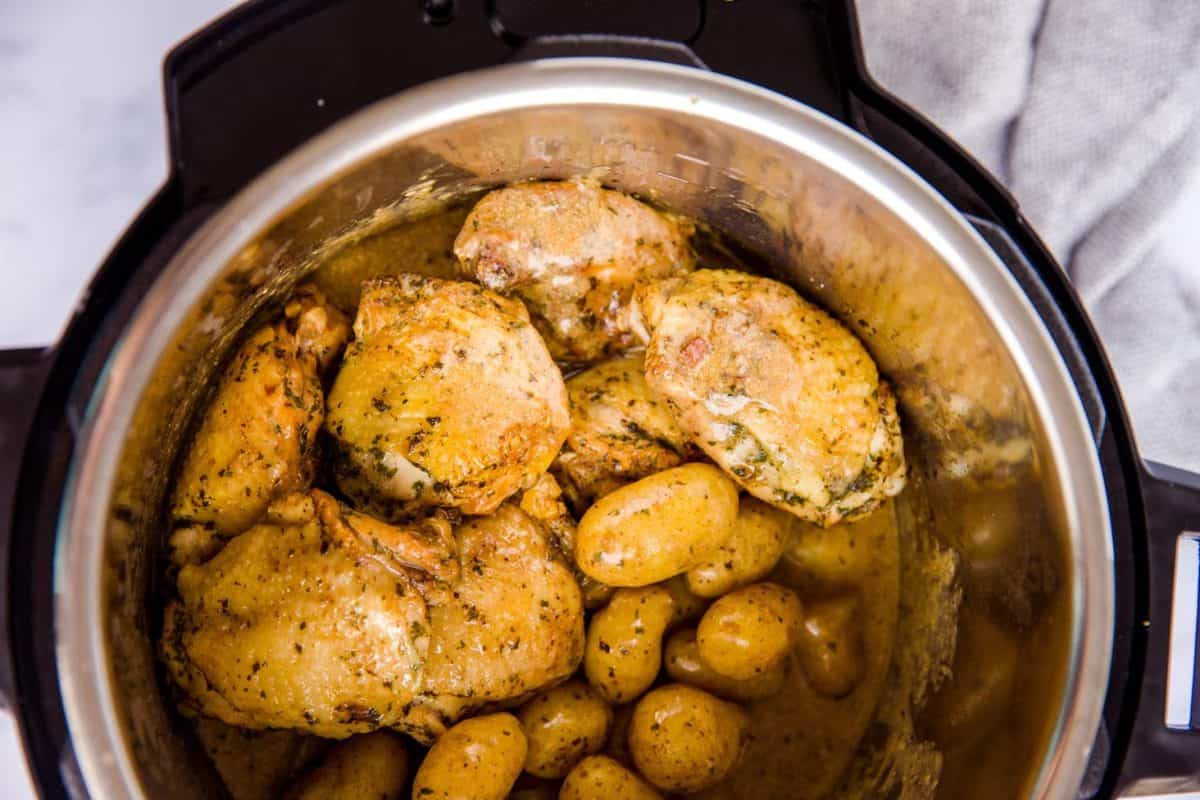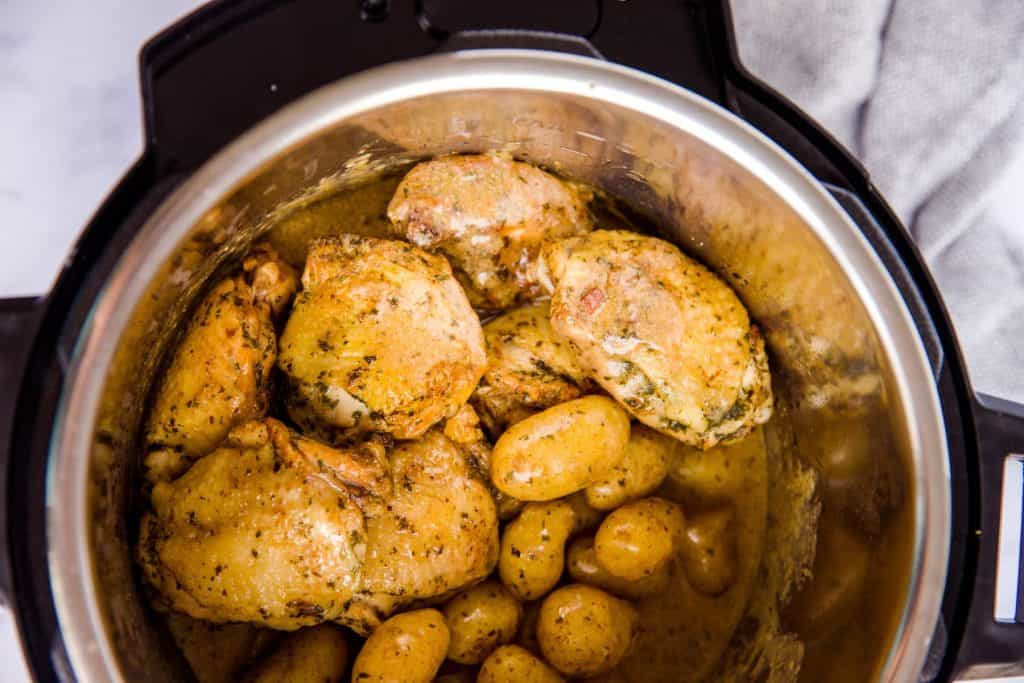 made it? tap the stars to add your rating!
This is a meal I make whenever I'm short on time and just need everything cooked at once, as fast as possible. The baby potatoes turn out wonderfully creamy, the chicken can cook from frozen (how handy!) and the sauce tastes like I slaved in the kitchen for hours.
We love this recipe served with a side of Sautéed Green Beans or with Roasted Asparagus, but some broccoli is delicious, too.
Ingredients
2

tablespoons

butter

(divided)

1

tablespoon

ranch seasoning mix

(or more to taste)

1.5

pounds

chicken thighs

(I used small bone-in, skin-on ones)

3

tablespoons

chopped bacon

1

clove

garlic

(minced (or more to taste))

1

cup

chicken stock

1

pound

baby potatoes

(very large ones cut in half)

½

cup

cream

(OR half and half)

2

teaspoons

cornstarch

(or more in case sauce doesn't thicken enough to your liking)

2

tablespoons

grated parmesan cheese
Instructions
Brown chicken: Set instant pot to "sauté" and melt one tablespoon butter in the inner pot. Rub chicken thighs with Ranch seasoning mix, then add the chicken thighs to the instant pot in batches and cook on both sides until browned. Remove and set aside on a plate.

Start sauce: Melt one extra tablespoon of butter in the instant pot, then brown the bacon and garlic. Add chicken stock, scraping the bottom of the pot to scratch away any browned bits (do this properly or you may trigger the burn warning). Switch off the instant pot.

Pressure cook: Place chicken thighs back into the pot (it's fine to stack them), then place the potatoes on top. Close the lid and set the valve to the "sealing" position. Choose "pressure cook" (or "manual" on some models) and set the timer to 10 minutes to start the cooking process.

Release pressure: Once the timer is up, do a 10 minute natural pressure release (just switch the instant pot off and leave it alone). Then release any remaining pressure manually according to manufacturer's instructions.

Thicken sauce: Open the instant pot and remove the potatoes and chicken. Combine cream and cornstarch to make a slurry and whisk into the sauce in the instant pot. Set the instant pot to "sauté" and, stirring constantly, simmer until thickened. Switch it off, then stir in the parmesan, season with salt and pepper if desired, and serve over the chicken and potatoes.
Add Your Review
Step by Step Recipe Video
Nora's Tips
Ingredient Notes:
Butter: I love the taste of butter in any rich cream sauce (especially with bacon and ranch flavors, ahem), but if you want to make this dairy, free, use olive oil instead (and leave out the Parmesan cheese).
Chicken: You can use other cuts if you prefer:
Boneless thighs: Cooking time stays the same.
Boneless chicken breast: Decrease cooking time to 8 minutes.
Frozen chicken breast: Increase cooking time to 12 minutes. Seasoning and browning is more difficult – see cooking tips below.
Frozen thighs: Increase cooking time to 15 minutes. Seasoning and browning is more difficult – see cooking tips below.
Ranch Mix: I use a homemade mix without buttermilk powder, but with added salt. Definitely add salt if you mix is salt-free. If you don't want to use a ready-made mix, here is how I make mine:
2 tablespoon

s dried parsley

2 teaspoon

s dried onion flakes

2 teaspoon

s dried garlic powder

2 teaspoon

s dried onion powder

1 teaspoon

 dried dill

1 teaspoon

dried chives
¼ teaspoon dried thyme

½ teaspoon

ground black pepper

1 teaspoon

salt
Potatoes: If you only have regular potatoes, use waxy ones and cut them into roughly 1.5-inch pieces. I appreciate baby potatoes here because they don't fall apart, but regular WAXY potatoes work well, too.
Cream: If you don't have any cream (or don't want to use it), I've also had success using half-and-half, evaporated milk OR regular whole milk. You could even stir some cream cheese into the sauce if you don't have any of the options listed (dissolve the cornstarch in a few tablespoons of water in that case).
Parmesan cheese: This is entirely optional, but I love the added umami flavors. Sorry, fancy food word alert 😉 It just means it adds another layer of flavor that goes very well with the rest of the dish.
Cooking Tips:
Using frozen chicken: When using frozen chicken pieces (either breast or thighs), there are a few ways to prepare it to still get maximum flavors:
If you have some extra time: Submerge the package of frozen chicken pieces in room-temperature water for 15 minutes while you get everything else ready. Then, use the chicken as stated in the recipe (season and brown), but increase the cooking time to the times given in the "ingredient notes" section above.
If you don't have any extra time: Get the sauce started as directed in the recipe, then place a trivet in the pot. Combine the ranch seasoning with ½ tablespoon olive oil and toss the frozen chicken in it.  Place on the trivet, then place the potatoes on top. Pressure cook according to the cooking time in the "ingredient notes" section above.
The second method is very convenient (and I've done it many times!), but the first method definitely adds more flavor due to the browning of the chicken.
Burn warning: Make sure you scrape away all the browned bits from the bottom of the inner pot after adding the chicken broth. Leftover browned bits stuck to the bottom usually trigger the "burn" warning while the instant pot is pressure cooking.
If sauce doesn't thicken: If the sauce doesn't thicken, or doesn't thicken to your liking (can be ingredient differences, how much juice your chicken released etc), try adding another 1-2 teaspoons cornstarch mixed into cool water, cream or milk to the sauce.
Generally, follow this advice when using cornstarch to thicken anything:
make sure to whisk the cornstarch very well into a small amount of cool liquid before adding it to hot liquid
stir constantly as you simmer the sauce until it thickens
make sure the sauce is hot enough to be at a constant simmer, or the cornstarch will not work
Nutrition
Serving:
1
serving
|
Calories:
651
kcal
|
Carbohydrates:
27
g
|
Protein:
30
g
|
Fat:
47
g
|
Saturated Fat:
19
g
|
Cholesterol:
209
mg
|
Sodium:
658
mg
|
Potassium:
881
mg
|
Fiber:
2
g
|
Sugar:
2
g
|
Vitamin A:
747
IU
|
Vitamin C:
23
mg
|
Calcium:
72
mg
|
Iron:
2
mg
More recipe information
Join my Newsletter to Get Recipes in Your Inbox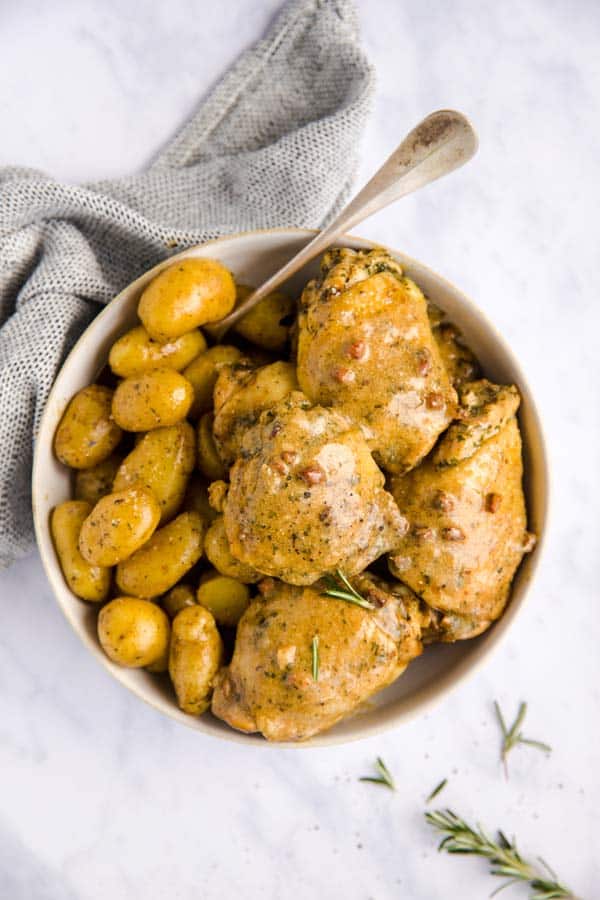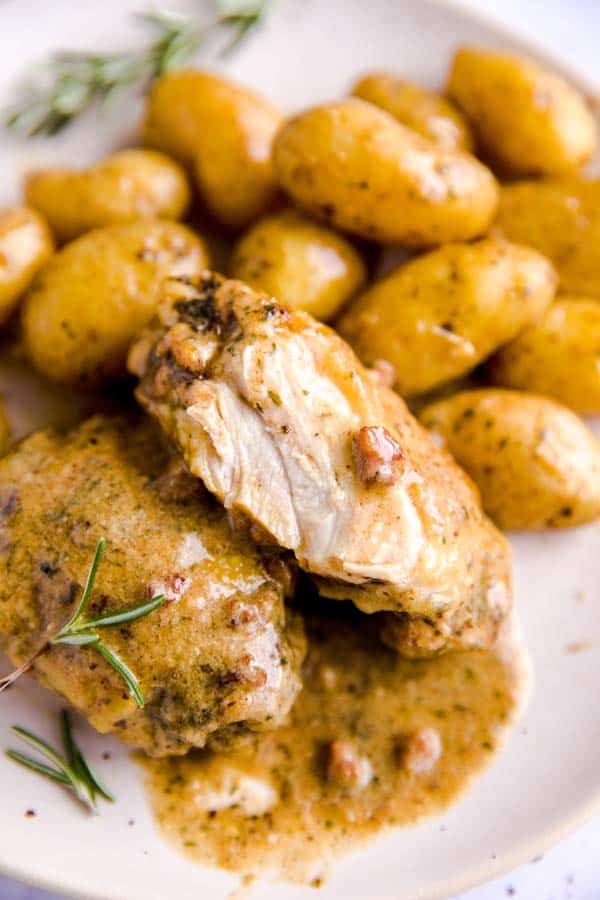 Try These Instant Pot Recipes Next: