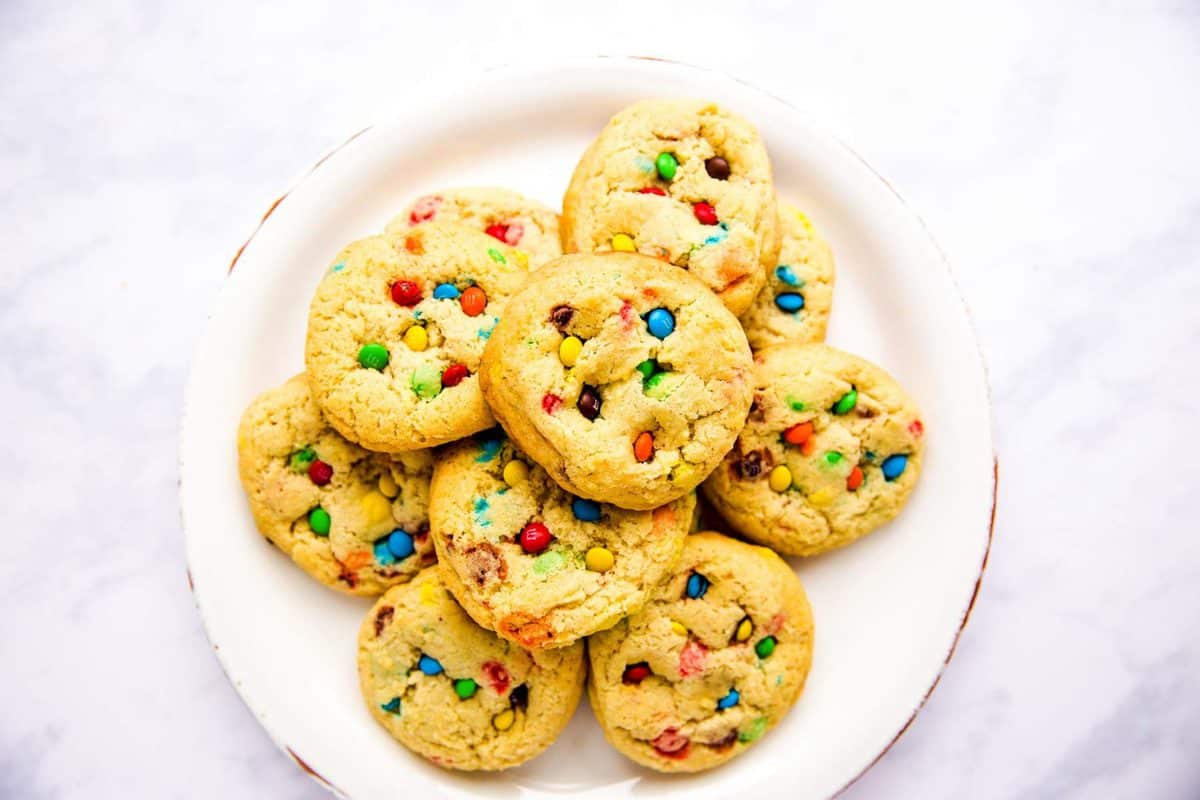 made it? tap the stars to add your rating!
Ready In:
1

hour
25

minutes
I make these M&M Cookies for all of my kids' birthday parties and other fun get-togethers. They are so easy to whip up, and you won't believe just how soft they turn out until you've tried them.
Ingredients
1

cup

unsalted butter

(softened)

¾

cup

white sugar

¾

cup

brown sugar

2

large eggs

2

teaspoons

vanilla

3

cups

white flour

1

tablespoon

cornstarch

1

teaspoon

baking soda

½

teaspoon

salt

1 ½

cups

M&Ms
Instructions
Make cookie dough: Add butter and both sugars to a bowl and beat on high speed until creamy (I use a hand mixer with the hook attachment so I don't overmix). Add eggs and vanilla and beat on medium speed just until combined. Evenly sprinkle flour, cornstarch, baking soda and salt over the creamed ingredients. Beat on low speed until combined into a cookie dough – do not overmix. Fold in the M&Ms.

Chill: Cover the bowl and chill the cookie dough in the fridge for at least 1 hour and up to overnight.

Bake: Heat the oven to 350°F. Line a few baking sheets. Scoop the cookies with a cookie scoop and set them 2 inches apart on the prepared baking sheets. Bake in batches for 10-12 minutes, or until cookies look set in the middle and are starting to lightly brown. Cookies will be very soft, do not overbake!

Cool: Let the cookies cool on the baking sheet for 5-10 minutes, then transfer to a cooling rack to cool completely.
Add Your Review
Step by Step Recipe Video
Nora's Tips
Ingredient Notes:
Cornstarch: The cornstarch helps to make softer cookies. If you don't have any on hand, just use an extra tablespoon flour. Your cookies may be a bit more dense.
Baking soda: Baking powder is not the same thing, so please don't swap, unless you're OK with a slightly different outcome.
Sugars: The brown sugar helps to make softer cookies, but if you don't have any you can use more white sugar instead. The cookies may come out a little crisper.
M&Ms: I use M&M baking bits for these. If you use regular M&Ms, I would increase the amount to 2 cups. You can use 1 ½ to 2 cups of pretty much anything you enjoy in cookies with this cookie dough: Nuts, chocolate chips, chopped up chocolate bars… But do try the M&M Milk Chocolate Baking Bits – they are so fun for the kids! (get them here on Amazon). For Christmas they also have a Christmas variety here! So adorable. But if you only have regular M&Ms, those work just fine, too.
Baking Tips:
Creaming: I use the dough hook attachment on my electric mixer because it helps to avoid overmixing the dough (overmixed cookie dough yields tough cookies).
If you use a large stand mixer, the dough hook attachment will probably not work and you'll need to use the paddle. Please only mix on low speed and only for as long as you need to combine the ingredients!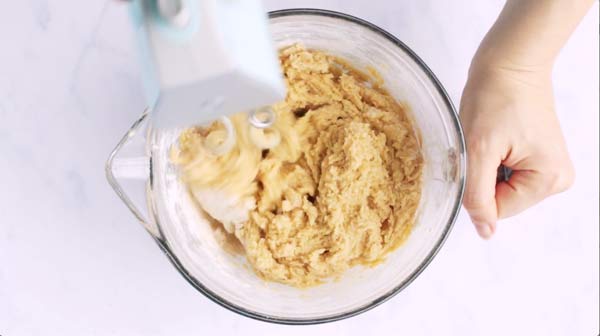 Chilling: Chilling the cookie dough is mandatory for maximum thickness and softness. If you're OK with more chewy cookies, you can bake them right away.
Scooping: I always use a cookie scoop to make cookies, it's a lot easier vs any other method. You can get a great cookie scoop here on Amazon!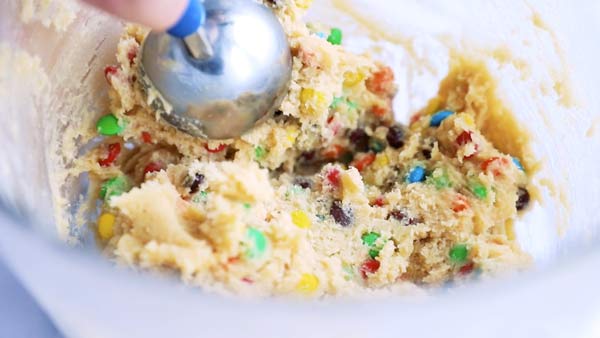 Baking: Make sure to set the cookies apart on the baking sheet, so they don't spread into each other. You'll have to bake these in 3-4 batches.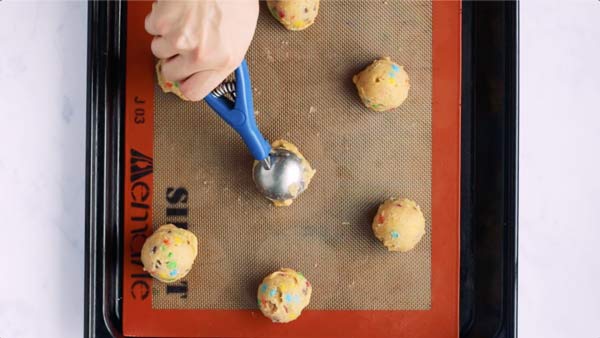 Please, please avoid overbaking your cookies! The middle will look set once they're done (it shouldn't look like raw dough anymore), but the cookies will be VERY soft and will feel unbaked when you take them out. They will firm up as they cool.
Overbaked cookies are hard and not very fun at all.
Storage Instructions:
The cookies keep well in an airtight container on the counter for a week.
Freezer Instructions:
Freezing the unbaked cookie dough: Scoop the dough into balls (no need to chill it first), then freeze them on lined baking sheets in a single layer for one hour (can be close together here), or until firm.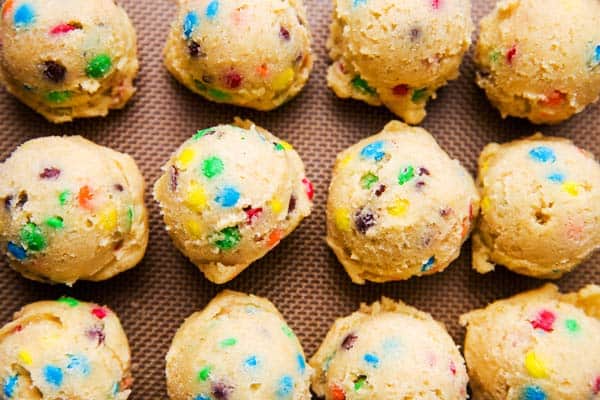 Transfer to freezer bags or containers, label with the name and use-by date (freeze for up to 2 months) and stick them back in the freezer.
To bake, remove as many cookie dough balls from the freezer as you need. Place them 2 inches apart on lined baking sheets and let them sit at room temperature while the oven preheats. Then bake as instructed in the recipe, adding a couple of minutes to the baking time.
Freezing the baked cookies: Freeze the baked and cooled cookies in layers in freezer-friendly containers (separate layers with wax paper).
To defrost, remove from the container and place on a wire rack on the counter for a few hours, until defrosted. Warm for a few seconds in the microwave for that freshly-baked taste!
More recipe information
Join my Newsletter to Get Recipes in Your Inbox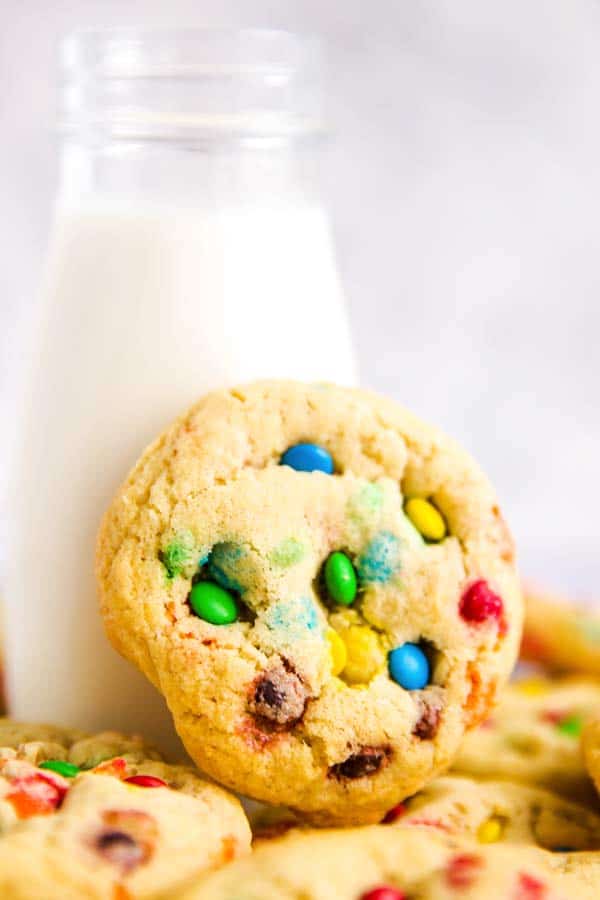 More cookies you'll love: