Are you wondering how to measure flour with a measuring cup? This tutorial teaches you how to end up with the correct amount of flour, and what to avoid at all cost (because you could measure up to 50% more if you're doing it wrong – with one caveat to be mindful of).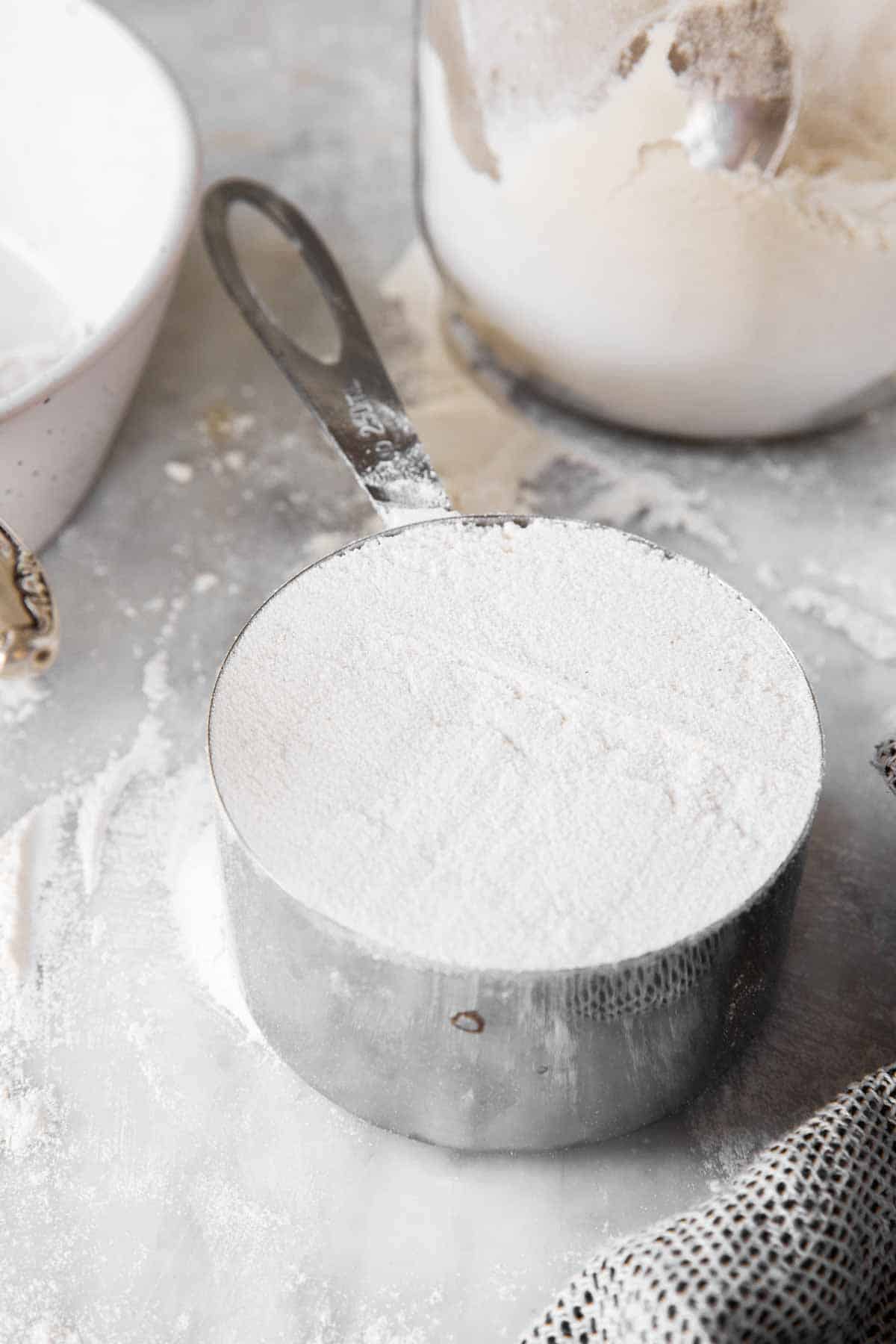 Have you ever ended up with cake batter that's way too thick, with banana bread that ends up with the texture of a brick or with dry cinnamon rolls? It could be due to measuring your flour incorrectly.
If you are using measuring cups (and not a kitchen scale) for your baking, measuring your flour correctly is one technique that ensures you accurately measure this ingredients.
Make sure to read the caveat at the very end of this post, too, because not every recipe you will find out there was written with this in mind.
What to avoid
Never use your measuring cup to scoop the flour directly from its bag or canister. This can pack the cup with way too much flour, which will yield dense, brick-like and dry baked goods.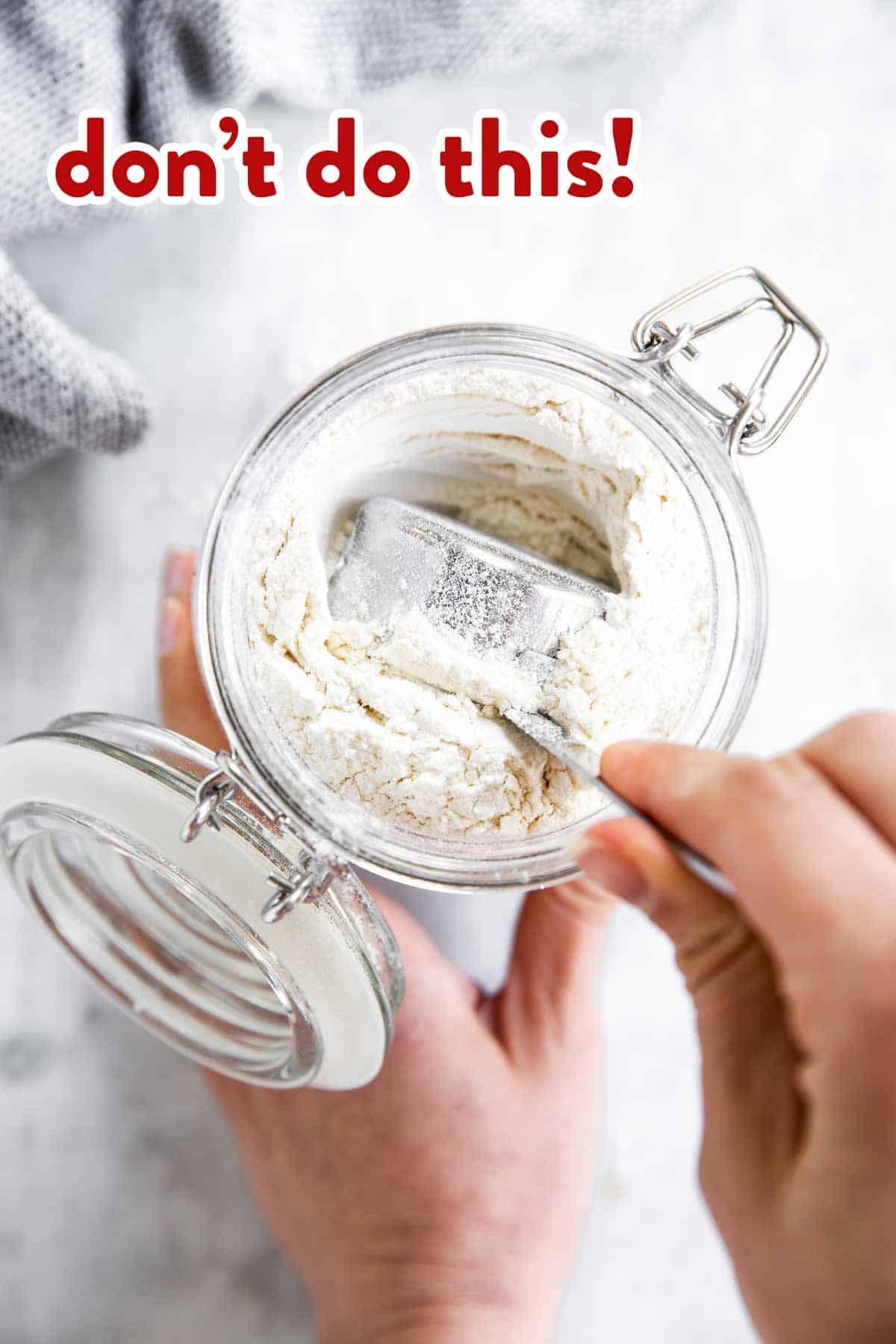 This is a very common technique, and let's face it… Scooping is just so much quicker and easier! But baking requires accurately measured ingredients, so it's worth taking an extra minute or two to do it right.
How to correctly measure flour
1. Use a spoon to transfer the flour to the measuring cup.
Note: The flour must be loose and fluffy in the measuring cup! Never push down on it or press it in with the spoon! Just spoon flour into the cup until it is slightly heaped up. I repeat, never push down on the flour – this will make it inaccurate again!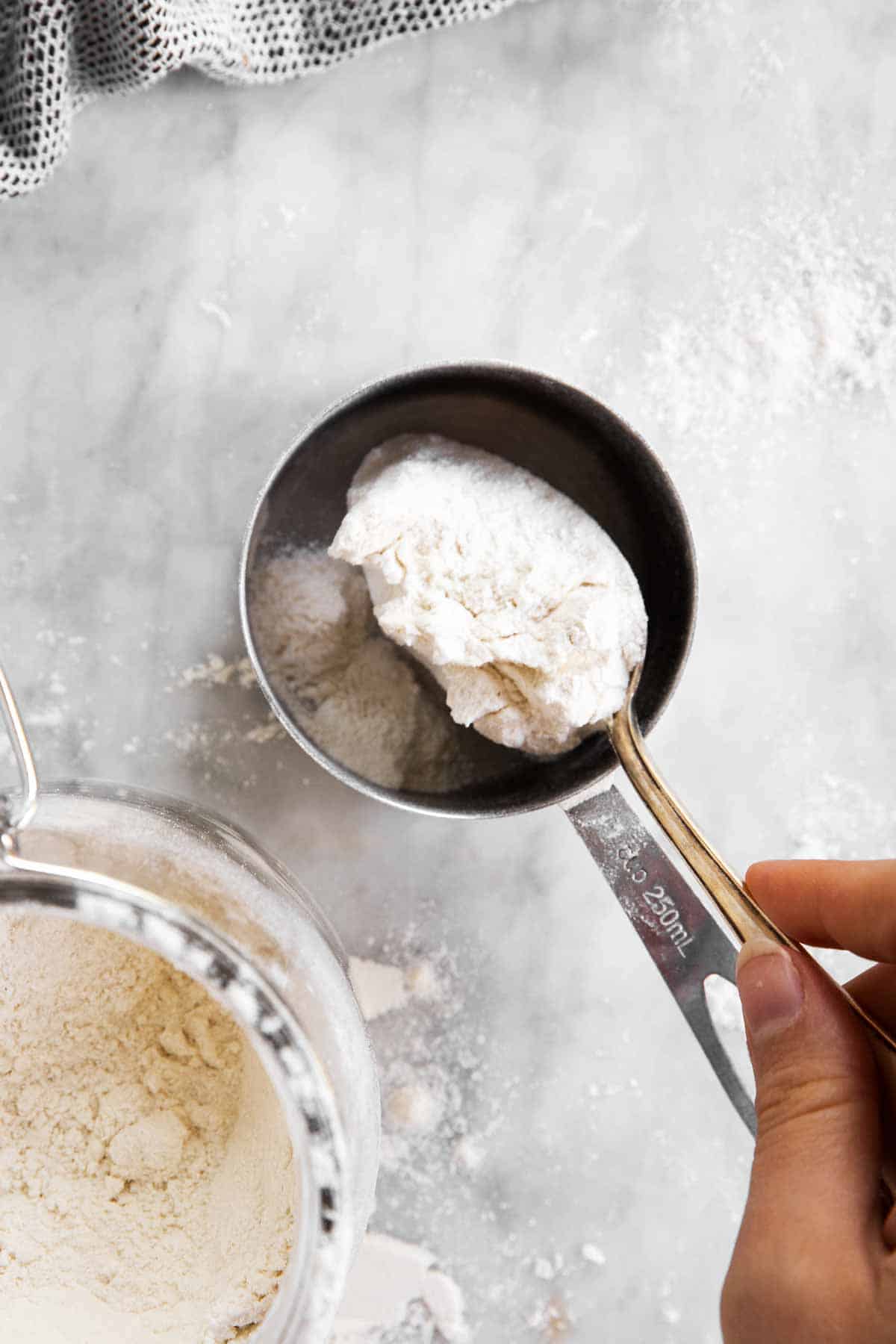 2. Holding the cup over a spare bowl, carefully level it off with the back of a knife. Use a clean bowl and equipment, so you can re-use the surplus flour.
(Obviously, do not level off the cup over the mixing bowl you are using for your recipe! And if you keep your flour in a wide-mouthed jar or canister, you can level it off right above that.)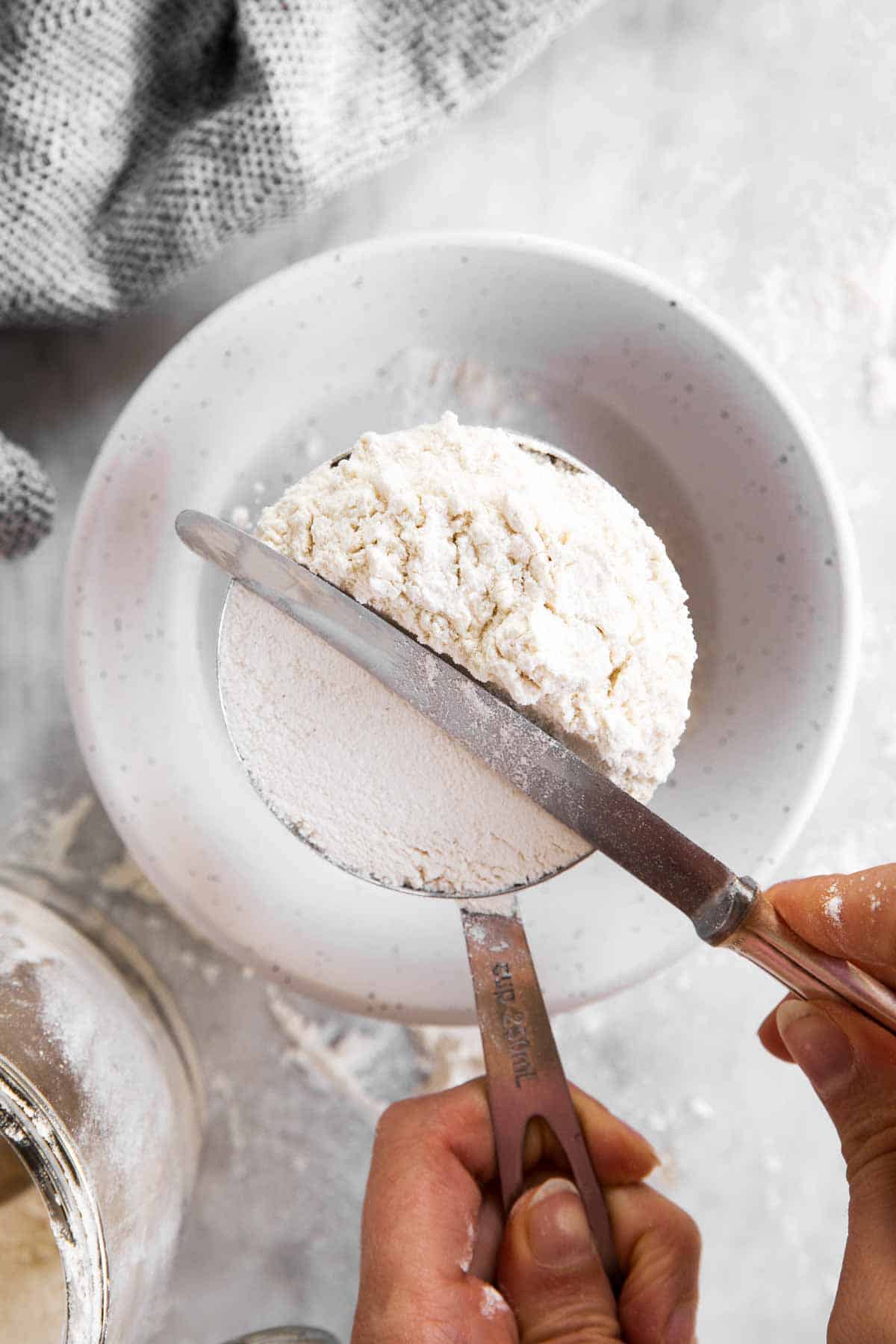 Now you have a cup of correctly measured flour! I know it seems like so much extra work, but it really is worth it. How worth it? Let's take a look…
The difference it makes
I measured out a cup of flour using the "scooping" technique, and one using the "spoon and level" technique. I weighed each amount of flour using kitchen scales to demonstrate the difference: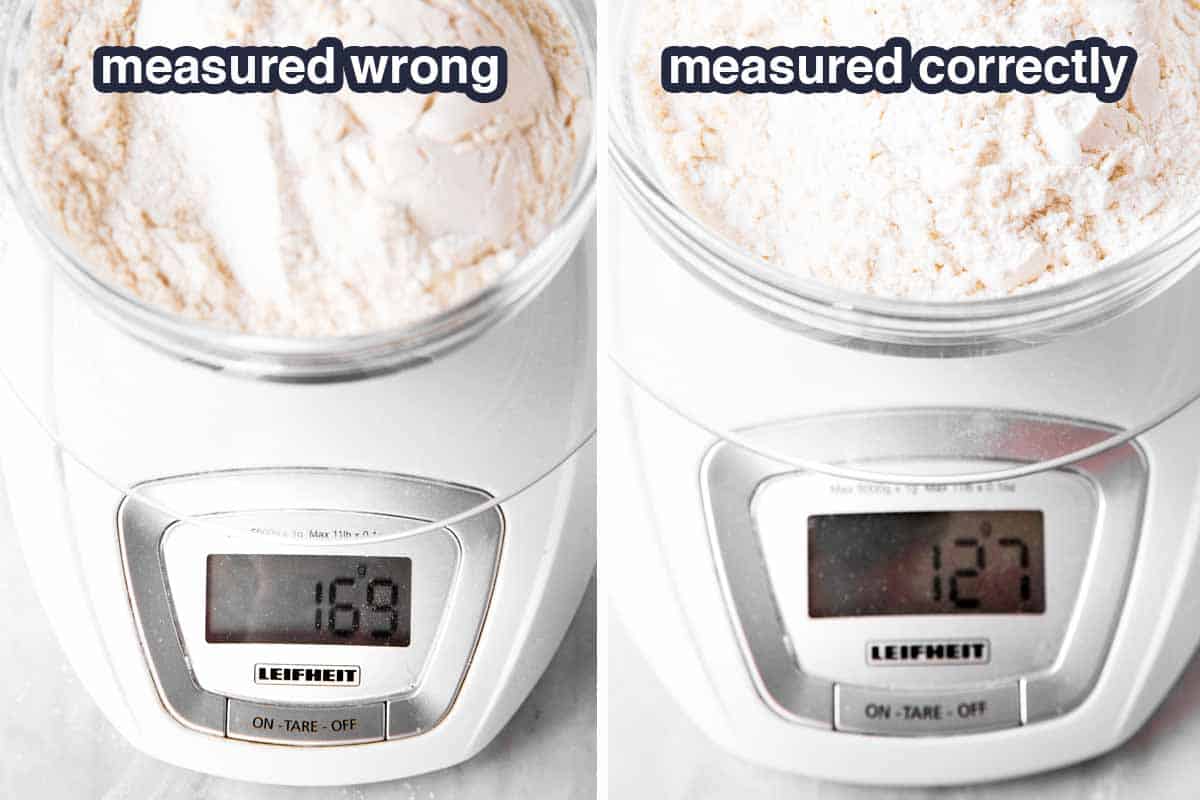 The cup of flour I measured by scooping weighed 169g, the cup of floured I measured by spooning/levelling weighed 127g. For reference, one cup of all-purpose flour converts to ~125g (different sources vary between 120 and 130g).
The flour I measured by scooping ended up with 42g more than the correctly measured flour. That's ⅓ cup! So if you have a recipe calling for 3 cups of flour, you could potentially be adding 4 cups if you scoop your flour.
I also tested the maximum amount I managed to pack into a cup by scooping, and it came out as more than ½ cup extra. So if you're an extra-thorough scooper, you could be adding an even larger surplus of flour to your recipes.
Final thoughts
So in conclusion, the "spoon and level" technique does make a huge difference compared to scooping flour.
But I will also add a caveat to this: A lot of people sharing recipes (especially on the Internet) measure flour by scooping (including some very prominent TV cooks!). So just because we know the spoon/level technique, there are recipes out there that will not work with accurately measured flour.
There are recipes where you will be expected to scoop the flour in order to end up with the correct dough or batter.
There may be recipes with measurements in grams that are incorrect, because the recipe gets converted using an automatic calculator – which is not the correct conversion when flour gets scooped.
The problem lies within the fact that very few people will actually tell you how they measure their flour, so at the end of the day… there is zero consistency when it comes to measuring flour. I also want to add that nobody is doing this to deliberately share "inaccurate" measurements, it's just that many of us grow up measuring our flour by scooping (myself included). I only started learning about this and changing this when I started adding both cup and metric measurements to my recipes, and wanted them to be accurate for everyone.
If you measure your flour by spooning/levelling and a batter or dough seems too runny, it is a safe bet to assume the recipe creator accidentally added too much flour to the recipe. Add more flour, 1 tablespoon at a time, until the consistency improves. Unfortunately, until we all exclusively use kitchens scales for baking, there is never going to be a reliable consistency with flour measurements.
For the recipes on Savory Nothings, I always check with kitchen scales to ensure I give you the correct amount of flour for spooned and levelled cup measurements. Going forward, I will also label this specifically in recipes to avoid any confusion.