These easy pineapple pork chops come together in just one skillet. They're smothered in a brown sugar BBQ glaze, perfect for your next quick weeknight dinner!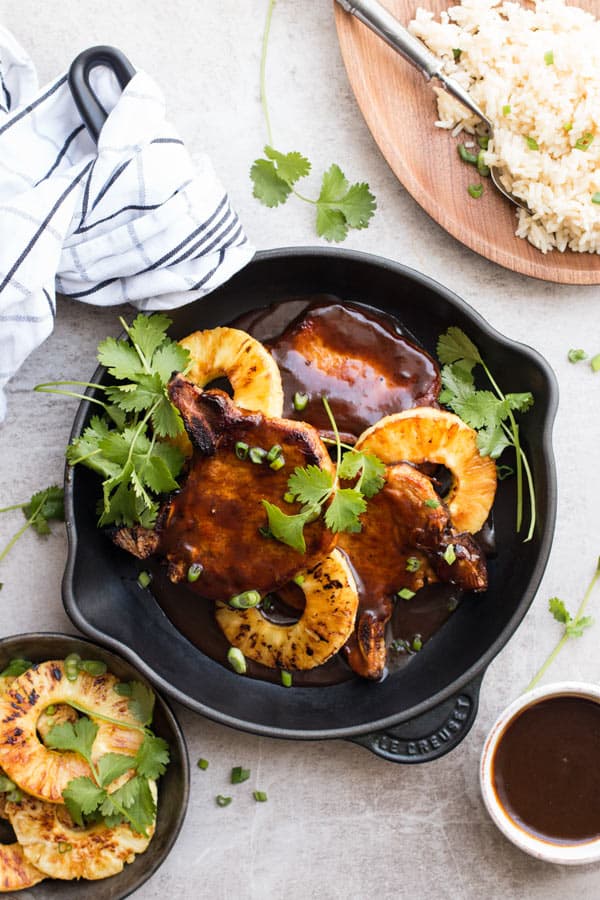 With an active toddler at home, I feel like I'm always running out of ideas to keep her fueled.
Recently we discovered that she LOVES anything with sauce, especially if she can dip stuff in there. We made these saucy Hawaiian BBQ Chicken Tacos and also this Quick Thai Shrimp Curry with Pineapple – and she cleared her plate both times.
The only part I'm not exactly fond of? Her hands/the table/her high chair/the floor under her high chair/you name it suddenly seem to love sauce as well. Sticky fingerprints and sauce puddles. Everywhere.
Stepping into BBQ sauce with bare feet is about as much fun as stepping on a snail. Believe me, I've done both in my lifetime.
But it can be hard to feed a toddler a balanced diet, even when they're not picky eaters. So I'll take the extra cleaning and BBQ vibes on my feet over a hungry kid at midnight any day.
My mother in law makes this pork dish with pineapple, and it's delicious! But there is no sauce.
But now with a little sauce monster at home, I felt like it needed a little something extra to make sure Em is eating all her protein and carbs as well. Instead of just stealing everyone's pineapple. And throwing the rice on the floor.
Because when I think about it, cleaning up sauce is easier than cleaning up rice.
It actually worked, apart from the fact that my kid somehow ended up spreading the sauce through her hair and all the way down her ankles. While her bib remained spotless.
She seemed to think the glaze on these pineapple pork chops make for an exceptional finger paint.
I thought it made for a super quick, easy and delicious dinner. In between all the painting, she seemed to agree with me. Kind of a win-win, right?
Printable recipe
Printable Recipe Card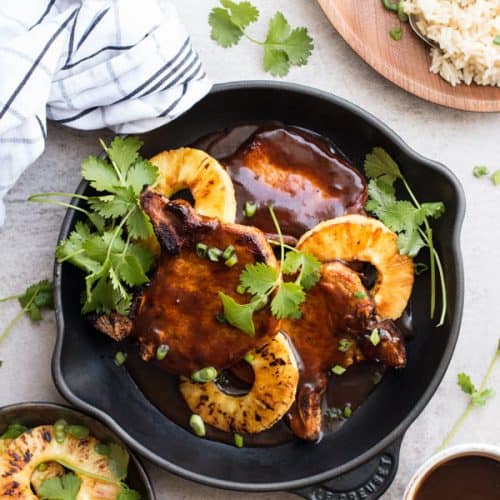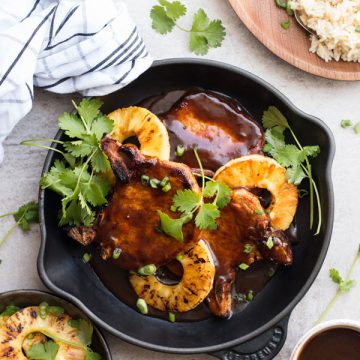 Pineapple Pork Chops
This easy pork chops recipe comes together in just one skillet. They're smothered in a brown sugar BBQ glaze, perfect as a quick weeknight dinner!
made it? tap the stars to add your rating!
Ingredients
For the Pork Chops
2

tablespoons

oil

½

teaspoon

ground paprika

½

teaspoon

salt

Juice of ½ lime

4

bone-in pork chops

about ¾ inch (2cm) thick

8

pineapple rings

fresh or canned are both fine
For the Glaze
¾

cup

pineapple juice

180ml

1

tablespoon

corn starch

2

tablespoons

soy sauce

2

tablespoons

brown sugar

Salt & pepper

to taste
To Serve
Fresh cilantro and cooked rice

optional
Instructions
Prepare the Pork Chops:
Mix the oil, ground paprika, salt and lime juice in a large shallow dish. Pat the pork chops dry and add them to the marinade. Allow them to sit for at least 15 minutes, or up to overnight (see recipe notes).

In the meantime, heat a large skillet over medium heat. Cook the pineapple rings for 2-3 minutes on either side, or until starting to brown and caramelize. Remove them from the skillet and set them aside on a plate.

Once the pork chops are done marinating, cook them in the hot skillet over medium-high heat for about 5 minutes per side or until they're browned and no longer raw in the middle.
Make the Glaze:
While the chops are cooking, whisk together all the glaze ingredients in a medium bowl. Once the chops are done, pour the glaze over them (careful, it might bubble up!). Cook it over medium heat, turning the chops often, until they are nicely coated and the sauce has thickened. Add the pineapple rings to the pan as well to warm them through.

Serve immediately with cilantro and rice, if you like.
Want to save this recipe?
Create an account for free to start your personal recipe box. Save any recipe by tapping the heart in the bottom right corner.
Join Now
Notes
Marinating the pork overnight is a great way to prep ahead for dinner. Cover the dish you're marinating the pork in tightly with foil and store it in the refrigerator.
Nutrition
Nutrition is an estimate.
More recipe information