These Hawaiian BBQ Chicken Tacos are a quick and easy summer meal. The pineapple slaw is a family favorite!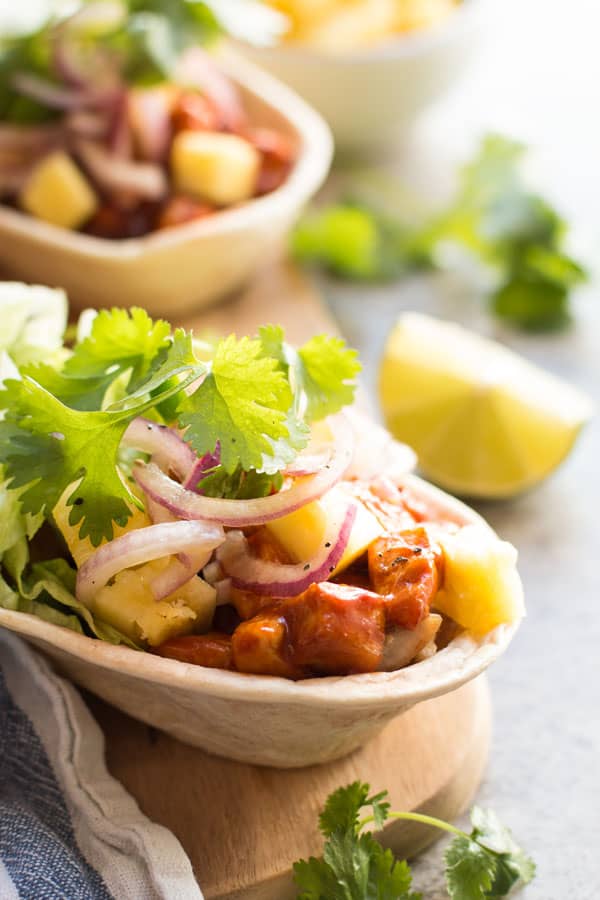 It's very true that I only just posted these Baja Fish Tacos and also slightly overuse BBQ sauce at times. Sticky BBQ Slow Cooker Meatballs, anyone? This reminds me, I should absolutely make a Hawaiian BBQ version of those meatballs. But I digress.
I'm sorry if you're feeling some kind of taco overload, it's not entirely my fault though! We went grocery shopping at a different store a few weeks ago and they had those Stand 'n Stuff Soft Taco Shells (grab some on Amazon here – they're fun!*) I've seen in TV ads all the time.
* I make a commission for purchases made through these links.
Being the reasonable person I am (cough cough), naturally I tried to empty the entire shelf into the shopping cart. My husband knows the catastrophe prevention protocol, so we ended up walking away slowly with just one packet. NO, there's not really a catastrophe prevention protocol.
Or so I'd like to pretend.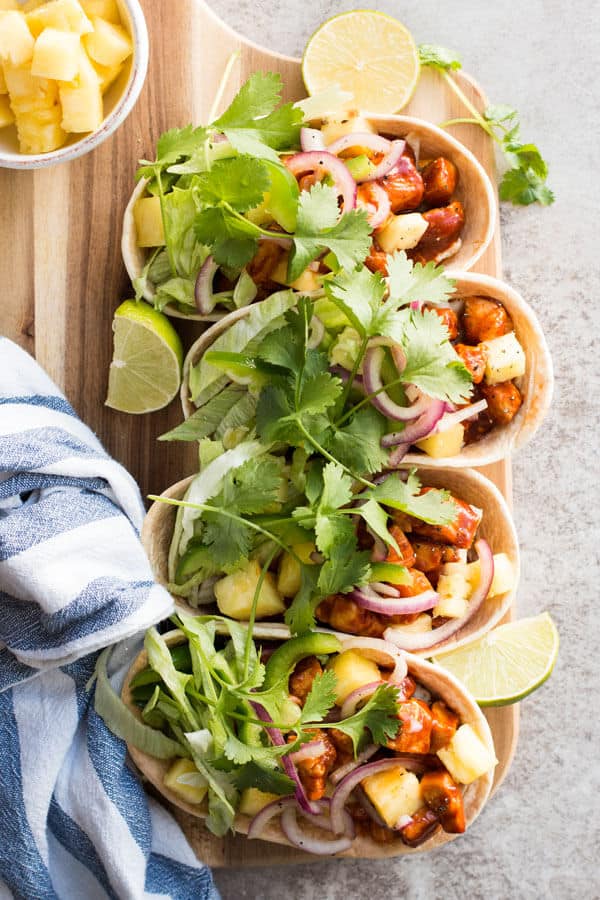 And then maybe, quite possibly, I put them into our pantry. And forgot all about them.
Sometimes I try to pretend my memory abilities didn't suffer since having a baby. This was definitely an example to prove me very, very wrong.
Mommy brain, the struggle is all too real.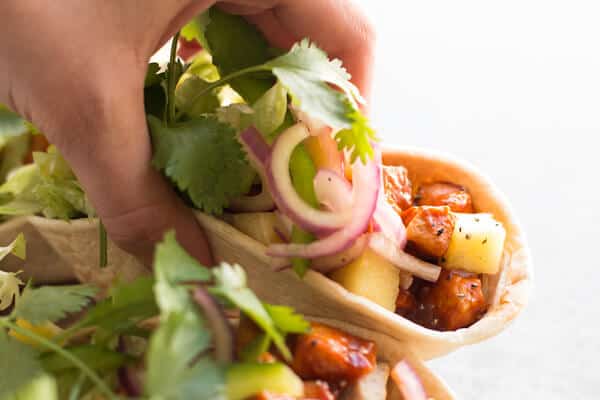 But I promise, these scrumptious BBQ Chicken Tacos more than make up for my faux-pas. My mom-self loves how quick and easy they come together. Read: Toddlers stand no chance with their whining and knee-hanging.
My blogger-self loves how the taco boats make the photography part much less intimidating and messy. Score.
And my eating-self? Well, as I said – there's BBQ sauce. And pineapple, which I love in savory dishes (as I already bored you with told you in this post about Thai Shrimp Curry).
And just FYI if you don't like green peppers: I don't like them either. Unless they are in this pineapple slaw. Trust me, you'll love it.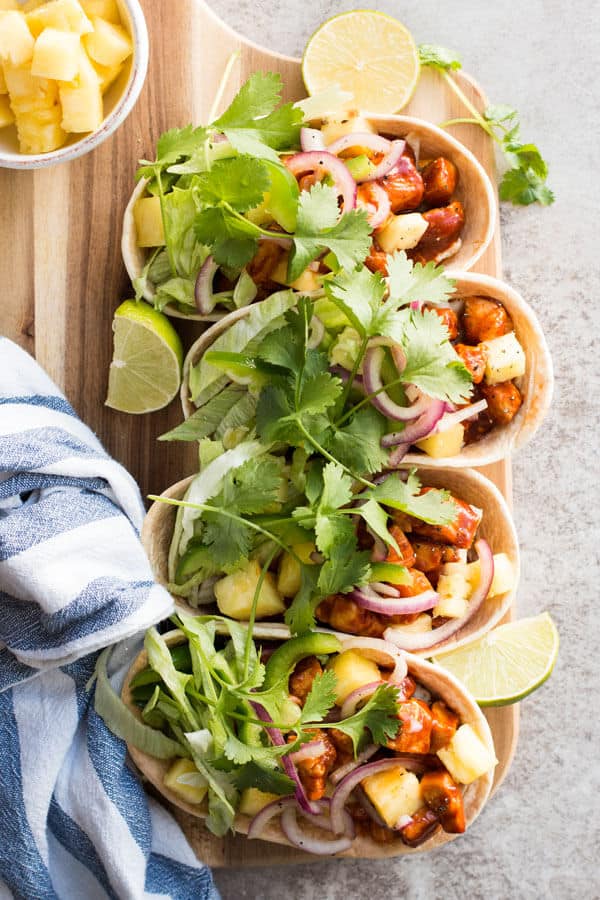 made it? tap the stars to add your rating!
Hawaiian BBQ Chicken Tacos: They're ready in 30 minutes and make up the perfect quick and easy summer meal. The pineapple slaw is a family favorite!
Ingredients
For the Chicken
½

tablespoon

oil

4

boneless

(skinless chicken breasts; diced)

⅔

cup

BBQ sauce

⅔

cup

pineapple juice

Salt & pepper

(to taste)
For the Slaw
1

large red onion

(sliced)

1

small pineapple

(diced (or use a can of pineapple chunks))

1

large green pepper

(sliced)

Juice of 2 small limes

Salt & pepper

(to taste)
To Serve
8

soft taco shells

Shredded iceberg lettuce

(cilantro and lime wedges)
Instructions
Make the Chicken:
Heat the oil in a large frying pan over medium-high heat. Add the chicken and fry it until it's browned on all sides, stirring occasionally. This should take 3-4 minutes.

Pour the BBQ sauce and pineapple juice over the chicken (careful, it might bubble up!) and stir it well. Cook for 4-5 minutes or until the sauce is thick enough to evenly coat the chicken.

Check the chicken for doneness, then season to your taste with salt and pepper. (You might also need to add a little honey or sugar depending on your BBQ sauce and pineapple juice.)
Make the Slaw:
Toss the onion, pineapple and green pepper with the lime juice, salt and pepper in a medium bowl. I don't do this in advance, because I love how crunchy the slaw is!
Serve:
Serve the chicken and slaw with soft taco shells, cilantro and extra lime wedges.

Serve with the chicken, soft taco shells, shredded iceberg lettuce, cilantro and lime wedges.
Add Your Review
Nutrition
More recipe information
Join my Newsletter to Get Recipes in Your Inbox