This is the ULTIMATE Chicken Taco Salad! Make it for lunch or as a light dinner – your family will love it.
It's quick and easy to put together, full of healthy vegetables, lean proteins and good fats AND you can make it ahead if you need to!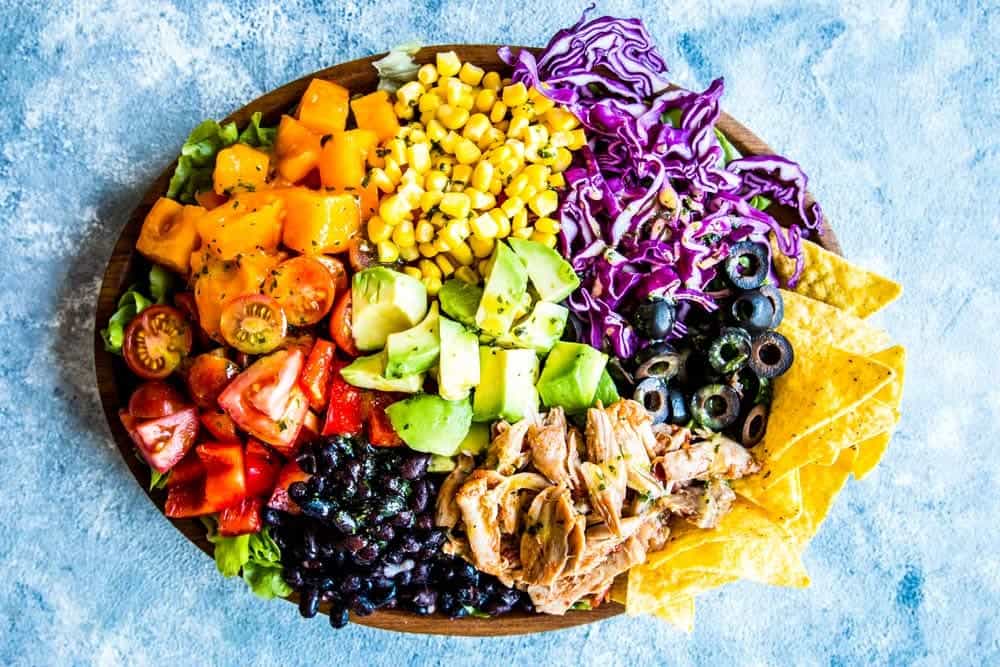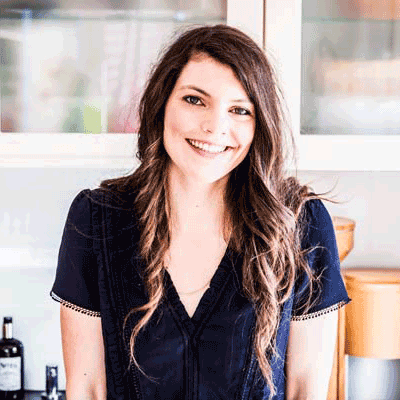 We love salad for dinner when it's hot outside – and this Chicken Taco Salad has been one of my favorites during this crazy dry summer.
We usually do a big communal platter in the middle of the table, and then everyone takes what they like and drizzles their own dressing. So easy!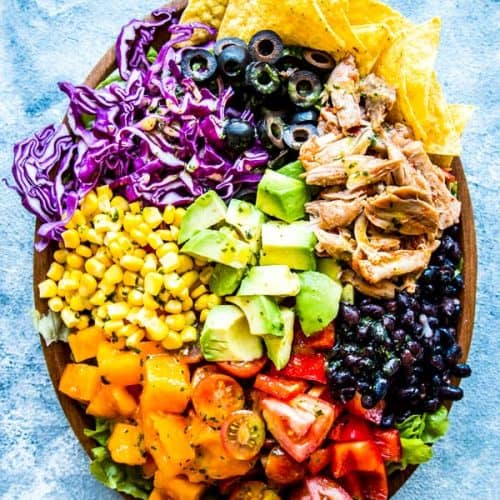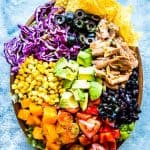 How to make a Chicken Taco Salad
Read on for the detailed step-by-step ingredients and instructions, or scroll down for tips and the printable recipe card.
What goes in a taco salad?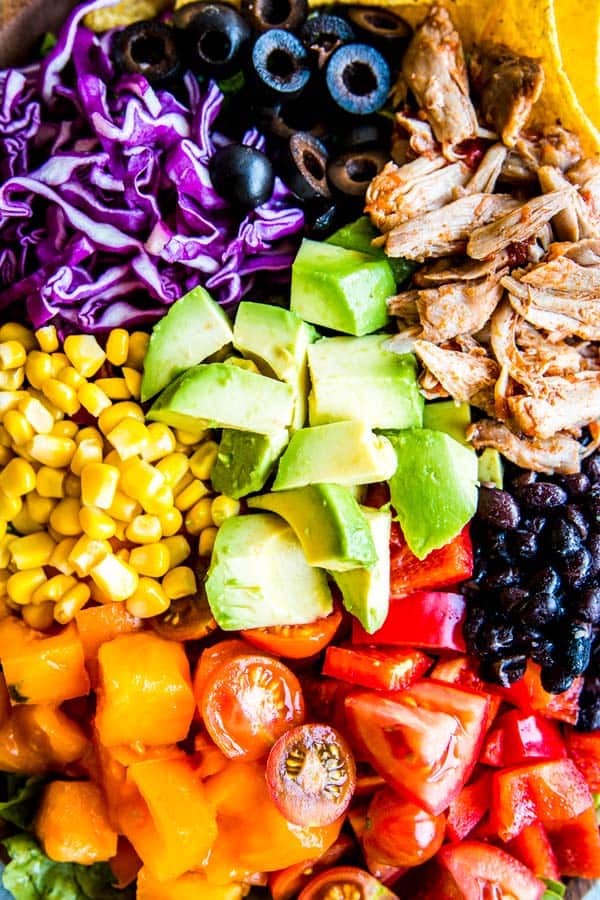 There is no hard and fast rule about what goes into a taco salad. Just stuff you would also add to a taco shell ?
What is in a taco salad at Taco Bell?
Did Taco Bell start the taco salad fad?
Well, this is what they add to theirs:
ground beef
lettuce
tomatoes
rice
refried beans
salsa
sour cream
cheese
red strips (which are just red tortilla strips, but they scare me ?)
You'll notice that mine looks kind of different, ahem.
there's shredded chicken vs ground beef
there's more veggies
I really don't like rice in salads
or refried beans
or sad-looking cheese
or scary red strips
I might be a bit of a picky eater.
So here is what goes into my chicken taco salad:
lettuce
shredded red cabbage
diced tomatoes
diced red pepper
sweet corn
black beans (I cook my own, but canned works in a pinch)
olives
avocado
tortilla chips that are not red
a yummy dressing
How do you season taco meat?
You're going to need to make some taco meat for this salad.
I usually use my Instant Pot Salsa Chicken. But if you want to use your own recipe, please go ahead! You can also use rotisserie chicken, grill some chicken breast or even use ground beef. Whatever you have on hand and/or like best!
Whenever I make tex-mex inspired food, I season meat with my homemade taco seasoning. So easy to make, convenient to keep on hand AND you know exactly what's in it.
How to switch up your taco salad:
You can easily change up this salad to make it your own!
Here are a few ideas:
use browned ground beef in place of the shredded chicken
skip the meat altogether and make it vegetarian by adding a second kind of beans
add roasted red peppers for extra flavor
add Cojita or crumbled feta cheese
make a creamy avocado dressing instead of slicing the avocado on top
Let me know in a comment how you switched up this recipe – I'd love to hear!
Step By Step Instructions
Step 1
The first thing you need to do for this chicken taco salad is prep your protein.
Go ahead and make my instant pot salsa chicken, or my southwestern crockpot chicken would be awesome, too.
You can also rub taco seasoning on chicken and grill it, or use ground beef to make some taco meat.
Whatever you prefer, get your protein going before you do anything else.
Step 2
Once you have your protein figured out, you can whip up the salad dressing.
It's a super simple vinaigrette-type dressing with lime juice and oregano. But you can use any tex-mex inspired dressing you like.
Sometimes I even make White Balsamic Vinaigrette for this salad when I'm too lazy to squeeze limes. Shhh… Don't tell.
Step 3
Next, prep all your veggies.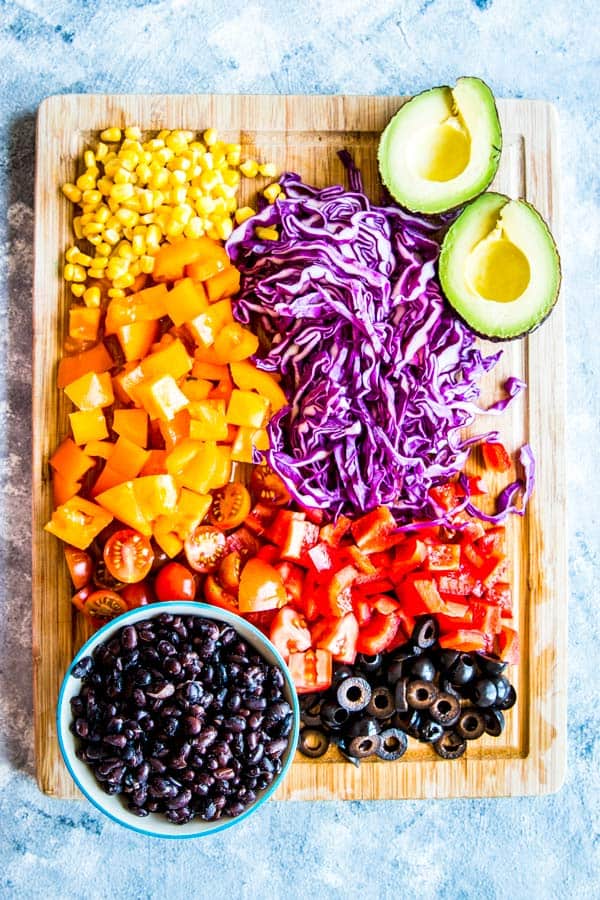 If you want to make this ahead, hold the avocado and slice that one just before serving.
Step 4
Finally, assemble the whole salad.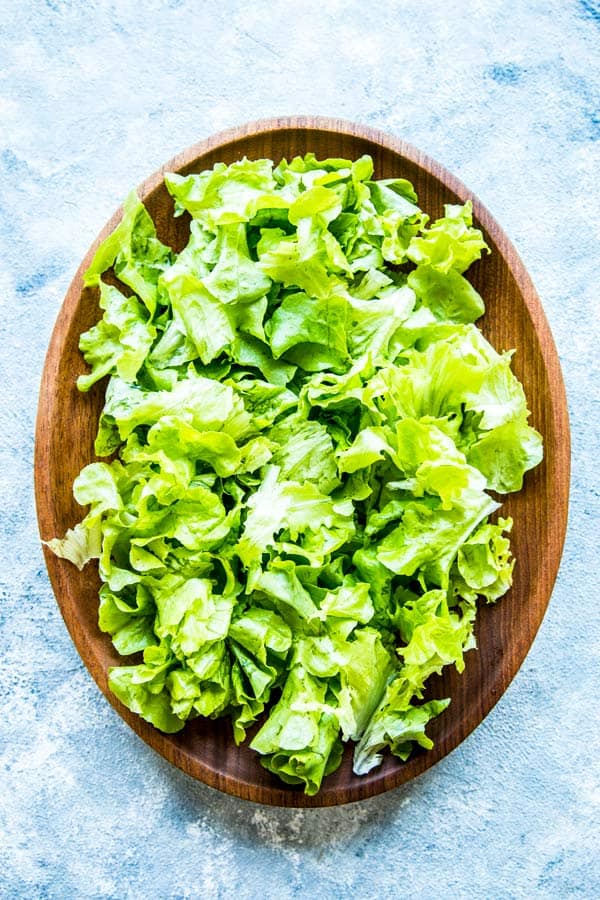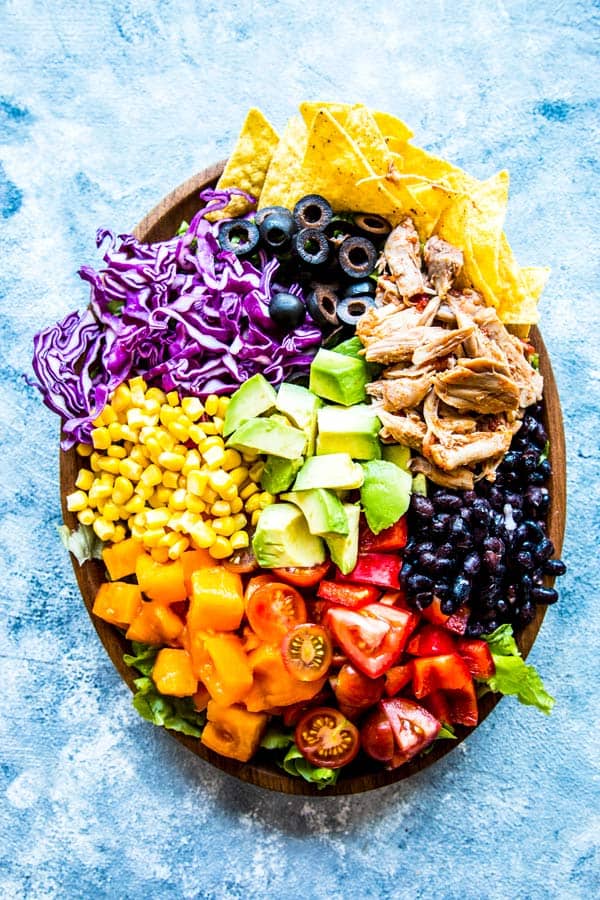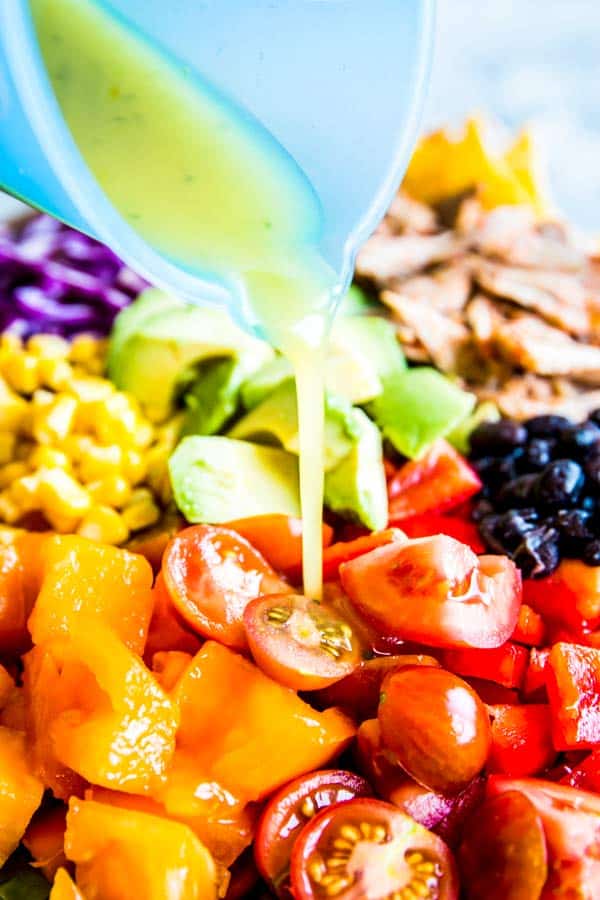 If you don't want to have a communal sharing platter, you can also make a salad bar where everyone assembles their own salads – even easier!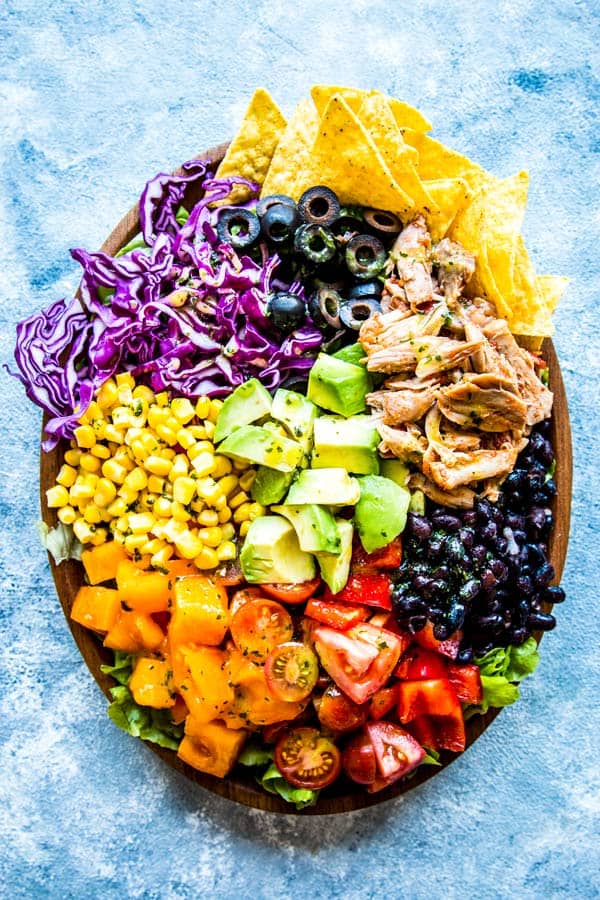 How do you meal prep a chicken taco salad?
This salad can be made ahead for quick lunches, or for super quick dinners on nights you have no time at all.
Here's how to do it:
cook and cool your protein, then chill it in the fridge in a closed container until you're ready to use it
prep all the veggies EXCEPT for the avocado and keep them chilled in the fridge in a covered container
keep the chips in the bag in your pantry until you assemble the salad – if they come in touch with the veggies they'll get soft super fast
shake up the dressing in a mason jar and keep it closed in the fridge as well
when you're ready to eat, slice the avocado and assemble the salad
I have never tried keeping the ingredients prepped for more than 2 days, so that's all I can recommend.
You can also assemble the salad into meal prep containers and keep them closed in the fridge with a little dressing container tucked inside for extra-easy school or work lunches.
If you want to bring some tortilla chips along, it's best to add them to a separate little bag or container, or they might soften from being in a closed container with the vegetables.
What is a good side dish for taco salad?
I don't always feel happy when I have tortilla chips and black beans as my sole sources of starchy carbs (I know, weird, right? I just don't fill up on chips, they're more of a topping to me.)
A few of our favorite things to have with taco salad:
Let me know if you have any other great ways to bulk up a taco salad!
Grab the printable recipe for the ultimate chicken taco salad here:
Printable recipe
Printable Recipe Card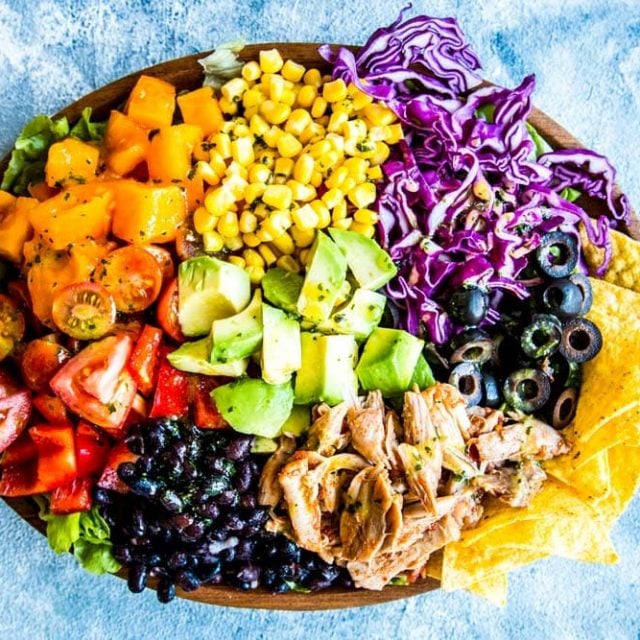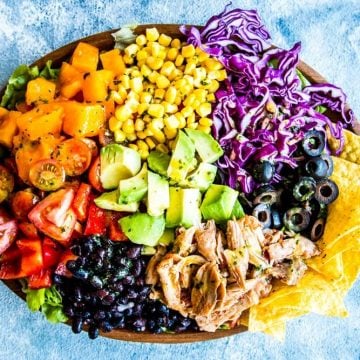 The Ultimate Chicken Taco Salad
This is the ULTIMATE Chicken Taco Salad! Make it for lunch or as a light dinner – your family will love it.
made it? tap the stars to add your rating!
Ingredients
For the meat:
1

batch salsa chicken

or equivalent rotisserie chicken, grilled chicken or taco meat
For the dressing:
1

tablespoon

apple cider vinegar

3

tablespoons

lime juice

¼

cup

extra virgin olive oil

½

tablespoon

honey

1

teaspoon

mustard

½

teaspoon

dried oregano

¼

teaspoon

dried garlic powder

Salt and pepper

to taste
For the salad:
6

cups

shredded lettuce

½

cup

cooked black beans

2

cups

shredded red cabbage

½

cup

sweet corn kernels

½

pound

tomatoes

diced

1

red pepper

diced

1

small avocado

diced

⅓

cup

black olives

sliced

Tortilla chips
Instructions
Make the chicken according the the recipe instructions.

Shake together all ingredients for the dressing in a mason jar.

Place the lettuce on a large platter. Arrange all other salad ingredients and the shredded chicken on top. Drizzle with the dressing and serve immediately.
Want to save this recipe?
Create an account for free to start your personal recipe box. Save any recipe by tapping the heart in the bottom right corner.
Join Now
Nutrition
Calories:
485
kcal
Carbohydrates:
35
g
Protein:
32
g
Fat:
27
g
Saturated Fat:
4
g
Cholesterol:
73
mg
Sodium:
1102
mg
Potassium:
1555
mg
Fiber:
12
g
Sugar:
14
g
Vitamin A:
3155
IU
Vitamin C:
87
mg
Calcium:
104
mg
Iron:
3
mg
Nutrition is an estimate.
More recipe information
Try these salad recipes next:
More salad dressings: