Homemade Ranch Salad Dressing is a quick and easy dressing recipe you can put together in just a few minutes – without all the weird ingredients of bottled salad dressings! It keeps in the fridge for a few days so you'll always have some on hand. Give this one a try – it's the real deal with buttermilk!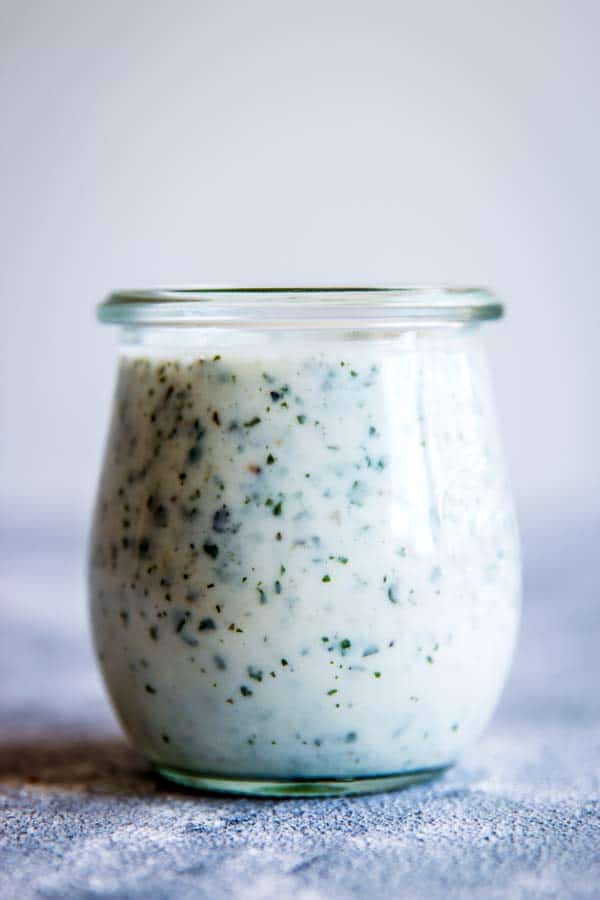 Hello ranch, old friend.
Lying, as I told you in my Greek yogurt ranch dip post, I didn't know about the flavor of the coveted ranch for a very long time.
But then we finally met a little while ago, and wow, I'm hooked now. I want to put this stuff on everything 😉
I'm still working on a homemade ranch dressing mix (which is kind of my personal holy grail right now), but for now I have this fresh buttermilk ranch dressing ready for you.
How to make ranch dressing:
What are the ingredients of ranch dressing?
Well, couldn't be any simpler. BUT, I've seen a lot of recipes not even use buttermilk, and to my understanding this is a non-negotiable.
So, we're definitely using buttermilk here ☺ and a few other things:
buttermilk
Greek yogurt OR mayo OR sour cream
white wine vinegar
sugar (don't worry, just a little bit and it's entirely optional)
dried parsley, dried dill and dried thyme
garlic and onion powder
salt and pepper
Tips for the best homemade ranch dressing: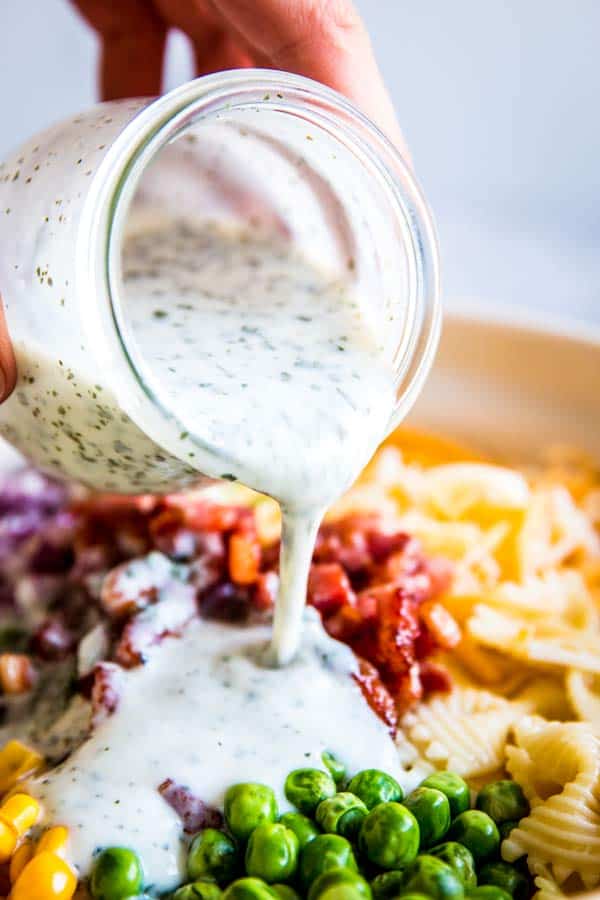 Definitely don't skip the buttermilk!
This is kind of the essential here, so make sure you're not using any substitutes.
OK, if you're in a pinch you can use a mix of yogurt and milk. But then go and get buttermilk for next time!
Make it as rich or as healthy as you want it to be
In all fairness, too much mayo makes me feel sick. So I like using Greek yogurt as an alternative whenever I get the chance to buy it. But you can go either way!
Light sour cream works out well, too, in case you live out of nowhere like I do, with a corner store that has never heard of Greek anything, let alone yogurt 😉
The dried herb mix is the classic way to go, I figured
But honestly, if one of these herbs isn't in your pantry (or you grossly dislike it)… Just leave it out.
How to make this easy ranch dressing recipe budget-friendly
I know cooking from scratch with quality products can be financially challenging sometimes (and no, I don't believe eating healthy can be super cheap – it's most definitely more expensive than eating junk food in my experience!), so I like giving tips for saving money wherever I can.
A few tips for this homemade ranch:
The Greek yogurt thing
Buy regular, cheaper plain yogurt and strain it in a cheese cloth to thicken it. Or don't strain it at all and deal with the fact that your dressing isn't as creamy as it would be with a thicker yogurt.
Grow and dry (or freeze) your own herbs
Not even kidding. If you knew how crazy fast parsley grows, you'd already be planting by now.
If you have just a little space to plant some herbs, do it. You can harvest regularly in large quantities while they're growing like crazy, and then dry or freeze them for later use.
You can obviously also use freshly chopped herbs you grew yourself here! Just increase the quantities.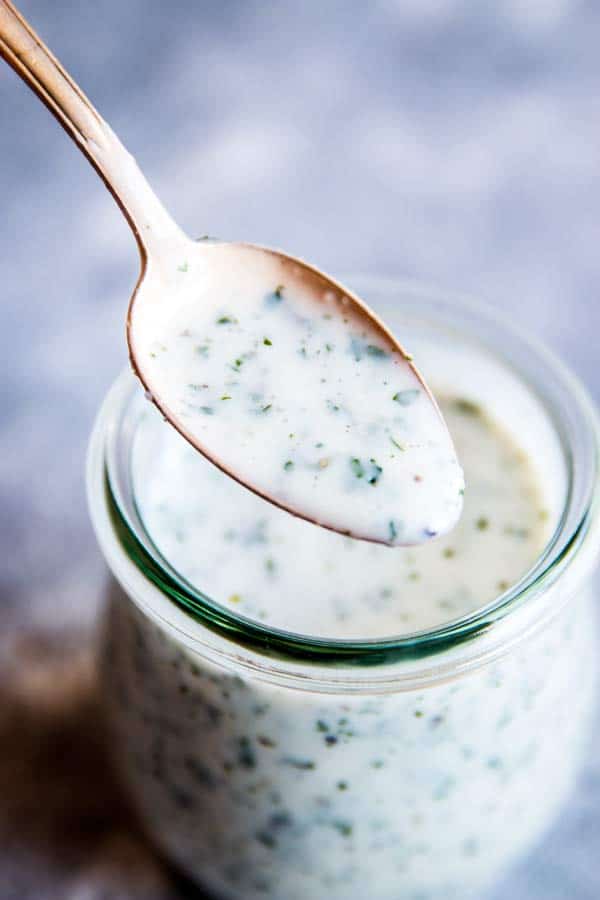 I hope you'll give this all-natural homemade ranch dressing recipe a try – it's certainly one of my favorites, especially now during summer.
That, and my Greek dressing.
Because even if my corner store doesn't know, I'm personally very fond of all things Mediterranean and Greek 😉
Get the printable recipe to make homemade ranch dressing here:
Printable Recipe Card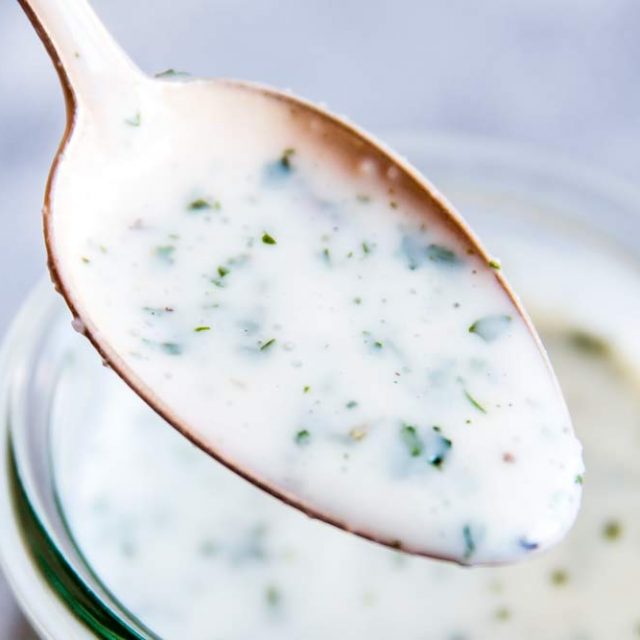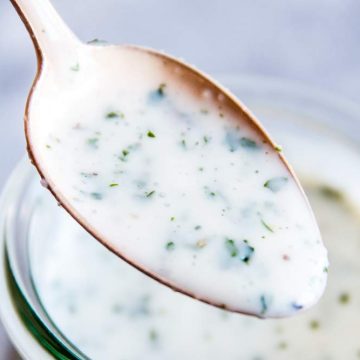 Homemade Ranch Salad Dressing
Homemade Ranch Salad Dressing is a quick and easy dressing recipe you can put together in just a few minutes - without all the weird ingredients of bottled salad dressings!
made it? tap the stars to add your rating!
Ingredients
1

cup

buttermilk

½

cup

Greek yogurt

OR mayo OR sour cream

2

tablespoons

white wine vinegar or less if you want it milder

2

teaspoons

sugar

optional

1 ½

teaspoons

sea salt

or less if your salt is strong / you're using table salt vs sea salt

1

tablespoon

dried parsley

1

teaspoon

dried dill

1

teaspoon

garlic powder

½

teaspoon

onion powder

½

teaspoon

black pepper

¼

teaspoon

dried thyme
Instructions
Whisk all ingredients together until smooth. Store in a clean, well-closed jar in the fridge for up to 3 days.
Want to save this recipe?
Create an account for free to start your personal recipe box. Save any recipe by tapping the heart in the bottom right corner.
Join Now
Notes
Nutrition is an estimate using low fat Greek yogurt.
Nutrition
Calories:
44
kcal
Carbohydrates:
4
g
Protein:
3
g
Fat:
1
g
Cholesterol:
5
mg
Sodium:
632
mg
Potassium:
92
mg
Sugar:
3
g
Vitamin A:
75
IU
Vitamin C:
0.4
mg
Calcium:
71
mg
Iron:
0.2
mg
Nutrition is an estimate.
More recipe information