Homemade Taco Seasoning tastes amazing – without all the weird ingredients you might find in the one you can find at the store! You can make this mild with just ground paprika or hot with chili powder, depending on your family's preferences. Use it to give all your favorite Mexican recipes the best flavor, ever!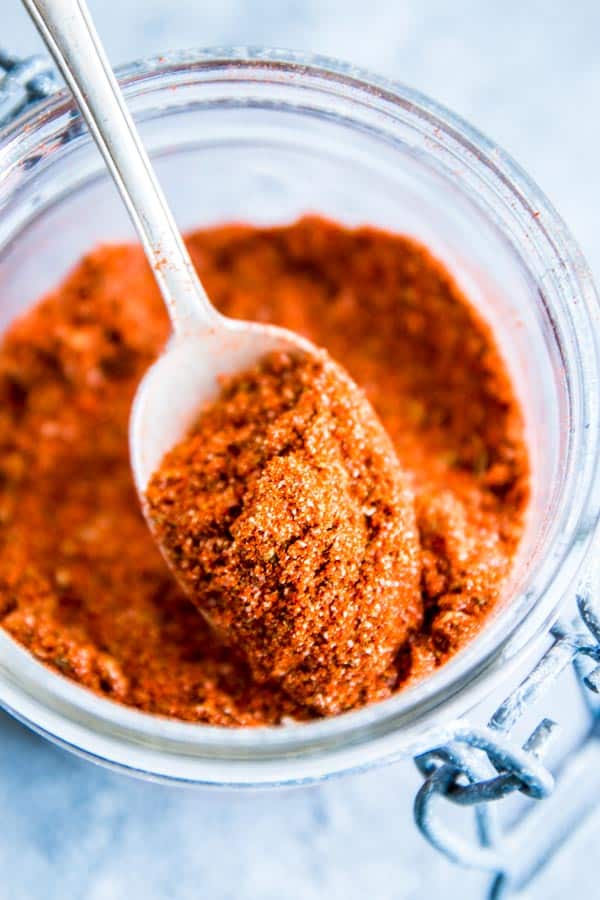 You know those seasoning packets you can buy in the Mexican section of your grocery store, in little envelopes with mysteriously small print on the back? They call themselves Taco Seasoning. But, let's be honest for a minute here – they're often a whole lot of salt and flavor enhancers.
That's not seasoning in my books. That's scamming your tastebuds.
And the other thing is… That stuff is usually pretty hot for the palate of a tiny human being (otherwise known as a child). Been there, discovered that the hard way…
I'm pretty sure I could use store-bought, artificial-ingredient packed taco seasoning to solve the critter problem I'm experiencing in my vegetable garden once and for all. Just carefully sprinkle around the beds and no living creature will ever come near it again.
And that sounds problematic to me.
I've been making my own homemade taco seasoning for a really long time (OK I sometimes cheated and used an organic paprika seasoning blend, added dried oregano and called it my dirty little taco seasoning – shhhhhh 😉).
It's so easy to whip up a jar of this stuff, takes 5 minutes, tops. I always keep it on hand in the kitchen, because we love a good tex-mex dinner.
Or couldn't you tell by my One Pot Black Bean Enchilada Pasta, Mexican Macaroni Salad, Mexican Sweet Potato Fries with Avocado Lime Dip… OK I'l stop now, ha!
How To Make Taco Seasoning:
What is in Taco Seasoning:
The ingredients for taco seasoning are incredibly simple. Just a few ground spices, dried herbs and salt are all you need:
ground paprika (and/or chili powder)
ground cumin
dried oregano
dried garlic powder
dried onion powder
salt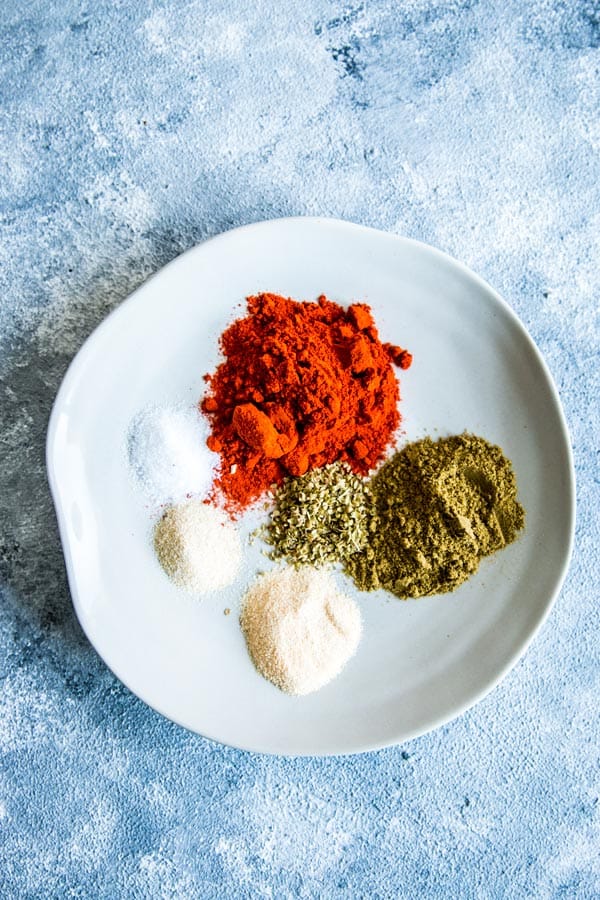 As you can see, this taco seasoning mix is not only simple, but also gluten free, OK if you're a crazy person doing a Whole30 or eating paleo (sorry, love you 😉) and completely free from artificial flavors, colors, flavor enhancers, stabilizers…
Believe me, I have seen it all on the back of taco seasoning!
Tips for the best DIY Taco Seasoning
Switch up the heat: If you want a mild seasoning (think: kids and great-gran approved), use all ground paprika. If you want a hot seasoning (one your husband won't complain about… or is that just mine who goes and gets the chili flakes from the kitchen every time?), swap out some or all of the ground paprika for chili powder.
Make it your own: I encourage you to try it as written once, then adjust it to whatever suits your taste better. Want more heat? Add more chili. Not a fan of cumin? Try reducing it. Play with it until it's perfect for you!
Store it right: Keep your taco seasoning in a dry (very important!), well-closed jar. It's best to use it within 6 months or so, because ground spices start losing their flavor after a while.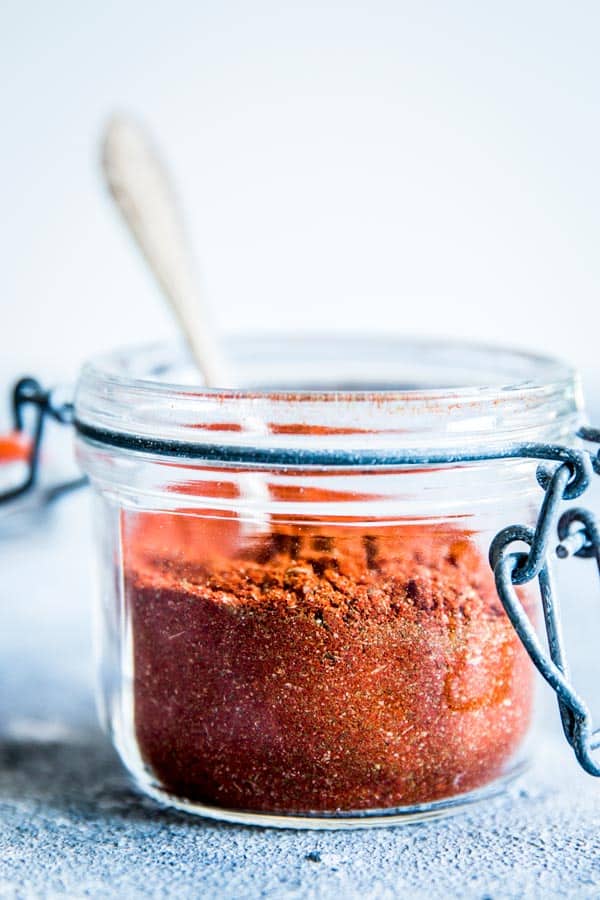 What can I do with my homemade taco seasoning?
This seasoning mix is so versatile! You can use it on ground beef to make taco meat. Or on chicken. Or on fish. On steak. On shrimp, even!
Just use it as you would use that weird thing in the little packet that calls itself "taco seasoning", but you and me know – that's not taco seasoning.
THIS right here is taco seasoning, and you can make your own now forever and ever. Woohoo!
Get the printable taco seasoning recipe for your binder here: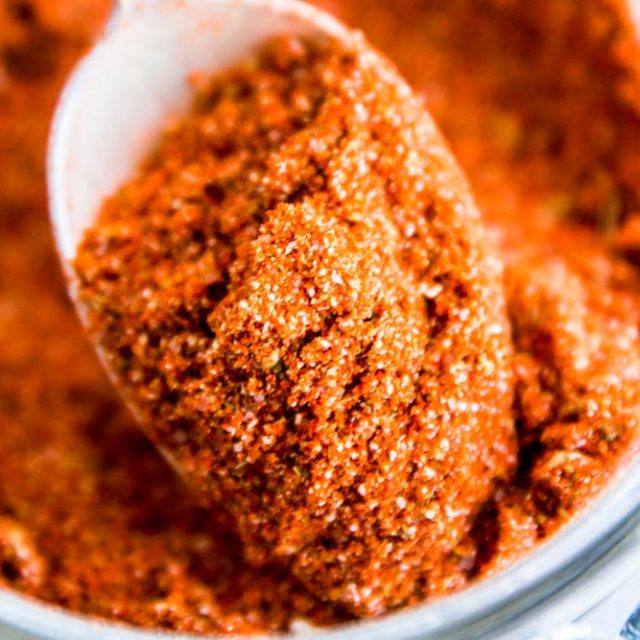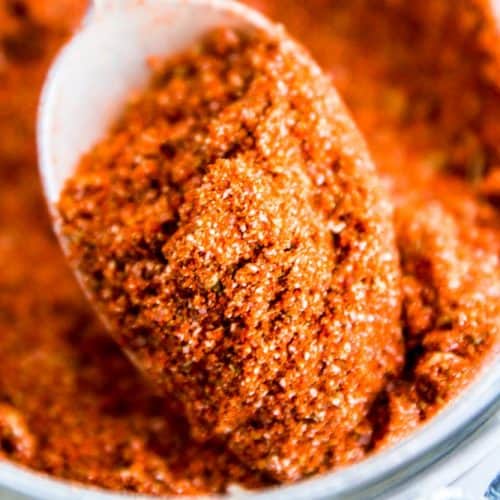 Homemade Taco Seasoning
made it? tap the stars to add your rating!
Homemade Taco Seasoning is incredibly easy to make and tastes amazing without all the flavor enhancers and artificial ingredients you find in store-bought one!
Ingredients
5

tablespoons

ground paprika

(or substitute some of it or all of it for chili powder)

2

tablespoons

ground cumin

1

tablespoon

dried oregano

1

tablespoon

garlic powder

½

tablespoon

onion powder

½

tablespoon

salt
Instructions
Mix all ingredients together and keep in a small, clean, dry tightly sealed jar in your pantry for up to six months.
Add Your Review
Nutrition
Calories:
21
kcal
|
Carbohydrates:
4
g
|
Protein:
1
g
|
Sodium:
393
mg
|
Potassium:
130
mg
|
Fiber:
1
g
|
Vitamin A:
1940
IU
|
Vitamin C:
0.1
mg
|
Calcium:
32
mg
|
Iron:
2
mg
More recipe information: