Homemade Pumpkin Spice Mix is an easy-to-make DIY hostess gift for Thanksgiving or any fall party you are attending. Use it in all your fall baking, too!
Homemade spice mixes make for nice gifts, but they're also amazing to make for yourself – no additives or any weird ingredients! For more homemade spice mixes, see my Taco Seasoning, my Apple Cider Spice Mix or my Gingerbread Spice Mix!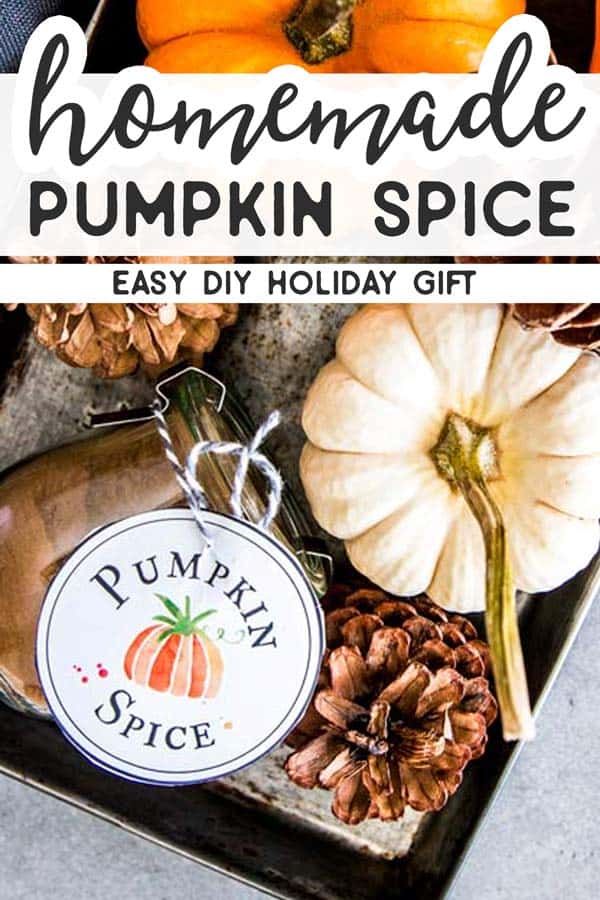 I love making my own spice mixes, and since fall is my favorite season…
It's only natural for me to practically fill a bathtub with homemade pumpkin spice mix once September rolls around.
This Homemade Pumpkin Spice Mix
comes together in just a few minutes
is easy to make in bulk – great for quick but heartfelt holiday gifts for neighbors, teachers – and yourself 😉
makes all your fall baking taste amazing!
This is a super easy recipe, and I'm actually embarrassed to even call it a recipe.
To make it a little more special and like it deserves an entire post, ahem…
I created this super cute gift tag you can download and print if you're planning on giving away some homemade pumpkin pie spice this fall.
Click here to download the free label. (You don't need to enter your eMail address or anything to get it, it really is just free for you from me!)
Simply print it (it's sized for US letter and prints 6x per sheet) and attach it to a cute jar filled with pumpkin spice mix. Adorable, and the kids can help, too!
Make some for yourself to use in alll the pumpkin things, too! Pumpkin Crumb Muffins, Pumpkin Waffles, Pumpkin Pancakes… The options are endless ?
How to Make Pumpkin Spice Mix: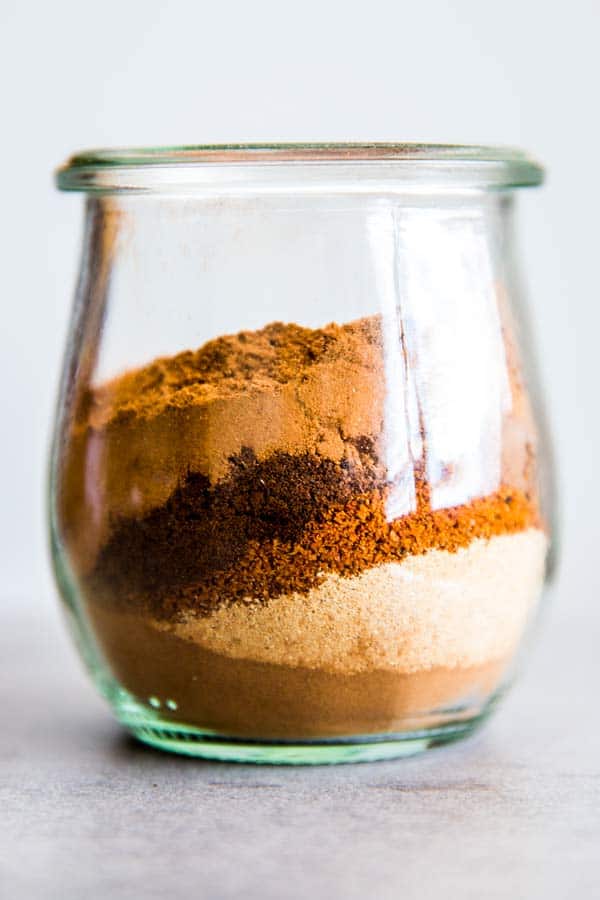 What are the ingredients in pumpkin spice mix?
The ingredients for pumpkin spice mix are super simple. All you need are a few ground spices:
cinnamon
ginger
nutmeg
allspice
cloves
Keep in mind that tastes vary, and since I have two little kids my pumpkin spice mix is heavy on the cinnamon.
It's still PLENTY ginger-y and nutmeg-y, don't you worry.
Just not to the point where my kids would think it's hot sauce (and keep in mind, one of my little ones thinks cinnamon is spicy ).
Also remember that spices DO go bad (they lose their flavor over time), so be sure to check by smelling or tasting a little if you still have all your warm spices leftover from last year.
Tips for the Perfect Pumpkin Spice Mix
adjust the amount of ginger and nutmeg to your taste! You can make it as intense or as mild as you like.
don't use stale spices, or you may not get the intensity you want
store in airtight containers to best preserve the spices' tastes
How do you best gift wrap pumpkin spice mix?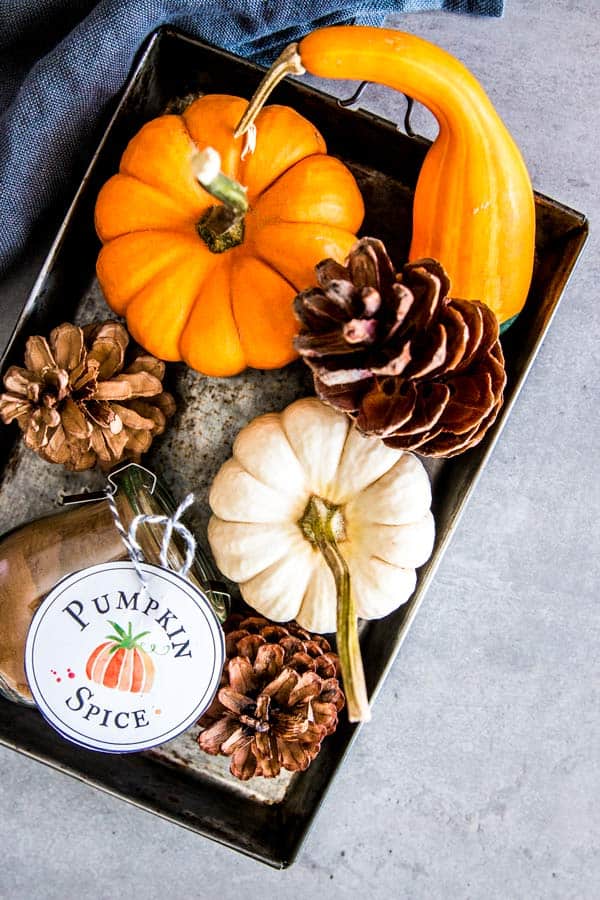 I like placing the spice mix into small glass jars to show their contents, then I attach or glue my label on it.
My favorite jars for gifts are Weck jars (I don't use the orange sealing ring for spices though), here are some that would be suitable for a spice mix:
My favorite jars for gifts are Weck jars (I don't use the orange sealing ring for spices though), here are some that would be suitable for a spice mix:
If you don't want the clamped lids for spices, there's also a variety of different lids you can buy separately – cork lids, wooden lids or rubber sealing lids.
You just have to check for the jar number when buying the lids!
Click here to see lids for the Mini Tulip Jars (762).*
Click here to see lids for the 0.25 Liter Mold Jars (741).*
Click here to see lids for the 5.4oz Mini Mold Jar (760).*
Click here to see lids for the Mini Mold Jar (976).
I don't wrap the jars in anything, but you could definitely make a small basket with pine cones and small pumpkins.
Nestle the jar in between and you'll have a lovely gift, if you need something more impressive than a simple jar.
Now go and fill your bathtub, uhm cute jar, and get baking!
More DIY Holiday Gift Ideas
P.S: If you tried this recipe, why not leave me a comment below to let me know how you liked it?
I LOVE interacting with you and hearing about your experience with my recipe. Also, by adding a comment and star rating you're helping Savory Nothings grow and get even better for you!
Printable recipe
Printable Recipe Card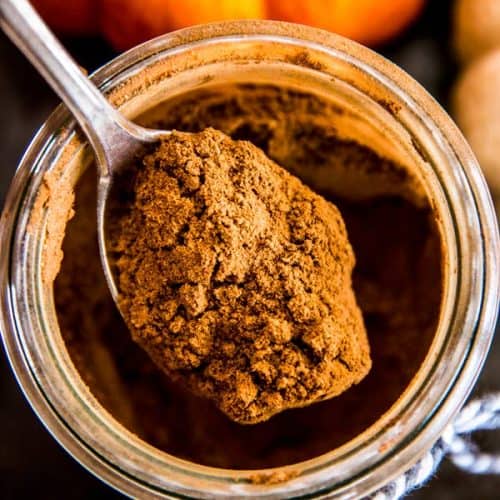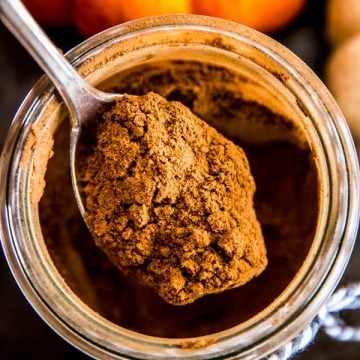 Homemade Pumpkin Spice Mix
This homemade Pumpkin Spice Mix is the perfect holiday gift for neighbors or dinner party hostesses.
made it? tap the stars to add your rating!
Ingredients
⅓

cup

ground cinnamon

3

teaspoons

ground ginger

3

teaspoons

ground nutmeg

2

teaspoons

ground allspice

2

teaspoons

ground cloves
Instructions
Mix all ingredients and fill into a small jar with a tight fitting lid. Keeps for about a year if stored in a dark, cool and dry place.
Want to save this recipe?
Create an account for free to start your personal recipe box. Save any recipe by tapping the heart in the bottom right corner.
Join Now
Nutrition
Serving:
1
g
Calories:
177
kcal
Carbohydrates:
46
g
Protein:
3
g
Fat:
4
g
Saturated Fat:
2
g
Polyunsaturated Fat:
1
g
Sodium:
21
mg
Fiber:
26
g
Sugar:
1
g
Nutrition is an estimate.
More recipe information