Ever wondered how to make whipped cream at home? It's SO easy and all you need are 3 ingredients you can find at any grocery store! Add it to pie, fruit crisp or just a boil of fresh berries – this is the BEST addition to any dessert!
I don't know about you, but I prefer homemade as long as it's a) not a huge hassle and b) tastes a lot better.
Homemade puff pastry: Way too much effort and way too finicky.
Homemade whipped cream: Yes yes yes yes!! Absolutely.
It tastes so much better than store bought
It's incredibly simple to make
You end up with a pillowy cloud you could just keep eating and eating…
So I guess homemade whipped cream is also pretty dangerous 😉
But all dangerously inviting factors aside, you will not regret making your own.
A dollop on a slice of pie, some with ice cream, or on top of a sweet berry cobbler… We also love it as a simple dessert with a large bowl of fresh berries in the summer – it's just so good!
How to make whipped cream:
The easy 3 step instructions:
Make sure your equipment and cream are well chilled
Whip cream to soft peaks
Add sugar and vanilla and finish whipping to stiff peaks
More details for foolproof whipping:
Step one: Chilling the cream and equipment
It's very important to have well-chilled heavy whipping cream (no low fat or pouring cream!) for whipping. Warm cream or low fat cream just stays liquid.
If you have time, chill the bowl and beaters you're going to use for 5-10 minutes in the freezer. It really helps to yield a firmer cream, but you'll also be fine without this step if you're in a hurry. I like using a metal bowl because it chills faster.
Step 2: Whipping the cream to soft peaks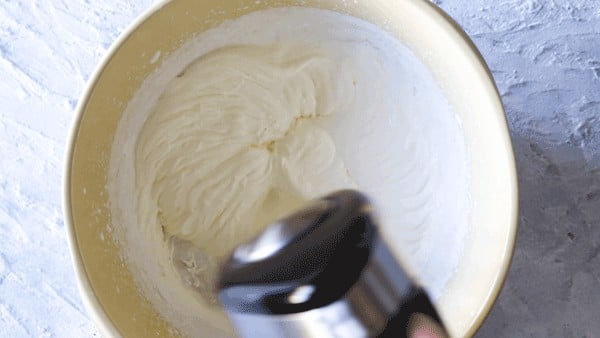 Before adding sugar and vanilla, you need to beat the cream until soft peaks form.
This means the cream looks fluffy, but it's not yet firm and still quite runny.
Sugar interferes with the whipping process, so make sure to add it only after you've whipped to soft peaks.
I usually whip cream with handheld beaters like these on Amazon. Use medium speed to avoid turning the cream into butter!
Step 3: Adding sugar and flavoring
You can use as much or as little sugar as you like. I stick to a maximum of ½ cup of sugar and 1 teaspoon of flavor extract per ¾ cup of whipping cream – that yields a very sweet topping though. For lightly sweetened whipped cream, try 1-2 tablespoons of sugar and ½ teaspoon of vanilla extract.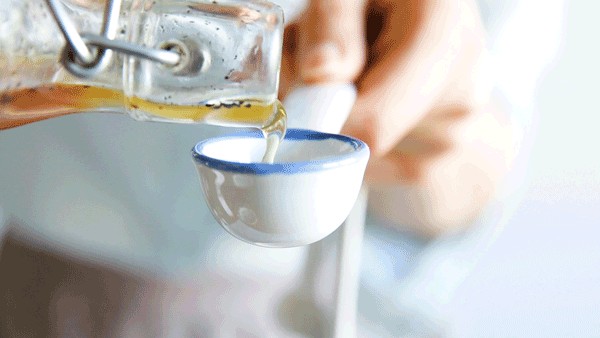 You can use both granulated or powdered sugar. I always use powdered if I have it in the house, because I find it makes for a smoother whipped cream.
If your powdered sugar is very lumpy, sift it before adding.
Pro Tip for Extra Firm Cream
If you need your cream to hold up especially well, OR you live in a very humid climate and find this makes it impossible to whip cream, you can buy some whipped cream stabilizer on Amazon to add at this point, too. (FYI, I make a commission for purchases made through this link.)
It's a German product and the instructions are in German. So here's how to use whipped cream stabilizer in English:
One packet is enough for ¾ – 1 cups of whipping cream. Start whipping the cream and once you start getting to soft peaks, slowly add the whipped cream stabilizer and keep whipping. Then add the sugar and vanilla and finish wiping to stiff peaks.
This will help the cream hold up very well and keep its shape for hours if refrigerated.
Step 4: Beating in the sugar
This is probably the most difficult step of the recipe: Don't overwhip the cream!
I have semi-fond memories of my grandma angrily barking at my grandad for making butter, because that's what you'll get when you overmix whipped cream 😉
Once you add the sugar and keep mixing, you'll notice the cream will get a little more runny again. Keep whipping until the soft peaks return. You know the cream is finished if it's pillowy and soft and increased in volume.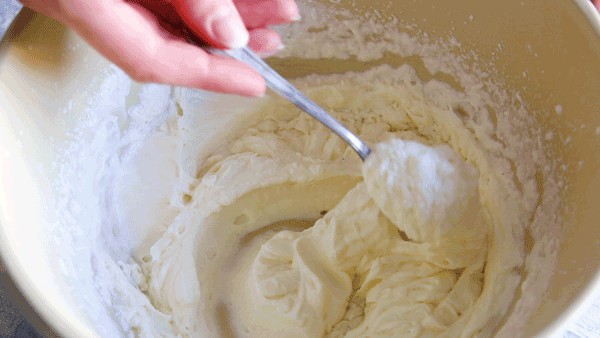 Don't overbeat because you'll turn the cream into butter. If that happens either way, don't sweat it too much. You just made vanilla compound butter to top off hot waffles and pancakes.
Can you make whipped cream ahead of time?
Yes, you can store freshly whipped cream in the fridge for about 2 hours.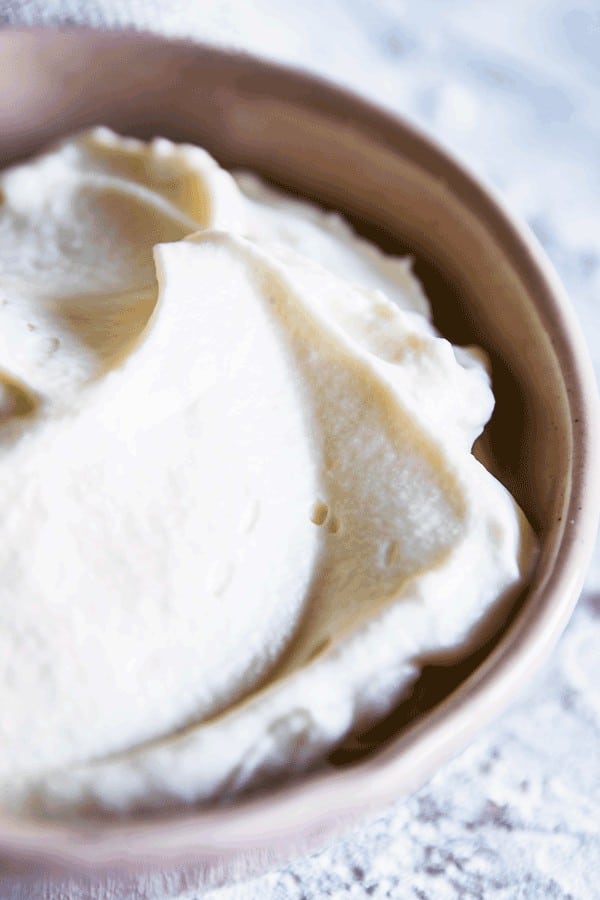 Are you going to start making your own whipped cream? Because I think you should.
Also, who needs homemade puff pastry if you can have homemade whipped cream in 5 minutes?! 😉
Get the printable recipe for how to make whipped cream here: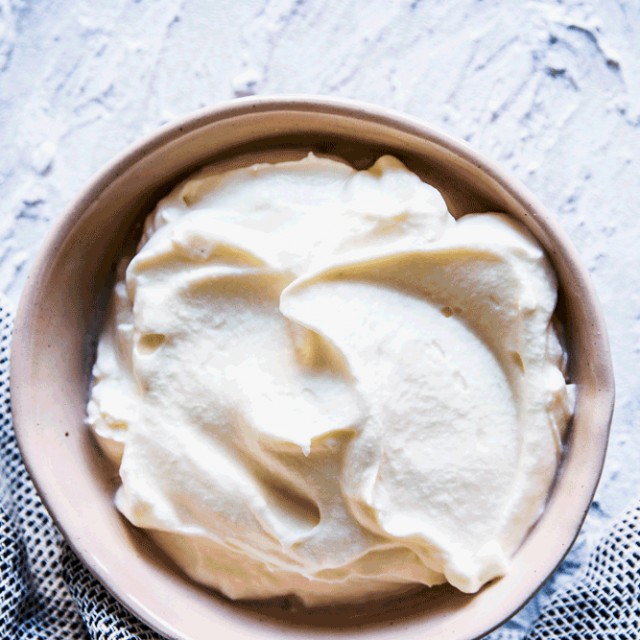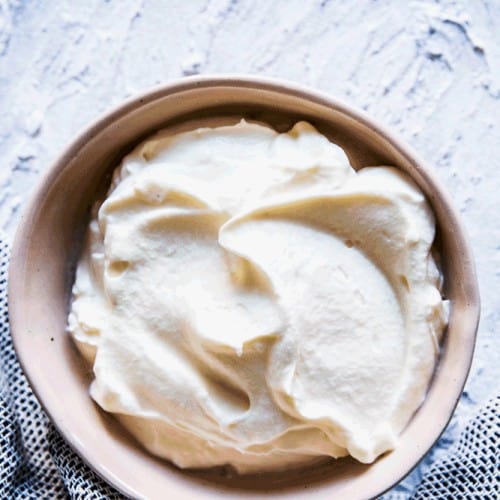 Homemade Whipped Cream
made it? tap the stars to add your rating!
Ever wondered how to make whipped cream at home? It's SO easy and all you need are 3 ingredients you can find at any grocery store!
Makes
1
batch of 1.5 cups
Ingredients
¾

cup

heavy whipping cream

(well chilled)

sugar

(both granulated and powdered are fine)

vanilla extract
Instructions
Beat the cream to soft peaks with handheld beaters on medium speed.

Add the sugar and vanilla extract.

Continue beating the cream, it will seem runny again after adding the sugar. Beat on medium speed until it returns to soft peaks. Do not overheat or it will become buttery.
Add Your Review
Nora's Tips
You can add as much or as little sugar as you like.
For lightly sweetened whipped cream, try 2 tablespoons sugar and ½ teaspoon vanilla.
For a sweeter version, use up to ½ cup of sugar and 1 teaspoon vanilla.
See the notes in the post for extra tips and tricks to help you make the perfect homemade whipped cream!
More recipe information: