Are you wondering how to separate eggs for a recipe? It's super easy and you can learn how to do it in a minute! Just follow these easy steps and you'll be a pro in no time. Includes video and step by step photo instructions.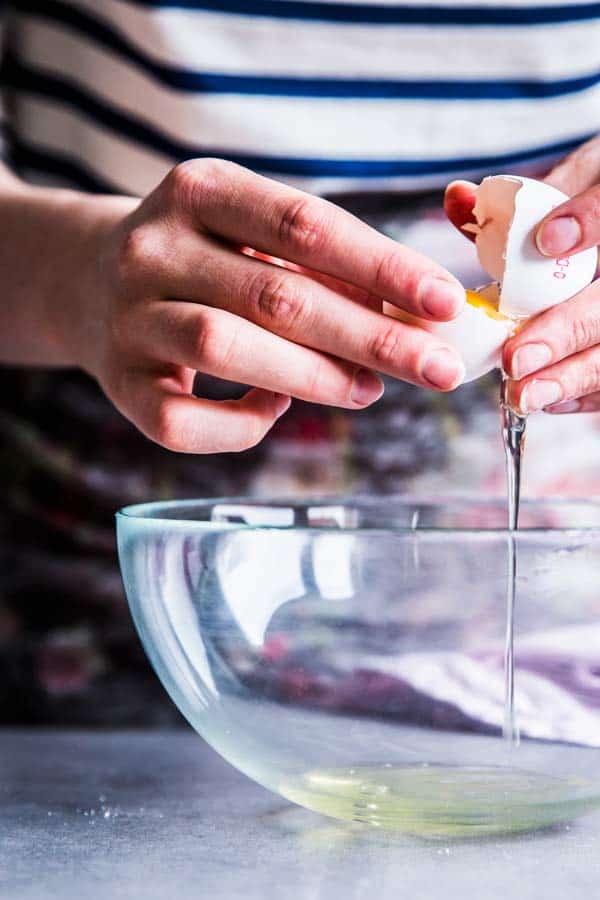 I learned how to separate eggs from my grandma when I was about three. She also taught me how it's no big deal if half of the egg shell ends up in the cake batter, because grandpa has glasses and won't see it anyways.
Ahem.
Separating eggs is really no big deal if you know the right technique. You don't need any equipment but eggs and two bowls for it, either!
A few important tips when separating eggs:
A bit of egg white in the egg yolks is no big deal. But egg yolk in the whites can make it impossible to beat them to stiff peaks!
If a bit of cracked egg shell slips into the bowl, just use a large piece of empty shell to scoop it out!
Freezing leftover yolks is tricky, but leftover egg whites can easily be frozen.
Now grab some eggs and two bowls, and let's start separating them!
How to separate egg whites from egg yolks
I'm going to give you a quick overview of the process first, then I'll show you step by step!
Gently crack the raw egg on the edge of the bowl
Carefully open the egg shell so that the yolk stays inside
Drain the egg white over the bowl by carefully moving the yolk from one half of the shell to the other
Place the egg yolk in a separate bowl
That's it!
Now let's take a closer look with some photos of me separating an egg. Scroll down for the video.
Cracking the egg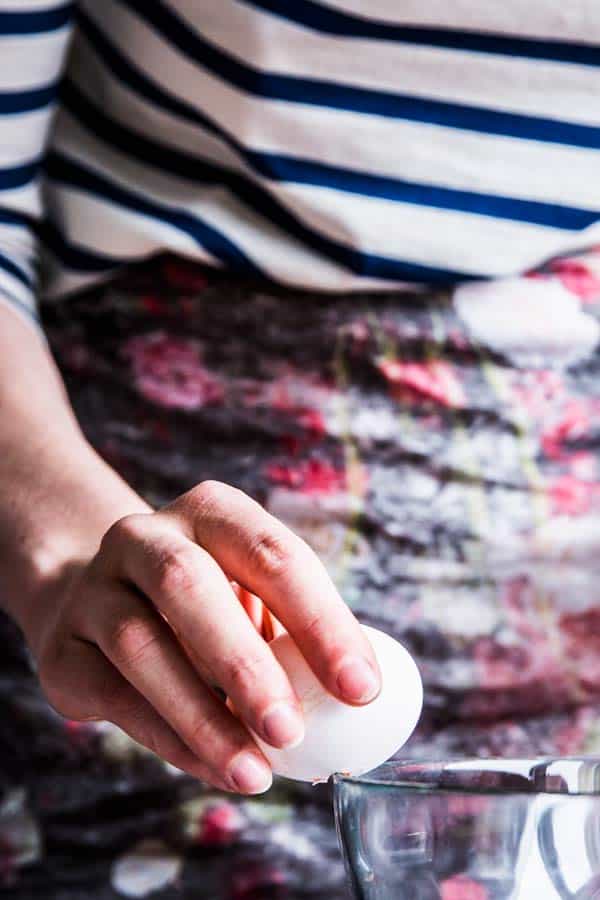 It's important to do this gently, otherwise you might end up with raw egg everywhere. Ask me how I know…
Try to crack it about in the middle, so you'll end up with two even halves.
Opening the egg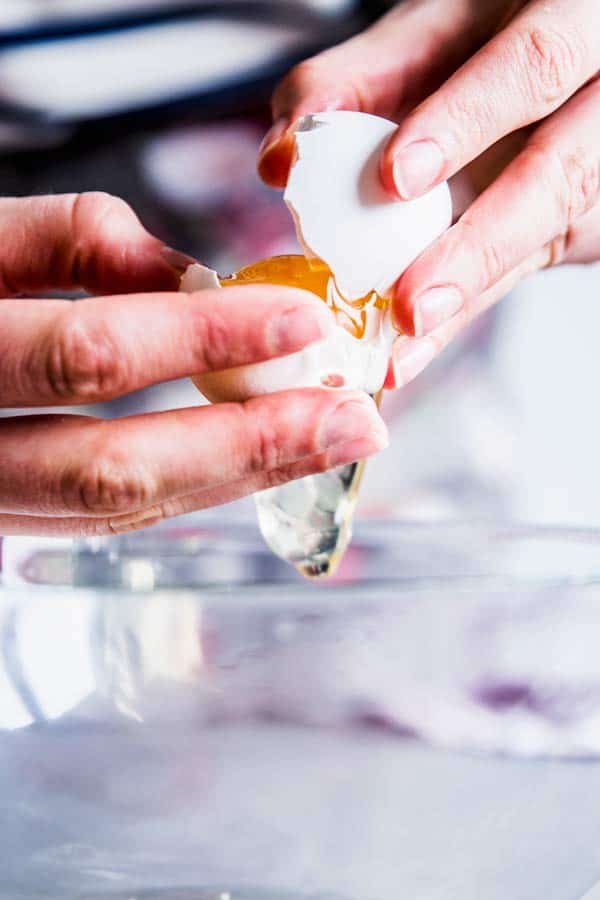 You'll want to do this so that the yolk stays in the shell.
Hold the egg with the crack you just made facing the ceiling, and place your thumbs inside that crack.
Gently pull the egg apart until you have two halves.
Draining the egg white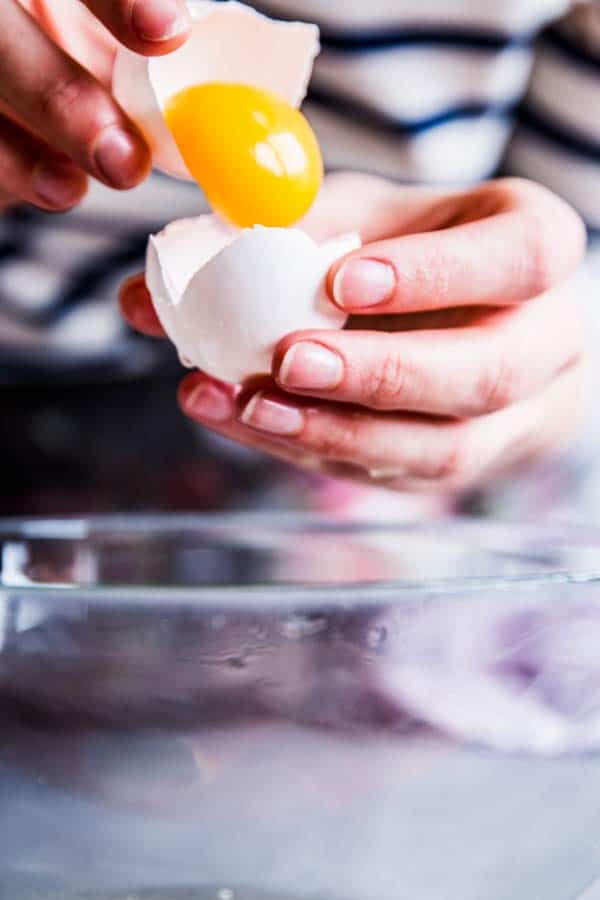 Now all you have left to do is slipping the egg yolk from one half of the egg shell to the other to drain off as much of the egg white as possible.
Remember: A little bit of egg white with the yolks is no big deal, but there should be absolutely no yolk in those egg whites!
Now all that's left to do is placing the yolk in a separate bowl, and you're done!
If the yolk accidentally falls into the bowl with egg whites, there's two possible outcomes:
It stays intact, in which case you can just carefully scoop it out with the egg shell without destroying it.
It opens and gets runny. In this case you'll have to judge if it's just a little bit and you can scoop it out, or if it's too much and getting mixed up you'll have to start over again.
Watch the video instructions for how to separate eggs here:
Ok but what if I'm just not coordinated enough for this whole egg separating thing?
Don't worry… If you can't make this work at all, you can buy an egg separator. It's always best to know how to do things without these little gadgets, but they can come in handy. Also, isn't that one cute?? ?
FYI, I make a commission for purchases made through this link.
I'm thinking Grandma could have done with one of these separators… But I guess there's lots of calcium in egg shells, so maybe that was her plan all along, ha!
What do with your separated eggs
If you generally want to know what recipes you can make to practice how to separate eggs, you should try some buttermilk waffles! To see step photos for making homemade ones, check out my post on how to make waffles.
To use up leftover yolks, you should just make a chicken pot pie and use the yolk to brush the top with. Or a nice Challah!
To use up leftover egg whites… Honestly, I don't even have a recipe for that. Probably just freeze them for your Christmas baking and make some delicious coconut macaroons ?