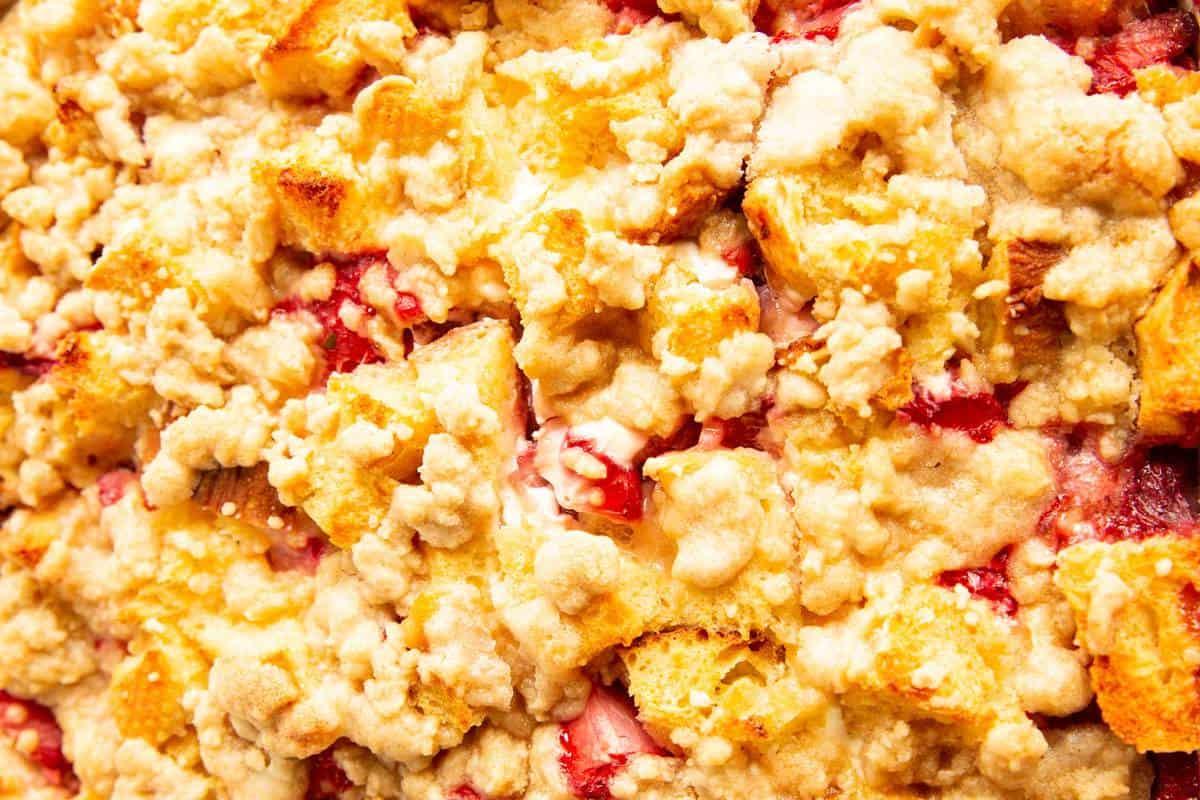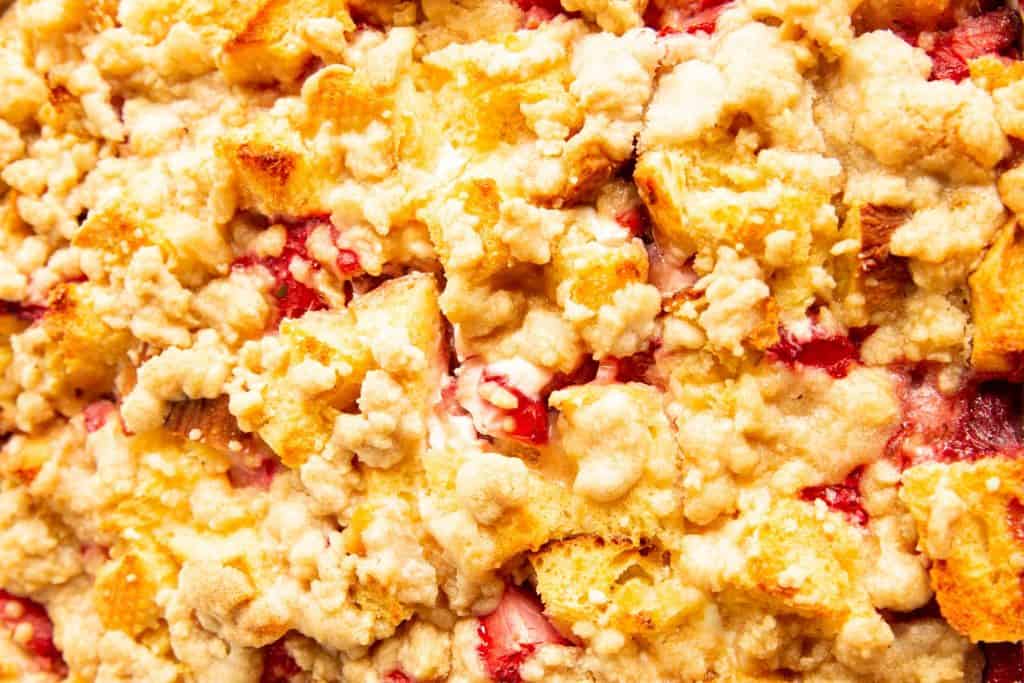 made it? tap the stars to add your rating!
If I told you this Strawberry French Toast Casserole with Cream Cheese is a make ahead brunch dish I like, it would be a total understatement. Because I positively LOVE it!
And judging by the love you're always giving my Strawberry Cream Cheese Stuffed French Toast? You're into it just as much as I am. So I decided you need a version that will make your life a little easier, too. Enter: Strawberry French Toast Casserole!
Ingredients
For the Casserole:
5

large eggs

1 ½

cups

milk

½

teaspoon

ground cinnamon

⅓

cup

maple syrup

(OR brown sugar)

2

teaspoons

vanilla extract

16

oz

French bread

(cubed)

⅔

cup

cream cheese

(softened (you can also use light cream cheese, OR ½ cream cheese and ½ Greek yogurt))

2

cups

sliced strawberries
For the Streusel:
⅓

cup

white flour

⅓

cup

white sugar

¼

teaspoon

ground cinnamon

3

tablespoons

cold butter

(cubed)
To Serve:
Extra strawberries and maple syrup
Instructions
Make the egg mixture: Whisk the eggs, milk, cinnamon, sweetener and vanilla together in a measuring cup.

Layer the casserole: Place half of the bread in a 9×13 inch casserole dish. Top with the cream cheese and the strawberries. Pour over ⅓ of the egg mixture. Top with the remaining bread and egg mixture, making sure all bread cubes are soaked in the egg.

Chill the casserole: Cover the casserole and refrigerate for at least two hours, better overnight.

Make the streusel: Combine the flour, sugar and cinnamon for the streusel in a medium bowl. rub in the butter with your fingertips until coarse crumbs form. Refrigerate until ready to use.

Bake: Once you're ready to bake the French Toast Casserole, preheat the oven to 350°F. Bake the casserole for 30-40 minutes, or until set. Allow the bake to rest for 5-10 minutes before serving.
Add Your Review
Nora's Tips
Ingredient Notes:
Milk: We usually use whole milk or 2%, but use whatever milk you enjoy. If you want to use dairy-free milk, vanilla almond or vanilla soy would be great choices.
Maple Syrup: You can use brown sugar in place of the maple syrup, or use both, or use none at all for a slightly less sweet breakfast.
Bread: I made my own no knead French bread and let it sit on the counter overnight to dry out a bit, it was basically heaven. You can use stale French bread, brioche, Challah… Whatever white bread you enjoy.
Strawberries: You can use fresh or frozen, just make sure to thaw the frozen ones for 10-15 minutes on the counter so you can slice them. This also works awesomely with blueberries or raspberries – I even have recipes for a plain blueberry French toast casserole and a crockpot raspberry chocolate French toast bake!
Cream cheese: You can either use all cream cheese, or do half cream cheese and half Greek Yogurt. Combine them well before adding to the casserole.
Baking Tips:
MAKING THE EGG MIXTURE
This is actually a very simple thing, but I do want to stress two things I always do wrong, no matter how much I try to follow a recipe. It's an impatience issue 😉
First and foremost, use a measuring jug that's large enoughfor some vigorous whisking. Trust me. You'll regret grabbing that small one just because it's in the front of the cabinet.
And secondly, don't be lazy with the whisking. You want the eggs all beaten up and mixed in with the milk. Otherwise you'll have scrambled egg in your casserole.
And this is definitely not of those "two-in-one" deals where you want this to happen. Whisk well.
CUBING THE BREAD
Sometimes I find it tricky when recipes tell me to cube bread, because I have no clue what size cubes.
And if you're giving me an inch cube measurement? Honestly, my brain cannot process that while I'm juggling two kids and a serrated knife.
Best practice here is to go small enough so the cubes are bite sized, but not so small that you don't have to cut them up for a toddler.
If you really want to bother yourself with an inch measurement, go about 1 inch. But please be kind to your sanity and don't actually measure.
LAYERING THE CASSEROLE
It's super simple. Lightly grease a casserole dish and add half of the bread to the bottom.
Then drop the cream cheese in dollops all over the bread and scatter the sliced strawberries on top.
THEN add ⅓ of the egg mixture, just to make sure the bottom layer of bread gets enough liquid to get all soaked and yummy.
Add the remaining bread on top and pour the rest of the egg mixture over. You probably have to squish it all down a little to make sure all the bread cubes are covered with some liquid.
CHILLING THE CASSEROLE
You have to chill the casserole so that the bread can soak up all the egg mix. If you don't, you'll end up with more like bread cubes baked into custard, if that makes sense? A soaked French Toast Casserole is big and puffy and bakes up really nicely.
You can get away with ~2 hours, but best is always overnight. Secret: You can probably even get away with 10-15 minutes, if your bread is very spongy… BUT it will never be as good as when it has the chance to chill overnight.
MAKING THE STREUSEL
Here's a fun fact: I would marry streusel if I could. I do only use it on French Toast casseroles for special occasions (like Mother's Day, sob sob), but I love it.
And on my cinnamon crunch banana bread because why not.
And apparently on banana crumb muffins and pumpkin breadand OKAY, I love streusel.
It's super easy to make. You just mix the flour, sugar and cinnamon well in a small bowl.
Then you add the cold butter and kind of just rub it in with your fingertips until coarse crumbs form. Easy peasy.
You can make the streusel ahead as well and keep it in the fridge overnight, no problem.
BAKING THE CASSEROLE
I mean, no brainer. Preheat oven, shove casserole in oven, bake.
Done and dusted 😉
I'll advise you to give the casserole a 10 minute rest on your countertop after baking, to allow the strawberry juices to soak back into the bread as well. But I know it's hard to wait… It's worth it, though.
What I'll often do is take a small scoop out right when I remove it from the oven and THEN let it rest. That way it has something like an air vent where all the trapped steam can escape, so you don't end up with a soggy bake.
Nutrition
Calories:
426.4
kcal
|
Carbohydrates:
59.57
g
|
Protein:
13.56
g
|
Fat:
14.98
g
|
Saturated Fat:
7.78
g
|
Cholesterol:
136.61
mg
|
Sodium:
449.46
mg
|
Potassium:
293.84
mg
|
Fiber:
2.32
g
|
Sugar:
22.72
g
|
Vitamin A:
620.48
IU
|
Vitamin C:
21.28
mg
|
Calcium:
135.84
mg
|
Iron:
3
mg
More recipe information
Join my Newsletter to Get Recipes in Your Inbox