Celebrate spring with this easy Strawberry Cobbler recipe. The buttermilk biscuit topping is just as delicious as grandma used to make!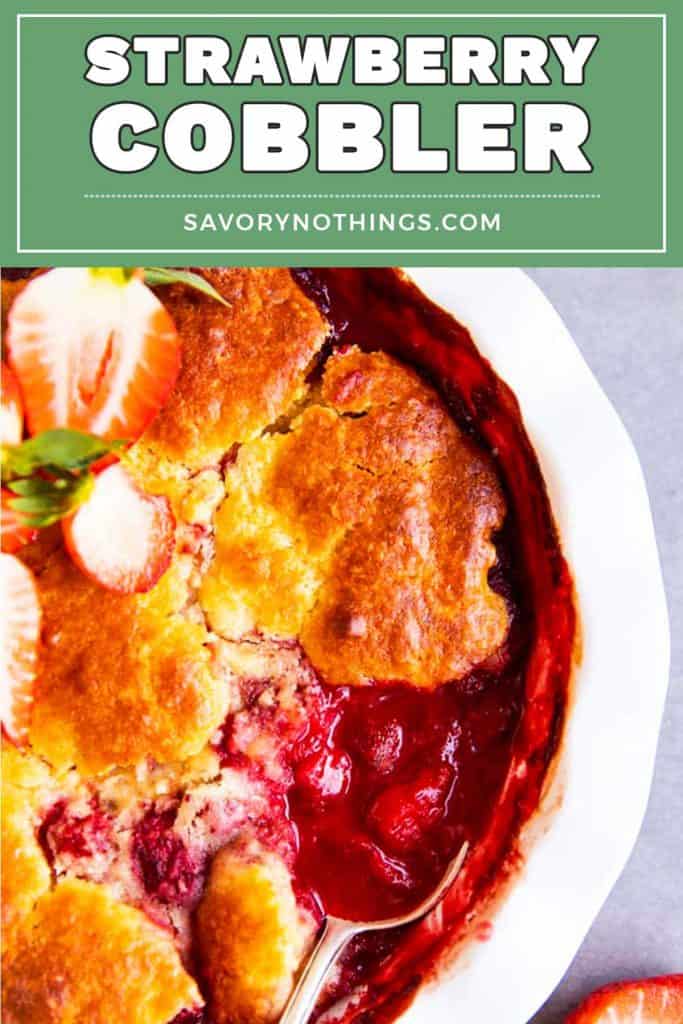 So, I have a child who doesn't like cake. She's 100% a cobbler/crisp kind of girl and I can't fault her much. Fruit desserts are one of my favorites!
Which is why I make a lot of cobblers, crisps and crumbles around here.
Apple cobbler, cherry cobbler, peach cobbler, you name it… We love it all!
My husband likes his cobbler best with a thick, duvet-like layer of cake on top… But my oldest is very much in favor of a biscuit topping.
We go back and forth between recipes (and I'll be sharing my duvet cobbler recipe later this spring 😉). And this one is by far my daughter's favorite for spring!
How to Make Strawberry Cobbler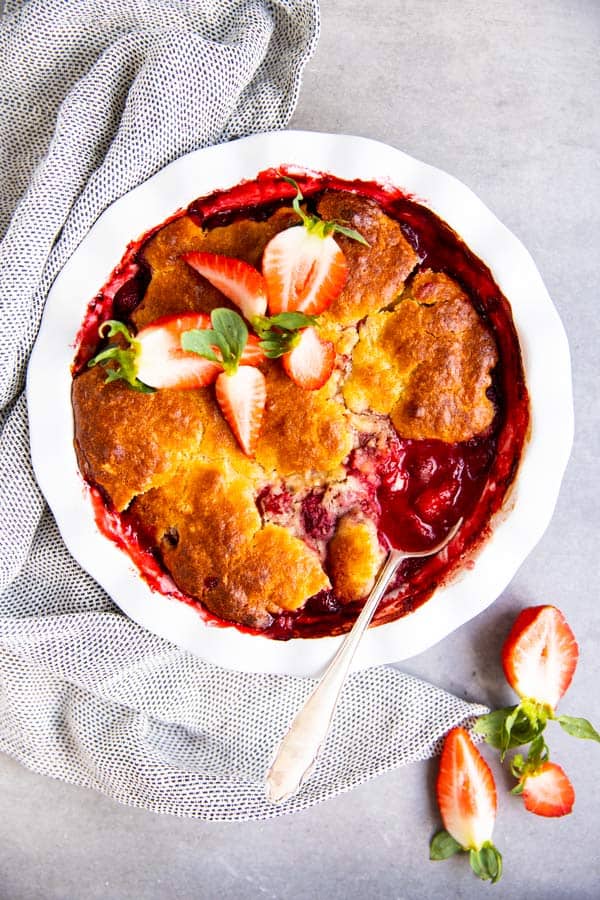 What is a cobbler?
To be honest, I'm not quite sure what the original cobbler dessert was meant to be.
A biscuit topping? A cake batter topping? Fruit on the bottom? Fruit on top? Does it even have to have fruit? I say this because I've seen (and tried) all of these kinds of cobblers.
So, to me, a cobbler is kind of like pie filling baked with biscuits or cake so we can skip the fuss of making an entire pie. (At least a fruit cobbler, there's also delicious things like chocolate cobbler, if you want to go down that rabbit hole…)
I don't exactly care about the kind of topping, where you put the fruit and what it looks like… As long as it's delicious. Ha!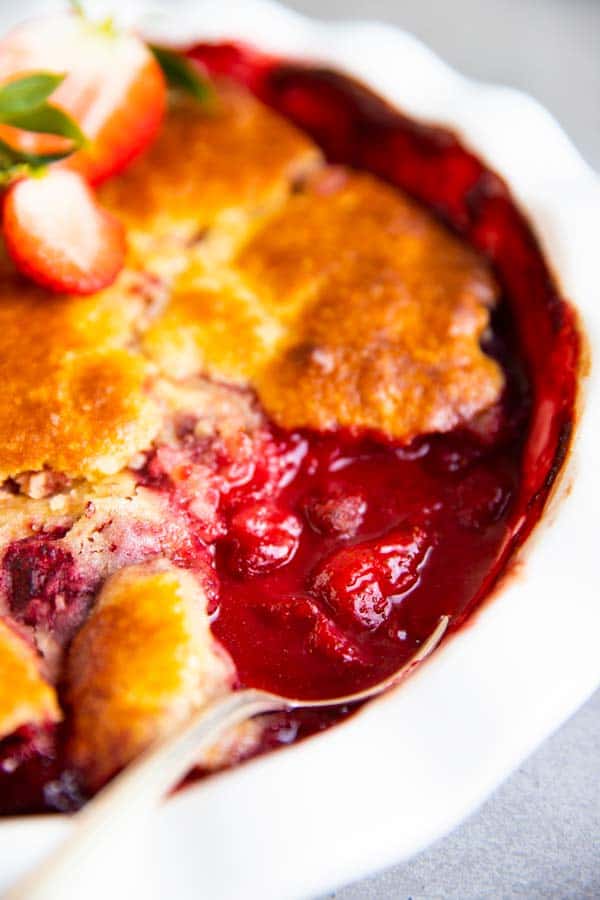 How do you make a cobbler from scratch?
Making a cobbler from scratch is super easy! You don't need a box of cake mix or biscuit mix to make one.
For the biscuit topping, you just need to cut butter into a few dry ingredients and then stir in a little buttermilk.
The filling is made with just fruit, sugar and flour (or cornstarch). Then you just drop spoonfuls of biscuit batter over the fruit and bake until the biscuits are golden and the fruit filling is bubbly.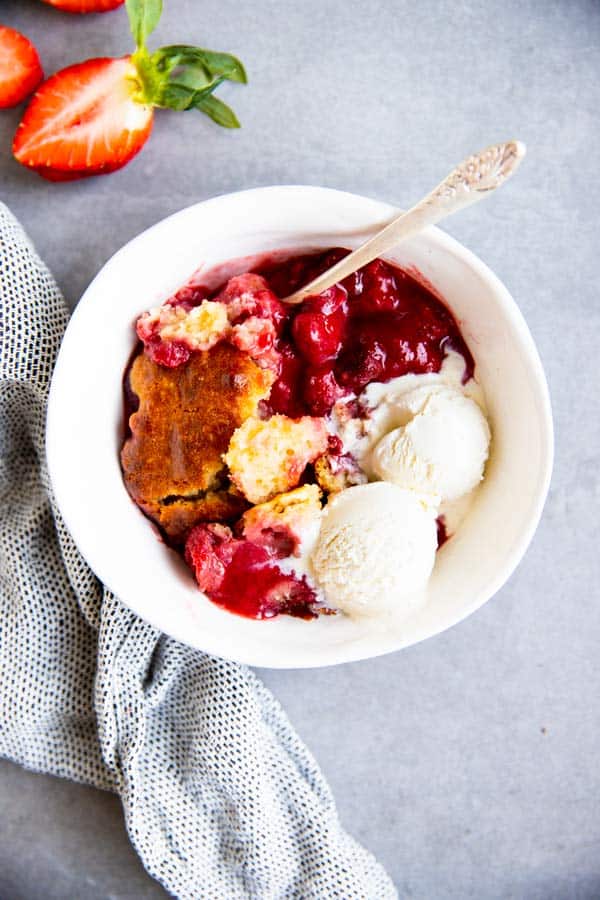 What if my Strawberry Cobbler filling is too runny?
If you have very watery strawberries (or are using frozen), they might release a little more liquid and make a more runny filling.
It will thicken as it cools, so leaving the cobbler to stand for 30-45 minutes after baking can help with a runny filling.
Help! My biscuits aren't done!
Make sure to use a large enough dish to bake the cobbler, so the biscuits have ample space to expand.
Also, your dish should be large enough so the biscuits don't completely cover the entire filling – just like baking a pie, you'll want some air vents in between the topping so the filling can cook and the biscuits can bake through.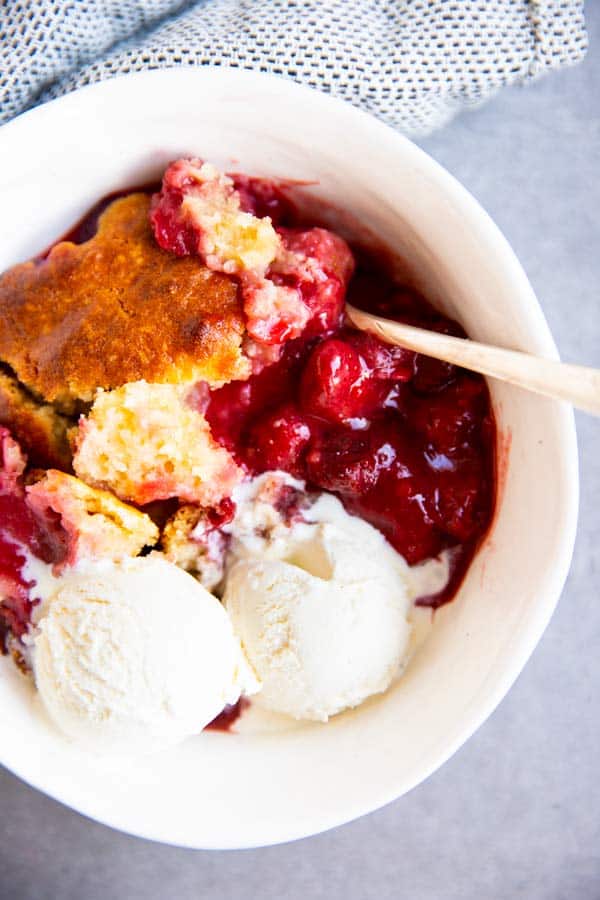 ---
More strawberry desserts you'll love:
---
Printable Recipe Card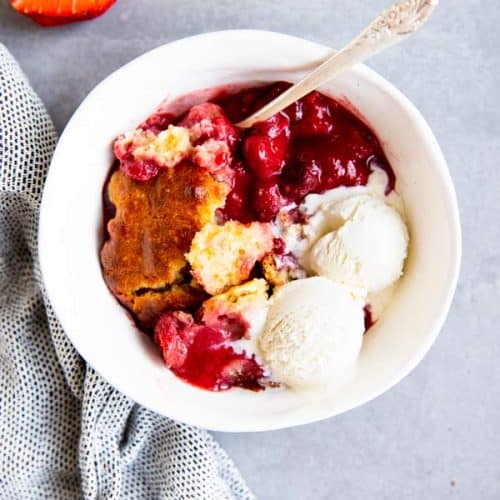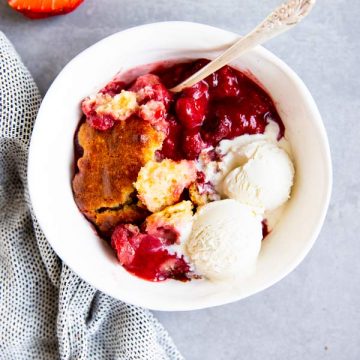 Strawberry Cobbler with Buttermilk Biscuits
Celebrate spring with this delicious Strawberry Cobbler!
made it? tap the stars to add your rating!
Ingredients
For the Topping:
¼

cup

sugar

1 ½

cups

all-purpose flour

2

teaspoons

baking powder

¼

teaspoon

salt

⅓

cup

butter

½

cup

buttermilk
For the Filling:
1 ½

pounds

strawberries

halved (or quartered if large; leave small ones whole for easier prep)

½

cup

sugar

½

cup

flour OR cornstarch
Instructions
Prep: Preheat oven to 400°F and lightly grease a 9×9 inch baking dish OR a deep 9 inch pie dish OR a deep 7×11 baking dish.

Make the topping: Combine sugar, flour, baking powder and salt in a medium mixing bowl. Cut in the butter (just crumble it together with the flour until you have a bowl with crumbly bits), then stir in the buttermilk JUST until combined. Dough will look scraggly and messy and sticky, that's fine. Refrigerate while you make the filling.

Make the filling: Combine strawberries, sugar and flour in a large bowl. Mix well to evenly coat the strawberries. Tip into the prepared baking dish (make sure all the flour doesn't drop to the bottom, or you'll end up with strawberry soup on top and strawberry cement at the bottom of your cobbler 🤷🏻‍♀️)

Assemble: Drop the prepared batter all over the strawberries by heaping spoonfuls (don't cover the fruit completely, I usually do 9 heaping spoonfuls for 9 biscuits).

Bake: Place on a lined baking sheet to catch the occasional overspill. Bake for 35-40 minutes, or until the topping is golden brown, a toothpick inserted into the middle of the biscuits comes out clean, and the filling is bubbly. If top gets too brown, cover loosely with a piece of aluminum foil. Let the cobbler cool for 10 minutes before serving warm with vanilla ice cream.
Want to save this recipe?
Create an account for free to start your personal recipe box. Save any recipe by tapping the heart in the bottom right corner.
Join Now
Nutrition
Calories:
388
kcal
Carbohydrates:
67
g
Protein:
5
g
Fat:
11
g
Saturated Fat:
6
g
Cholesterol:
29
mg
Sodium:
211
mg
Potassium:
379
mg
Fiber:
3
g
Sugar:
31
g
Vitamin A:
360
IU
Vitamin C:
66.7
mg
Calcium:
107
mg
Iron:
2.5
mg
Nutrition is an estimate.
More recipe information