Have some fresh strawberries that are about to go bad? Turn them into a delicious batch of Strawberry Oatmeal Bars!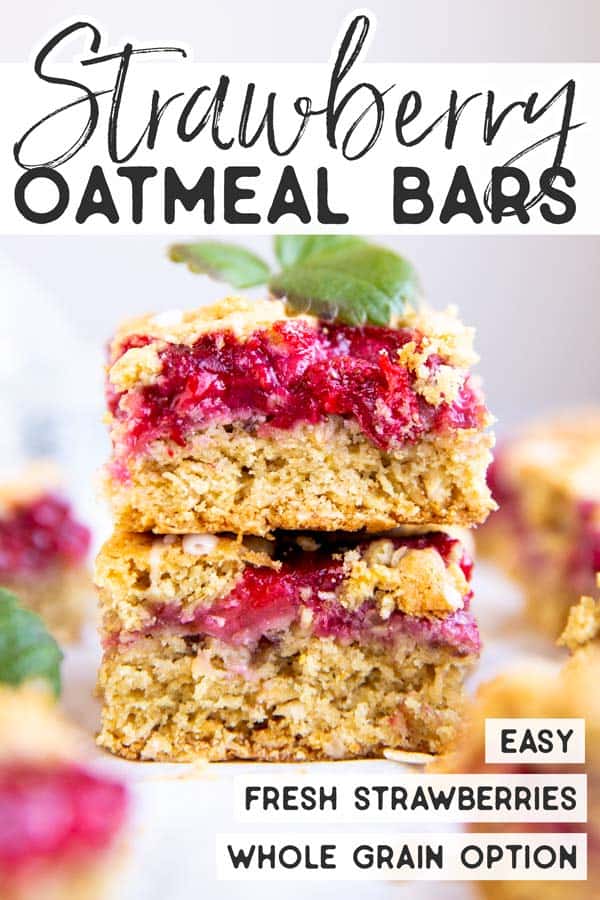 I consider cooking perfectly ripe and fresh strawberries a crime. Granted, we grow a lot of our own, and they usually just vanish shortly after being plucked off their little plants.
That on-sale, about-to-go-bad (or forgotten-in-the-fridge – oops!) pint of berries, though?
They can easily be salvaged by turning them into anything from cobbler to pie – or, in this case, a delicious and crumbly oatmeal bar.
How to Make Strawberry Oatmeal Bars: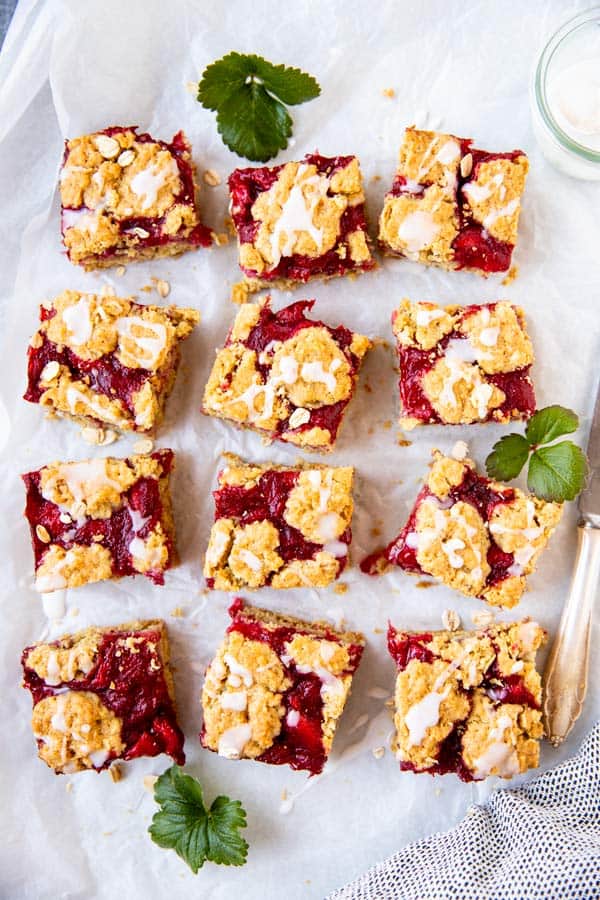 Can you use frozen strawberries? Or substitute a different kind of berry?
Baking with strawberries gets me excited every time – especially because I don't usually buy them frozen, so really, I barely ever eat them in any other form than fresh.
This is not to say you cannot use frozen berries here, or even substitute with a different kind.
Blackberries, raspberries or even blueberries will work just as well.
You might have to play a little with the amount of cornstarch you need to thicken the filling, but otherwise you are free to mix up the berry part as much as you like.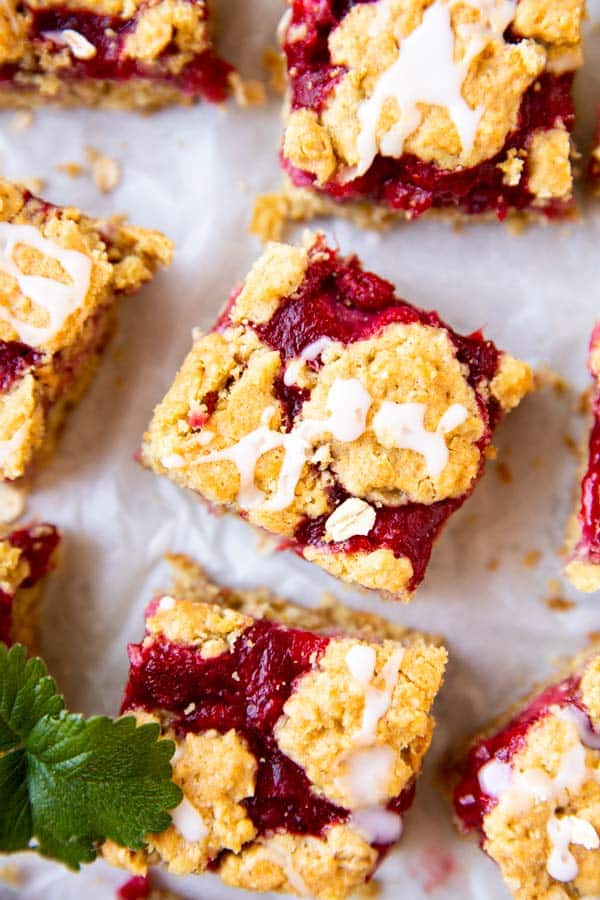 Can you not just add the berries raw?
The slightly unfortunate part of this recipe is the fact that you truly and utterly need to cook (and cool) the filling before baking those sweet strawberries into bars.
I know, many recipes make you believe this is not necessary. And I have tried them all.
Trust me. Take the time to pre-cook that filling.
How do you make the oatmeal base?
The oatmeal base kind of makes up for the hassle of cooking the filling.
I used to be very precious about my favorite oatmeal cookie dough, implying that you have to make it a certain way.
But then I started baking with my kids – and really, this oatmeal cookie base works incredibly well if you just chuck everything into a bowl, stir and pray for a good result.
No, I kid, you don't have to pray. It's foolproof.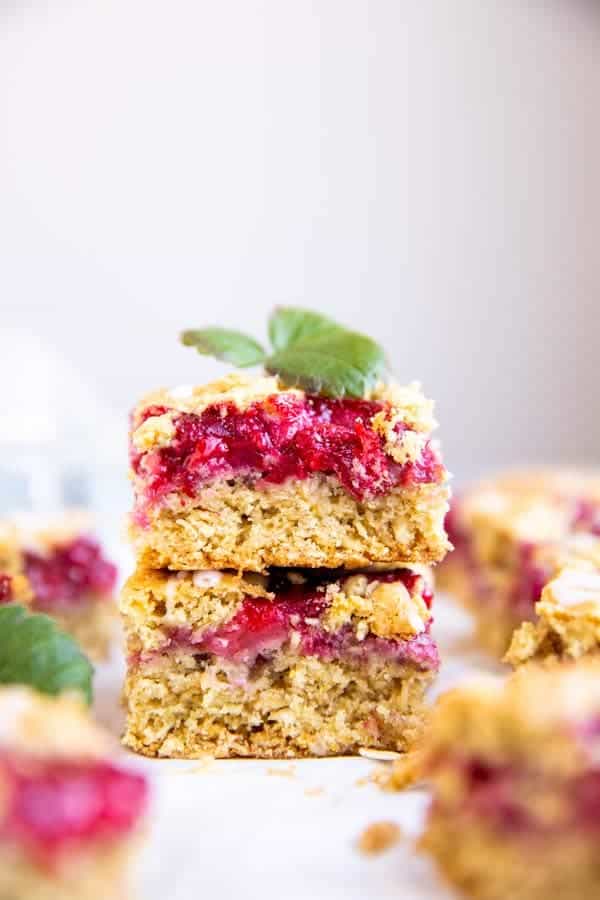 Can you make these healthier?
If you've been around these parts of the Internet, you'll know that I'm big on using fresh ingredients and minimally processed stuff in my everyday cooking. It's just what we most enjoy eating.
But when it comes to dessert? I 100% believe in butter, white flour and sugar.
If you want to make these bars healthy (or healthier), you can use whole wheat flour in place of the plain flour. Even better if you have white whole wheat flour, as it tends to make more refined baked goods.
You can also cut the sugar in the oatmeal base in half.
What I do not recommend is using honey in place of the sugar, or using oil in place of the butter.
a) it's a flavor thing, and b) it will change the amount of flour you need to add, and I haven't tested that, so I can't advise.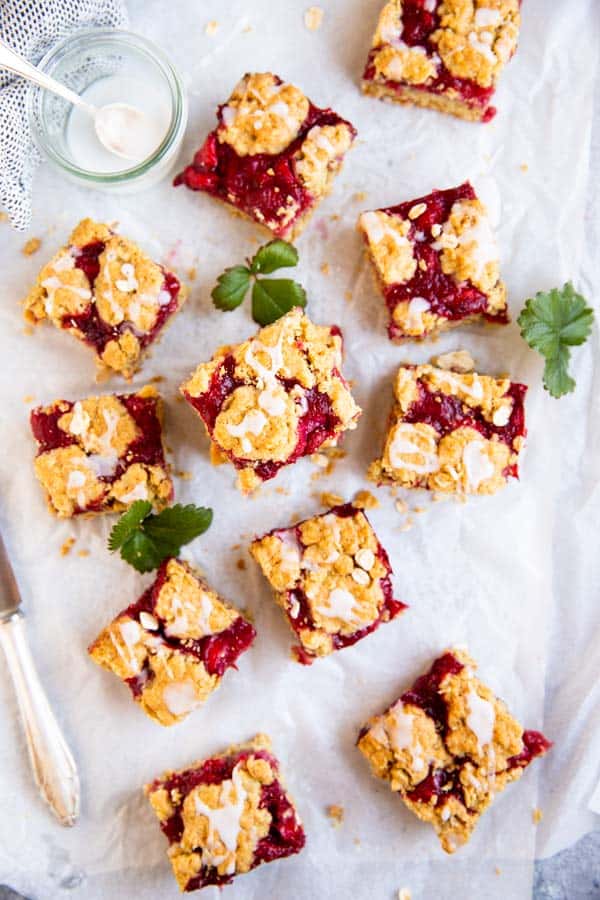 At the end of the day, no matter if you make these in their original dessert-like way or decide to turn them into a healthier snack (or even breakfast) bar:
The sweet and delicate flavors of the strawberries, even if almost gone bad, go so beautifully with the more robust and rustic oatmeal base.
A true celebration of summer, farmer's markets and our apparent inability to remember a pint of strawberries in the back of our fridge ❤️
---
---
Printable Recipe Card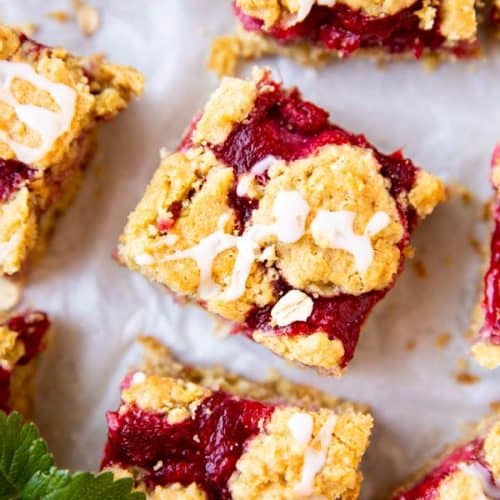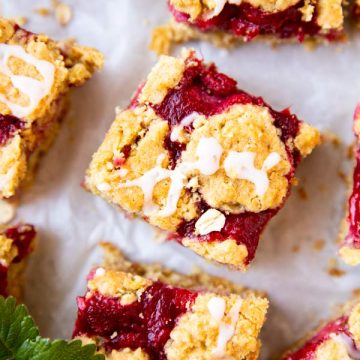 Strawberry Oatmeal Bars
Have some fresh strawberries that are about to go bad? Turn them into a delicious batch of Strawberry Oatmeal Bars!
made it? tap the stars to add your rating!
Ingredients
For the Filling:
10

oz

chopped strawberries

2

tablespoons

sugar

2

teaspoons

cornstarch

1

tablespoon

lemon juice
For the Oatmeal Cookie Dough:
1

stick

butter (½ cup)

softened

¼

cup

light brown sugar

¼

cup

white sugar

1

large egg

2

teaspoons

vanilla extract

1.25

cups

flour

1

cup

rolled oats

¾

teaspoon

baking soda

¼

teaspoon

salt
Instructions
Prepare filling:
Place all ingredients for the filling in a medium saucepan over medium heat. Bring to a boil once, then set aside to cool as you make the base. If the filling seems too runny after cooling, reheat with more cornstarch and cool again.
Prep:
Preheat the oven to 350°F and line an 8×8 inch baking pan with parchment, leaving an overhang.
Make the cookie dough:
Mix wet ingredients: Beat the softened butter in a large mixing bowl until creamy. Add the sugar and beat for another minute or two. Add the egg and keep beating until it's incorporated. Finally, add the vanilla and mix it in until smooth.

Add dry ingredients: Evenly sprinkle the flour, oats, soda and salt over the wet ingredients. Fold in with a rubber spatula until well combined, and no more dry oats are left.
Assemble the bars:
Press ⅔ of the cookie dough into the bottom of the prepared baking pan. Spread with strawberry filling. Scatter remaining cookie dough in blobs all over the bars (like a streusel topping).
Bake the bars:
Bake the bars for around 25 minutes, or until the oatmeal cookie dough is set and the top is golden brown. Cool the bars in the pan for at least 30 minutes before lifting them out to slice.
Want to save this recipe?
Create an account for free to start your personal recipe box. Save any recipe by tapping the heart in the bottom right corner.
Join Now
Nutrition
Calories:
198
kcal
Carbohydrates:
27
g
Protein:
3
g
Fat:
9
g
Saturated Fat:
5
g
Cholesterol:
34
mg
Sodium:
192
mg
Potassium:
86
mg
Fiber:
2
g
Sugar:
12
g
Vitamin A:
255
IU
Vitamin C:
14.4
mg
Calcium:
17
mg
Iron:
1.1
mg
Nutrition is an estimate.
More recipe information