This picture-perfect Strawberry Cake Roll may look impressive, but is SO easy to make. With a creamy filling and an airy sponge, it will become your new favorite spring or summer dessert in no time!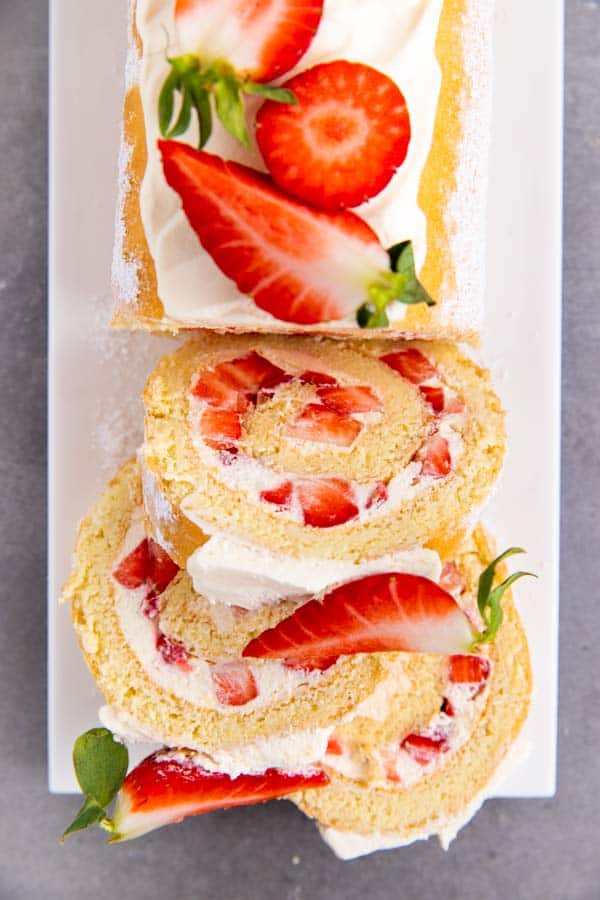 Ever rolled your eyes at someone telling you how easy it is to bake a beautiful Swiss Roll? Well, it IS easy! If you've baked a cake before and can follow a set of instructions to the letter, you'll end up serving an absolutely beautiful cake roll a your next spring or summer feast.
Jump to:
? Recipe video
? Step by step
1 Whip the egg whites to very stiff peaks. I always carefully invert the bowl to test if I've whipped them enough. If they stay put, they're ready! But seriously… Be careful or you'll have egg white all over your counter ?
2 Beat the egg yolks, sugar, a bit of water and salt light and fluffy in a separate bowl. No need to clean the beaters for this, the leftover egg white on them actually helps to fluff up the yolks! Then beat in the flour until smooth.
3 Fold ⅓ of the whipped egg whites into the cake batter to slack it down. Then, gently fold in the remaining egg whites. Spread the batter in the prepared pan and bake.
4 While the cake is baking, generously dust a clean tea towel with icing sugar. As soon as the cake is done, carefully invert it on the tea towel. Peel off the baking parchment and immediately roll the cake into a log with the tea towel. Cool completely.
5 For the filling, beat cream cheese until soft. Add powdered sugar, vanilla and heavy whipping cream. Beat until thick and fluffy.
6 Unroll the cooled cake and spread with cream filling (reserve a few tablespoons for garnish). Top with chopped strawberries, then roll into a tight log. Garnish and serve!
? Baking tips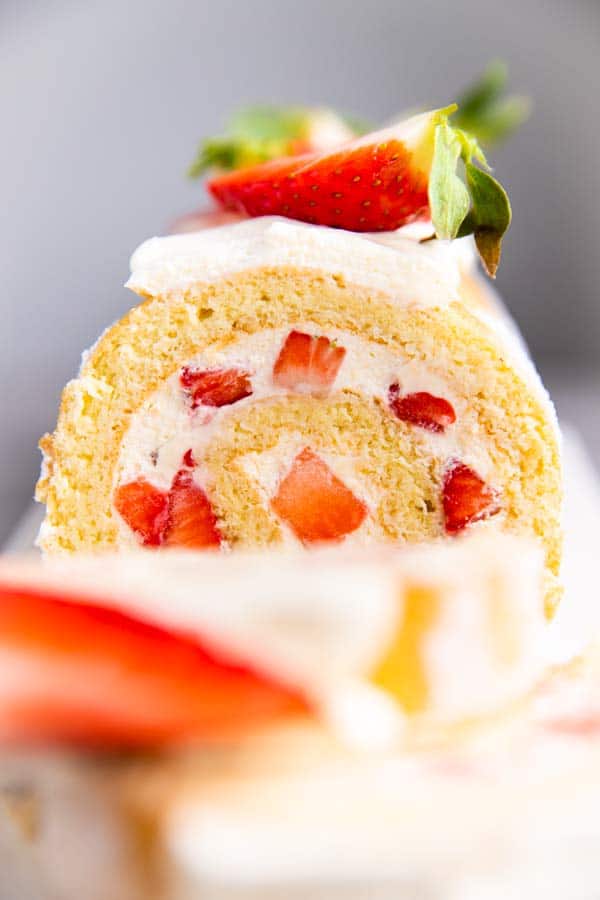 Can I substitute a cookie sheet for a jelly roll pan?
If you don't have a jelly roll pan (in shocking news: I don't have one anymore either, because I found I wasn't using it enough!), your best bet is to use a rimmed cookie sheet.
I've made this recipe a million times, both with a jelly roll pan and by just using a rimmed cookie sheet. Both ways work.
The cake turns out a little more even and thicker with the jelly roll pan, but I have to admit: It's easier to roll when it's baked in the rimmed cookie sheet, because it's a little flatter.
How do you keep the cake from cracking when you roll it up?
The trick here is to invert the cake onto a powdered-sugar-dusted kitchen towel as soon as it's done baking.
Roll it up straight away with the towel (yes, while hot!) and let it cool rolled up like this.
This will pretty much guarantee you don't get any cracks in the roll – as long as you don't put too much filling in to burst the entire cake ?
Do I have to wait for the cake to cool completely?
Yup. Sorry if you're in a hurry. It takes around 1-2 hours (depending on the temperature in your home) for the rolled up cake to cool completely.
If you're REALLY in a hurry, cool it at room temperature for 10 minutes, then stick it in the freezer for 10-15 minutes. Then finish cooling a room temperature. This should speed up the cooling process, but I do generally prefer to just cool it on the counter to make sure it doesn't crack.
? Storage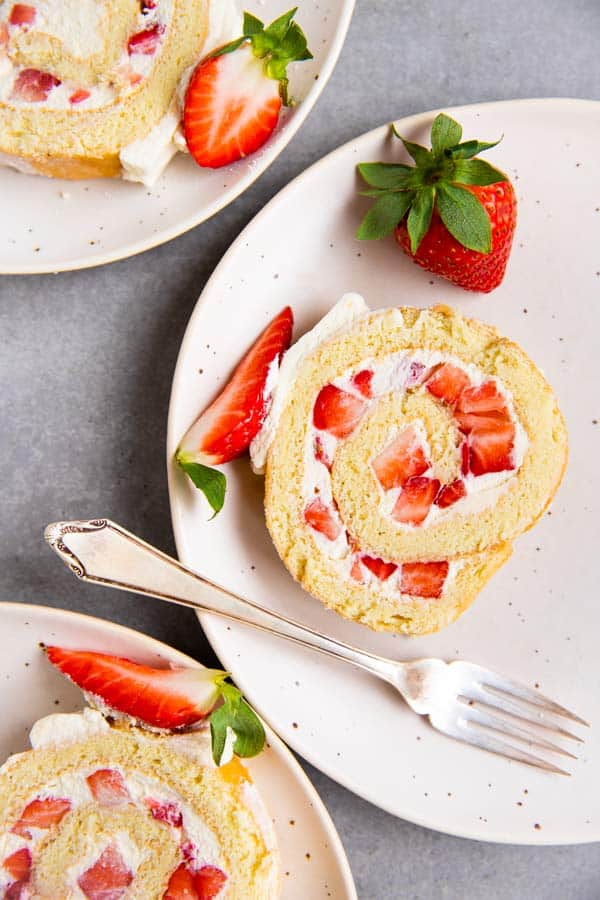 Because there's cream and cream cheese in the filling, the cake roll needs to be refrigerated. Cover it with plastic wrap or a cake cloche.
The cake roll will last for 2 days in the fridge.
Printable recipe
Printable Recipe Card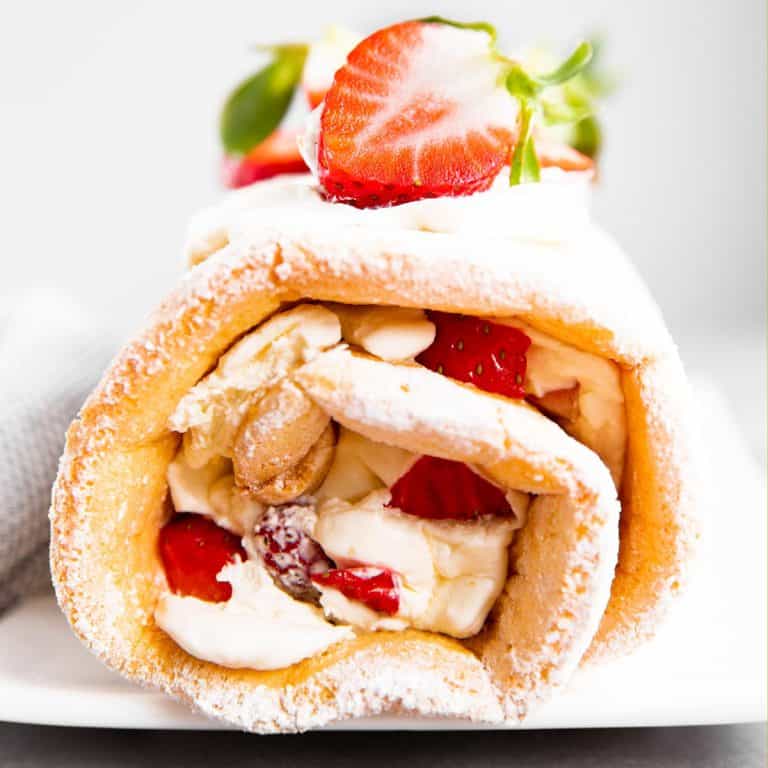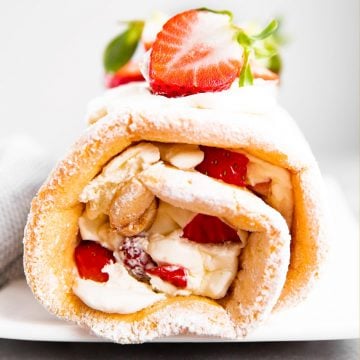 Strawberry Cake Roll
This picture-perfect Strawberry Cake Roll may look impressive, but is SO easy to make.
made it? tap the stars to add your rating!
Ingredients
For the Cake:
5

large eggs

separated

½

cup

fine caster sugar

2

tablespoons

warm water

pinch

of salt

1

cup

white flour
For the Filling:
8

oz

cream cheese

1

cup

heavy whipping cream

that's one 8oz carton

½

cup

powdered sugar

1

teaspoon

vanilla extract

2

cups

strawberries

diced
For Garnish:
1

cup

small strawberries

optional
Instructions
Make the Cake:
Prep: Preheat the oven to 350F and line the bottom of a jelly roll pan with parchment paper (make sure the parchment is cut to fit exactly and lays flat). If you don't have a jelly roll pan, your best bet is to use a rimmed cookie sheet instead (cake will be a little longer and flatter, bu still perfectly fine).

Beat egg whites: Beat the egg whites until very stiff peaks form. Set aside.

Beat egg yolks and sugar: In a separate bowl, beat the egg yolks with sugar, water and salt until light in color and fluffy (no need to wash the mixer attachment – the little bit of egg white left on there will help the mix to fluff up!).

Add flour: Add the flour to the egg YOLK mix and beat on the lowest setting until incorporated, about 10-20 seconds.

Fold in egg whites: Add ⅓ of the beaten egg whites to the bowl with the yolk mixture and fold it in to slack down the batter. Add the remaining egg white and very carefully and gently fold in. Take your time with this step! You need to fold in ALL of the egg white (no large flecks of egg white left in the batter, or you'll get an uneven cake!), but it needs to be done slowly and gently so you don't knock out the air.

Bake: Evenly spread the batter in the prepared jelly roll pan and bake at 350 for around 15 minutes, or until the cake is lightly golden and springs back when pressed.

Roll and cool the cake: While the cake is baking, spread a kitchen towel on a clean countertop and sprinkle with ¼ cup powdered sugar. As soon as the cake is done, invert it onto the prepared kitchen towel and carefully remove the baking parchment. Roll up the cake from the short side with the kitchen towel inside. Cool for 2 hours.
Make the Filling:
Beat ingredients: To make the filling, beat the cream cheese until softened. Add the whipping cream, powdered sugar and vanilla and beat on low for 2 minutes or until starting to thicken. Then beat on high until thick and fluffy.

Fill the cake roll: Unroll the cake. Spread with ¾ of the filling, leaving a small gap around the sides. Evenly spread the diced strawberries on the filling. Tightly roll up from the short side into a cake roll (this time without the kitchen towel!). Make sure the finishing seam is on the bottom. If there is any filling spilling out that's keeping the end of the cake from sticking to the roll to seal it, carefully scrape it away.

Garnish: Dust the entire cake roll with powdered sugar and garnish with the remaining cream filling and extra strawberries, if you like.
Want to save this recipe?
Create an account for free to start your personal recipe box. Save any recipe by tapping the heart in the bottom right corner.
Join Now
Nutrition
Calories:
257
kcal
Carbohydrates:
24
g
Protein:
5
g
Fat:
15
g
Saturated Fat:
8
g
Cholesterol:
116
mg
Sodium:
94
mg
Potassium:
114
mg
Sugar:
15
g
Vitamin A:
645
IU
Vitamin C:
14.3
mg
Calcium:
47
mg
Iron:
1
mg
Nutrition is an estimate.
More recipe information