No need to switch on the oven for this Crockpot Peach Cobbler – it's cooked entirely in your slow cooker! So delicious with fresh summer peaches and an easy biscuit topping – the perfect dessert with a scoop of vanilla ice cream.
Cooking the cobbler in your crock pot means you won't heat up your house with the oven – but still get to enjoy a delicious peach dessert. For other crockpot desserts, see my Crockpot Apple Cobbler or Crockpot Chocolate Pudding Cake.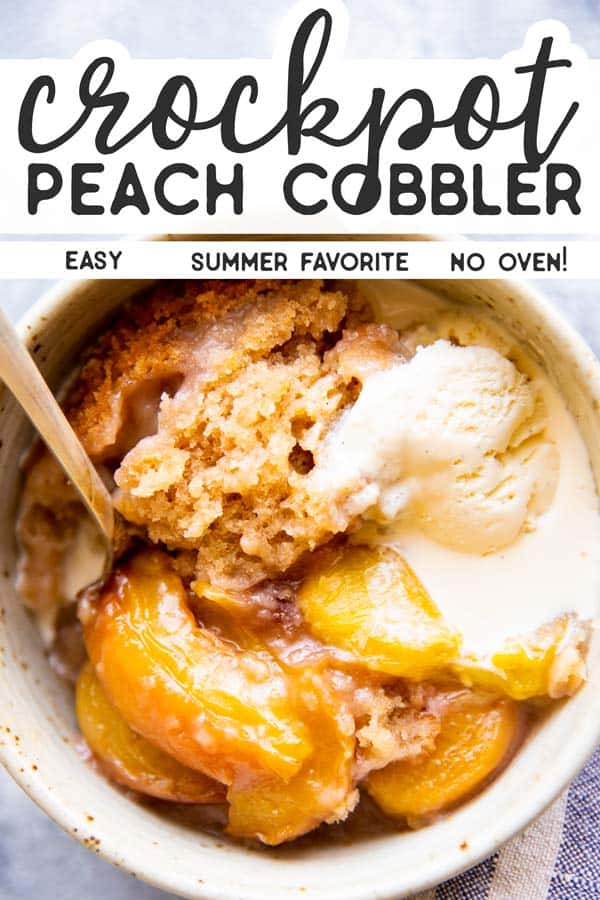 We absolutely love peach cobbler over here. Maybe a little too much, because I make it at least once a week during peak peach season.
Nobody in this house complains about it though. What they DO complain about is a hot house when I switch on the oven to make my regularly baked Fresh Peach Cobbler – which is why I've started making it in my slow cooker on particularly hot days.
Making a cobbler in the crockpot is the easiest thing ever – you simply toss the peaches with cornstarch and sugar in the crock, then mix up the simple topping and spread it on top. Then it cooks for 2-3 hours in the slow cooker.
It only takes a few minutes to make it from scratch and it's so worth it – because you'll end up with a juicy, peachy filling and a soft and pillowy topping. Perfect for that scoop of vanilla ice cream!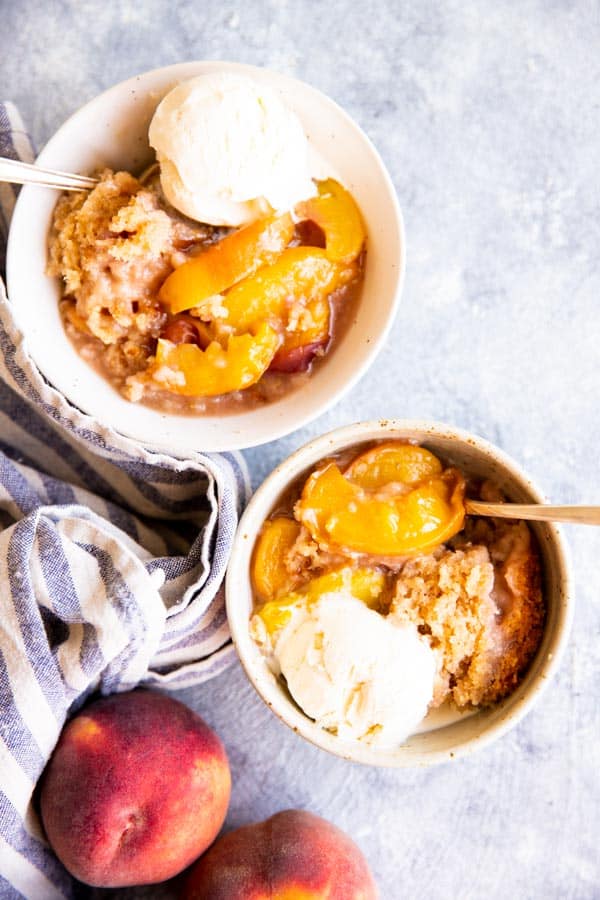 This is my go-to dessert for an easy make-ahead summer dinner. I'll throw some steaks into the best steak marinade to grill later on, whip up a greek pasta salad in the afternoon and get the cobbler started. That way dinner is basically ready!
This Crockpot Peach Cobbler
is quick and easy to make
comes together entirely from scratch – no cake mix or bisquick needed!
cooks entirely in your slow cooker for a heat free summer dessert
Using the slow cooker during summer is one of my favorite hacks for hot days. We tend to think it's something to be used during the winter months – but it's actually great for those crazy heat waves!
We often make things like Southwestern Crockpot Chicken Tacos, Crockpot Stuffed Peppers or Slow Cooker Pineapple BBQ Pulled Pork when it's too hot to even fire up the grill – and this Crockpot Peach Cobbler fits right into this collection!
How to Make a Crockpot Peach Cobbler:
Making a peach cobbler in your slow cooker couldn't be any easier!
Read on below for which other fruit this works with, more tips to make this recipe foolproof and the printable recipe card.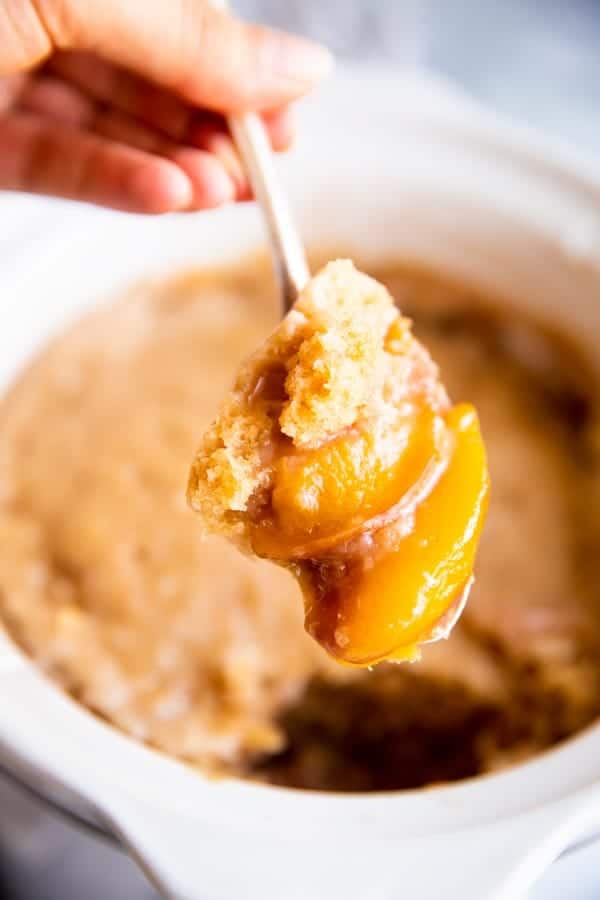 1 – Prepare the fruit: First you'll need to pit and slice the peaches. You can peel them if you want, but I'm usually too lazy (and it doesn't bother us).
To pit the peaches, I slice them once around, then pull them into two halves. The half with the pit I slice again to pull into quarters and then I pull off the pit. Then I cut everything into slices.
2 – Mix the filling. Add the peaches to a 3-4 quart crockpot and toss them with sugar, cornstarch, cinnamon and a smidgen of ground nutmeg (which is optional, but delicious). You'll have to try a slice of peach to judge its sweetness. If they're on the tart side, add more sugar than the recipe states.
Push the peaches down in the crockpot to make sure it's firmly packed, and try to arrange the top layer so there aren't too many gaps – that way the topping can't run down below the peaches.
3 – Make the topping: You'll mix flour, sugar, baking powder, cinnamon and salt in a medium mixing bowl. Then cut cold butter into cubes – it's important for the butter to be cold for the topping to turn out as good as possible! Add the butter to the bowl with the dry ingredients and rub it into the flour with your fingertips until you have a bowl full of crumbs.
Then stir in the buttermilk JUST until combined. You don't want a smooth batter – it's OK if it's all scraggly looking.
4 – Cook the cobbler: Spread the finished topping over the peach filling and close the crockpot with the lid. Cook on HIGH for 2-3 hours or on LOW for 3-4 hours or until the topping is cooked through and the filling is bubbly.
It's fine to open the crockpot to check the topping after about 2 hours of cooking time, but please don't open it before – the topping can collapse if you do, and cooking time will increase.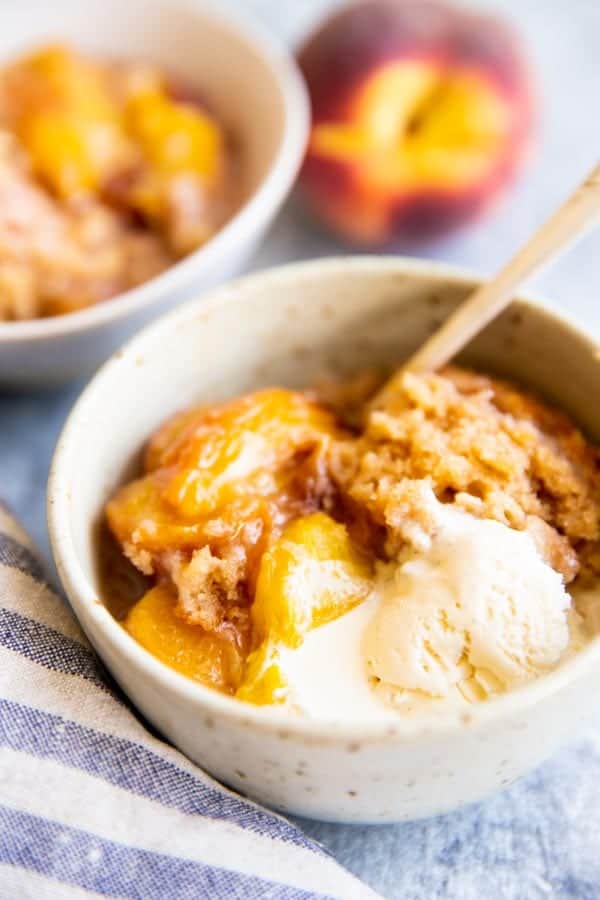 5 – Allow the cobbler to rest with the lid off for 10 minutes once the cooking time is up. This helps the filling to thicken as it cools. Then serve warm with vanilla ice cream – delicious!
Tips for This Crockpot Peach Cobbler
Feel free to peel the peaches if it bothers you to have the skin in your dessert – but it softens perfectly in the slow cooker, so I leave it on.
Make sure you don't overmix the topping after adding the buttermilk, or it won't rise as beautifully but stay dense instead.
Don't open the crockpot during the first two hours of cooking – then you can carefully open a smidgen to check the topping for doneness with a toothpick.
If you know your crockpot runs hot on one side (it happens with older models in my experience – my ancient one does this!), rotate the inner crock every 30 minutes to avoid one side getting burned.
Can I Use Other Fruit for This Crockpot Cobbler?
Yes, you can!
Apples work beautifully, so do apricots and nectarines.
You can also make it with cherries, just make sure the fruit fills a 3 quart crockpot about ⅔.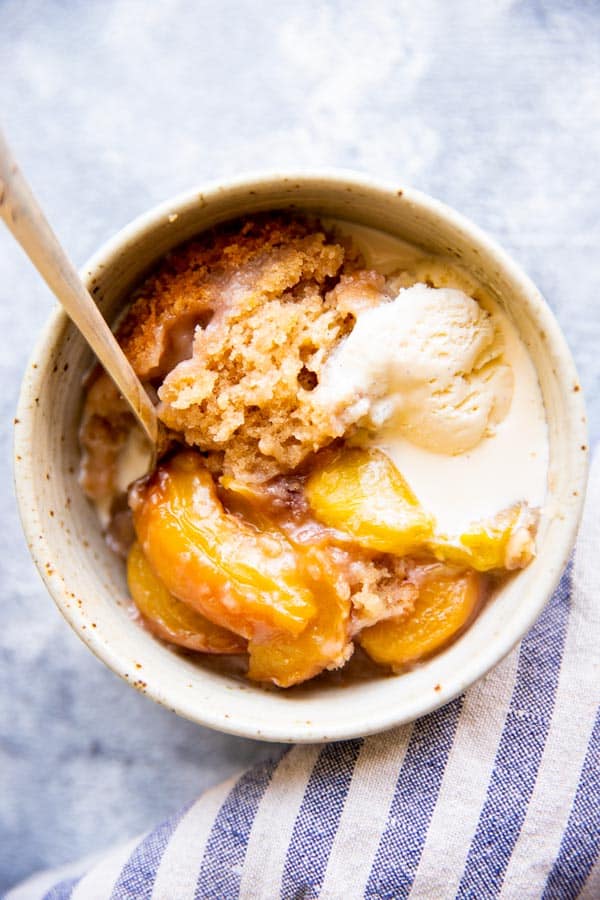 We love making this cobbler during peak peach season!
And when we can't even look at another cobbler anymore (it takes a while, but we get there eventually ?), we'll make another recipe like my Peach Chutney which is always a good way to use them up, too.
Printable recipe
Printable Recipe Card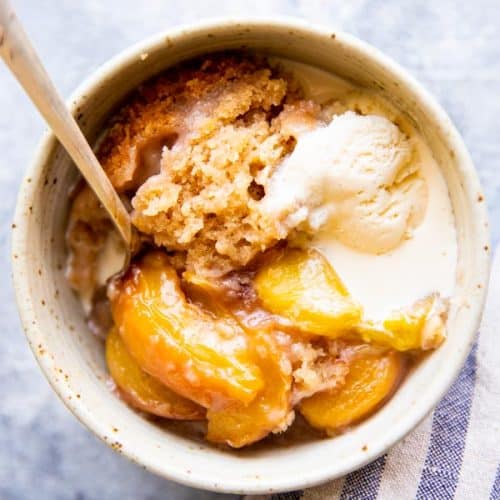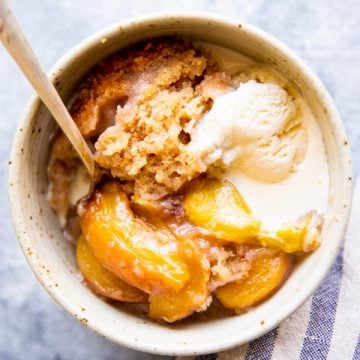 Crockpot Peach Cobbler
An easy and delicious summer dessert, this Crockpot Peach Cobbler cooks entirely in your slow cooker!
made it? tap the stars to add your rating!
Ingredients
For the fruit:
8

fresh peaches

pitted and sliced (peel if you want – I'm usually too lazy)

2

tablespoons

sugar

more if your peaches are on the tart side

1

tablespoon

cornstarch

or more if you prefer a thick filling

¼

teaspoon

cinnamon

⅛

teaspoon

ground nutmeg

optional but delicious
For the topping:
1 ½

cups

all purpose flour

⅓

cup

sugar

2

teaspoons

baking powder

½

teaspoon

cinnamon

¼

teaspoon

salt

½

cup

cold butter

cubed

¾

cup

buttermilk
Instructions
Prepare the fruit: Lightly grease a 3-4 quart slow cooker. Place all ingredients for the fruit filling inside and stir well.

Make the topping: Mix flour, ⅓ cup sugar, baking powder, ½ teaspoon cinnamon and salt in a medium bowl. Cut in the butter until crumbly. Carefully stir in the buttermilk just until combined. Lumps and buttery bits are fine!

Cook the cobbler: Spread topping over the fruit in the slow cooker. Cook on HIGH for 2-3 hours or on LOW for 3-4 hours. Remove the lid and allow to rest for 10-15 minutes before serving.
Want to save this recipe?
Create an account for free to start your personal recipe box. Save any recipe by tapping the heart in the bottom right corner.
Join Now
Nutrition
Calories:
308.75
kcal
Carbohydrates:
46.18
g
Protein:
4.64
g
Fat:
12.88
g
Saturated Fat:
7.79
g
Cholesterol:
32.98
mg
Sodium:
199.19
mg
Potassium:
441.45
mg
Fiber:
2.98
g
Sugar:
25.08
g
Vitamin A:
880.67
IU
Vitamin C:
9.9
mg
Calcium:
85.12
mg
Iron:
1.54
mg
Nutrition is an estimate.
More recipe information