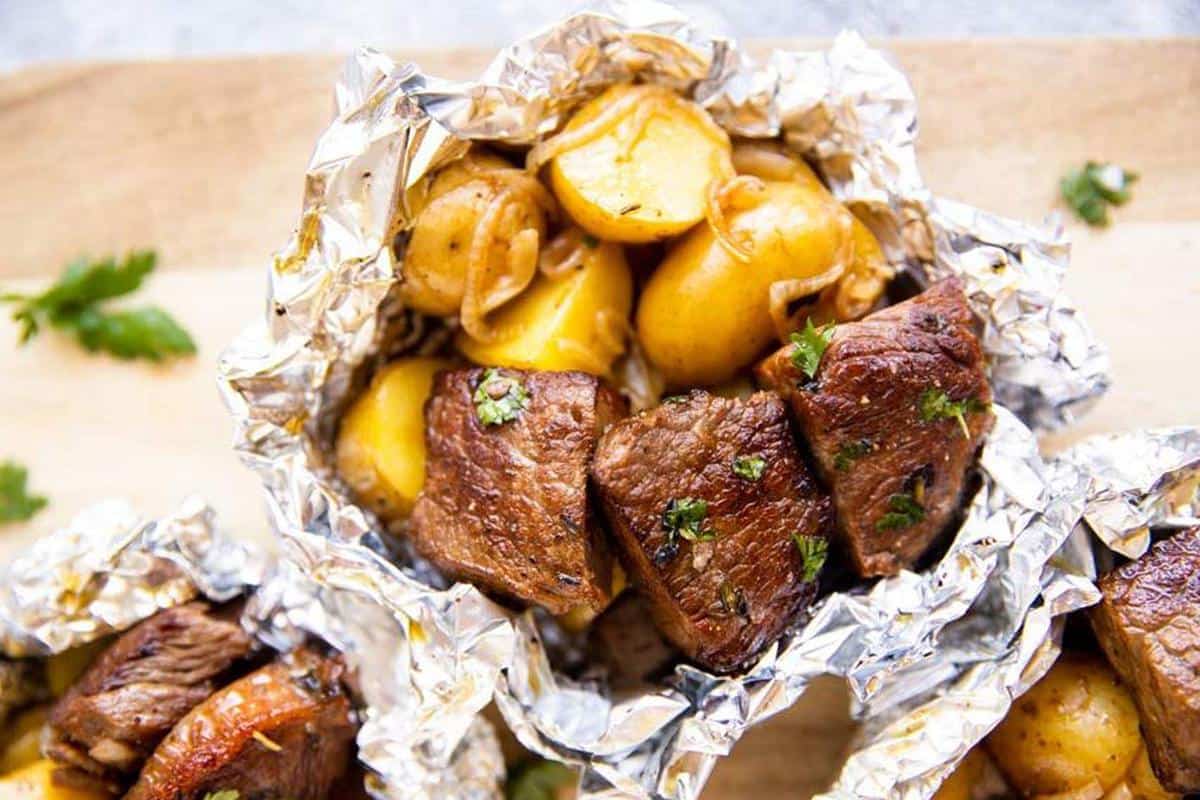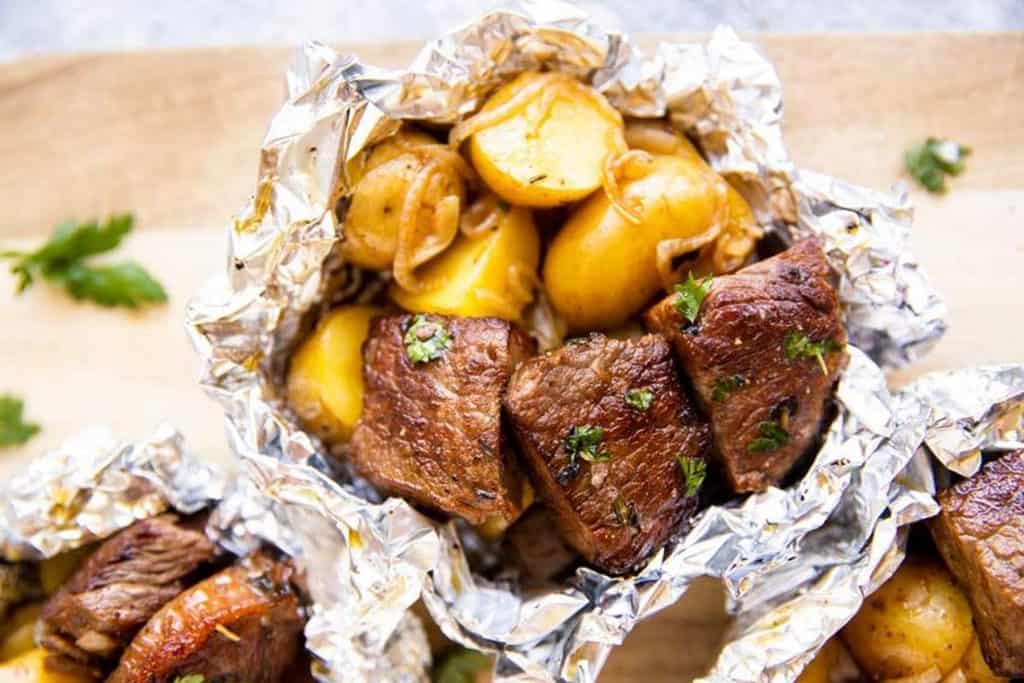 made it? tap the stars to add your rating!
These Garlic Butter Steak and Potato Foil Packets are such an easy family dinner, I'm not even sure if I can call it a recipe. We love this for the campfire, but I know not everyone is into camping. So you can make these foil packets on your regular old grill (or even in the oven!) if cooking on an open fire isn't your thing.
When I make steak foil packets, I usually marinate the meat in my Best Steak Marinade in the afternoon and also prep a vegetable side dish at the same time. Marinating isn't a necessity, but it does add a lot of extra flavor!
Ingredients
1.5

pounds

steak

(sirloin is my favorite cut here; see post for notes on substitutes)

1

pound

baby potatoes

(cut into ½ inch pieces (halving or quartering usually does it for me))

1

onion

(halved and then thinly sliced)

1

tablespoon

olive oil

2

tablespoons

chopped fresh parsley

1

tablespoon

minced garlic

(or more to taste)

1

tablespoon

Italian seasoning

salt and pepper

(to taste)

2

tablespoons

butter

(cubed)
Instructions
Make the foil packets:
Prep the steak: Cut the steak into pieces (2.5 – 3 inches for well done, 3 – 4 inches for medium, 5 inches for rarer steak). Marinate it if you like.

Combine ingredients: Place the steak, potatoes, onion, olive oil, parsley, garlic, Italian seasoning, salt and pepper in a large bowl and toss well.

Assemble foil packets: Set out 4 pieces of aluminum foil, at least 12×12 inches. Evenly divide the steak and potatoes between the middles of the foil sheets. Top with butter cubes, then fold the foil over the steak and potatoes and seal well.
Cook the foil packets:
On the grill/fire: On a HOT grill, cook the foil packets for 10-12 minutes per side, or until the potatoes are tender.

If you're cooking the packets on a fire without a grill, place them on a 2-inch bed of coal. But does anyone really cook on a fire without a campfire grill nowadays??

In the oven: Bake the steak foil packets at 425°F for around 25-30 minutes, or until done to your liking. If you want a char on the steaks, open the packets and broil for 3-4 minutes in the end.

Careful when opening the packets – hot steam ahead!
Add Your Review
Nora's Tips
About the foil:
Foil packets are definitely one of my favorite easy summer meals, even though I mostly avoid using foil in my kitchen otherwise.
I do buy recycled aluminum foil from If You Care to soothe my bad conscious.
Click here to buy the foil I use on Amazon. (This is an affiliate link and I make a commission on purchases made after clicking through.)
The also have a heavy duty foil, which is what I recommend using if you're cooking the packets on the fire or if your regular foil is on the flimsy side (the regular If You Care foil is sturdier than regular brands I've used in the past).
Cooking Tips:
For a more intense garlic flavor (my amount is on the kid-friendly side 😉), double the amount of garlic used
I always use baby potatoes, because I really hate peeling potatoes. I don't peel the baby potatoes, but I do cut them into roughly ½ inch pieces. That's usually either halving or quartering them.
If you want to make the potatoes more decadent, mix some chopped bacon and/or shredded cheddar cheese into them before sealing the packets
If you want to cook some vegetables right along the steak and potatoes in the foil packets, green peppers, asparagus or green beans can be added
Careful when opening the foil packets, there's hot steam inside!
Best Steak Cuts to Use:
It's important to use a cut that stays tender when cooked this way.
Top sirloin is definitely my preferred cut for foil packets – and what I usually use when I make them.
Make Ahead Tips:
You can make these ahead, but not too long because the potatoes tend to start oxidizing.
I would only recommend making them ahead a few hours before you're planning to cook them.
They're great to assemble at home and then transport in your cooler to eat when you arrive at your campsite!
But cuts like ribeye or porterhouse work great, too. They are less lean though!
If your potatoes aren't cooked through:
If your steak is done way ahead of your potatoes (this can happen if you didn't listen to my slicing recommendations 😉 ), carefully remove the steak from the foil packets and place it on a plate and cover with a fresh piece of foil to rest. Continue cooking the potatoes until they're done.
If you're very concerned about this, or want to leave your baby potatoes whole, boil the potatoes on the stove for 5 minutes before adding them to the foil packets.
Nutrition
Calories:
402
kcal
|
Carbohydrates:
24
g
|
Protein:
41
g
|
Fat:
15
g
|
Saturated Fat:
6
g
|
Cholesterol:
115
mg
|
Sodium:
155
mg
|
Potassium:
1152
mg
|
Fiber:
4
g
|
Sugar:
2
g
|
Vitamin A:
365
IU
|
Vitamin C:
28
mg
|
Calcium:
84
mg
|
Iron:
4
mg
More recipe information
Join my Newsletter to Get Recipes in Your Inbox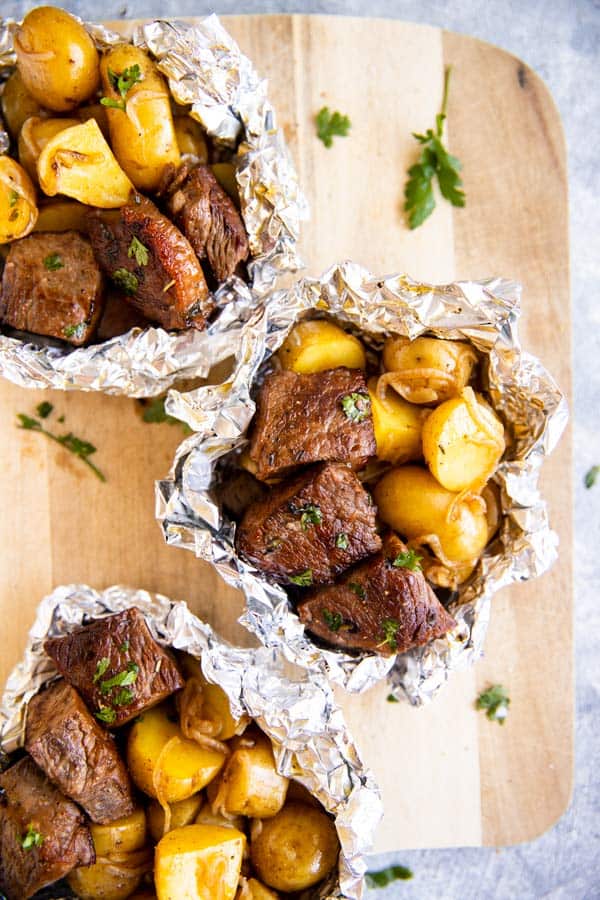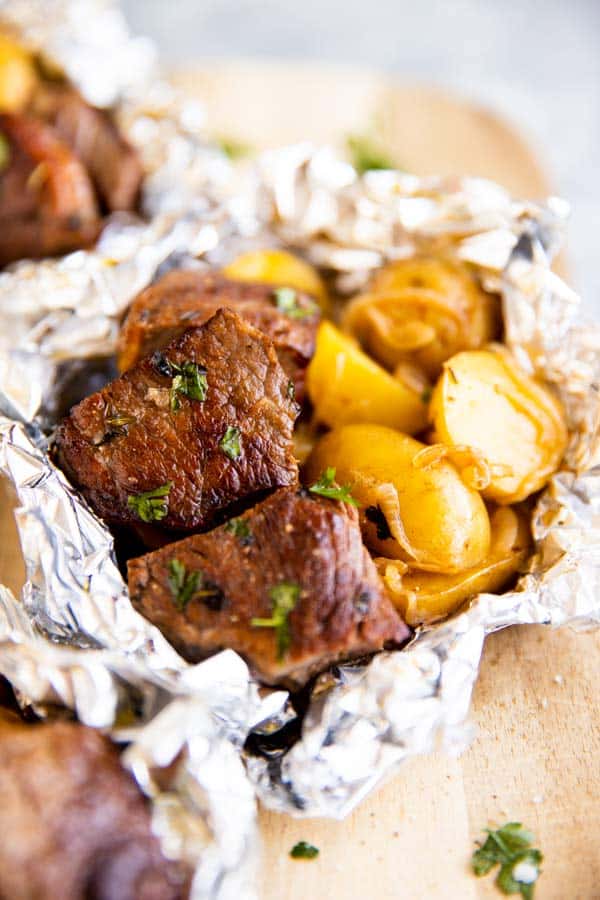 Cooking steak and potatoes together in a foil packet makes dinner on the grill (or the fire) so easy and flavorful. For more foil packet dinners, see my Potato and Sausage Foil Packets or my Salmon Foil Packets!
Since there are potatoes in the foil packets, we don't usually add another starch. Instead we enjoy something like a Creamy No Mayo Coleslaw or a Tomato Cucumber Avocado Salad on the side.
This is definitely one of our favorite summer dinners.
Right now we're loving it with a side of fresh green beans straight from the garden – either as a green bean salad, or as easy sautéed green beans.
More Grilling Recipes: