These potato and sausage foil packets are quick to put together with minimal clean up for the perfect easy dinner.
Whip them up on the grill on hot summer days, or make them in the oven if you prefer – this recipe is perfectly versatile!
So let's talk about the fact that I'm bringing you two easy-lazy-almost-cheaty foil packet dinners in the same week.
(Oh, it was the salmon foil packets, in case you missed them!)
But I'm not even one bit sorry for appearing like I've lost my will to cook, because maybe I have a little in this unbearable summer heat. But not when it comes to foil packet dinners!
I made these earlier this week when my sister came to visit (remember the dessert I made? Yep, peach cobbler!) and everybody loved them.
OK, so my 4 year old pretty much picked out her sausage and then figured she was full… 🙈 But otherwise they were an amazing success.
But best of all:
I didn't have a lot of cleanup
I didn't have a lot of prep work (and I could do it all before my sister came over)
I didn't spend much time in the kitchen at all
So, maybe not all of your company is as easy-going as my sister who will happily eat a foil packet dinner, but I mean… Your family will still love them for a super easy summer weeknight dinner, I promise.
How to make potato and sausage foil packets: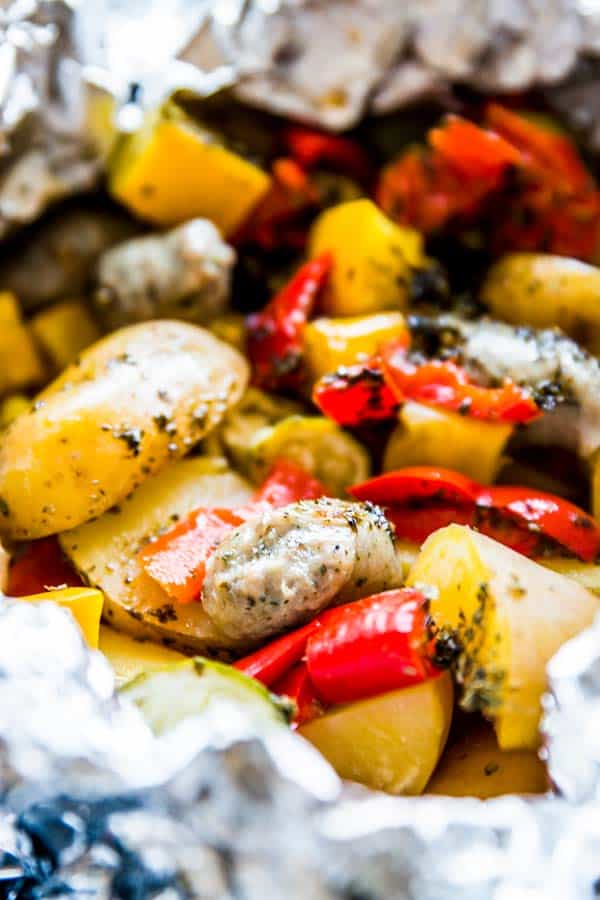 It's really not hard at all to make these, but let me just share a few tips:
How to make sausage foil packets on a budget:
Buy sausage when it's on offer and freeze it. I never buy sausage full-priced (because I like getting the all-natural stuff that's more expensive, go on, roll your eyes at me) but buy it whenever there's a special offer OR there's marked down packages that are about to expire, and then just chuck it straight into my freezer.
Go easy on the oil. Good cooking oils like olive oil can get expensive, so only use as much as you really need here. If you're using a fattier sausage, it will give off enough juices and fat to nicely coat the potatoes and vegetables without having to use a lot of oil.
Make it with seasonal produce. Zucchini, summer squash and peppers are cheapest when they're in season during summer. If you want to make this another time, use veggies that are more in season (and therefore cheaper). Sliced mushrooms, green beans, sweet corn, asparagus or even cabbage are great in this.
Uhm, speaking of produce… All the zucchini in my garden died this year. Still trying to get one summer squash to grow, I replanted it in a different spot though.
But my sweet neighbor gave me a summer squash and I used about ¼ of it for this meal. Because LOOK: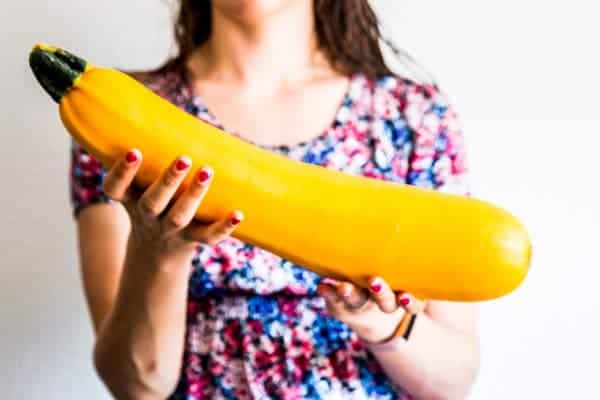 A summer squash giant.
Oh yes, having a mediocre garden and a neighbor who pities you for it is a very frugal way to get produce, too. I give her all my mishaps to feed to her rabbits, and she gives me awesome veggies in return… Ahem. Moving on.
If you're looking for a few quick tips to make this hobo dinner exceptionally easy…
… then look no further 😉 Basically, this is how you put this together in two easy steps:
Wrap everything in foil
Grill or bake until the sausage is done and the potatoes are tender
No, seriously. It really is that easy!
And if you're still not totally sure about this, check out the step-by-step:
How to make potato and sausage foil packets – step by step:
1. Prep all the ingredients
I find these are the quickest to put together when I prep all the ingredients first. I absolutely don't always do this when I'm cooking, but I do do it when it comes to foil packet recipes.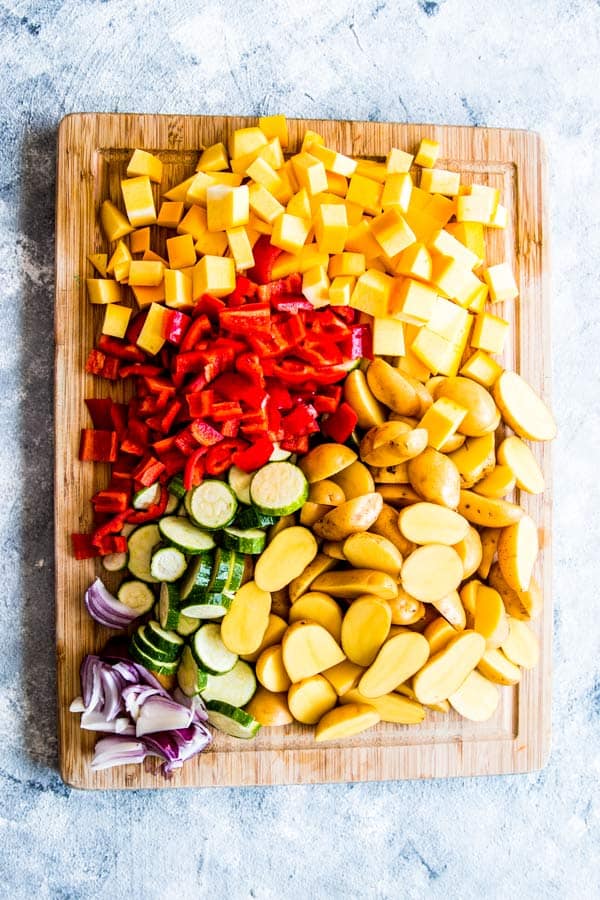 There's no need to be precious about your slicing and dicing here, but I do recommend slicing as evenly as you can to avoid ending up with some overcooked and some undercooked veggies.
By the way, I used new potatoes and I just sliced them half (no peeling!) for super quick prep!
2. Wrap it all up in foil
Now, you'll need aluminum foil. I don't use it a lot in my kitchen and always buy recycled foil (hey, I see you rolling your eyes for the second time 😉) – what can I say. I grew up with parents who saved every little bit of foil used to re-use it over and over again.
You know. Because of the planet and stuff.
Anyways, I make a big exception for summer cooking and grilling and it's a compromise with myself for not really using aluminum cans or foil the rest of the year.
So. Take your pieces of foil (about the size of a cookie sheet each) and lay them out in front of you.
First up are the potatoes.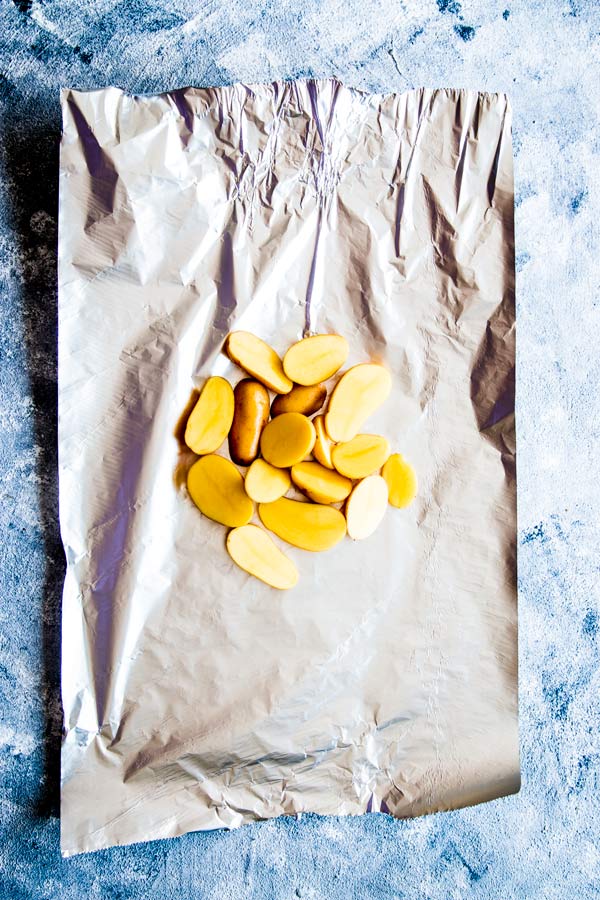 On top goes the sliced sausage.
That way the part that takes the longest to cook (the potatoes) are right above the fire, while the part that releases yummy juices (the sausage) is right above the potatoes to nicely season them.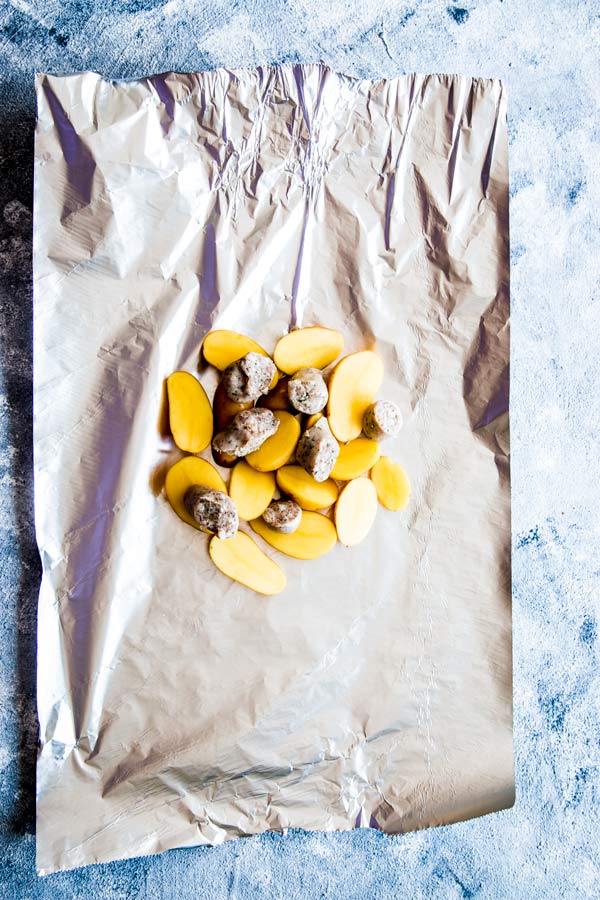 Next, you'll want to pile all the remaining veggies on top.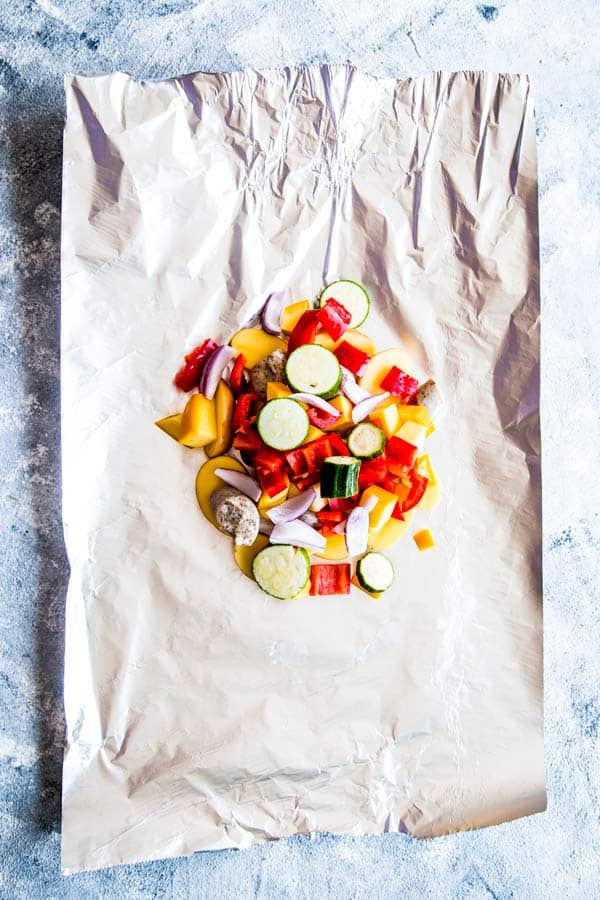 And then nicely season them. I like using a little bit of olive oil, salt and Italian seasoning.
But you can totally make this your own and use whatever you like! Fresh rosemary sprigs would be awesome in these, too. I was honestly just too hot to go outside and snip it off 🙈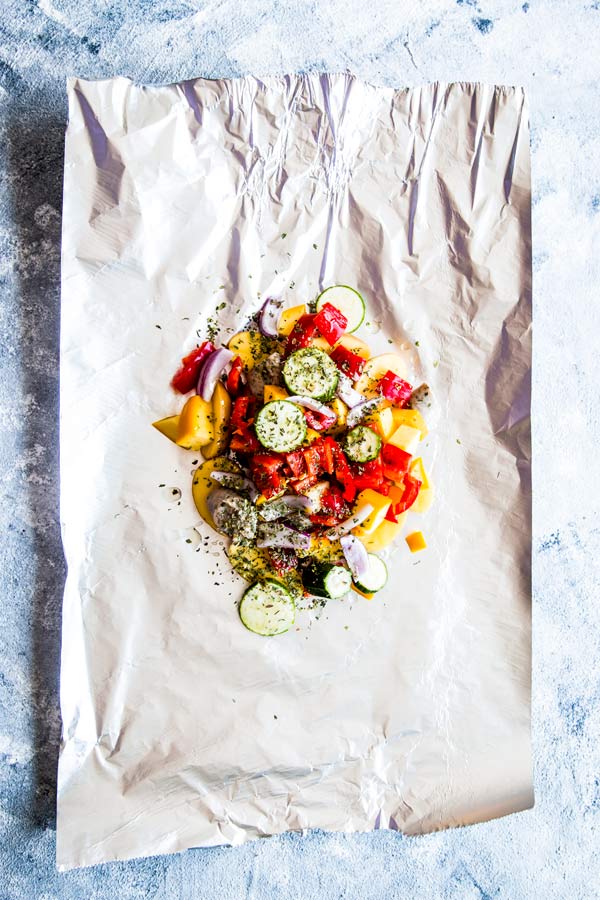 Finally, you'll want to wrap the whole thing up into a little parcel.
I find it works best if you fold up all sides to form a little basket/box/bowl first.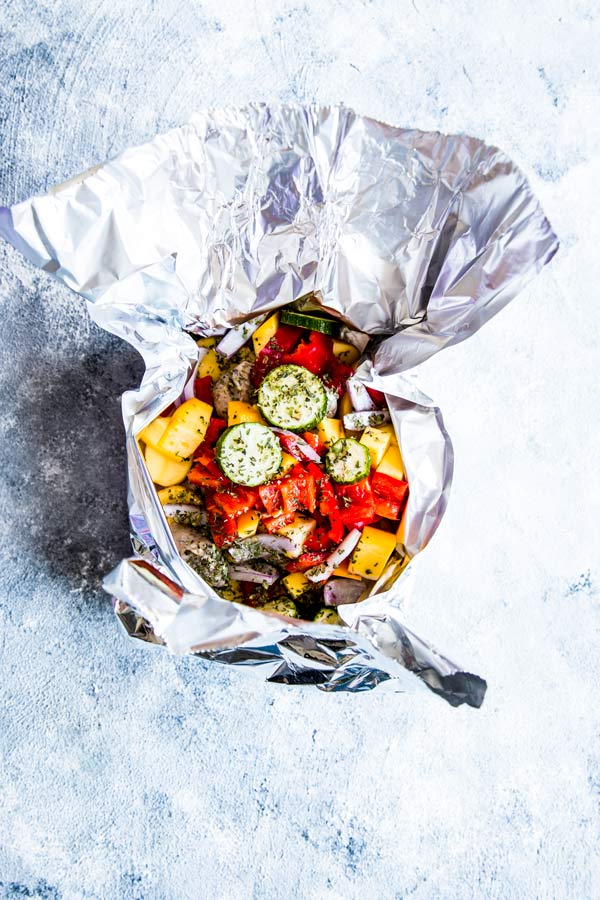 Then, firmly close the foil packet by folding the edges of the foil towards the center.
This is so hard to explain in words, I might have to make a video for this, ha!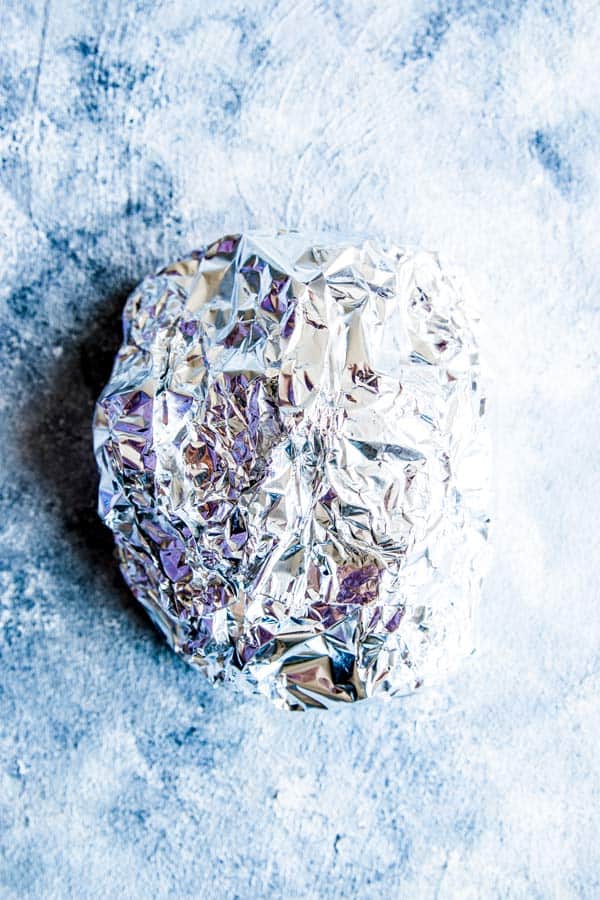 And then you'll want to cook it for 30-40 minutes on the hot grill or in the preheated oven, until the potatoes are tender.
Let everyone open their packet at the table and ooooh and aaaah in delight 😉
I actually opened all of these for the photo…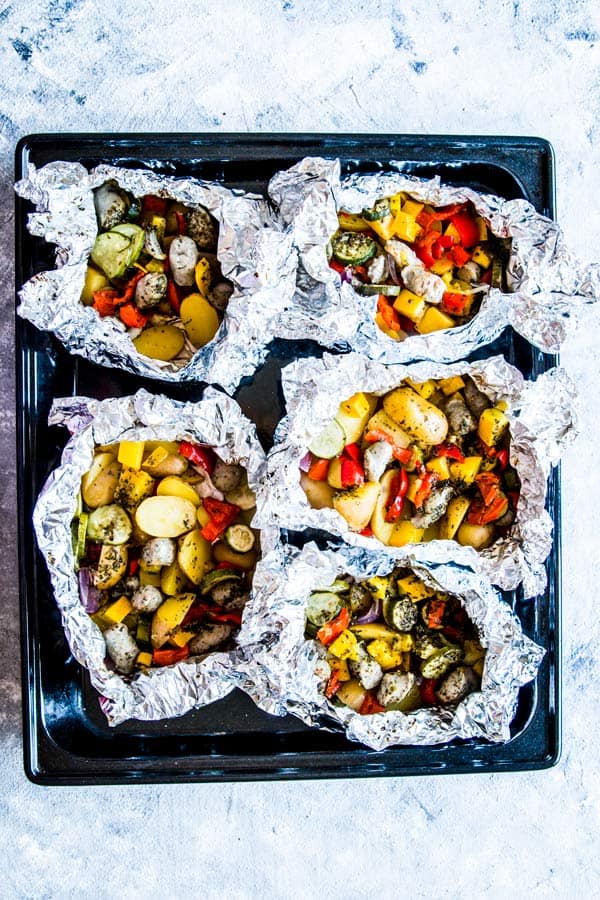 … and then closed them again to serve, because I really didn't want to destroy their effect, ha!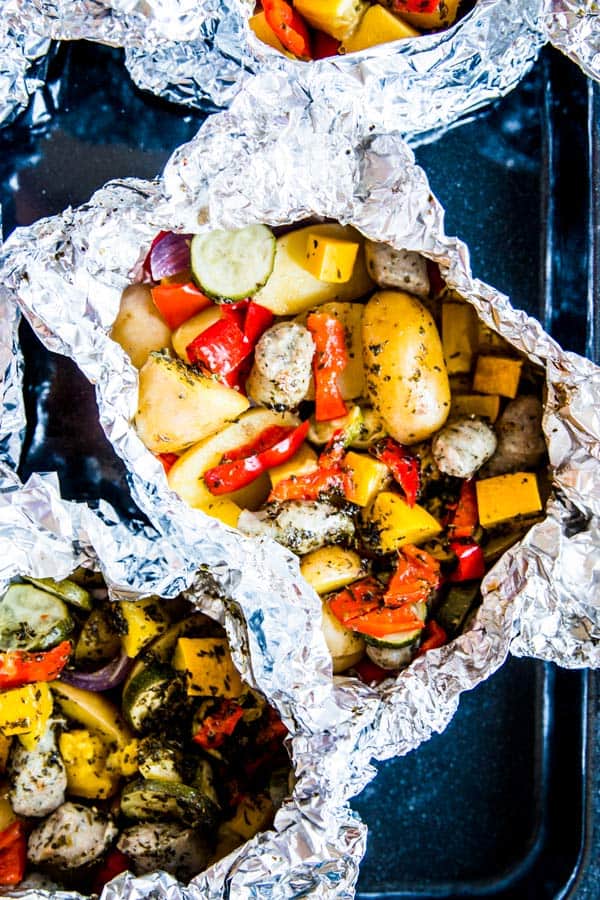 It's a good idea to kind of stir and toss the contents of the foil packet before digging in, because the herbs aren't really distributed at that point.
We eat them just by themselves with a big green salad on the side. But if you have big eaters at your house (hello, teenage boys!), you can absolutely add some dinner rolls or a crusty bread on the side to mop up all the nice juices at the bottom of each little parcel.
Here's to a few more weeks of summer, grilling and the laziest dinners ever!
Get the printable recipe for your new favorite summer dinner here:
Printable Recipe Card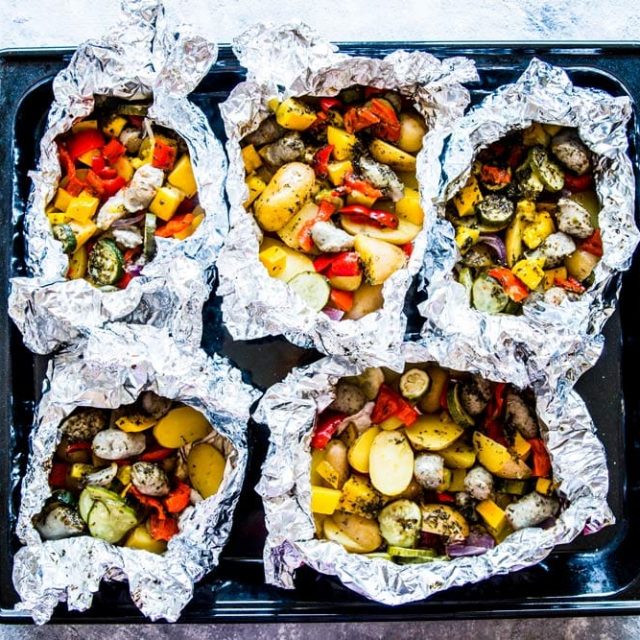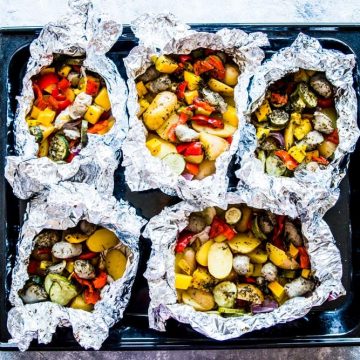 Super Easy Potato and Sausage Foil Packets (Grill or Oven!)
These potato and sausage foil packets are quick to put together with minimal clean up for the perfect easy dinner.
made it? tap the stars to add your rating!
Ingredients
1.5

pounds

new potatoes

halved

4-6

sausages

depending on their size, use whatever – bratwurst, kielbasa, whatever you like best, sliced

1

medium yellow summer squash

diced (or ¼ of a flipping gigantic one)

2

medium zucchini

sliced

2

red peppers

cored and diced

1

red onion

cut into wedges

olive oil

Italian seasoning

salt
Instructions
Preheat the grill (or the oven to 425°F). Set out 4 large pieces of aluminum foil (each about the size of a cookie sheet).

Place ¼ of the potatoes in the middle of each piece of foil. Divide the sausage on top. Pile on the veggies and season to taste with olive oil, Italian seasoning and salt.

Seal each packet by folding the edges of the foil over the pile of ingredients.

Cook on the grill or in the oven for around 30-40 minutes, or until the potatoes and vegetables are tender and the sausage is cooked.
Want to save this recipe?
Create an account for free to start your personal recipe box. Save any recipe by tapping the heart in the bottom right corner.
Join Now
Nutrition
Calories:
474
kcal
Carbohydrates:
41
g
Protein:
19
g
Fat:
27
g
Saturated Fat:
8
g
Cholesterol:
61
mg
Sodium:
563
mg
Potassium:
1477
mg
Fiber:
7
g
Sugar:
9
g
Vitamin A:
2221
IU
Vitamin C:
138
mg
Calcium:
62
mg
Iron:
3
mg
Nutrition is an estimate.
More recipe information