Make these Summer Veggie Salmon Foil Packets for an easy and fuss-free family dinner tonight! Use the grill or the oven – whatever suits you best. Yum!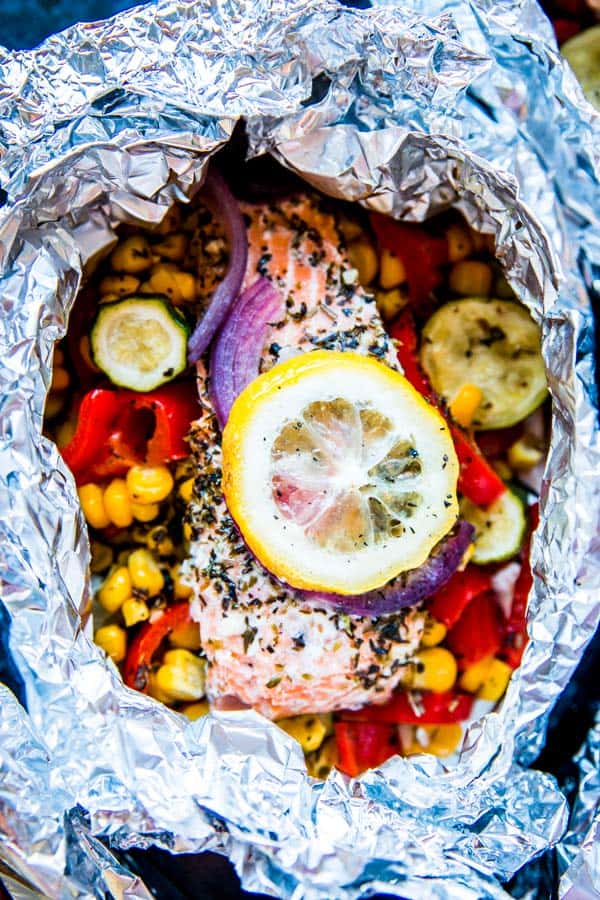 When we came back from our annual beach vacationless week, I cheerfully told my husband that we'd do nothing but grill for the rest of summer.
Then we got a flyer the very same day. A flyer that informed us about a total fire ban due to the incredible heat and dryness we've been experiencing.
Bummer, right?
Thankfully, my plans of sharing one of my very favorite ways to cook during summer with you (The Foil Packet) were not too interrupted by this, since they work perfectly well in the oven, too.
I know fish is not always THE hottest dinner topic, but I absolutely love it. My kids love it. My husband loves it, too.
And I make this salmon recipe even though we have a tight grocery budget…
Since salmon is expensive, I only buy it when there's a really good offer. We have some big saving goals, so keeping the grocery budget at an acceptable level is important to me.
If you're working within a tight budget, too, try to pick up salmon when it's sold at a really good price! You can freeze it right in the vacuum sealed package, and if you're buying by the pound you can definitely ask them at the store to vacuum pack it for you.
And then you'll always have some frugal salmon stored away in the freezer when you're craving salmon veggie packs. Or Honey Teriyaki Lime Salmon Baked in Foil. Or One Sheet Pan Tuscan Baked Salmon and Veggies!
Tips for making these Salmon Foil Packets absolutely foolproof!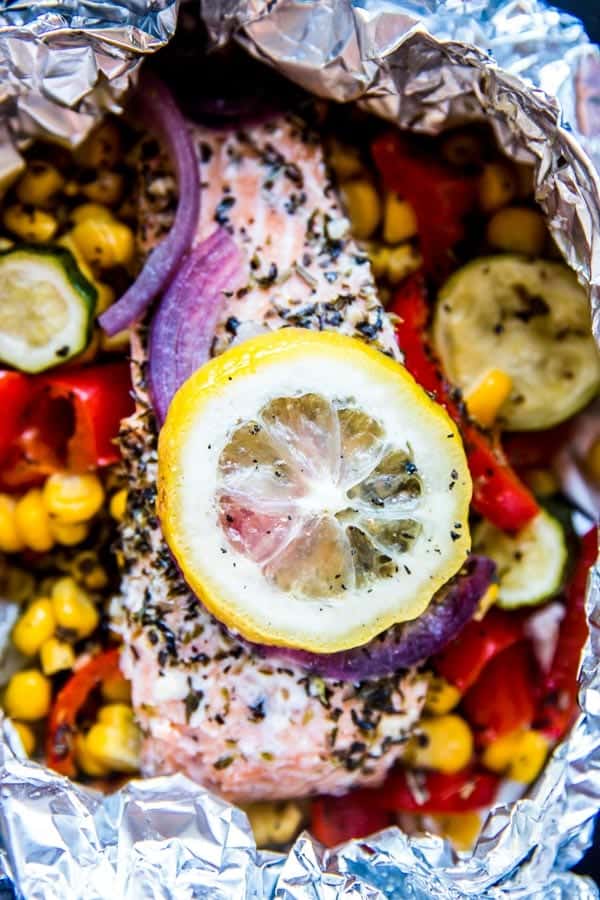 Ok, these are REALLY not hard to make.
Really. they are the easiest thing ever.
Before we dive into the step-by-step, let me just highlight a few ways you can make these totally foolproof, so you end up with a nice dinner and not a Pinterest fail 🙈
Cut the veggies as evenly as you can. Don't be a perfectionist about it and take a ton of time, but try to be a little consistent. Otherwise some will not cook, some will be mush.
If you can't find fresh corn: Frozen or canned works, too!
Make sure you seal the foil packets well. Fold up the sides to make a little bowl and then tightly wrap it all up. Otherwise you'll have unwelcome leaks in the grill or oven.
How to make this delicious foil packet dinner:
In short, this recipe goes something like this:
Wrap all ingredients in foil
Grill or bake
Ha! That is it.
If you're like me and love to look at some details to make sure you're not messing up, here you go:
Veggie prep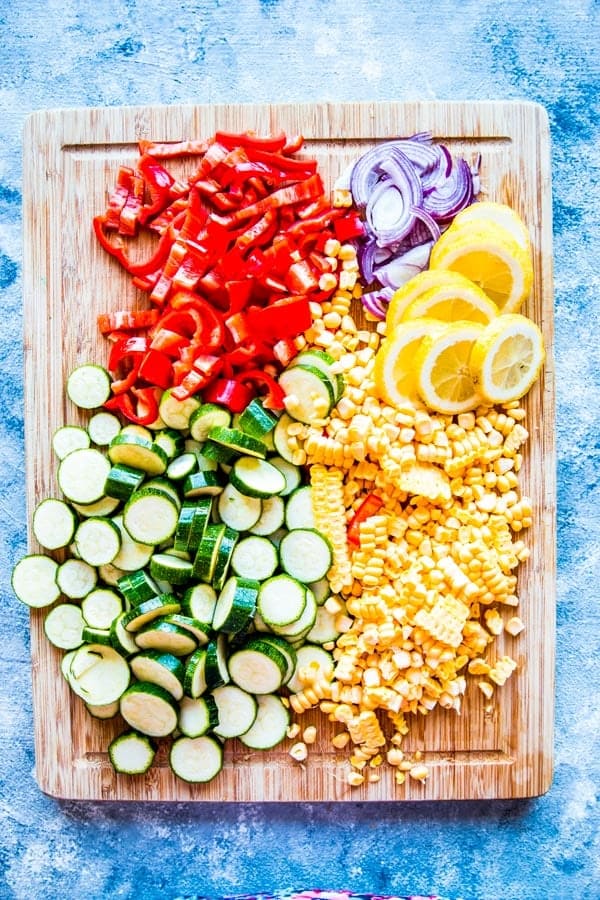 First, you'll need to prep all the veggies. Or at least that makes it easier.
We have garden-fresh corn, zucchini and pepper. Oh, and a little red onion and lemon for that extra flavor kick.
P.S: Yes, I was too lazy to crop the edge of my top from the bottom of the photo. Hey, it's summer 😉
You'll also want to preheat your oven or grill and get 4 pieces of aluminum foil. I just use a baking sheet to gauge the size of foil I need – easy peasy!
Assemble the foil packets
Then you'll want to assemble the foil packets as follows: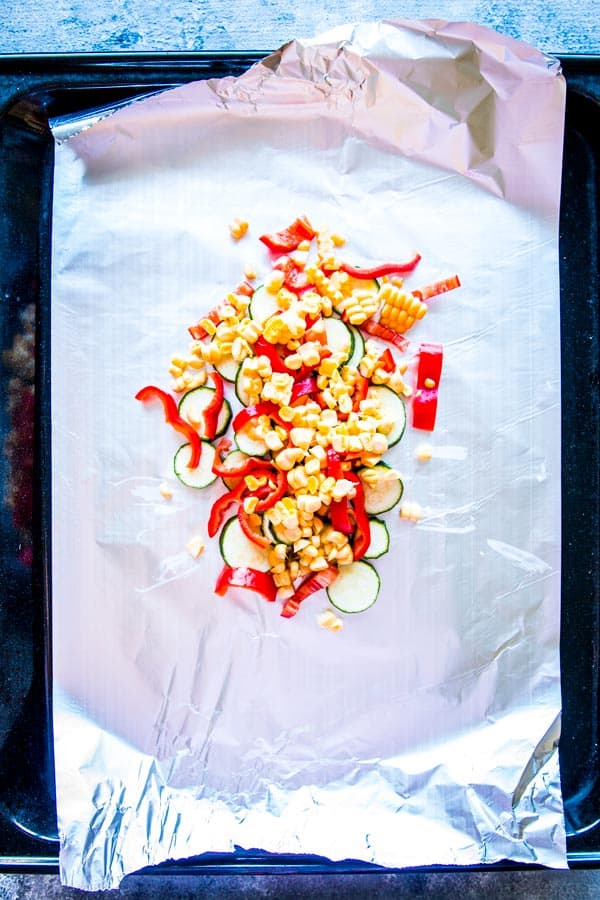 First on go the veggies.
If you're nerdy like me, you'll divide the veggies into 4 sections on your chopping board to make sure every packet gets the same amount.
Uhm, yes. Just another OCD confession.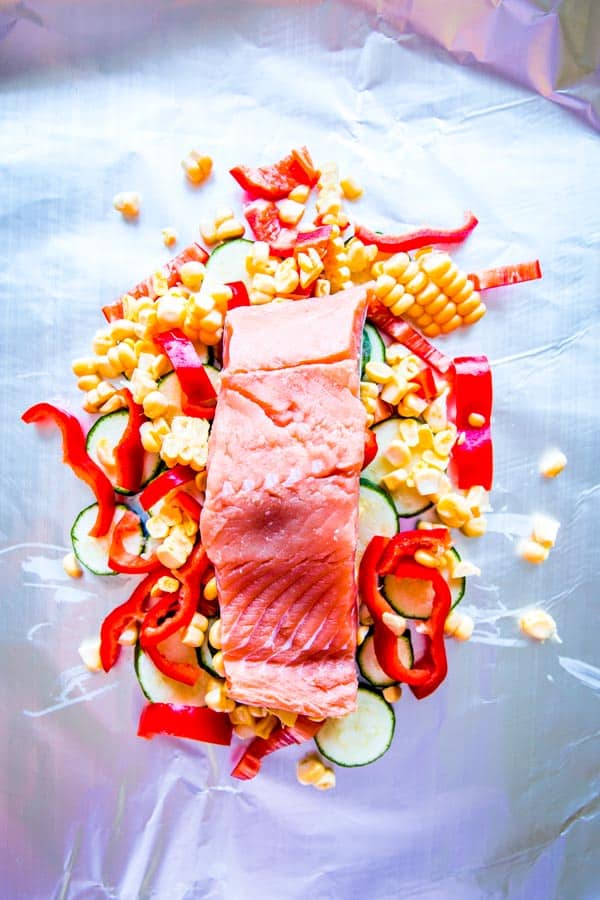 Then the salmon on top. I always use skin-on!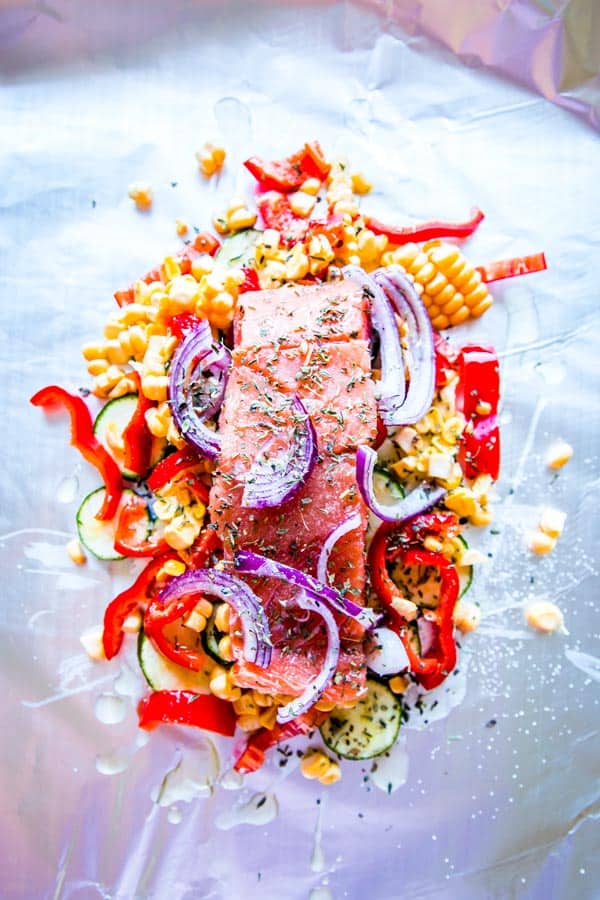 Salt, herbs, oil and red onion!
No need to toss or stir anything, flavor seeps down into the veggies as they cook – and you can toss them in all the yummy juices once it's done cooking!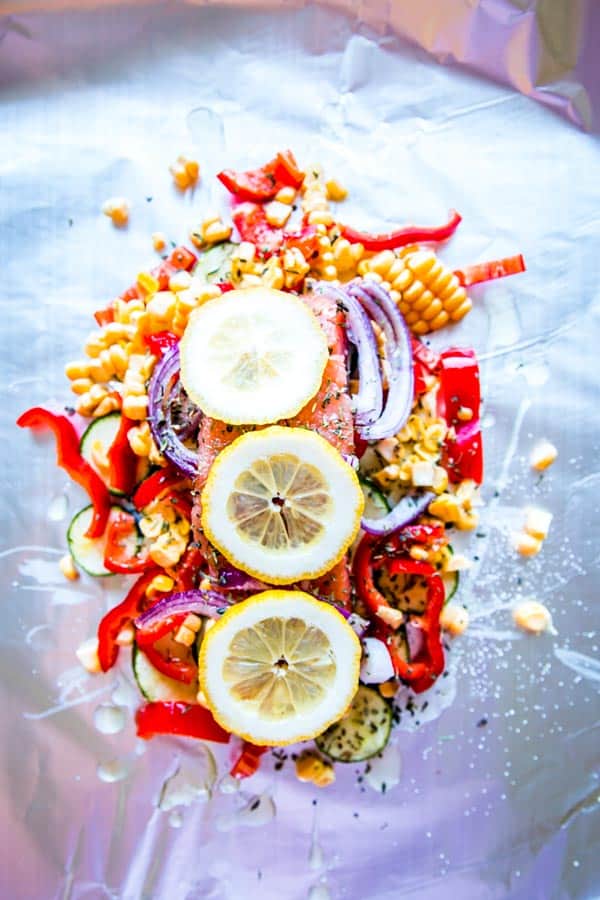 Finally, cover the salmon with lemon slices. You won't eat the actual lemon, but the lemon juice helps make a yummy sauce.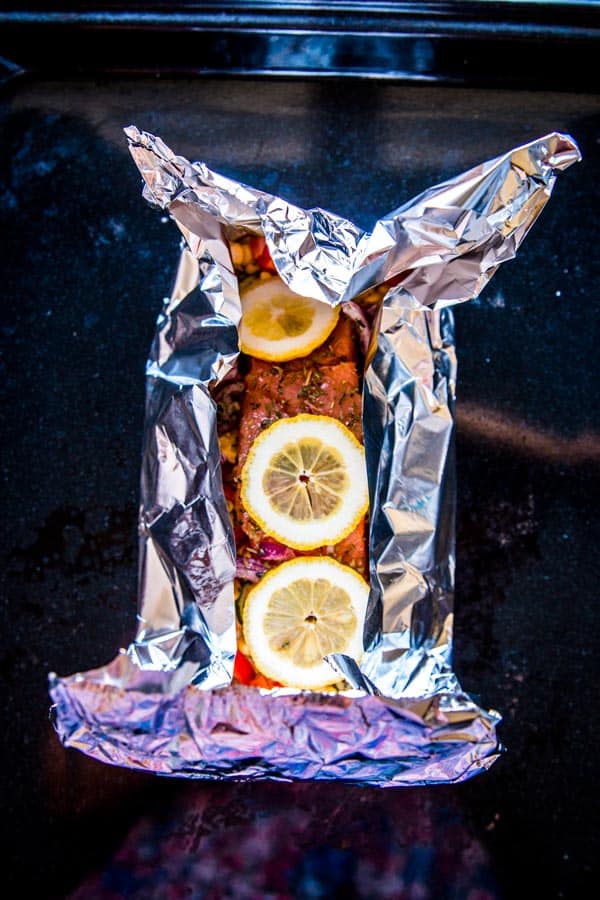 Then, fold up all the sides to make a little boat or shoebox or bowl or whatever you want to call it.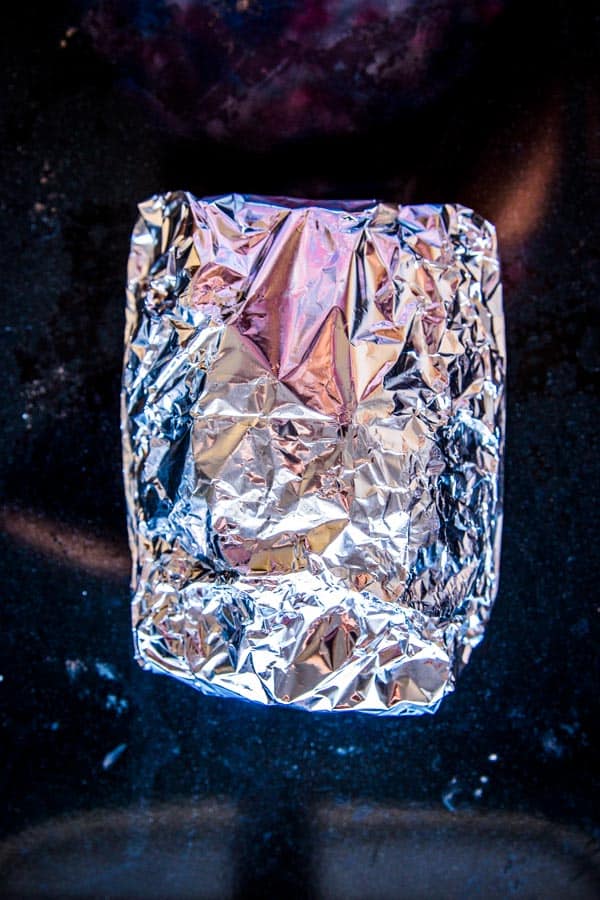 Finally, seal it all into a cute little pouch.
Now, you can cook it in the oven or on the grill for around 20 minutes, or until the salmon flakes easily and all veggies are tender.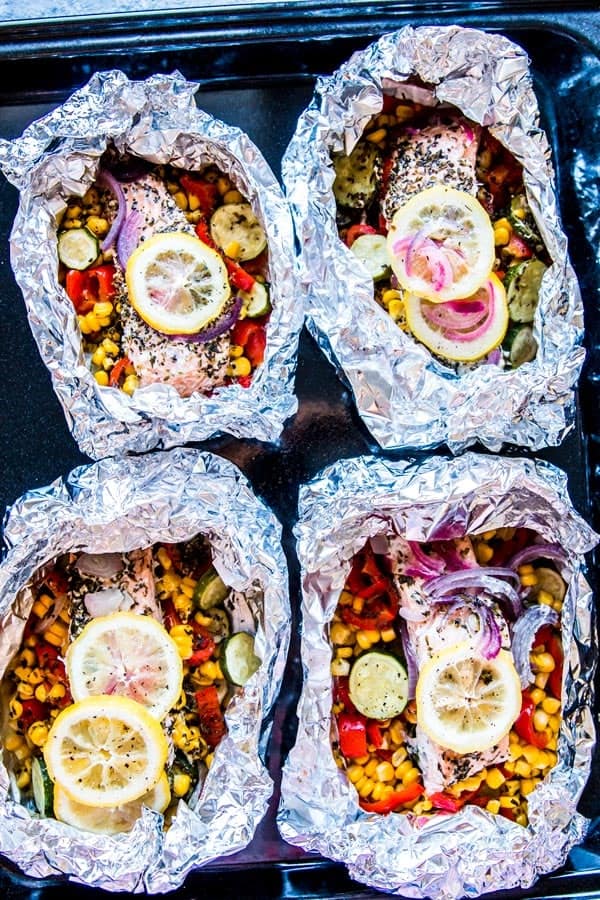 Then have everyone open their own little surprise at the table (or around the campfire!).
Careful, hot steam comes out of the pouch as you open it. I'm just trying to warn you here. Also, help kids with their pouches.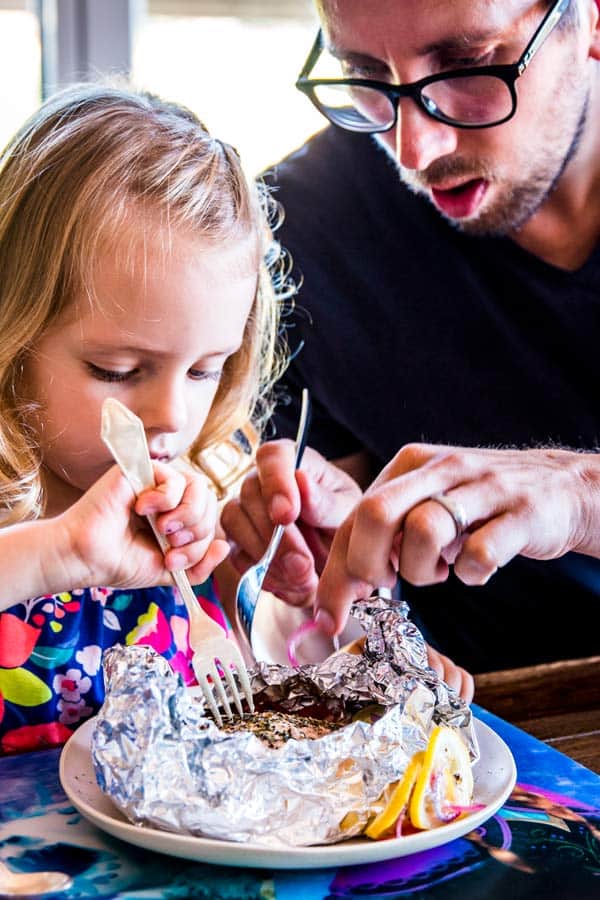 Like so. Aren't they the cutest?! 😍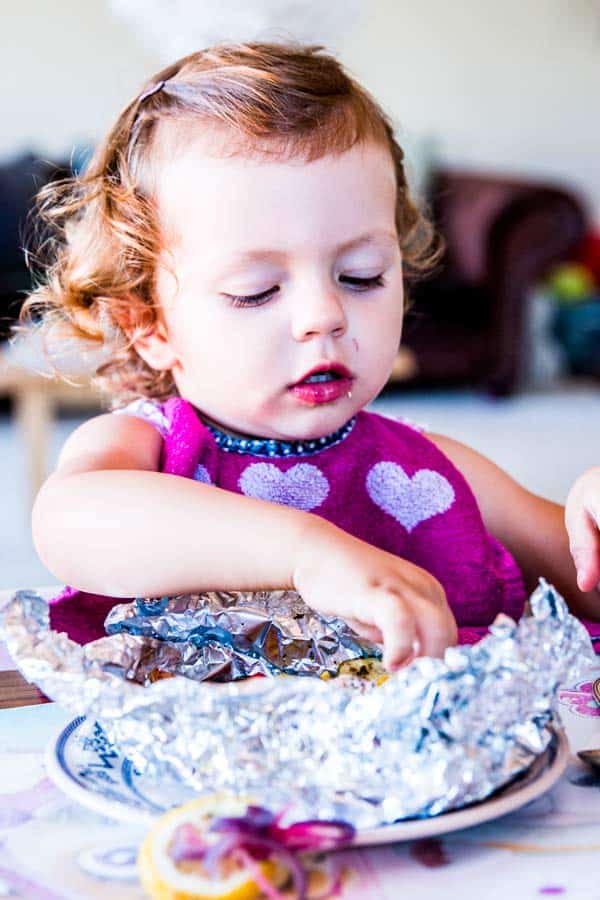 Little loves. Also, my life is a festival of pink and purple and hearts and flowers and princesses right now.
Definitely not complaining, but you'll have to endure some of it in these photos, too 😉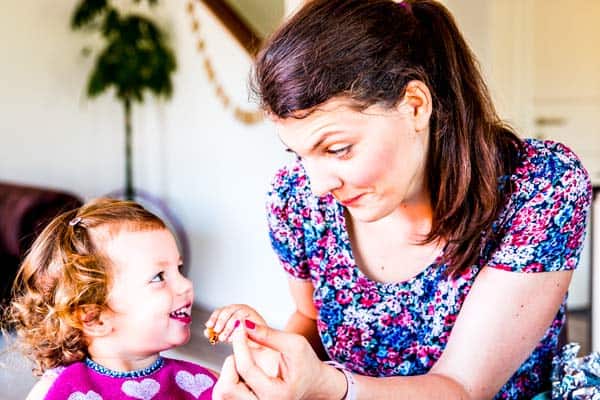 Yeah… I actually really love florals. And eating dinner with these cheeky monkeys, too ❤️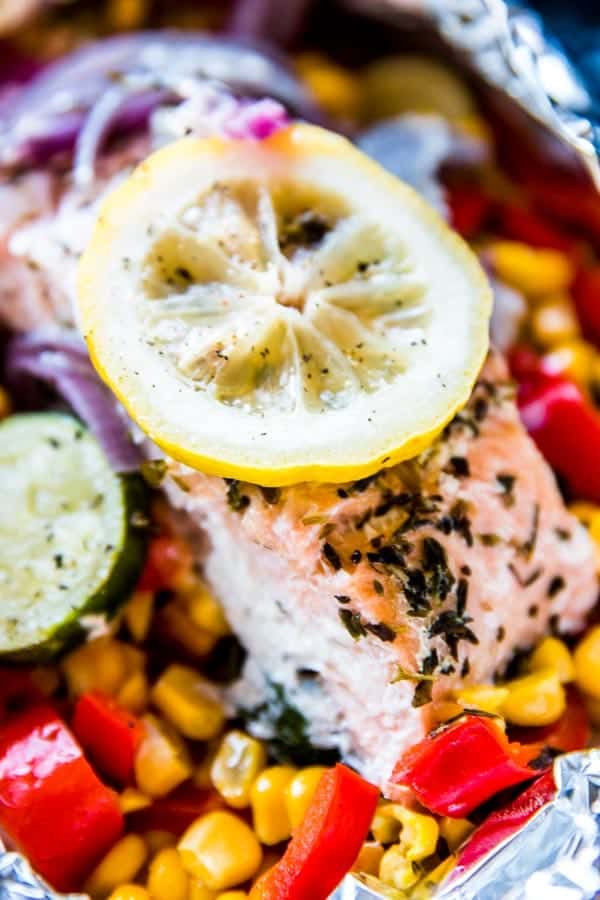 But I mean, YUM. Talk about a happy summer dinner!
Grab the printable recipe for this easy summer dinner here:
Printable Recipe Card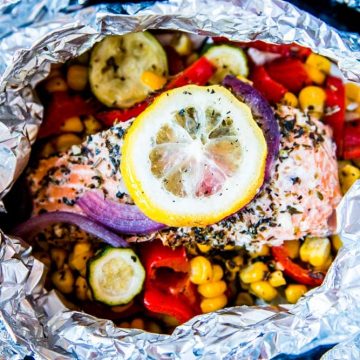 Summer Veggie Salmon Foil Packets (Grill or Oven!)
An easy meal for summer, these salmon foil packets come together in no time.
made it? tap the stars to add your rating!
Ingredients
2

lemons

sliced

2

ears corn

kernels shaved off (alternatively, use 1 cup canned or frozen)

2

medium red peppers

cored and sliced

2

medium zucchini

sliced

4

salmon fillets

1

red onion

sliced

Italian herbs

salt and olive oil (to taste)
Instructions
Preheat the grill (or the oven to 425°F).

Place ¼ of each corn, red peppers and zucchini on each piece of foil. Place a salmon fillet on each and top with red onion slices.

Season the fish and veggies with Italian herbs and salt, and drizzle with olive oil.

Place the lemon slices on top of the fish and seal each packet.

Cook on the grill or in the oven for around 20 minutes, or until the fish flakes easily and the veggies are all tender.
Want to save this recipe?
Create an account for free to start your personal recipe box. Save any recipe by tapping the heart in the bottom right corner.
Join Now
Nutrition
Calories:
289.39
kcal
Carbohydrates:
18.65
g
Protein:
31.72
g
Fat:
10.15
g
Saturated Fat:
1.65
g
Cholesterol:
77.96
mg
Sodium:
80.59
mg
Potassium:
1252.99
mg
Fiber:
3.6
g
Sugar:
9.31
g
Vitamin A:
2199.8
IU
Vitamin C:
104.42
mg
Calcium:
43.18
mg
Iron:
2.04
mg
Nutrition is an estimate.
More recipe information