Greek Chicken Kabobs are an easy and healthy grilling recipe to try for your next BBQ party. Greek marinated chicken is put on skewers with lots of colorful vegetables. Serve it with tzatziki sauce and marinated olives for the ultimate Mediterranean summer feast!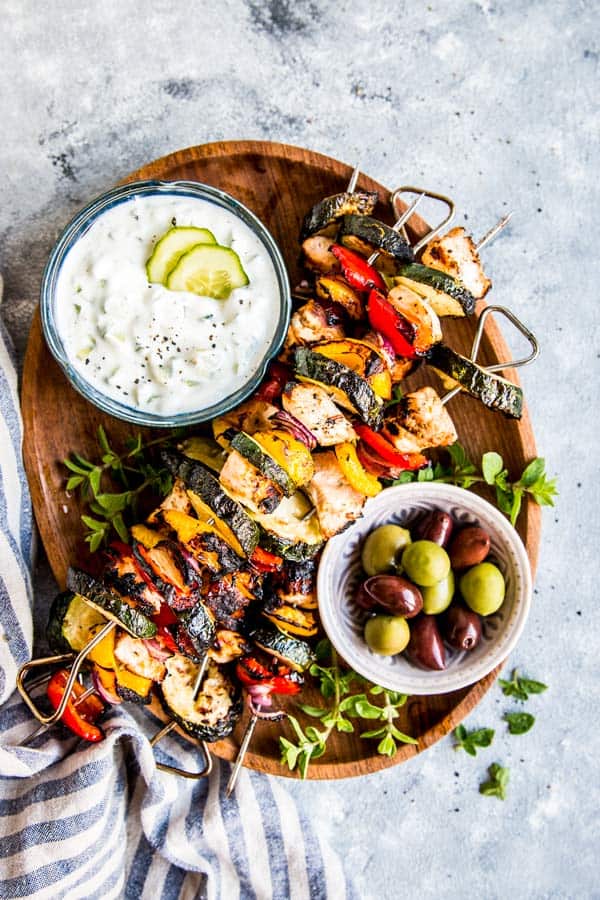 Greek Chicken Kabobs: Trim Healthy Mama Friendly, Low Carb, Whole 30, Paleo
We went to the farmer's market this morning (more on how I shop the farmer's market soon!) and picked up some peppers and zucchini to make these Greek Chicken Kabobs again this weekend.
If you're following me on Instagram, you'll already know from my stories that I also picked up a bunch of gorgeous pink peonies 💗 And now I sat down to do some blogging during quiet time… But apparently there is nothing quiet about it today, ha!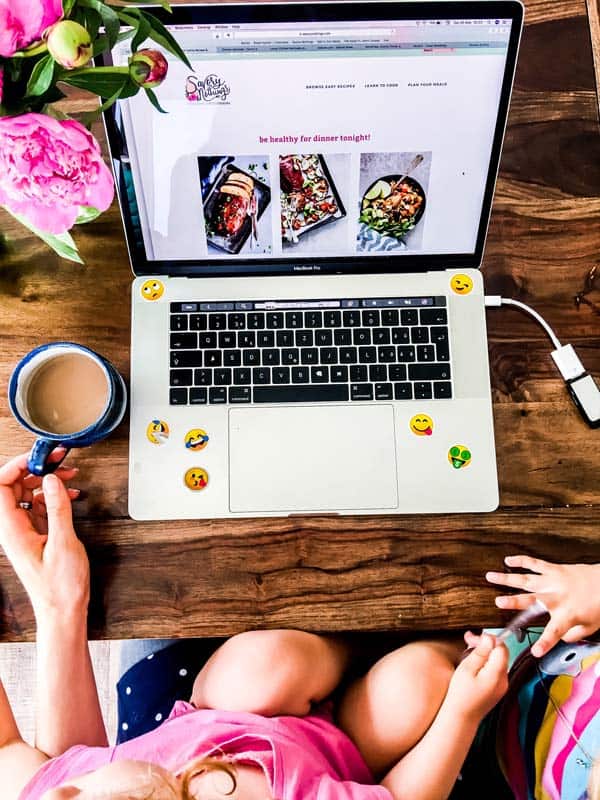 So… I guess all three of us are writing this post today 🤷🏻‍♀️
The reason why I'm obsessed with these kabobs and want to have them all day, every day, all summer long? Well, for one, they're delicious.
But also my kids think they're the greatest thing ever for some reason. Maybe because I make a tzatziki dipping sauce to go with them? I don't know. Anything healthy they'll get excited about is an A+ in my books!
The kabobs are super easy to make, too, so you'll have a stress-free barbecue. Or, I mean, as stress-free as it gets with keeping kids from FIRE 🙈
A quick note before you scroll to the bottom because you want to head straight to the recipe card: There are many tips and tricks plus answers to popular questions regarding this recipe written below, so if you need some help don't skip this part!
How to Make Greek Chicken Kabobs: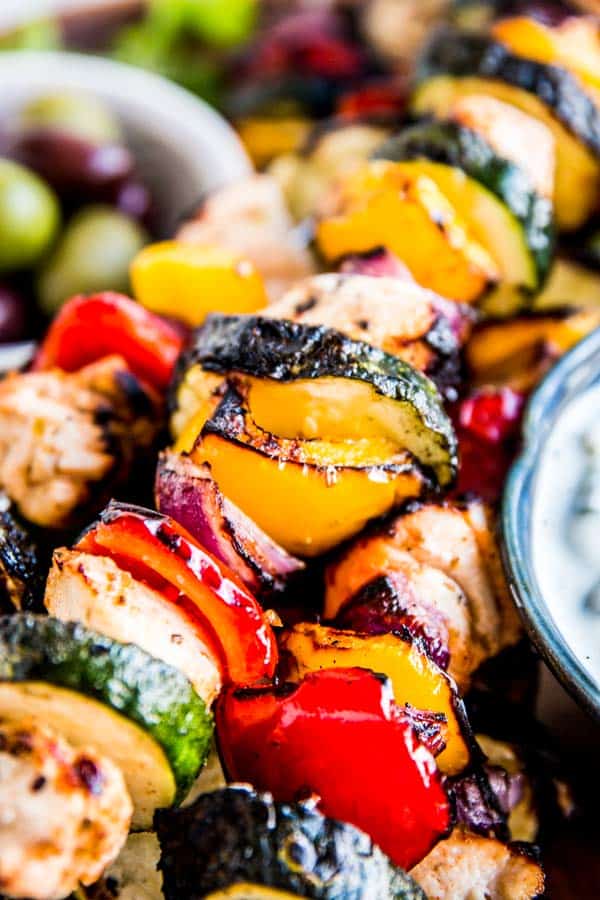 What you'll need to make these:
The ingredients and supplies for this recipe are pretty basic, so nothing you won't already have at home or can't find at a regular grocery store.
Chicken breast, marinated in Greek Chicken Marinade if you're a gold star student, plus a second batch marinade for the vegetables
red pepper
yellow pepper
red onion
zucchini
skewers (I've had the same reusable metal ones like these on Amazon for years now, and I love them!) – FYI, I make a commission for purchases made through this link. Your price doesn't change.
Uhm, a grill 😉
Prep needed for this recipe:
There's a little bit of slicing, mixing and marinating to be done for this chicken skewers, but it's pretty simple.
First, you'll want to get your chicken marinating in the greek chicken marinade I linked above.
Then, you'll slice all the veggies…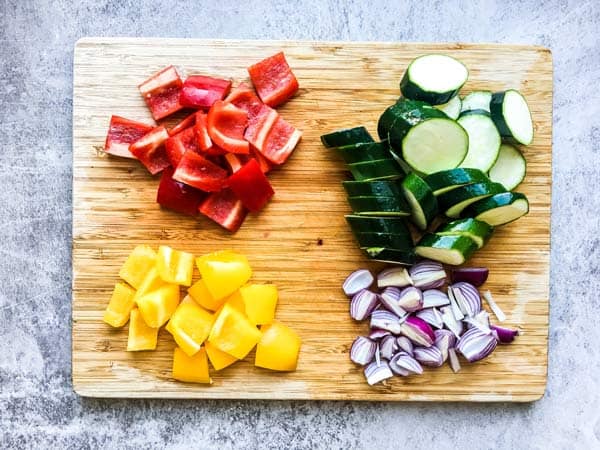 … and place them separately in a fresh batch of Greek marinade.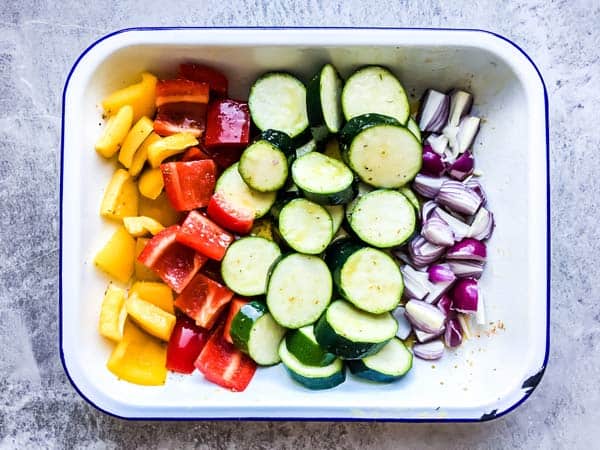 You can let the chicken marinate for up to 2 days. I wouldn't do the veggies for longer than overnight, or the zucchini will start getting soggy.
Once you're ready to grill, thread everything on skewers and fire it up!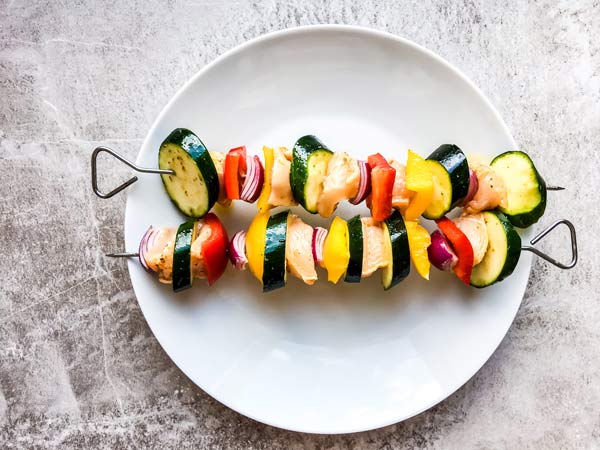 How to assemble the skewers without going crazy:
I am the worst at doing repetitive tasks like making skewers. I get so bored after one, and after the second one I want to give up 😂
So here's what I do:
I figure out in what order I want to have the ingredients on my kabobs
I do it as quickly as I can
That's it.
When I figure out the order of ingredients, I also try to gauge how many pieces I have of each, to make sure everything is evenly divided between the skewers.
So Nora, how long do you cook chicken kabobs on the grill?
The truth? I don't cook them on the grill at all – my husband does 🙈 This is so cliché. But I'm terrible at grilling.
He turns them often and cooks them 10-15 minutes, or until I have declared juices run clear enough.
I'll order my steak medium-rare any day, but I'm weird about chicken…
And… Where's the tzatziki recipe?
I promise, a separate recipe post is coming. For now, you can check out the tzatziki in this stuffed avocado recipe!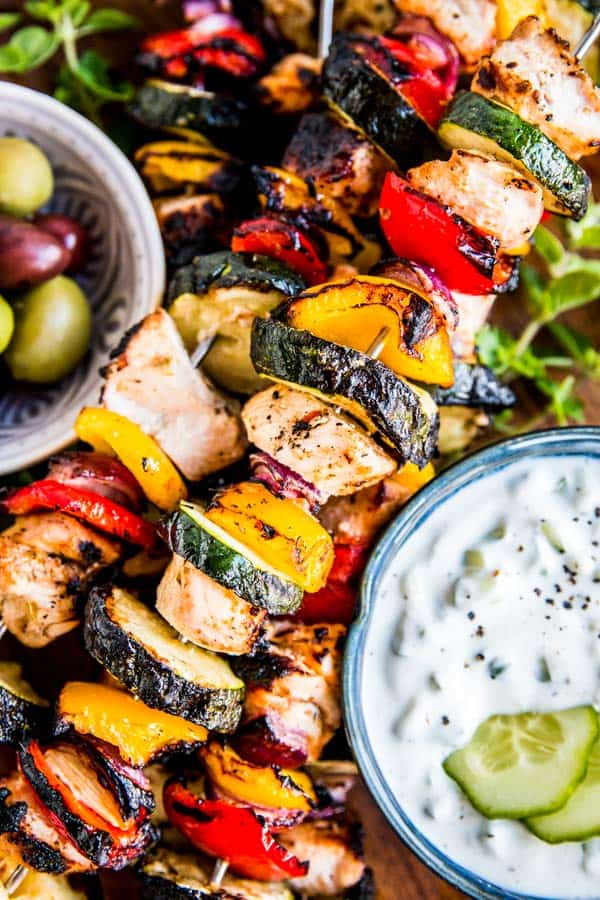 More BBQ Recipes You'll Love:
To go with these kabobs, I have a few Mediterranean inspired recipes you're going to love:
Oh and by the way, I shared my first grilling post waaaay back when, and it's always popular during the summer: Thai Peanut Chicken Skewers!
how these Greek Chicken Kabobs fit into the trim healthy mama plan:
If you've been around for a while, you'll know what a huge fan I am of the Trim Healthy Mama lifestyle.
If you don't know what I'm going on about and want to learn more, an easy book to start with is their Trim Healthy Mama Plan you can get on Amazon here. FYI, I make a commission for purchases made through that link. Your price doesn't change.
While I only agree 99% with the plan (I'm a firm believer in whole raw milk, raw honey and fitting high-quality pasta and potatoes into my life), it's a great resource to get you started if you want to change your family's diet for the better.
This greek chicken kabob recipe is a fuel pull, as it has neither a significant amount of carbs or of fat. There's a little oil in the marinade, but a lot of it gets discarded and it's not a large amount, either.
Which makes these great for both an s-meal and an e-meal! You can even turn these yummy skewers into a fuel pull meal, with lots of vegetables on the side!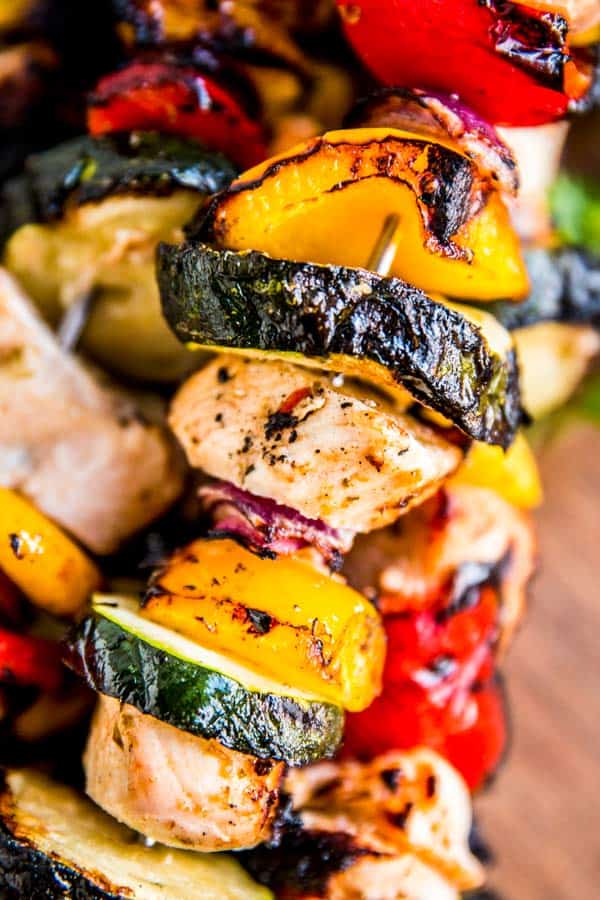 Print the recipe for these easy chicken skewers:
Printable Recipe Card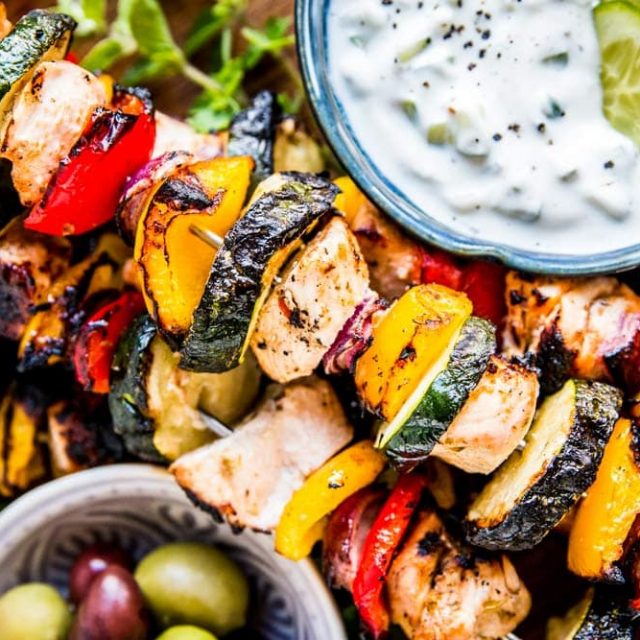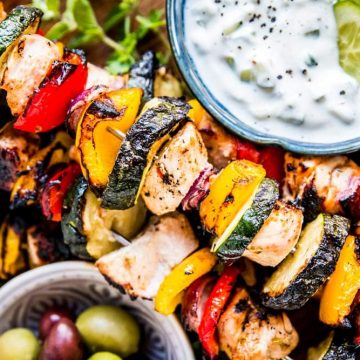 Greek Chicken Kabobs
Greek Chicken Kabobs are an easy and healthy grilling recipe to try for your next BBQ party.
made it? tap the stars to add your rating!
Ingredients
For the meat:
1

pound

boneless

skinless chicken breast, cut into bite-sized pieces
For the vegetables:
1

red bell pepper

cut into chunks

1

yellow bell pepper

cut into chunks

2

small-medium zucchini

sliced

2

red onions

cut into wedges
Instructions
Marinate the chicken:
Place the chicken and 1 batch Greek Chicken Marinade in a sealable container or ziploc bag. Mix well, making sure the entire chicken is covered well. Seal and refrigerate for up to 2 days.
Marinate the vegetables:
Place both prepped peppers, the sliced zucchini and onion wedges in a large shallow dish and pour on 1 batch Greek Chicken Marinade. Make sure all vegetables are evenly coated. Cover and refrigerate up to overnight.
Make the skewers:
Once you're ready to grill, thread the chicken and vegetables evenly onto 8-10 skewers.

Grill the kabobs for 10-15 minutes, turning often, until juices run clear and the chicken is no longer pink in the middle.
Want to save this recipe?
Create an account for free to start your personal recipe box. Save any recipe by tapping the heart in the bottom right corner.
Join Now
Nutrition is an estimate.
More recipe information
Questions for you:
Do you shop at the farmer's market?
What are your favorite flavors for summer dinners?
Do you grill… Or does your husband? 😉
Let's chat in the comments below – I want to hear your opinion!