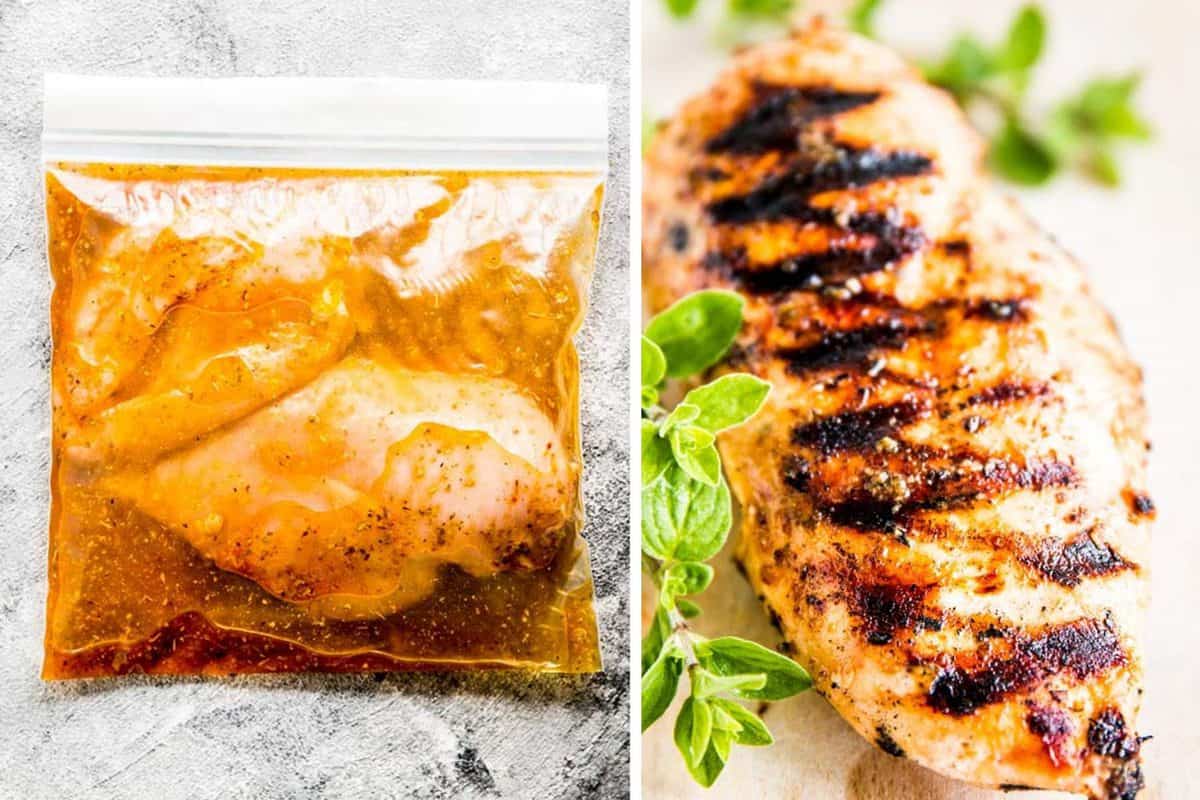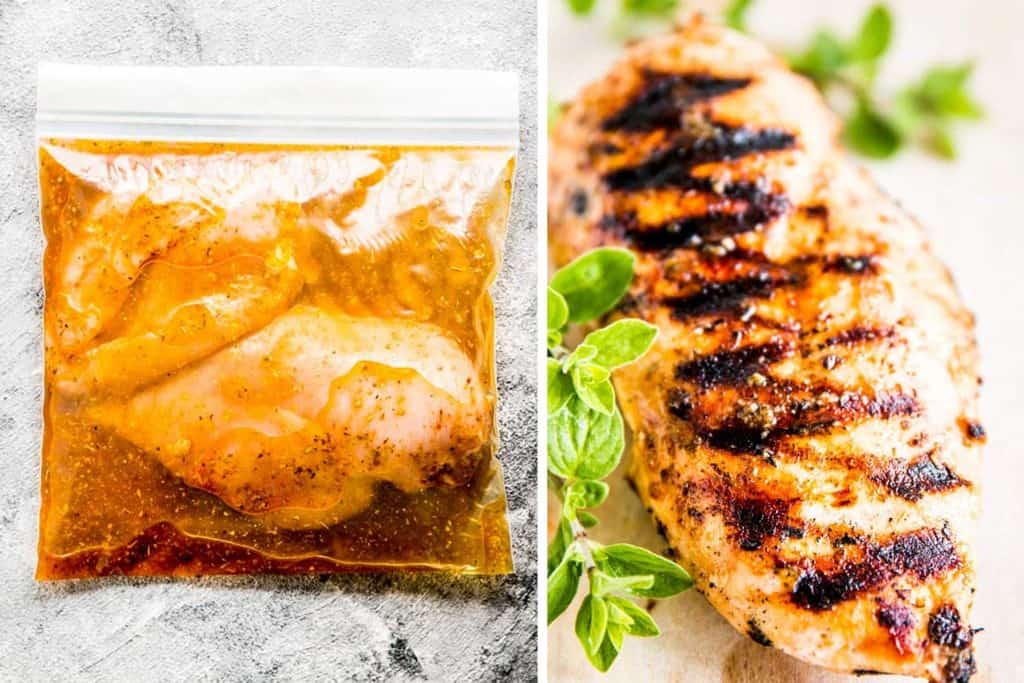 made it? tap the stars to add your rating!
Chicken used to be a big conundrum to me – it can be so bland! But at some point I realized I just have to pack on the flavors to make it tasty. Ever since I made that discovery (I know, I live on the edge), our chicken dinners have become a lot more delicious. This Greek-inspired marinade is one of my favorites. Perfect for summer grilling, but also for year-round indoor cooking. You can bake the chicken in the oven or cook it on the stove, either way, it's delicious.
Ingredients
For the marinade:
1 ½

tablespoons

olive oil

1

teaspoon

dried garlic powder

1

tablespoon

red wine vinegar

1

lemon

(juice only)

2

teaspoons

dried oregano

½

teaspoon

salt

¼

teaspoon

ground paprika

¼

teaspoon

ground black pepper
For the chicken:
1

pound

boneless

(skinless chicken breast)
Instructions
Place all ingredients for the marinade in your container of choice (ziploc bag, shallow dish… see post for more info). Mix well. Add the raw chicken and make sure it's coated all around.

If using a ziploc bag, get out as much air as you can from the bag before sealing it. If using a different container, cover it as tightly as you can.

Keep in the fridge for up to 2 days, OR freeze for up to 3 months. Defrost in the fridge overnight.
Add Your Review
Nora's Tips
Cooking Tips:
Make chicken tender: Marinating chicken helps to keep it juicy while cooking. If you put acid in the marinade (like vinegar!) it helps tenderize. Marinated chicken is also super delicious because it had time to absorb the flavors from the marinade.
Containers for marinating:
a classic zip-loc bag
a shallow baking dish
a large soup bowl
a small-ish glass or plastic freezer container with a lid
I only use zip-loc bags if I'm freezing the chicken in the marinade, which is exactly what I did with the bag in the photo for this post below!
Otherwise I almost always use a shallow baking dish. I cover it with a plate or a second baking dish, because I try to stay away from single-use plastic as much as I can.
Marinating time: Overnight works really well for easy meal prep, but 30 minutes are OK if you're short on time. Actually, if you work in a clean way, the USDA food safety rules say you can marinate chicken in the fridge for up to 2 days.
However long you marinate the chicken, it's not safe to re-use a marinade that's been in touch with raw meat or poultry. Always discard used marinade and make a fresh batch the next time you want to marinate something.
Freezer Tips:
Freeze it as soon as you have put the chicken in the marinade. I prefer using a ziploc bag for this.
You can freeze the chicken in marinade for up to 3 months. Defrost in the fridge overnight, then cook as you would from fresh.
Stove and Oven Instructions:
I'm sure you've been there before… Everything is ready for the BBQ later, the meat has been marinating for a while… And then you get a crazy thunderstorm. You can still use your marinated chicken!
Stove: Simply remove the chicken from the marinade, discarding any leftovers. Heat a skillet over medium-high heat and cook the chicken around 5-8 minutes per side, until browned and cooked all the way through.
Oven: Simply remove the chicken from the marinade, discarding any leftovers. Place it in a shallow baking dish. Heat the oven to 350°F, then bake a 4-z chicken breast for 25-30 minutes.
However you cook your chicken, make sure your chicken reaches an internal temperature of 165°F at its thickest part.
Nutrition
Calories:
183
kcal
|
Carbohydrates:
1
g
|
Protein:
24
g
|
Fat:
8
g
|
Saturated Fat:
1
g
|
Cholesterol:
72
mg
|
Sodium:
423
mg
|
Potassium:
441
mg
|
Vitamin A:
115
IU
|
Vitamin C:
4.3
mg
|
Calcium:
22
mg
|
Iron:
0.8
mg
More recipe information
Join my Newsletter to Get Recipes in Your Inbox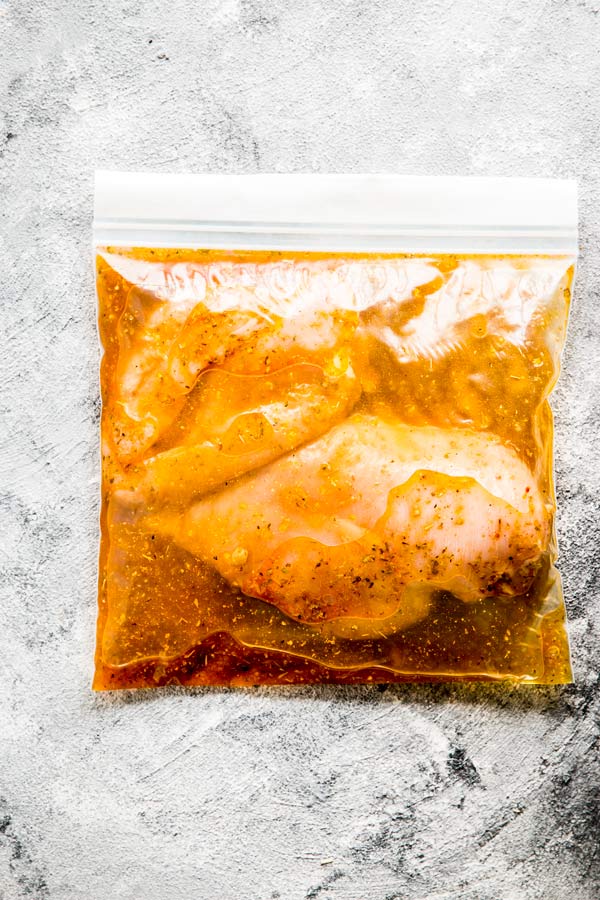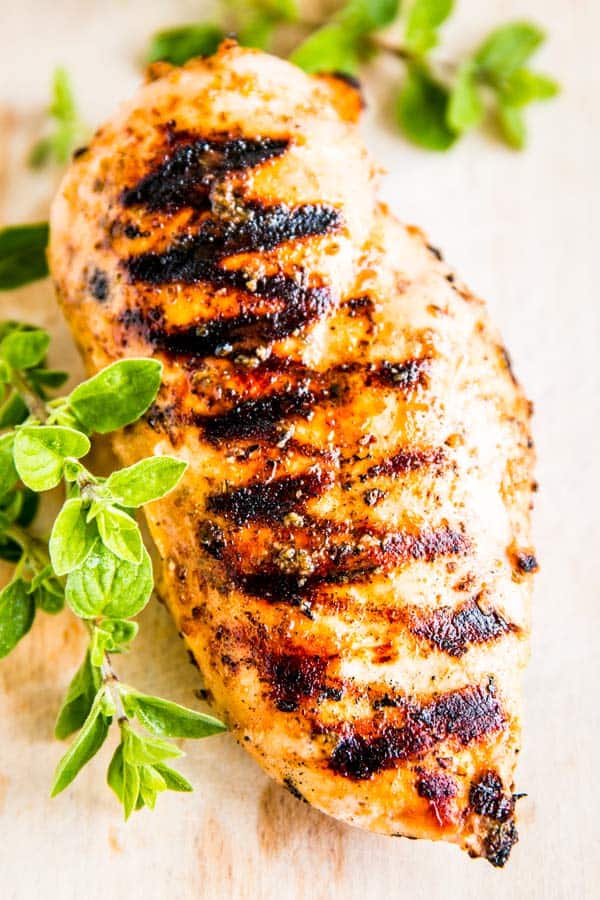 Side Note: What is the difference between marinade and marinate?
So… If it weren't for the kids, I'd be a high school English teacher.
But marinade and marinate tripped me up the other day 🙈🙈 It's so easy to mix them up and I often get interrupted by the kids while writing.
So, to myself (and anyone who is struggling, haha): MARINADE is the actual saucy stuff you put on the chicken and MARINATE is the verb you use to tell someone you're putting your chicken in a marinade.
Good thing I got that off my chest, ha!
And then… Get grilling with all of those delicious Mediterranean flavors!
Favorite Sides:
I love this chicken with my Lemon Herb Marinated Grilled Vegetables. Another delicious side dish is my Greek Pasta Salad. Sometimes I turn it into Greek Chicken Kabobs!
Chopped Greek Salad Stuffed Avocados with Tzatziki Sauce is a great low carb side dish for any Greek grilled chicken.
More Marinades: