In case you missed it, it's cherry season. Which also means it's fresh cherry cobbler season ♡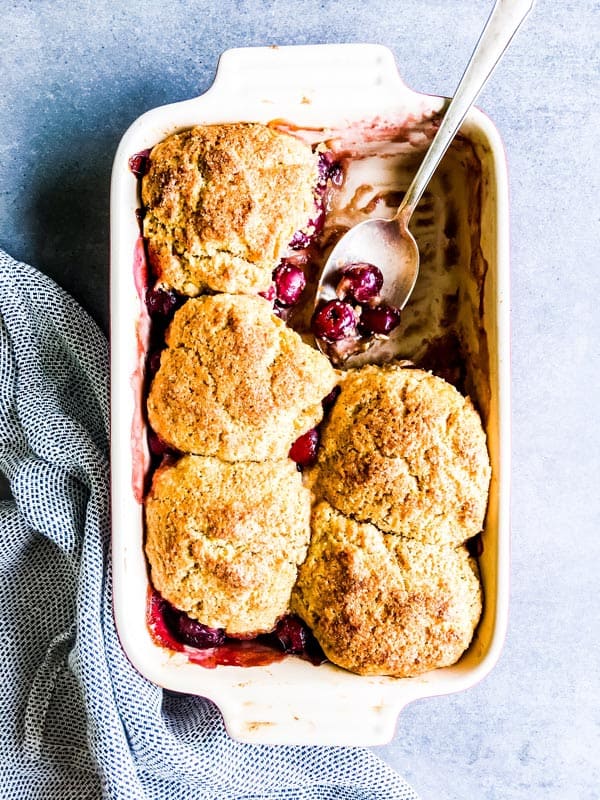 Fresh cherry cobbler is such an amazing dessert during summer- sweet, juicy and just perfect with a. scoop of ice cream.
For this recipe, we're going to have to back up a few days to last weekend. Precisely to when I went cherry picking in my grandma's garden with my family.
Did you know how much work it is to harvest your own fruit?? It's crazy. The picking, the cleaning, the pitting… But it's also pretty amazing work.
Either way, went cherry picking with my husband and both kids, and there were also aunts and uncles and cousins, all trying to get the sweetest cherries into their own baskets ?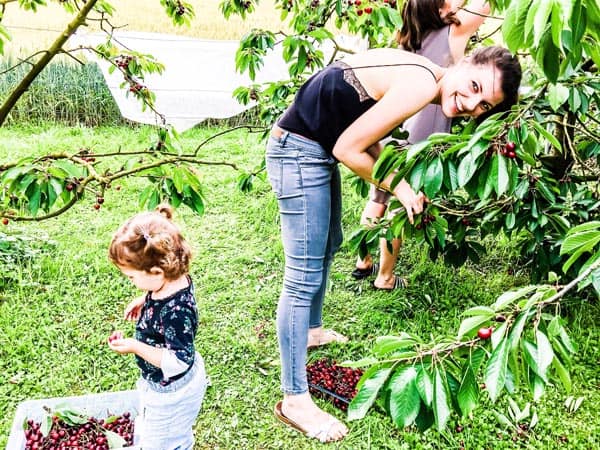 I have to be honest, these moments of utter freedom and happiness are still somewhat mind-blowing to me.
Because it used to be like this:
I obsess over what there's going to be to eat, so I can plan my calories accordingly.
I dress und re-dress five times because I feel uncomfortable showing my arms/legs/toes/whatever.
We go to the family gathering and I obsess over every morsel of food there is.
Either I eat nothing, or I eat everything. Both make me unhappy.
During cherry picking, I count the exact number of cherries I eat right from the tree.
I sneak off to pee so I can track my calories.
Seriously. I was counting CHERRIES.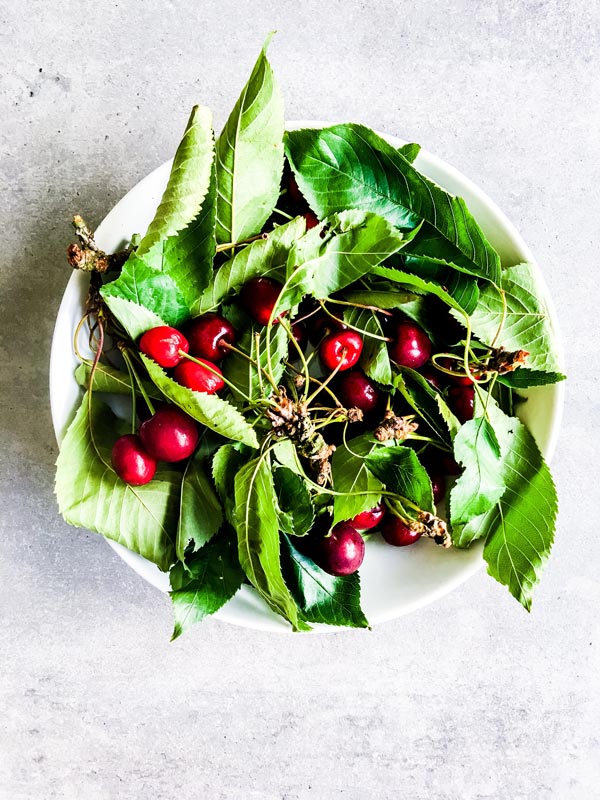 And then I'd take them home and probably turn them into compote without any sugar, or attempt to bake a no carb, no fat, no anything cake that miserably fails, or I'd turn them into something equally inedible but I'd still eat it because I already recorded it in my calorie counting app.
It was pure sadness and desperation.
But now the really mind-blowing thing is how easy and fun these get-togethers have become.
I obsess about nothing, wear whatever I damn want and eat what is appealing to me
I sing
I take my cherries home and bake cobbler with them
I eat said cobbler
I'm still alive
YES, I'm still alive, the world is still turning and my butt didn't magically expand overnight.
Quite magical, isn't it?
Either way, you're going to want to make yourself a cherry cobbler, too. And eat it without any regrets, because there is nothing to be regretful about.
it's just food
it's nourishing your body (YES, guess what, carbs and fat and protein from flour, butter, fruit and a little sugar are very capable to feed your body)
it's hopefully nourishing your soul, too
fuck bikini bodies
It's also super easy to make, so by now you should have zero excuses.
How to make a fresh cherry cobbler:
Make the biscuit dough:
Making biscuit dough is a very simple thing, but it's also a bit finicky.
The uttermost important rule is to not overmix or knead the dough. Just like when making muffins or pie crust, you want this to just come together.
To do this, first mix the dry ingredients very well: Wholemeal flour, cornmeal, baking powder and salt.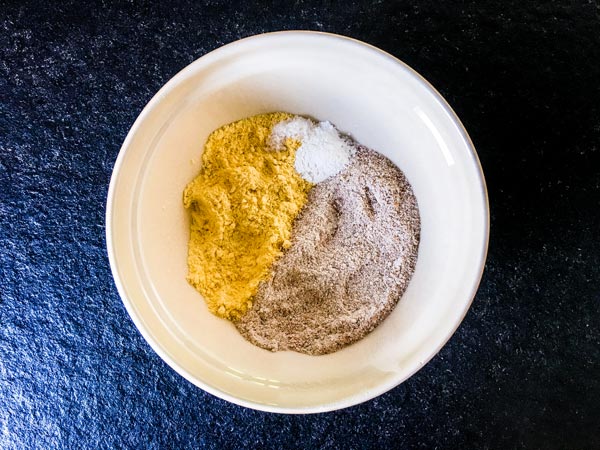 I like using cornmeal and wholemeal flour to give the biscuits a more rustic and grounded taste, but it also works with all-purpose flour (just reduce the buttermilk later on by half).
Once the dry ingredients are mixed well, you need to cut in the butter.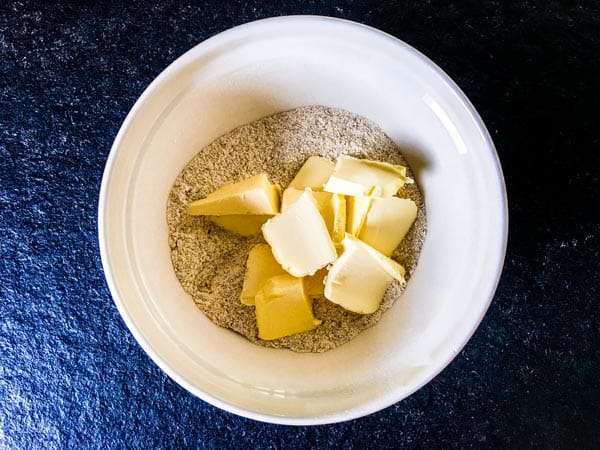 I do this by hand, by rubbing the butter into the flour with my fingertips (more detailed in the video!). Until the butter is evenly distributed among the flour and you have smaller and larger crumbs.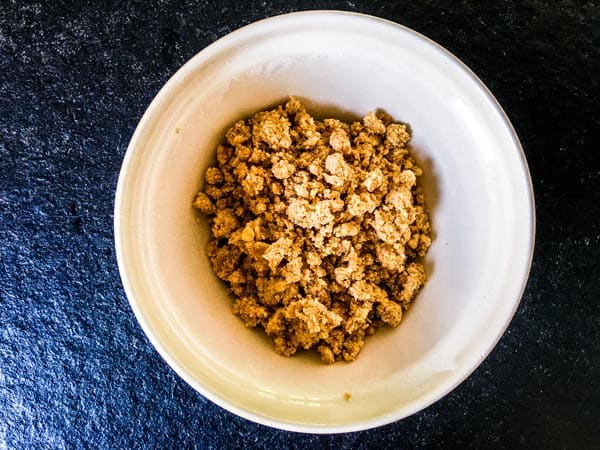 Depending on the temperature in your kitchen, these will either be a bit larger and softer, or smaller and crumblier (definitely crumblier in the video, it was HOT when I took the photos!)
Next, stir in the buttermilk, but don't knead or mix too much. Just stir until it comes together but still looks scraggly and messy.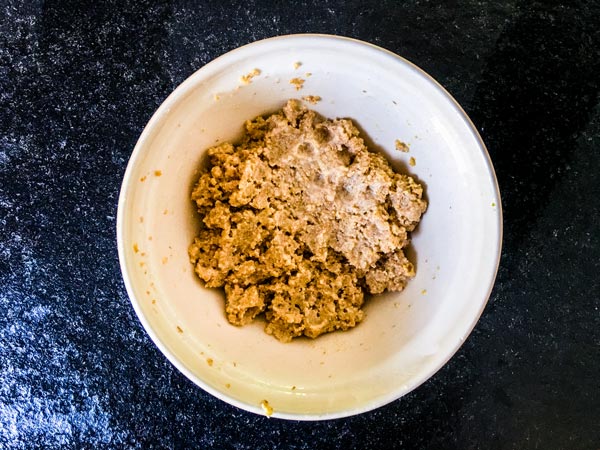 It's quite a sticky and wet dough (don't worry, making drop biscuits here, not cut outs!) and it will need to chill in the fridge for 10 minutes while you make the filling.
Make the cherry filling:
For the filling, I just dump everything into the baking dish and mix it well.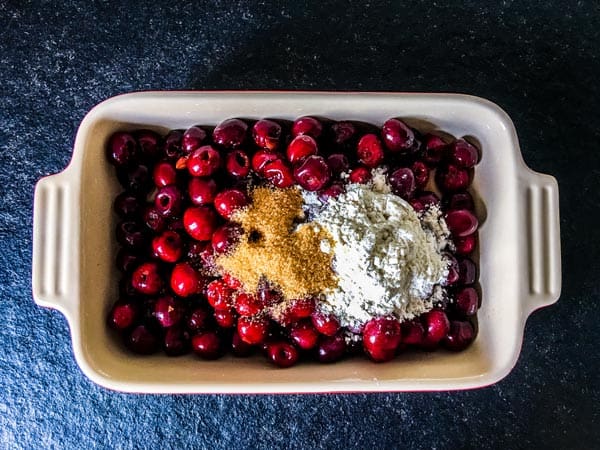 The amount of sugar and flour you add REALLY depends on your cherries. Are they very sweet? You'll barely need any sugar. Are they tart? Well, then you'll want to add enough to make the filling sweet enough.
Are they incredibly ripe and juicy? You'll want to add a little more flour. And if they are not very juicy, you'll need less flour and maybe even some water (otherwise the filling will be dry).
You'll probably have to play around with a few batches until you get a "feel" for the right amount of sugar, flour and water for your fruit.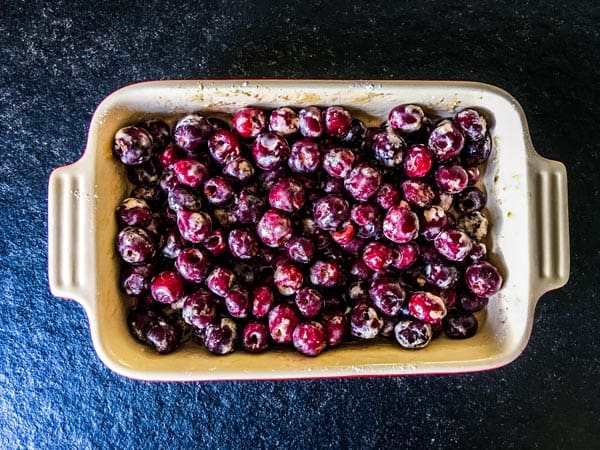 Finish and bake the cobbler:
Then, divide the biscuit dough into 6-8 portions and drop them on top of the filling.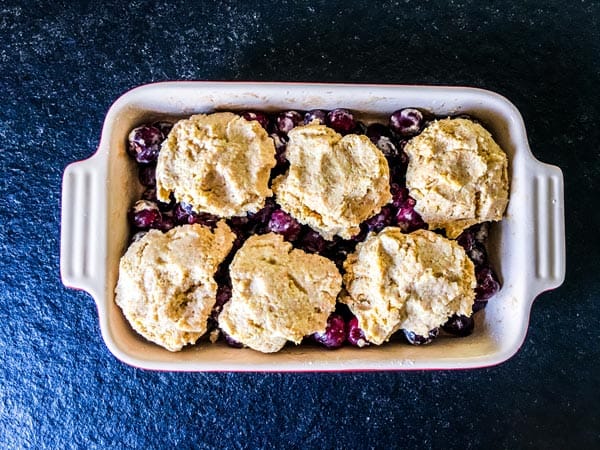 I like to sprinkle a bit of sugar over the biscuits. It gives them a nice sparkly finish once they come out of the oven and a light crunch on top.
I'll usually mix a little cinnamon in the sugar, too. But… Couldn't be bothered this time ??‍♀️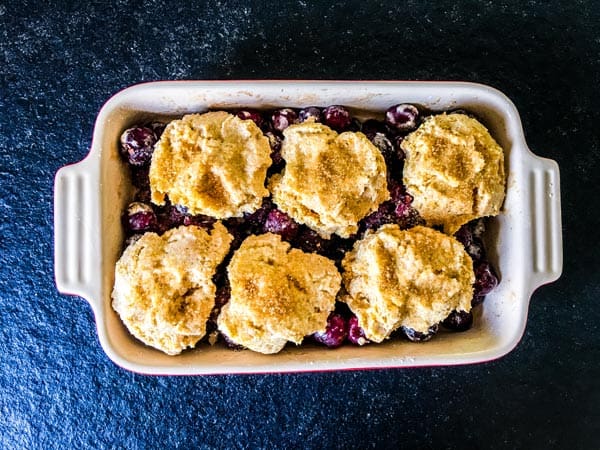 Then it bakes at 400°F for 25-30 minutes, until the biscuits are puffed up and browned and the filling is bubbly.
P.S: You can also make this in a slow cooker as directed in my slow cooker berry cobbler recipe, because to be honest this fresh cherry cobbler is just a variation of said berry cobbler.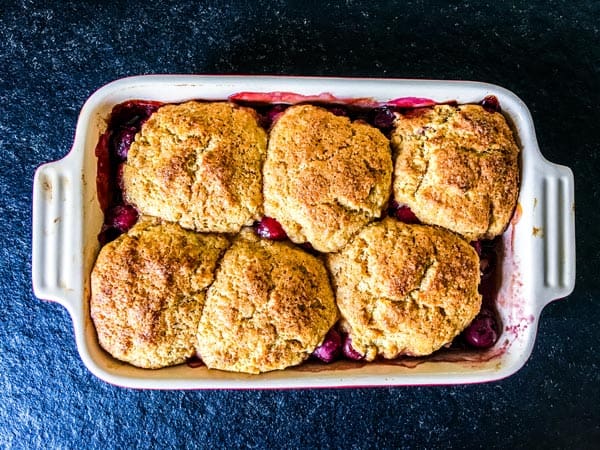 I like to give the cobbler 10-15 minutes of cooling time before serving.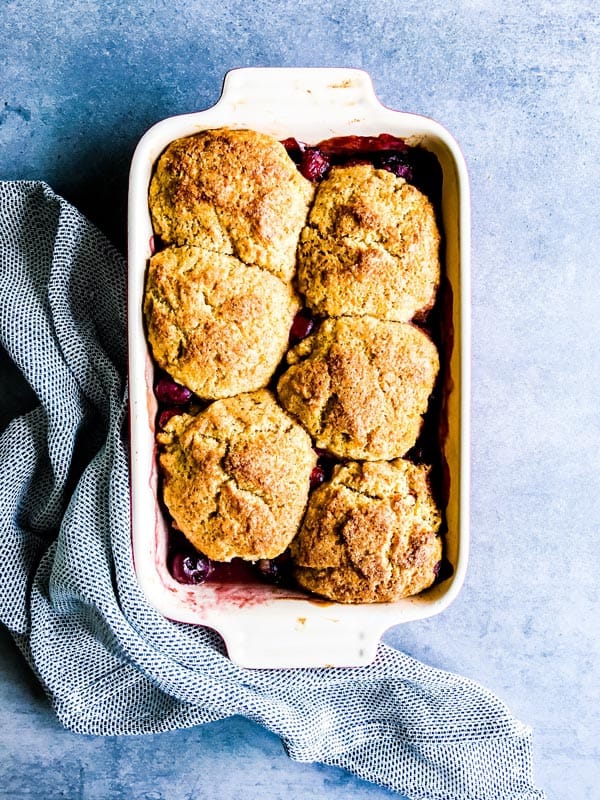 You're obviously free to add a scoop or two of vanilla ice cream, but I actually prefer it with a few spoonfuls of full-fat Greek yogurt. The slight tartness is super refreshing to me.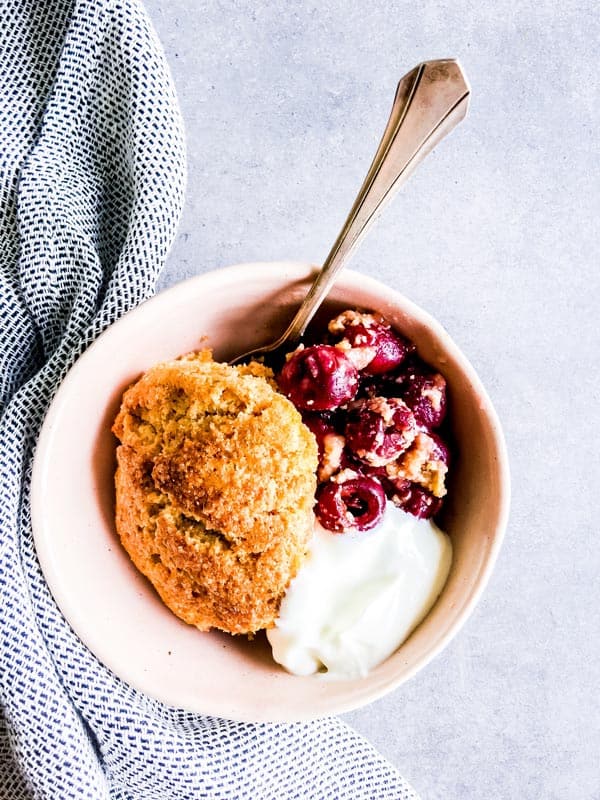 Also, admittedly not the biggest fan of vanilla ice cream over here, but you do you, darling.
Oh and P.S: if you were wondering what I was singing while picking cherries…. Obviously She's My Cherry Pie ?
Get the printable recipe here:
Printable recipe
Printable Recipe Card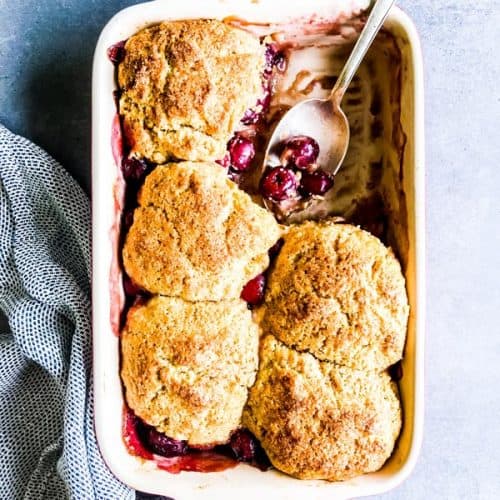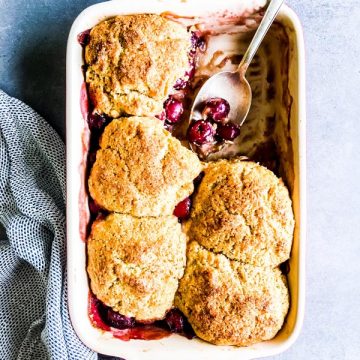 Fresh Cherry Cobbler
Fresh Cherry Cobbler is an easy and rustic summer dessert to make during cherry season.
made it? tap the stars to add your rating!
Ingredients
For the biscuits:
½

cup

cornmeal

1

cup

wholemeal flour

2

teaspoons

baking powder

¼

teaspoon

salt

½

cup

butter

⅔

cups

buttermilk
For the filling:
1.5

pounds

pitted fresh sweet cherries

about 2 pounds before pitting

¼

cup

water

or more as needed

2

tablespoons

all purpose flour

or more as needed

1

tablespoons

brown sugar

or more as desired
To finish:
2

tablespoons

brown sugar

½

teaspoon

cinnamon

optional
Instructions
Make biscuits:

Combine dry ingredients: Whisk cornmeal, flour, baking powder and salt together in a medium bowl. Whisk well.

Add butter and milk: Cut in the butter until you have a bowl full of small crumbs. Add the buttermilk and stir JUST until combined. Do not overmix! Chill for 10 minutes in the fridge.

Make filling:

Preheat the oven to 400°F.

Combine all ingredients for the filling in a deep 7×11 rectangular baking dish.

Finish cobbler:

Drop the biscuit mix all over the filling. Mix the brown sugar and cinnamon (if using) for the topping and sprinkle over the cobbler.

Bake for 25-30 minutes, or until the biscuits are puffy and golden, and the filling is bubbly.

Allow to rest for 5-10 minutes before serving.
Want to save this recipe?
Create an account for free to start your personal recipe box. Save any recipe by tapping the heart in the bottom right corner.
Join Now
Notes
The amount of sugar, flour and water added to the filling entirely depends on your cherries!
Very sweet cherries will need little to no extra sugar. More tart cherries can need even more than specified in the recipe.
Very juicy cherries need less water to help make a nice and juicy filling. If your cherries are just about ripe, or you pitted them a day early and all their juice has drained, you'll want to add a little more water.
The same goes for flour: Very juicy cherries benefit from a little more flour and less juicy ones can get away with less. It also depends a lot on how you like your cobbler! If you like a more runny and juicy filling, use less flour. If you prefer a thicker and chunkier filling, use a little more.
Nutrition is an estimate.
More recipe information